[ad_1]

Dunk crispy fried green tomatoes in a smoky, spicy sauce for a gluten-free, Southern-inspired appetizer.
We can't resist the comforting appeal of fried green tomatoes, but traditional recipes tend to use unhealthy ingredients like cornmeal, buttermilk, and refined cooking oils to make them.
Thankfully, it's possible to enjoy fried green tomatoes the Paleo way! This recipe uses dairy-free, gluten-free ingredients and relies on plenty of spice to get the same taste and texture you're craving. The end result is a crispy snack with an easy homemade chipotle sauce for serving!
Love Almond Flour Recipes? Then you'll love our FREE Almond Flour Recipes.
Click here to get your FREE copy of our delicious Almond Flour Recipes!
What Are Green Tomatoes?
If you've never cooked with green tomatoes before, you're in for a treat. These under-ripe tomatoes have a firmer bite than their red counterparts and are much more savory.
They also tend to slightly soften as they bake, which complements the crunchy coating on the outside.
How To Make Them Extra Crispy
The key here is to draw out as much moisture from the tomatoes as possible. To do this, we toss tomato slices in salt and let them sit for 10 minutes in a colander. The salt will help pull out the excess water from the tomatoes, and then you can just wipe away the excess with a paper towel.
This method is important for getting the almond flour breading to stick – which is what makes these fried green tomatoes extra crunchy!
Finish With A Spicy Dipping Sauce
Since fried green tomatoes need a little creamy counterpart to help balance them out, we created a spicy dipping sauce to serve them with. This easy dip combines chipotle powder with fresh lime juice, Paleo mayo, and coconut cream to give your tomatoes next-level indulgence.
If you're in need of a quick Paleo mayo recipe, we suggest using this easy 4-ingredient recipe. It features apple cider vinegar (which is good for your gut health) and only takes a few minutes to whip up.
Helpful Tips to Get Started:
Keep one hand dry and one hand wet. To avoid getting the breading all over your fingers, use one hand to dip the tomatoes in the egg wash and the other hand to dip them in the flour mixture.
Avoid the excess. When breading, thoroughly remove the excess arrowroot flour before moving onto the egg. Do the same with the egg wash to help the breading adhere more easily.
Danielle Moore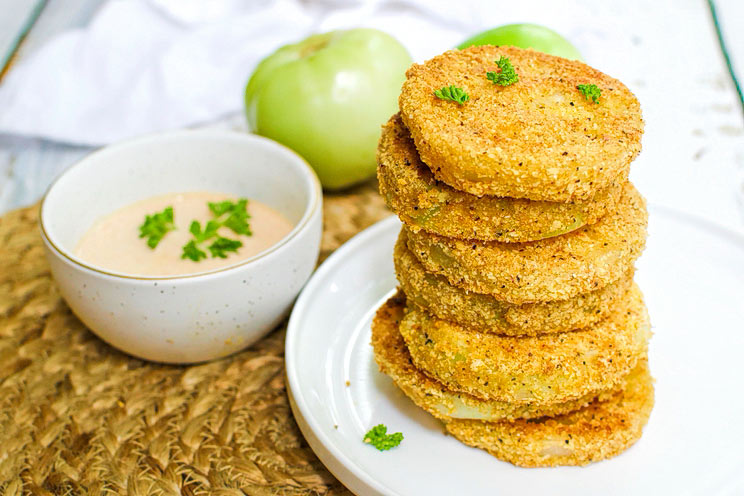 Total time:33 mins
Inactive Time:10 mins 10 minutes
Cook Time:8 mins 8 minutes
Prep Time: 15 mins 15 minutes
Nutrition facts:2 grams of protein8 grams of carbohydrates14 grams of fat
Fried Green Tomatoes with a Spicy Chipotle Dip
Dunk crispy fried green tomatoes in a smoky, spicy sauce for a gluten-free, Southern-inspired appetizer.
Ingredients
For the Chipotle Dipping Sauce:
Looking for Paleo ingredients? Here are a few we'd recommend:
Coconut cream (Native Forest)
Primal mayonnaise (Primal Kitchen)
Arrowroot starch (Authentic Foods)
Almond flour (Anthony's)
Paprika (Simply Organic)
Cold pressed coconut oil (Viva Naturals)
If you're crazy about snacking and want more sweet and savory ideas, you're going to adore the gourmet recipes in our Paleo Snacks cookbook. You'll enjoy Pecan & Banana Mini Bars, Vanilla Toasted Almonds, Fig & Walnut Biscuits, and lots more ridiculously tasty between-meal treats. Get your copy of this must-have recipe book HERE.
Lose weight, fight inflammation, and soothe your digestion with delicious meals like juicy skirt steak with cucumber & radish salad, succulent pulled pork, and more!


[ad_2]

Source link