[ad_1]

Craving dark mint chocolate? These refreshing keto mint brownies are chock-full of antioxidants and boast a fudgy dark chocolate layer followed by a creamy mint layer with natural green coloring!
If you're a fan of grasshopper ice cream, these chilled mint cream brownies will make you swoon. They're keto-friendly without sacrificing rich, indulgent texture. The brownie layer is a chocolate lover's delight while the refreshingly creamy mint layer adds a cheesecake texture with zero added sugar!
Grain-Free Brownie Layer
The brownie layer is a combination of almond flour and cacao powder with monk fruit to sweeten. Pasture-raised eggs bind the brownies and keep their texture chewy. For the plenty of fat that the keto diet is known for, buttery ghee steps in, keeping the brownies extra moist.
Curious about ketosis?
Click here to get the FREE Easy Keto Guide to learn the right way to go keto!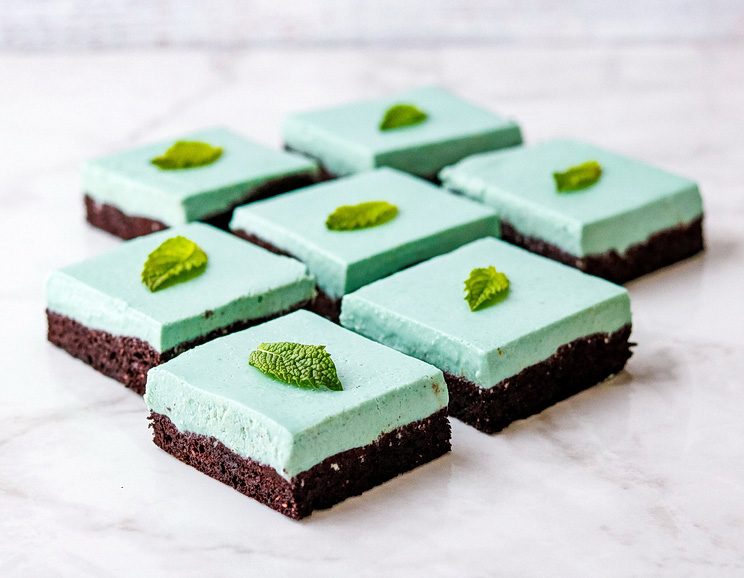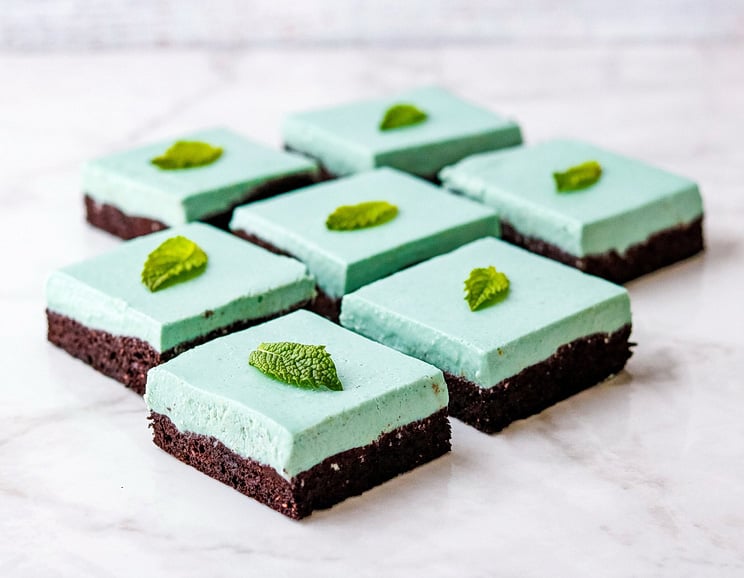 Dairy-Free Cheesecake-Style Mint Cream Layer
For a cheesecake-style mint cream layer, coconut cream combines with macadamia nuts and cacao butter to create a cream that firms up once chilled. Raw cacao butter has a natural chocolate flavor and aroma that pairs perfectly with the mint. Once chilled, the bars are sliced into squares, revealing the chocolate and mint layers that rival any pastry shop!
Natural Green Coloring
Instead of using food coloring, richly pigmented spirulina powder steps in, adding minty green color. Spirulina is made from blue-green algae and is a superfood rich in antioxidants. It adds a beautiful minty hue to the cream layer without changing the flavor. You can use spirulina to color the cake batter, frosting, Easter eggs, and cookies for festive color without any dyes. Other natural green food coloring includes matcha green tea powder and liquid chlorophyll drops.
Helpful Tips to Get Started:
Want Paleo brownies instead? To make the brownies Paleo, use ¼ cup of coconut sugar in the brownie layer instead of monk fruit powder for a more natural sugar flavor.
The mint cream layer will be liquidy at first. This is okay. The coconut cream and cacao butter will set once chilled.
Storage. Once the bars are sliced, store them in an airtight container with a sheet of parchment paper between the brownies to prevent sticking.
Jennafer Ashley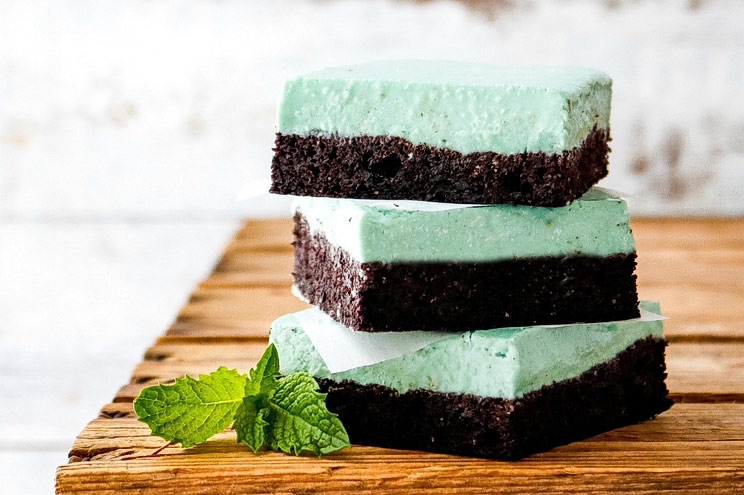 Total time:2 hrs
56 mins
Inactive Time:2 hrs 20 mins 2 hours 20 minutes
Cook Time:26 mins 26 minutes
Prep Time: 10 mins 10 minutes
Nutrition facts:8 grams of protein9 grams of carbohydrates46 grams of fat471 calories
Creamy Keto Mint Brownies
These refreshing keto mint brownies are chock-full of antioxidants and boast a fudgy dark chocolate layer followed by a creamy mint layer with natural green coloring.
Ingredients
For the Chocolate Brownie Layer:
Looking for Paleo ingredients? Here are a few we'd recommend:
Ghee (Pure Indian Foods)
Vanilla extract (Frontier)
Raw cacao powder (Healthworks)
Almond flour (Anthony's)
Monk fruit powder (Julian Bakery)
Lakanto monk fruit sweetener golden (Lakanto)
Baking powder (Hain)
Sea salt (REDMOND)
Cacao butter (Terrasoul Superfoods)
Coconut cream (Native Forest)
Raw macadamia nuts (Food to Live)
Peppermint extract (Flavorganics)
Spirulina powder (Zhou Nutrition)
You'll Also Love: Keto Avocado Chocolate Brownies

Keto is one of the hottest new diets right now – with good reason! It melts fat and trims your tummy fast. With our Keto Sweets cookbook, you can do while still enjoying delicious sweets and desserts!
Enjoy cookies, cakes, and ice
cream and stay in fat-burning
ketosis with this FREE Keto
Sweets Cookbook
Enjoy cookies, cakes,
and ice cream and stay
in fat-burning ketosis
with this FREE Keto
Sweets Cookbook


[ad_2]

Source link