[ad_1]

Chill out with these dark chocolate cherry pralines that set right in the freezer!
These no-bake Paleo treats are a cut above anything you'd find at the candy store. Loaded with summery fruit and heart-healthy antioxidants, they're a great bite-sized treat to stop your next chocolate craving.
How To Make That Vibrant Pink Filling
The luscious center of these cherry pralines is made with a combination of freeze-dried raspberries, frozen cherries, coconut butter, and sweet raw honey. The end result is a beautifully bright color – no food coloring necessary!
Love Paleo Desserts? Then you'll love our FREE Paleo Dessert Cookbook.
Click here to get your FREE copy of our delicious Dessert Recipes!
To make the center nice and chewy, we also mix in a little desiccated coconut so that it firms up as it chills. If you can't find desiccated coconut, you can swap in unsweetened shredded coconut instead.
Freezing the filling makes it easier to cut and prevents it from crumbling as you assemble the praline. Plus, keeping it at a nice cool temperature helps the chocolate shell harden quicker.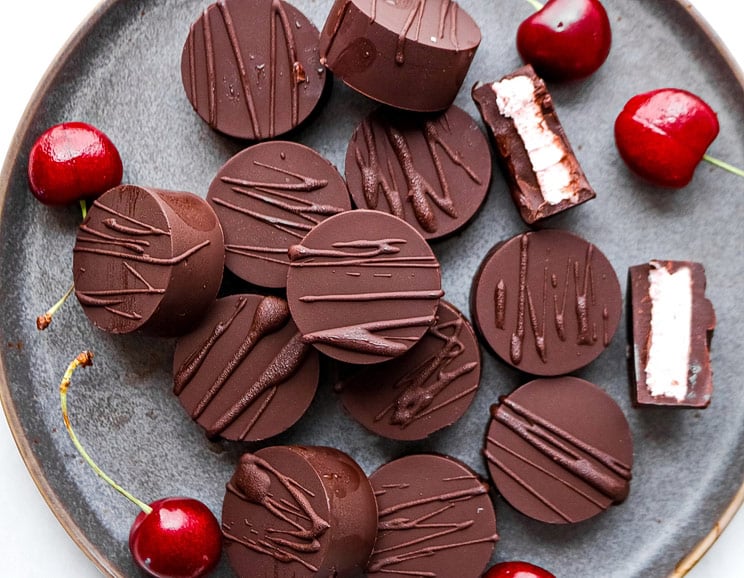 Creating The Dark Chocolate Shell
To create our silky-sweet shell, we melt together raw cacao powder, cacao butter, honey, and coconut oil in a double boiler. This produces a semi-sweet chocolate sauce we use to coat the entire praline.
The great thing about raw cacao is that it's rich in powerful antioxidants. We like using it to keep blood sugars in check, without sacrificing that chocolatey flavor.
For the best quality, look for cacao powder without any added sweeteners.
Helpful Tips To Get Started:
Utilize any leftover filling. You can roll extras into bliss balls, or refreeze them for 10 minutes to make more filing.
Keep leftovers handy. Refrigerate pralines for up to one week, or freeze in a glass dish for up to one month. Just let them thaw for 10 minutes at room temperature, and enjoy!
Jennafer Ashley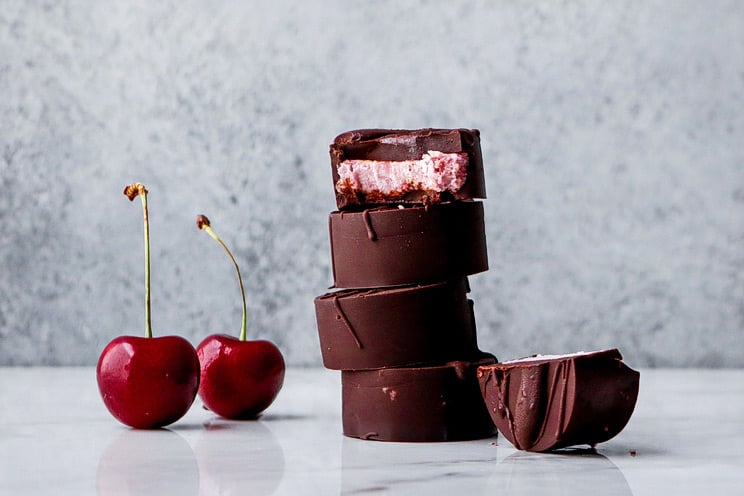 Total time:1 hr
55 mins
Inactive Time:1 hr 30 mins 1 hour 30 minutes
Cook Time:10 mins 10 minutes
Prep Time: 15 mins 15 minutes
Nutrition facts:1 grams of protein13 grams of carbohydrates18 grams of fat
Dark Chocolate Cherry Pralines
Chill out with these freezer-friendly, dark chocolate pralines filled with a cherry-raspberry purée.
Ingredients
For the Cherry-Raspberry Filling:
Looking for Paleo ingredients? Here are a few we'd recommend:
Coconut butter (Artisana)
Raw honey (Bee Farms)
Cacao butter (Terrasoul Superfoods)
Raw cacao powder (Healthworks)
Cold pressed coconut oil (Viva Naturals)
15 holes cylinder silicone mold (BAKER DEPOT)
If you have a sweet tooth that just won't quit, you'll love our Paleo Sweets cookbook! You'll get 70 delicious and nutritious desserts that you'd swear came from your local bakery. Whip up mouth-watering brownies, bake decadent cakes, and churn out creamy, dairy-free ice creams. Get your FREE copy HERE (just pay for shipping)!

Full of some of the most powerful superfood nutrients known to increase "feel-good" hormones, suppress appetite, lower blood pressure, feed good gut bacteria, and more!
Delicious "liquid chocolate" kills cravings, helps reduce blood
pressure, and feeds good gut bugs (creamy & smooth).
Delicious "liquid
chocolate" kills cravings,
helps reduce blood
pressure, and feeds
good gut bugs
(creamy & smooth).


[ad_2]

Source link