Tune in to Bryan Wagner's social media to get live updates on his 24 hour challenge.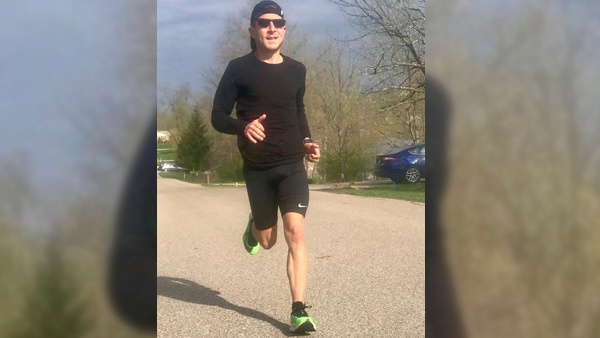 (Lawrenceburg, Ind.) – A Lawrenceburg man is putting his body to the test with a "crazy" challenge during these "crazy" times. 
Bryan Wagner is a teacher at St. Lawrence, cross country coach, and dad who is using this down time to run three full marathons in a 24 hour period, starting tonight at midnight. The plan is to run every hour on the hour until he has reached the goal distance of 78.6 miles, which ends up being 3.28 miles every hour. 
Wagner has laid out a tentative schedule for the run. 
Phase One will include nine hours on an indoor treadmill starting at midnight.
Phase Two, an outdoors run, will begin at 9:00 a.m. and finish at 8:00 p.m.
Lastly, Phase Three will be an indoor run from 9:00 p.m. until the challenge is complete at midnight. 
"I have always wanted to do some sort of long endurance event, but with time and my family and work its tough. I was inspired by the Quaratine Backyard Ultra Marathon that took place a few weeks ago," Wagner tells Eagle Country 99.3.
To prepare for this challenging feat, Wagner has spent the morning prepping his nutrition, hydration, and laying out gear (shoes, running clothes, socks, etc.). Being a teacher at St. Lawrence Elementary School means he has also been keeping up with eLearning assignments while prepping. Wagner is spending this time before his 24 hour adventure to play with his 3 daughters and just being a dad.
This Lawrenceburg man has been running for just six year, but has really taken to this lifestyle. While the physical aspect will be draining, Wagner expects the time awake will be the challenge. 
"I think the toughest part of this for me will be staying away for all 24 hours," says Wagner. "I usually get a lot of sleep each night to recover from training so this will be a new challenge for me. My wife is completely supportive of my idea, but she definitely questioned 'why?'  To which all I could reply was 'why not?'"
Running 3.28 miles at the top of every hour will allow for some time to rest and recover before starting again at the top of the next hour.
Wagner will also be partnering with companies and businesses that want to sponsor an hour. A few companies have already committed to sponsor an hour, but there are plenty of slots to fill.
"I am going to be contacting companies, race promoters and individuals to "sponsor" and hour block. During this time I will make an Instagram  page post, go live and talk about the service/product/event and include this in my story feed," says Wagner. 
If you are interested in becoming a sponsor for this event, contact Bryan Wagner by emailing [email protected] or sending him a message through Instagram. 
Tune in to see how Wagner's run is going on his Instagram and Facebook, where he will be giving live updates throughout the 24 hours. 
Good luck Bryan!