[ad_1]

Forget takeout – this slow cooker sweet and sour chicken makes weeknight dinner a breeze!
Let the crock pot do all the work with this easy dump-and-go recipe. It features all the sweet and tangy flavors you'd expect from any Chinese restaurant – minus the refined sugars and soy.
This is a great recipe to make a large batch ahead of time and reheat throughout the week. Simply serve it over cauliflower rice or pair with your favorite veggies for a complete meal.
Love slow cooker recipes?
Click here to get your FREE copy of our delicious Slow-Cooker Recipes!
The Best Way To Cook Sweet And Sour Chicken
We use chicken breast in this recipe for its high protein content that keeps you feeling full. Letting it simmer for hours in a homemade sauce helps tenderize the meat so that you get juicy, fall-apart chicken in every bite.
The great thing about using a slow cooker is that it makes any recipe practically foolproof. Unlike cooking chicken in the oven, you don't have to worry about it coming out too dry or undercooked.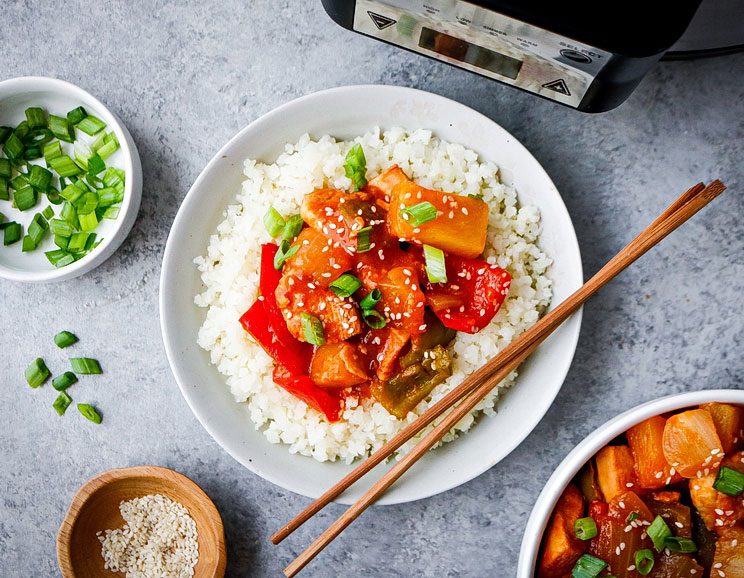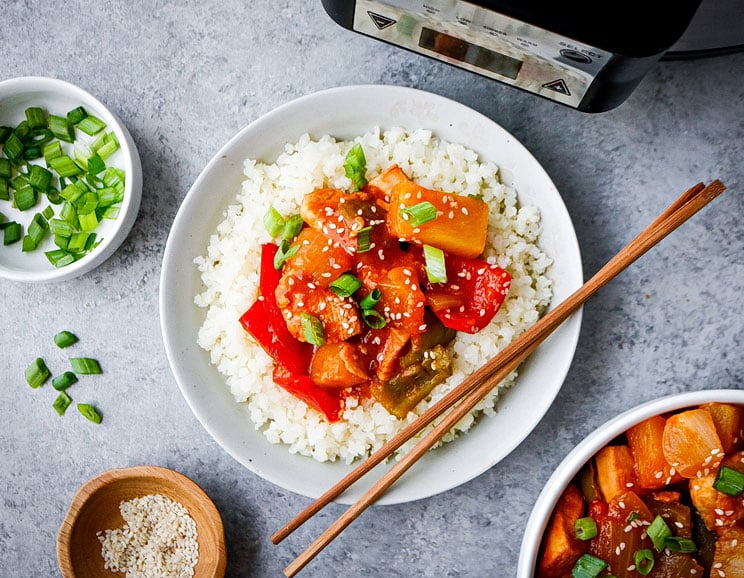 Making A Sauce That Rivals The Rest
To mimic a traditional sweet and sour chicken dish with a low-carb profile, we combine the chicken with colorful bell peppers, diced fresh pineapple, and white onion. Next, we coat everything in a tangy sweet and sour sauce made with soy-free coconut aminos, tomato paste, garlic, and ginger.
To help thicken the sauce, gradually stir in the arrowroot flour after the slow cooker is done to prevent it from clumping. This gluten-free ingredient is a great alternative to wheat-based flours and helps bind the other ingredients together. If you don't have any on hand, you can also use tapioca or cassava flour in equal amounts.
Helpful Tips To Get Started:
Prep ingredients the night before. Store them in containers in the fridge, then all you have to do is add them into the crock pot when you're ready to cook.
Double up on the sauce for other recipes. It makes for a great marinade for steak, chicken, or pork.
Make a large batch for weeknight meal prep. Store leftovers in individual containers for pre-portioned meals at your fingertips. It lasts up to five days in the fridge.
Jennafer Ashley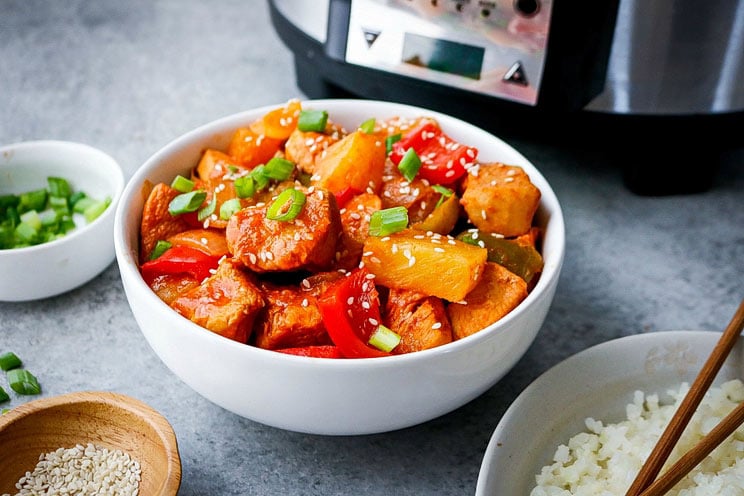 Total time:4 hrs
15 mins
Cook Time:4 hrs 5 mins 4 hours 5 minutes
Prep Time: 10 mins 10 minutes
Nutrition facts:57 grams of protein29 grams of carbohydrates9 grams of fat
Slow Cooker Sweet Sour Chicken
Forget takeout – this slow cooker sweet and sour chicken makes weeknight dinner a breeze.
Ingredients
For the Sauce:
Looking for Paleo ingredients? Here are a few we'd recommend:
Arrowroot starch (Authentic Foods)
Sesame seeds (McCormick)
If you liked this super simple sweet and sour chicken recipe, you'll love the variety of delicious, easy, and gourmet meals in Paleo Eats. Enjoy healthy yet hearty Paleo meals like Mongolian Red Pepper Beef, Pulled Pork, Bacon Bars, and more. Get your copy HERE.
Enjoy amazing walnut muffins… savory omelets… banana cookies… and even chocolate! Eat your favorite foods and stay fit and healthy at the same time.
Get started on your Paleo
weight-loss journey today
with our beginner-friendly PaleoHacks Cookbook
Get started on your
Paleo weight-loss
journey today with
our beginner-friendly
PaleoHacks Cookbook


[ad_2]

Source link