[ad_1]

Wrap up your steak and veggie keto burrito in hearty collard greens and dip it in a creamy chipotle sauce for a fat-burning lunch!
If you're looking for a low-carb meal you can make in less than 20 minutes, this recipe is for you.
This keto burrito boasts plenty of nourishing nutrients to keep you fed and fit. Plus, it comes with customizable fillings you can sub in for more variety!
Curious about ketosis?
Click here to get the FREE Easy Keto Guide to learn the right way to go keto!
Replace Grains with Greens
This light and simple keto burrito recipe uses hearty collard greens to wrap all your favorite fillings. It's the perfect gluten-free alternative to tortillas and packs in plenty of gut-nourishing antioxidants.
Layering two leaves together creates a circular shape, large enough to hold all the fillings. To make them flexible enough for wrapping, you'll need to slice off the stems and boil them for a few minutes to tenderize the leaves.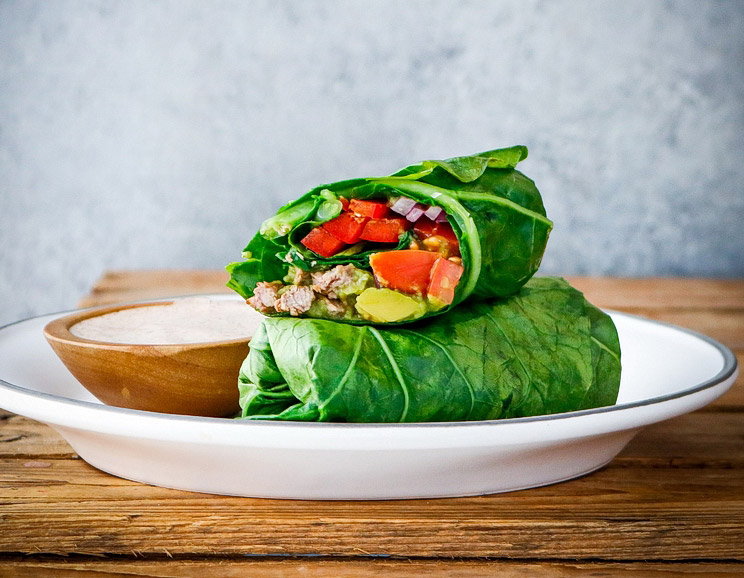 Customize Your Fillings
When it comes to stuffing up your keto burrito, the options are endless! We chose thinly sliced steak for our protein, but you can also go with chicken or ground beef to switch things up.
As for the veggies, we suggest going with a rainbow of different options like bell peppers, onions, and tomatoes. You can also experiment with julienned carrots and cucumbers for an Asian-style wrap, or go with bacon and eggs for a healthy breakfast burrito.
To keep the Mexican theme going, we added fresh guacamole to complement the pico-style veggies and fresh cilantro. This healthy addition is not only rich in brain-boosting fats, but it also replaces sour cream with a smooth dairy-free consistency.
Get Saucy with Creamy Chipotle
This keto burrito's indulgent dipping sauce combines smoky chipotle powder with zesty lime juice in a creamy mayo base. Chipotle powder is made up of smoked ground jalapeños, adding a kick of heat and earthy flavor. If you aren't into the heat, try using half a teaspoon of chili powder instead.
Be sure to find a keto-friendly mayo containing zero refined sugars. If you're up for whipping up your own mayo, try this healthy apple cider vinegar version.
Helpful Tips To Get Started:
How to shop for wrappable collard greens. Look for large leaves that don't have any tears or holes. This will help keep everything tucked neatly inside.
Wrap these burritos like a pro. You'll want to layer your fillings in the center of the leaves, leaving room on the bottom and sides for rolling.
Enjoy them while they're fresh. The veggies in these burritos tend to wilt after a short while, so you'll want to enjoy them right away.
Jennafer Ashley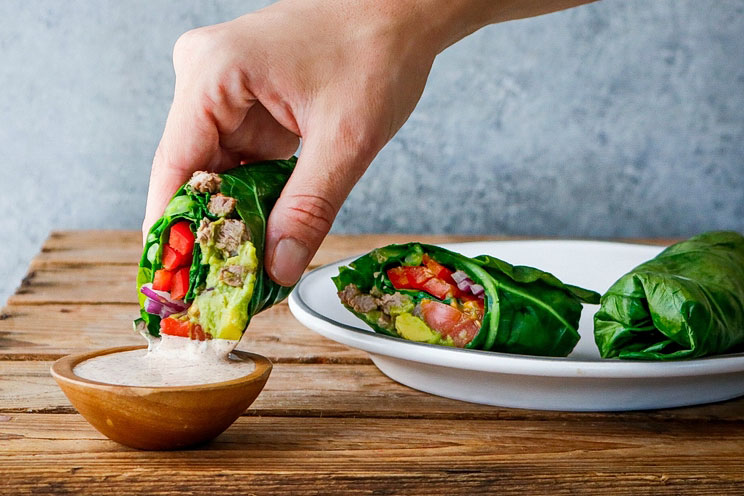 Total time:19 mins
Cook Time:4 mins 4 minutes
Prep Time: 15 mins 15 minutes
Nutrition facts:14 grams of protein11 grams of carbohydrates28 grams of fat
Steak and Veggie Keto Burrito
Wrap up your steak and veggie keto burrito in hearty collard greens and dip it in a creamy chipotle sauce for a fat-burning lunch.
Ingredients
For the Sauce:
Looking for Paleo ingredients? Here are a few we'd recommend:
Primal mayonnaise (Primal Kitchen)
Sea salt (REDMOND)
Avocado oil (Bella Vado)
Stay keto from breakfast 'til dessert! With our Keto Sweets cookbook, you'll enjoy incredible fat-burning treats like mint chip ice cream, bacon-filled chocolate, and chocolate chip cookie cake. You won't find any sugar, gluten, processed grains, or soy here, and each recipe contains 10g of net carbs or under. Get the book shipped to your door for FREE – just pay for shipping!

Keto is one of the hottest new diets right now – with good reason! It melts fat and trims your tummy fast. With our Keto Sweets cookbook, you can do while still enjoying delicious sweets and desserts!
Enjoy cookies, cakes, and ice
cream and stay in fat-burning
ketosis with this FREE Keto
Sweets Cookbook
Enjoy cookies, cakes,
and ice cream and stay
in fat-burning ketosis
with this FREE Keto
Sweets Cookbook


[ad_2]

Source link