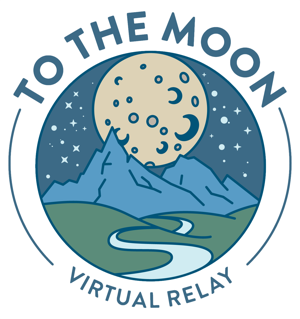 Three, two, one… liftoff! We're just a couple days away from the To The Moon Virtual Relay launch date of Monday, June 29.
This is a FREE, week-long event with the communal goal of covering a combined 238,900 miles (384,400 kilometers), the average distance from the Earth to the Moon. Along the way, we'll tally yours and other relay participants' distance for those seven days, from June 29 through July 5, with the hope of virtually covering this huge expanse. Oh, and the final day of the relay is a full Moon!
If you haven't signed up, now's the time to join the mission. Did we mention that it's free?!
We're making final preparations here at Mission Control, and want to share a few details with you about next week!
First off, to make this mission a success, not only do we need your help, but we need that of many others. So, whether it's over the phone, via email, or on social media, please invite your friends, family, clubmates, and coworkers to join us.
Now, in addition to racking up miles and kilometers, we also want to make this journey fun and informative, so here are some additional activities and fun facts. Check 'em out and pass 'em along!
Once you've registered for the event, we encourage you to download your bib so you can print and customize it. If you don't know your bib number, head over here to get it. You'll need your bib number to submit your runs. Oh, and through the end of Saturday, June 27, the Bib Decorating Bonus Challenge is ongoing! Submit your decorated bib and win prizes!
Speaking of submitting your runs, once you log your first run or walk, visit Mission Control to submit your results. You can submit your activities individually or a few at a time. We'll be tracking you and everyone else throughout the week, so be sure to watch our collective progress toward the Moon.
Finally, you'll want to stay tuned all week to iRunFar's Twitter, Facebook, and Instagram channels for stories from around the world! And be sure to share your runs, walks, challenge submissions, and how your kids are participating on your own social media, tag iRunFar, and use #ToTheMoonRelay so all of us can find you, too.
Let's go to the Moon!