Two purple charter buses pulled into Clemson about an hour after midnight. Sam Mungo was exhausted by then.
They'd left for Atlanta a little before 7 a.m. the day prior, all 60 of them — students, teachers, parents and volunteers of the ClemsonLIFE program aboard the Tigers football team buses.
Mungo fought sleep for most of the three-hour ride home. He called his mother, Robin, every so often to tell her stories of all the new things he'd experienced that day.
"He was still so excited, he couldn't sleep," Robin said.
Mungo was half awake as he carried himself off of the bus at the end of the night. He wore an Atlanta Hawks t-shirt. He carried with him a purple jersey with MUNGO and the number 4 screen-printed on the back. A smile was still stuck on his face.
He checked in with his mom one more time before he went to sleep that night.
"Mom," he began. "That was the best day ever."
This is why Debbie Antonelli is shooting 2,400 free throws in 24 hours. It's not about the physical feat of the 55-year-old former college basketball player. It's impressive enough but it's not why she stepped to the line to shot 100 free throws at the top of every hour last year. It's not why she's doing it again this weekend.
Antonelli's 24 Hours of Nothing But Net free-throw exploit is about inclusion. It's about raising awareness and maybe changing, or at the very least affecting, the lives of others.
She raised $85,000 for the South Carolina Special Olympics through last year's marathon. The value of the accompanying awareness that was raised is nearly immeasurable but, from an analytical perspective, the feat produced more than 12 million social media impressions worldwide.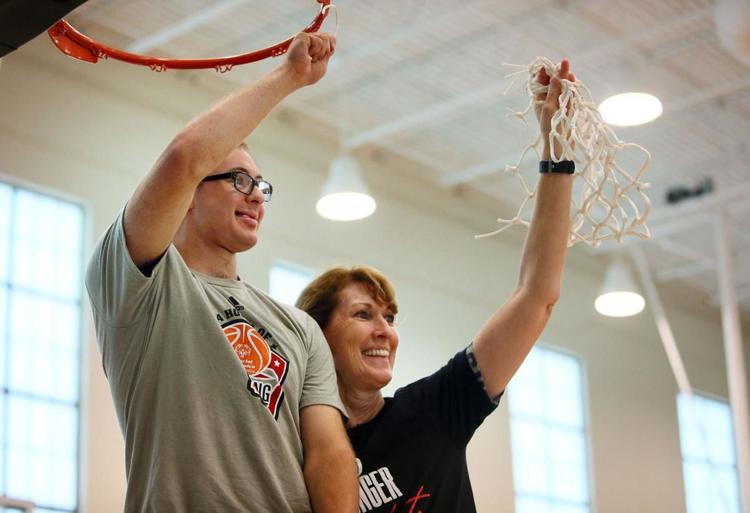 "The impact she was able to have by herself is very rare," South Carolina Special Olympics executive vice president Sue Maner said. "It's unbelievable the kind of effect it had."
Antonelli has worked as a sports broadcaster for more than 30 years. She's a trailblazer in the business. She called her first NCAA men's tournament game in 2017; it was the first time a woman had called a game in the men's tournament in 22 years.
She's a grinder. Not once in three decades did she ask off or decline an offer to cover a game. Until last February, when she was scheduled to work the Mississippi State and Texas A&M men's basketball game for the SEC Network.
There was another game happening the same day in Atlanta, one that meant something different to her. The intramural team from the ClemsonLIFE program — a postsecondary educational experience for students with intellectual disabilities at Clemson University — was playing in the Atlanta Hawks Classic. The tournament is the largest youth basketball event in Georgia. This year, for the first time, it included a Special Olympics division.
Antonelli's son, Frankie, was playing. Antonelli was more invested than that though. She'd arranged to include everyone. Every member of the ClemsonLIFE program was invited on the trip, even those who didn't play for the team. The group received new jerseys. The transportation, entry fees and every other accommodation, all of it was paid for by part of the money Antonelli's free-throw marathon raised for the Special Olympics last spring.
"Debbie always makes it about everyone. It's never just about her son. She wants to help everyone," Robin said. "Raising a child with different capabilities, you think maybe there are things in life that he won't ever get to do. It brings me to tears to think that someone gave him an opportunity to be included in something like this."
Mungo enjoys basketball but his mother admits that he's not much of an athlete. He more often can be found cheering the team on somewhere along the sideline.
"And he's always been happy to do that," Robin said.
The ClemsonLIFE intramural team had a spot for him on this weekend though. Mungo loved the look of his jersey. It was his first time seeing his name and favorite number together on a uniform like that. He'd never really been part of a team. Not like this. Now he was traveling to Atlanta to play in a major tournament.
"He was so excited to pull that jersey over his head," Robin said. "You could see the excitement and the confidence. It was that, 'Hey, I can do this too' feeling. You would've thought he was Michael Jordan."
The whole group caught a Hawks game after the tournament. They posed for pictures together inside the State Farm Arena. The seats were pretty good too. It was the first time most of the ClemsonLIFE attendees had ever been to an NBA game, Mungo included.
"They were treated like rock stars the entire time," Robin said. "It really made them feel special."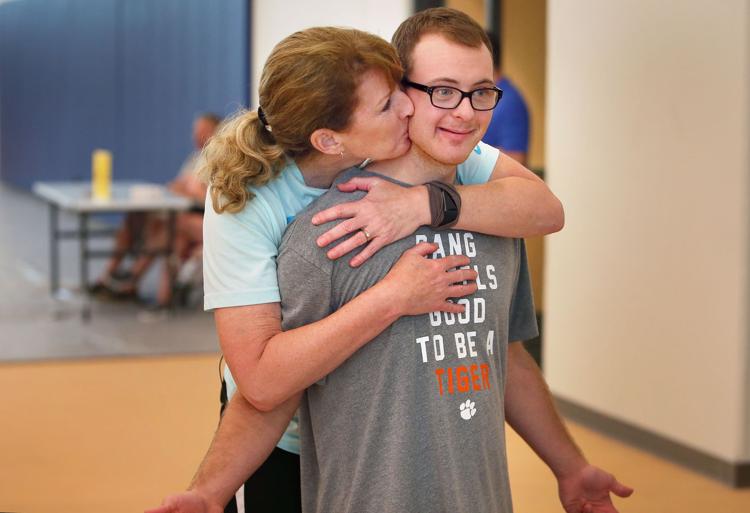 Antonelli mulled over the different ways she could host a second free-throw marathon this spring. The current health crisis limited her options.
Her inspiration came from Frankie. She's watched him find different ways to cope with the lack of social interaction during this quarantine. Frankie loves people. She knows there's bound to be countless others like him longing for stimulation once the social restrictions have been lifted. That's going to cost money to facilitate.
"Special education is always the least funded and the first cut," Antonelli explained. "It's not going to all of a sudden resume when we start to get back to normal. It's going to take the proper resources to get things moving again, to get everyone moving again."
Frankie will tell you he's the best shooter in the Antonelli family. He's honed his form on the family's home court: the driveway out front of their Mount Pleasant home. Wars have been raged over games of HORSE out there on the pavement.
The family driveway has been a proving ground for Antonelli before. Eight years ago, she challenged six women's college basketball teams, one each week, to make 100 15-foot jump shots. She did it first and then sent out the videos to the teams. Sometimes it was windy. Sometimes it would rain. She did it every day anyway.
So now she'll do it every hour. Even if it rains. Even when it gets dark. The 24 Hours of Nothing But Net is continuing on. Antonelli will start with 100 free throws at noon on May 16 and then make 100 more at the top of every hour after.
"As long as I've been playing basketball, we've always gone to the driveway," Antonelli said. There's something pure about it, she explained. "It resonates all the way back to my childhood. It's where I fell in love with this game."
The marathon will be live streamed on YouTube and Facebook. There will be prizes given away. Dr. Dish has donated a shooting machine valued at $3,000. There will be entertainment in between her free throws. Clemson football coach Dabo Swinney has already recorded an interview to be broadcast on the live stream and several other well-known sports figures are on board as well.
Antonelli shot 94% during last year's event. Impressive enough that even she was surprised, especially considering she shot around 72% from the free-throw line through her four-year college career at N.C. State.
Well-known personalities from all over the sports world —even CBS Sports' leading broadcaster Jim Nantz — made large contributions last year. Countless other people whose names you would never recognize, who just wanted to be a part of a good cause, pledged their money as well.
The event raised $50,000 before it even began last year, and $10,000 more even after it ended. Antonelli's expectation to match that amount is realistically cautious. That doesn't mean the success of the event, its impact, can't be matched or even exceeded.
"There's no question that my competitive sprit is my greatest strength and my very weakness," Anteonlli said. "It's not about whether I can finish anymore. It's about whether we can raise this event to a higher level."
Sam Mungo will never play college basketball. He may not play much more of any kind of basketball. But for a day, he was part of a team. He ran. He competed. He sweated. He was triumphant with his teammates. Win or lose, they celebrated together. He even has the purple No. 4 jersey hanging up to prove it.
"That's why we're doing this. Stories like that are why this is important," Antonelli said. "It's not really the free throws. It's what they represent."
Antonelli sees a future for this event that one day might be nationwide, including other public figures in other states — a sort of national torch run from free-throws lines across the country.
For now, though, for this summer at least, the family driveway will have to do. Stories like Mungo's and countless others who've been impacted by last year's event make it clear why, even if the rest of the sports world has stopped this spring, 24 Hours of Nothing But Net must continue.