No products found.
This Aftershokz Trekz Air Review provides a comprehensive analysis of all the significant features and functionalities.
The Trekz Air are bone conduction headphones that sit in front of your ears, rest on your cheekbones, and deliver sound through your bones to your inner ear.
Comfort and convenience in a pair of lightweight Bluetooth headphones are what you get from the Aftershokz Trekz Air. These open ear headphones rest comfortably on your clavicle area, allowing you to stay aware of your surroundings while listening to your music. They still don't block out the ambient noise around you, but the audio quality is better than most bone-conduction headphones that I have tried before. The new design of these headphones is also much more attractive, and they are available in four different colors!
In almost every way, the Trekz Air is an improvement over the previous model, Aftershokz Trekz Titanium. The main improvements are lighter weight (32% lighter), better battery life (6 hours compared to 6 hours), and a more comfortable fit with smaller earbuds.
According to AfterShokz, these are Trekz Air's key features:
Durable and flexible titanium Frame and wraparound band
OpenFit design allows you to tune in to your music or a call without tuning out the world around you
PremiumPitch+ technology optimizes the sound and includes additional features like LeakSlayer technology, which helps eliminate sound leakage
Sweat-resistant (IP55 rated to repel sweat, moisture, and dust)
Six hours of battery life for music calls
Fully charges in an hour and a half, but a 15-minute charge provides enough boost to "get you through a long workout or marathon call"
Dual noise-canceling mics help reduce surrounding noise and enhance speech clarity
Voice Prompts guide you through power, pair, play and talk, and more
Improvements over Trekz Titanium: Reduced sound leakage, improved dual noise-canceling mics, a new antenna for improved Bluetooth connection, resigned bone conduction transducers deliver more bass
Introduction
Some runners prefer music. Some don't. The truth is that music is a major motivator for most of us. Get a pumped-up song with the right rhythm, and your feet follow the beat almost effortlessly.
However, to listen to your favorite music while running, a great pair of wireless headphones is necessary. Such is the Aftershokz Trekz Air. Impressive headphones are introducing bone conduction technology. This means that you can pump up the volume while still hearing everything going on around you.
All runners have different needs. This means that someone would prefer noise isolation while running while another would not. However, most of the demands might vary depending on where we're running or exercising. In a safe place, free from cars, whether you run on the track or the treadmill or work out in a gym, you would probably choose your favorite Jaybirds or Bose headphones.
However, in the case of an outside run, blocking out ambient noise can cause safety issues. If you're running in an urban environment or commuting through busy streets, you need to hear those cars and people around you to avoid collisions. Under these circumstances, AfterShokz is an excellent option.
Let's take a deep dive.
Aftershokz Trekz Air is not your typical pair of headphones. It does not have earbuds going directly into your ear. Instead, a semi-rigid band connects around the back of your head and suspends the speakers directly over your cheekbones. The sound waves do not go straight into your eardrums as the music plays. Instead, it diverts through your bones.
What is bone conduction?
There are two alternative ways to hear sounds and voices: Air conduction and bone conduction.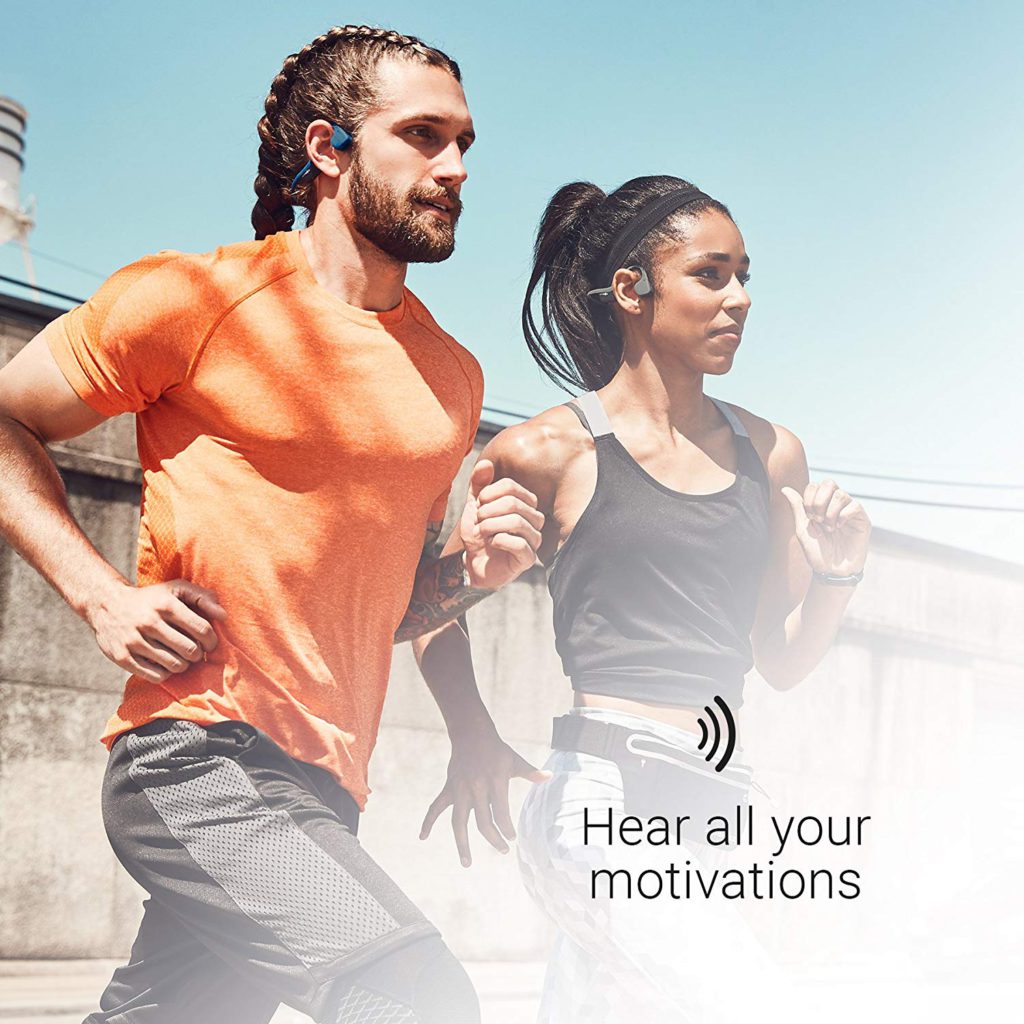 Air conduction refers to outside sound carried, from the outer ear, by airwaves and transferred to electrical waves in the inner ear. Bone conduction delivers the sound conducted as a vibration through the bones of your face to the inner ear, housing the organs of hearing and balance. The sound waves bypass the middle – eardrum and outer ear and directly stimulate the inner ear.
How does it work?
You should compare how your voice sounds when you speak versus when it's recorded. Your recorded voice sounds different. Usually, it does sound thinner because the recording is only picking up your air-conducted voice. You naturally hear your voice through air conduction and bone conduction. However, if you ask others, they say it sounds like you.
This technology has been around for several years as a helping tool for those with hearing loss. You can even trace it back to Beethoven. He used his adaptation of bone conduction by biting down the composer's wand that was touching the piano.
However, there's a trade-off here. The quality and the richness of the sound won't reach your favorite pair of Bose or Jaybird.
Design
AfterShokz's designs and technology have come a long way since the introduction of Trekz Titanium. Trekz Air is a compelling wireless sports headphone. It has a richer sound, with deeper bass and more volume overall. The size is also greatly improved, as it's much slimmer and 20% lighter than Trekz Titanium, weighing 29.5 grams. It's much more comfortable to wear, especially over the ears. This way, in case of warm weather, you can wear them on with your sunglasses.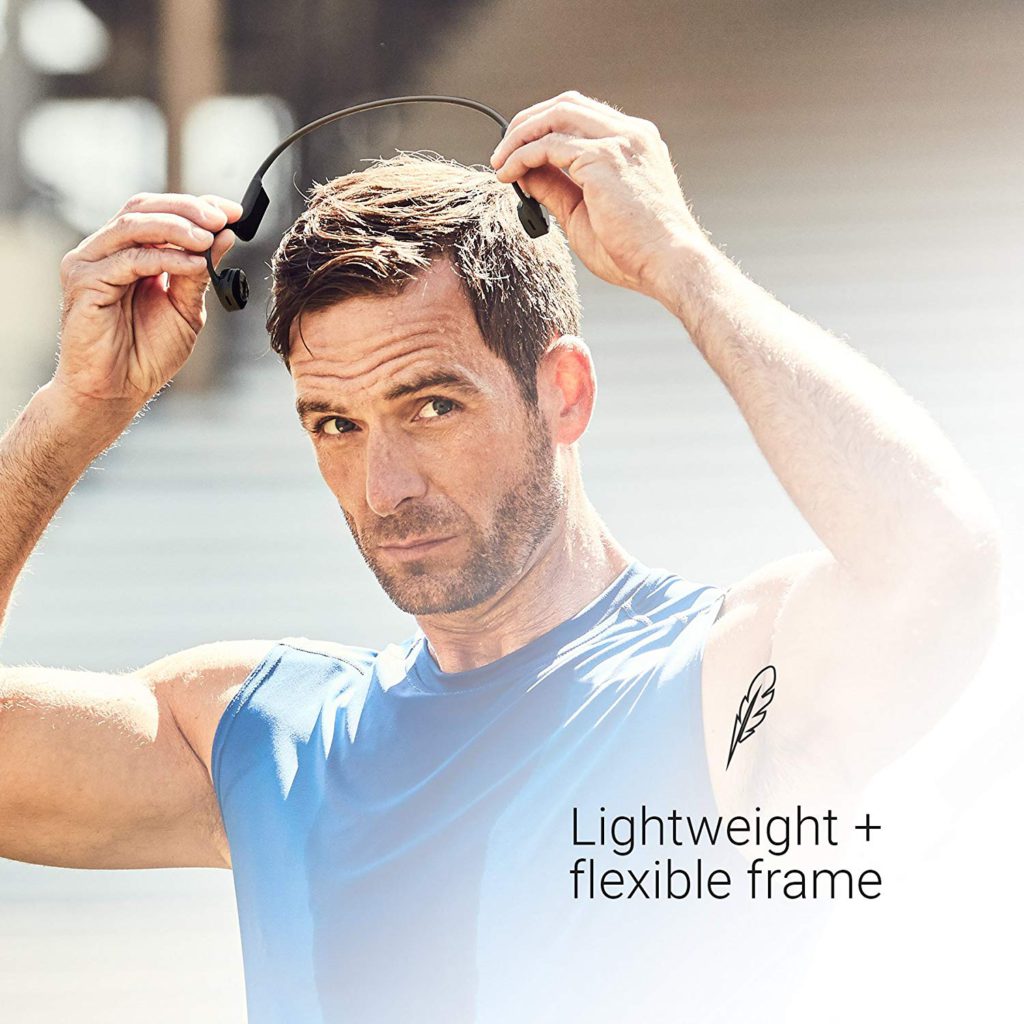 They can be referred to as head-back-buds and not neck-buds. The Trekz Air is solid. Still, they are flexible. Their titanium built allows them to be twisted and bendy. They can be worn around the neck or even shoved into a pocket.
The soft silicone cover and the cautious positioning of the electronics indicate that the Trekz Air can withstand heavy use. They combine very durable materials with excellent positioning of the various components. The Trekz Air sits comfortably at the top of the jawbone within a small dimple area. They deliver a superb, delicate, yet careful and clever design. They are also waterproof, and IP55-rated.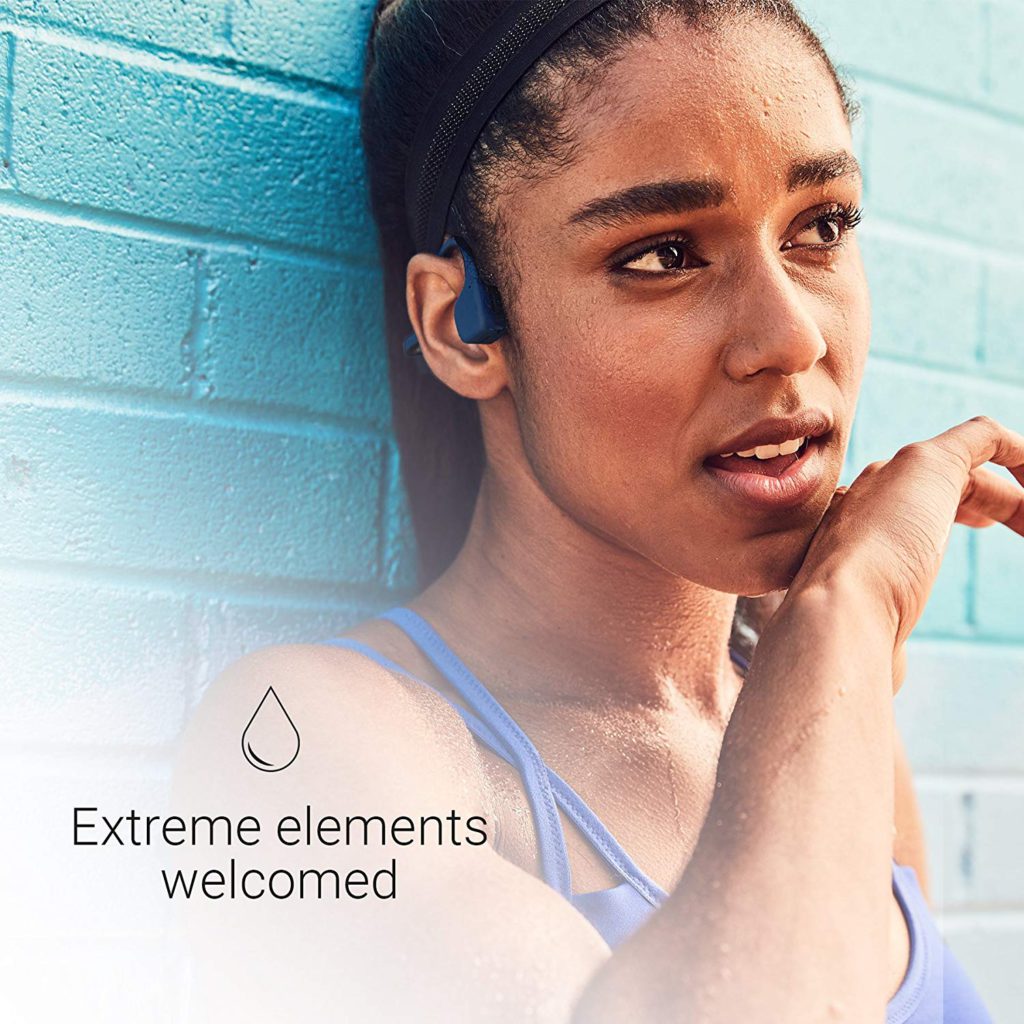 Buttons
The key design feature that makes Trekz Air stand out is that they're not earphones but speakers, allowing you to hear what's happening around you. AfterShokz calls this 'OpenFit.' It also offers a mute button as a further safety option to cut out the music in an emergency.
The buttons on the right side let you control playback and volume. However, they are pretty small and hard to operate by feel, but they do their work.
Hands-free calls are also available on Trekz Air. Speakers are equipped with noise-canceling microphones to minimize noise interference to improve voice quality.
The headphones come with a set of foam earplugs that you put into your ears. Surprisingly enough, if you bother jamming your ears with them, it improves the sound quality. It becomes louder and boosts the bass.
Performance
A female voice called Audrey, guides you quickly over the set-up.
The controls are relatively simple. On the right-hand side are volume buttons. Every press sends a tone to the speakers to notify you that action is taken to increase or decrease volume. When you reach maximum volume, a higher-pitch tone is sent.
There's a small fingertip-sized housing on each side, keeping the Trekz Air firm on the back of the head. They also include batteries and controls.
People nearby can hear what you're listening to if your music is at a high-volume level in a quiet environment.
So how is the sound quality?
The sound quality is good enough for the gym or the office; much better than the AfterShokz Titanium. However, it might not be enjoyable for someone who prioritizes sound quality.
If you use them in a busy city center or a crowded place, you'll probably observe that volume and bass levels aren't high enough. If you put them on full volume, you start to feel the vibrations in your cheekbone, which is discomforting.
If you turn up the volume to approximately 80%, where you feel a vibration, the sound level is adequate. However, it's not as loud as standard in-ear headphones.
Contrariwise most manufacturers, AfterShokz, promote situational awareness by using bone conduction. However, on the market, more popular are noise isolation and cancellation headphones.
Battery life
The slim size and the lightweight design are probably the cause of the short battery life. Both wireless models, Trekz Air and Trekz Titanium offer at least six hours of continuous music and calls on a single full charge.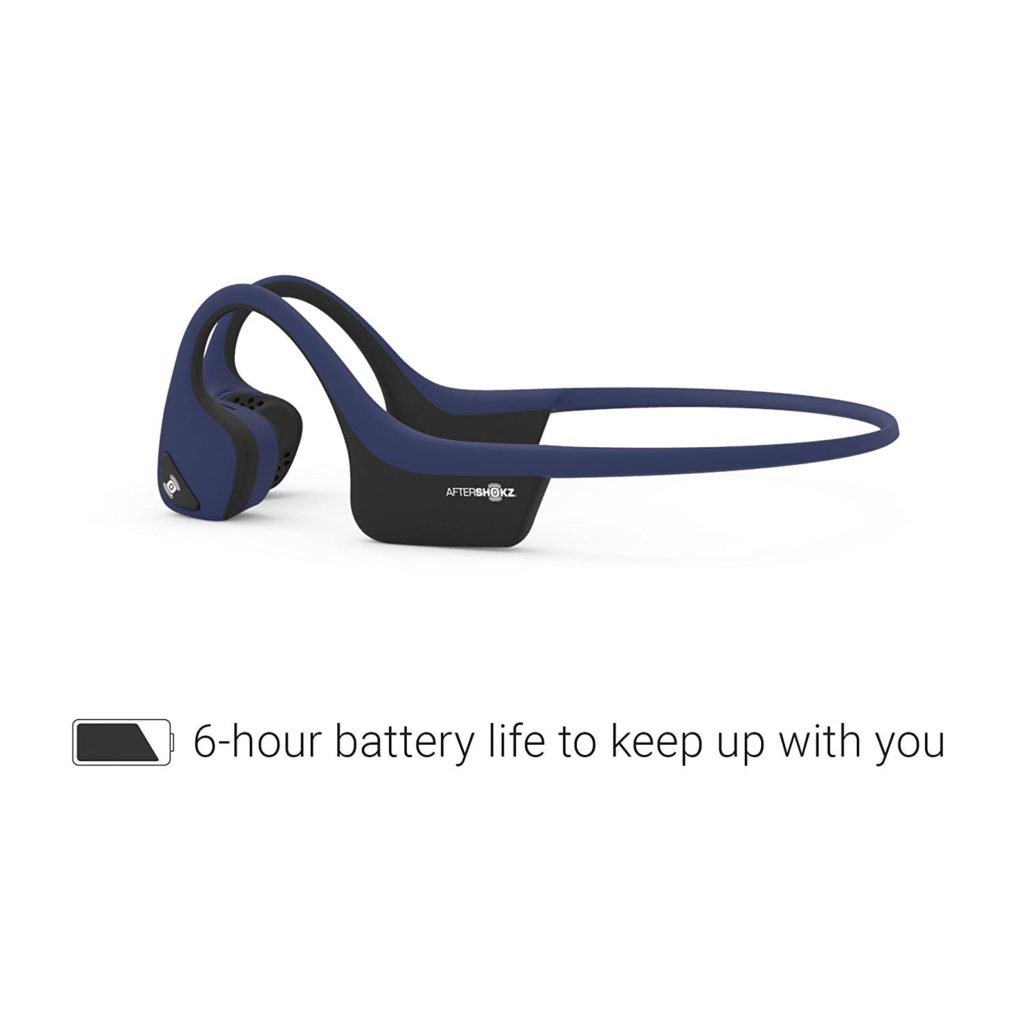 If you're a heavy user, hitting the gym daily, or setting out for a run, you'll probably charge them overnight every 2 or 3 days. Factor in occasional phone calls and some YouTube videos, then charging frequency increases.
However, the quick-charge mode saves you precious time. It lets you charge the Trekz Air for just 15 minutes for an hour of battery life. It's quite helpful if you charge them while you're getting ready for a run or a workout.
You also must consider that keeping the volume at a high level directly impacts battery life.
If you want headphones to last multiple uses with a single charge, you'll probably be disappointed. Still, the battery can easily last a marathon for nearly every type of runner.
Conclusion
Trekz Air is a unique proposal in the field of headphones. It's excellent for indoor use, like the gym or the treadmill, or outdoor, if you're out on the run in the countryside.
The Trekz Air offers an excellent, slim, lightweight, yet futuristic design. It provides a great fit, steady and stable. Perfect for running or bicycling. Detailed and precise positioning of the speakers and components. You can even combine sunglasses and a baseball cap while wearing the Trekz Air without any problem.
The short battery life is the only thing that I don't like about these headphones. But even that's not a big deal because you can charge them overnight, and they'll be good to go for another day or two.
However, the Trekz Air, in noisy environments, does not deliver extreme sound clarity. On top of that, the volume level is barely adequate to cope with the background noise. After all, the underlying technology is bone conduction speakers. This means they are designed to do the opposite of most noise isolation or cancellation headphones.
The battery issue is another constraint that has to be addressed before going ahead with the purchase. However, battery life is a natural limitation caused by a clever lightweight design that's truly unique.
Overall, I highly recommend the Aftershokz Trekz Air if you're looking for a pair of wireless headphones to use while working out or running. They're comfortable, stay in place, and sound good enough for most people.
Pros
Unique design
Comfortable & stable fit
Flexible & lightweight
Helps situational awareness
Cons
Volume level constraints
Sound quality limitations
Limited battery life
FAQ
Alex is a fitness aficionado, empowers others towards healthier, active lives through small, sustainable changes for lasting results. Visit Gearuptofit.com for insightful tips and resources to enrich a balanced lifestyle.