Garmin Fenix 6 series – Introducing Solar Technology to Boost Your Body's Abilities
The newest version of Garmin's flagship multi-sport smartwatch performs admirably well on our hands-on review, offering the best features your money can buy. For the last 5 years at least, Garmin's Fenix smartwatches have been considered one of, if not the, best multi-sport smartwatches, offering the best and most accurate GPS-based tracking activities and performance monitoring. In the attempt to defend its reputation, Garmin introduces the Garmin Fenix 6 Series. Garmin is declaring it to be the firm's biggest yet tweaked design and feature enhancements. The last we saw of this Fenix lineup was the 5 Plus series. It came just over one year ago and delivered some appreciated upgrades for its faithful Garmin fan base. The most significant one was the on-board music feature, offered by Spotify service and Garmin Pay for payments. Fundamentally, the Garmin Fenix 6 Series doesn't differ massively from its predecessor. It's the very same sports monitoring, mapping tools in addition to the same smartwatch attributes we found on the Fenix 5 Plus. Similarly, the Fenix 6 comes in with numerous similar variations, each targeted at different types of users. One more thing which has not changed here is the cost. It is still quite expensive concerning the overall smartwatch marketplace, with many skews and price tags for different model variations.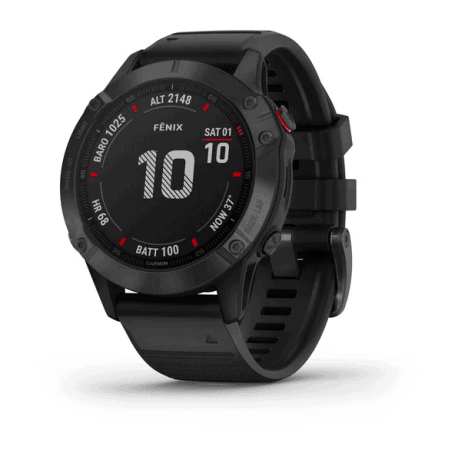 What does Fenix 6 introduce?
Garmin tried to tackle the size issue. Despite having a 17% bigger (1.3-inch) display over the 5 Plus, it manages to be lighter and smaller. It measures just under 1mm thinner and weighing 7g less that Fenix 5 Plus. Being this kind of subtle design upgrade, though, means you might not even notice.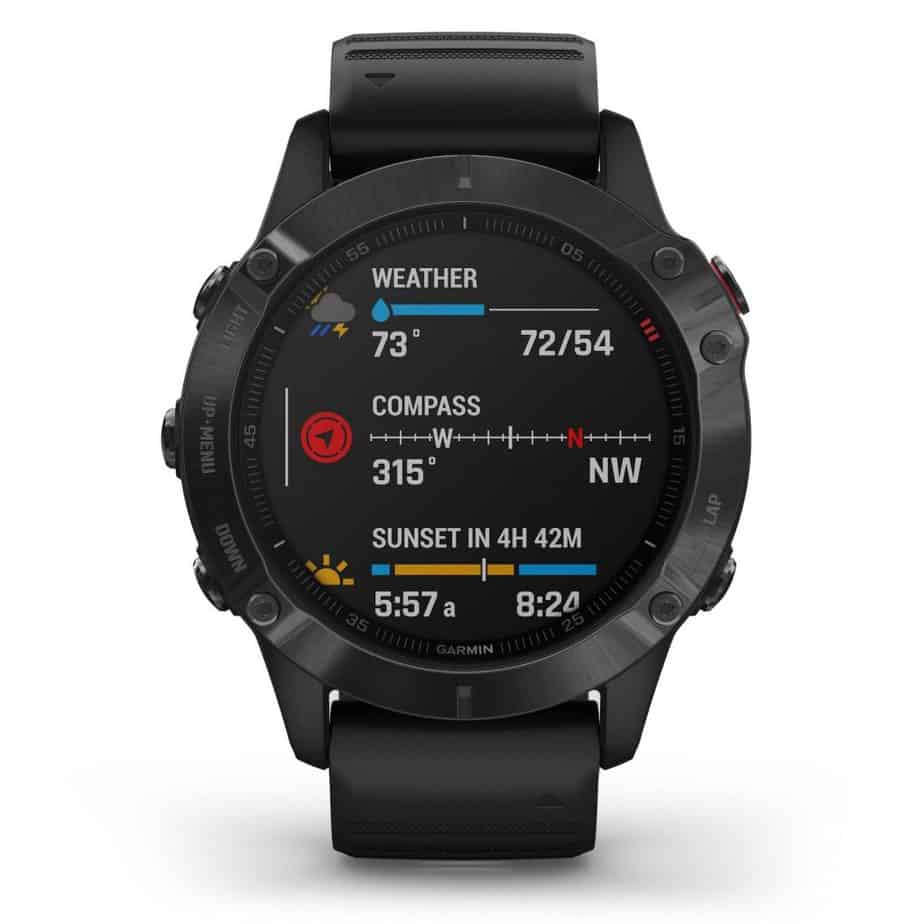 Display
One of the most significant upgrades design-wise, however, is that the display. The bezel size has been reduced so there is no longer a black rim separating the actual screen and also the edge of the watch face. And due to that, you can fit more customizable data areas (up to 8) on display at one screen.At 1.4 inches round, the Garmin Fenix 6X Series is equipped with a large display capable of screening lots of data. It is a lot more powerful than standard LCDs and saves you from having to crank up the brightness of the display, that had a severe impact on battery life.It's now also an always-on screen, which means you don't have to activate it with a powerful wrist-flick to check the moment. This is definitely a nice touch; checking the time should be completely effortless.As Garmin has stated, the new screen uses lower power, and you can easily see it in the sunlight. It is impressive how bright and clear the screen was when in direct sunshine. This is a noticeable improvement in the 5 series, which would often require excellent eyesight.The one drawback to this Fenix' screen is the fact that it looks a little more pixelated than LCD and AMOLED screens.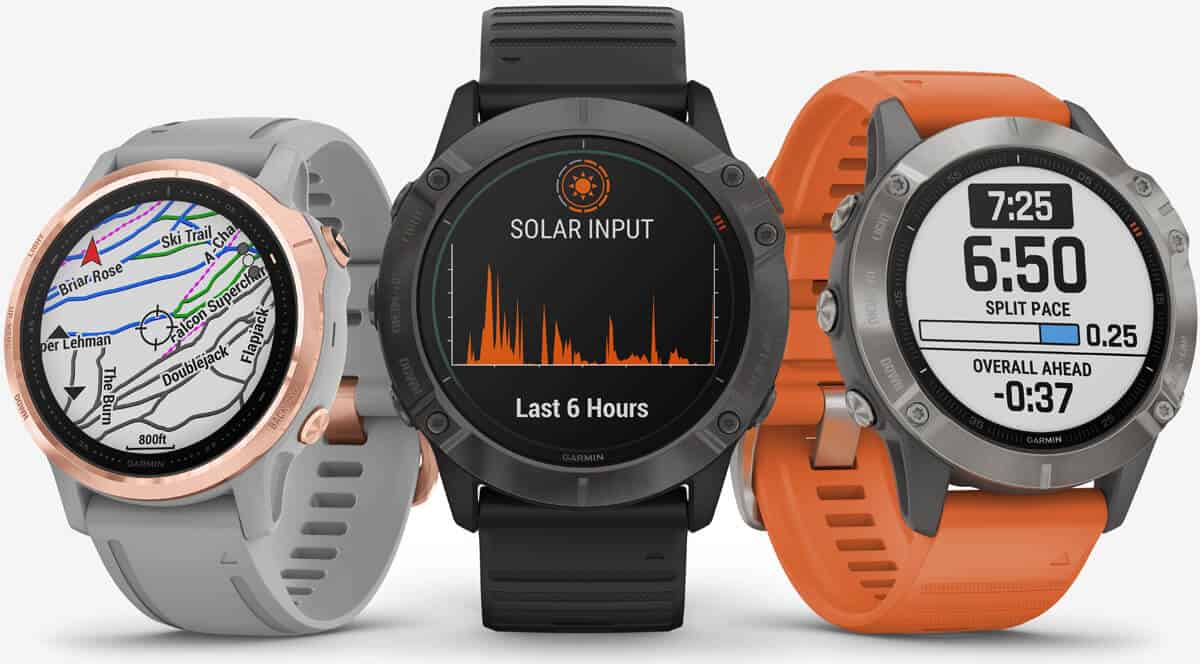 Different ring colors
Each model is available in a variety of case and ring colors; bands are now able to be swapped out more quickly, via a quick-release mechanism.The watch comes with a standard rubber strap that serves its function well, and feels comfortable enough, fastening securely with the QuickFit Band design. Also, for the very first time, Garmin is bringing some smarter-looking nylon fabric offerings to its strap lineup this year. We should test them to see how well are working with the rugged vibes of the Fenix 6, particularly the larger 6X.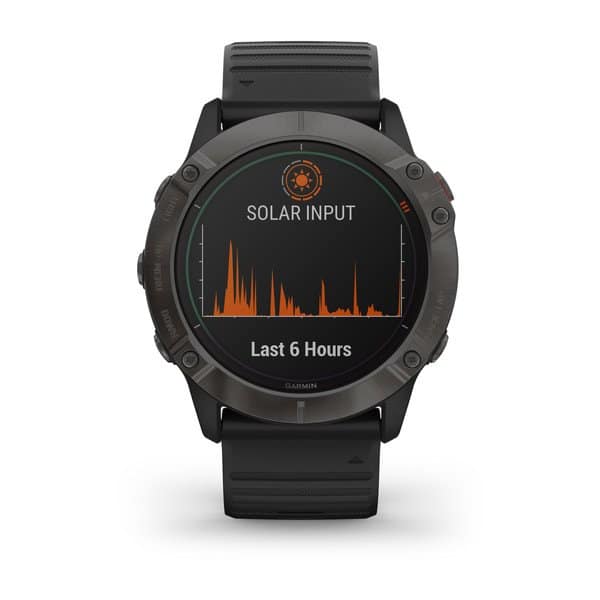 Fenix 6X Pro Solar
With case dimensions of 51mm, Fenix 6X Pro Solar is massive and a serious piece of jewelry that will make most wrists look like matchsticks.The underside of the Garmin Fenix 6 Series comes with an optical heart rate sensor in addition to a charging port, the latter of which seems to be the same as on other recent Garmin GPS watches. Although it's not usually the case that you'll switch between distinct watches, it's great to see the company standardizing on this.The Fenix 6X Pro Solar's case is made from titanium, which still weighs 54 grams (1.9 ounces). However, the Fenix 6S variant has a 42mm case and weighs only 1.5 ounces.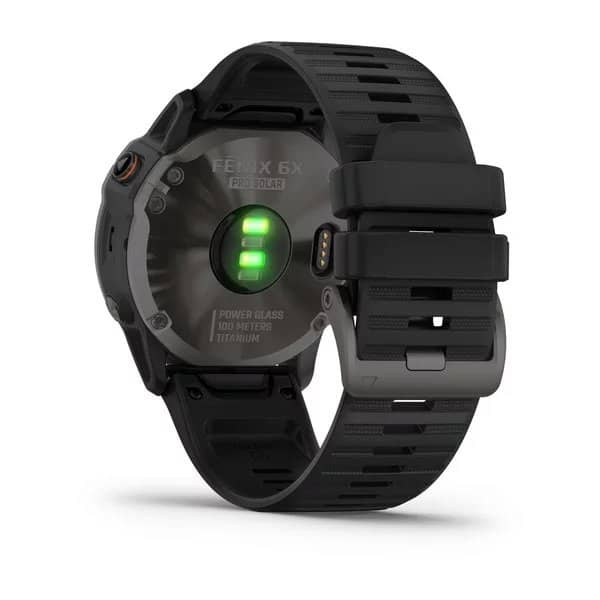 Solar power and battery life
The Fenix 6X Pro Solar's key feature is the solar panel built into the screen. With it, Garmin estimates that you'll have the ability to get an extra 28 hours of juice on top of the battery's 120 hours when used in standard GPS mode. The 6X Pro Solar can last up to 46 days, if you're using GPS in expedition mode, meaning that satellites pings are less frequently, with 10 days more with the solar charger. The most impressive improvement is that the solar energy feature manages to extend battery lifetime. It does drastically improve the length of battery life. It should give you an additional day of battery each week on average compared to those with no. The only drawback to the Solar variant is that you can't get it using a sapphire case (it has Gorilla Glass instead), making it slightly less scratch-resistant. Runners who want to make sure they're pacing themselves properly during a race can use the brand new PacePro feature in the Garmin Fenix 6 Series. This new feature offers the ability to keep tabs on their own goal split pace, and when they are ahead or behind on the pace, they have set. The Pro and Sapphire versions of every Fenix watches have up to 32GB of storage, and also come preloaded with more than 41,000 golf courses in addition to over 2,000 ski resorts. The on-board storage can be used to get songs to the watch itself and can be synced with Spotify and Amazon Music.
On-board advances
So, what are the new features on-board?
​Widgets glances is a substantial improvement. Now, you can find things better, faster, and see essential info at a glance.In fact, these newly re-designed widgets can make it much simpler to keep tabs on what the watch has been (or is) monitoring, summarising the most important information into a condensed block. Plus you'll be able to flick through immediately by tapping on the watch's menu button while on the home screen.However, the most notable improvement is the solar panels that can be found on the 6X Pro Solar version, which are built into the glass of the display, extending its battery life significantly.
Another significant change in Fenix 6 is the new efficient software power platform. For the remainder of the Garmin Fenix 6 Series, rather than providing users a remaining battery percent mark, Garmin has upgraded this to reflect real use in time, hours and days, which we're fans of. This will update in real-time, reflecting the authentic battery power remaining based on the way you are using the watch at the moment. Similar to a notebook battery indicator. Thus, it is going to show longer remaining battery life while not monitoring than when you are tracking a run using GPS.Speaking of that, GPS options have also been optimized by giving users the option to make their very own customized battery supervisor profiles depending on how they utilize the watch, which Garmin says could "double the battery life" from previous versions. For example, those who don't have to use certain features can choose to turn off them and focus and the tools they need, so the watch isn't unnecessarily draining the battery each time you track an activity.Regarding multi-sport tracking, the Fenix 6 series introduces an upgrade to its heart-rate sensor, especially for swimmers. Previously, you had to buy an additional chest strap to keep track of your heart rate while swimming. Garmin has managed to improve the sensor so that it can now measure heart rate underwater.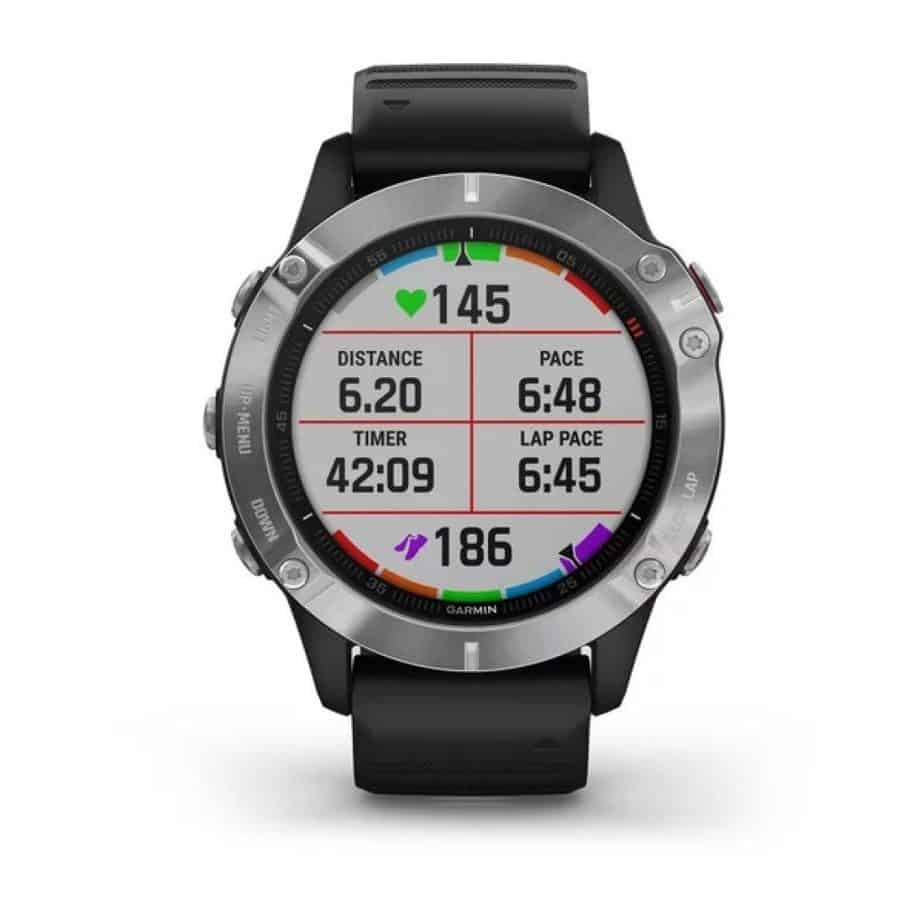 Pros
Introducing Solar Charging Technology
Outstanding Battery Life
Monitors Heart Rate while swimming without chest strap
Offers numerous features
Cons
High Price
The Pro Solar Edition is bulky (51 mm)
Conclusion
The poor battery life has always been a problem for all smartwatches. Although Garmin's Fenix devices have been famous for their endurance, incorporating solar panels to the Garmin Fenix 6 Series could result in a wristwatch that rarely needs to be recharged. For those out on epic adventures far away from any access to electricity, this feature alone can make the Fenix 6X Solar's equally huge price worthwhile.