With so many fitness trackers available today, choosing the right one can be difficult. We've put together an overview of the best fitness tracking watches!
Key Takeaways
The Best Fitness Tracking Watches
There are two main types of sports watches: GPS watches and activity trackers. The difference is that GPS watches only keep track of your location, but activity trackers record your activities. Garmin, Polar, Suunto, Apple, or even Samsung offer great options for anyone that follows an active life.
The best fitness tracking watches offer various options to every kind of athlete. Garmin, Polar, Suunto, Apple, or even Samsung offer great options for anyone that follows an active life. So deciding on the best sports watch can be a brain twister.
Someone might want something comfortable to wear all day. Another might choose something casual or more stylish or sporty.
But what makes the perfect sports watch?
The perfect sports watch should be lightweight, durable, water-resistant, and easy to read. A good sports watch also needs to be comfortable for long use. Some watches come with a heart rate monitor, while others do not. For those that do have one, they need to be accurate.
If you buy a sports watch, it is important to know what features you want in your watch. This will help you choose the right product for you. For example, many smartwatches are on the market today if you like technology. Some models still have analog faces or hands if you prefer something more basic. Most are designed to last several years before needing service or replacement.
When choosing a model, make sure it works well with your phone. You can also look at reviews online from other users who own the same model as you.
Types of Sport Watches
There are two main types of sports watches: GPS watches and activity trackers. The difference is that GPS watches only keep track of your location, but activity trackers record your activities. Both are very useful tools when trying to improve your health.
GPS Watches
A GPS watch uses satellites orbiting above us to track our locations. These watches usually cost less than $100. They give you step count, distance traveled, calories burned, and other data. Many people use these watches to get motivated about their daily exercise routine.
Activity Trackers
An activity tracker records everything you do throughout the day. It gives you information such as steps taken, calories burned, sleep quality, stress levels, etc. These devices are often used by athletes looking to measure performance during training sessions.
How Do Sports Watches Work?
Most sports watches work using a combination of GPS and cellular technologies. Cellular technology allows the device to communicate with your smartphone over a network connection. Your phone connects to the watch through Bluetooth or Wi-Fi.
Bluetooth Technology
Bluetooth technology allows you to connect various items. It lets you transfer files, audio, and video between smartphones, tablets, laptops, and PCs.
Wi-Fi Technology
Wireless fidelity (WIFI) is a way to send data across networks without being connected to the Internet. It's commonly used for wireless home networking.
GPS Technology
The Global Positioning System (GPS) is a satellite navigation system developed by the United States military. It helps provide precise location coordinates for any object on Earth.
Cellular Technology
With cellular technology, your watch communicates with your smartphone via your carrier's cell tower. This enables you to create an app on your smartphone that tracks your movements.
What Features Should I Look For In A Sports Watch?
Here are some things to consider when buying a sports watch:
Size
You may want a large enough screen to see incoming calls and texts easily. Also, a larger display means you can show more details. However, too big a screen could cause discomfort.
Battery Life
Some watches run out of battery quickly. Others have built-in batteries which last months. Make sure the watch has a battery life that suits your needs.
Waterproof
If you plan swimming or diving, you need a waterproof watch. Waterproof watches are made to be submerged underwater up to 50 meters deep.
Charging Time
Some watches take hours to charge. Others take just minutes. Choose one that charges fast.
Comfort
Your watch should fit comfortably on your wrist. You don't want it to feel tight or uncomfortable.
Apps
Make sure your watch has apps that offer additional functions.
Price
Sports watches come in all price ranges. Don't pay more than you need to.
Features To Consider When Buying An Activity Tracker
Activity trackers are similar to sports watches. However, they're not always accurate. Instead, they track how active you are throughout the day. Here are some features to look for when selecting an activity tracker:
Accuracy
Activity trackers monitor your heart rate, breathing patterns, and movement throughout the day. Some track your sleeping habits. However, accuracy varies depending on the model.
Heart Rate Monitor
A heart rate monitor measures your pulse. It works by using sensors placed near your body. The sensor sends signals to the watch. The watch then converts this into heart rate readings.
Sleep Tracking
Many activity trackers record your sleep cycles. They also tell you if you slept well.
Calorie Counting
Most activity trackers count your calories. You can set goals and receive reminders to eat healthy foods.
Bluetooth Connectivity
Most activity trackers allow you to pair them with other devices, such as smartphones. This makes transferring information easier.
What Are The Best Fitness Trackers?
Fitness trackers help you keep tabs on your health. These gadgets measure your steps, distance traveled, calories burned, and many other activities. Here are our popular model selection:
Garmin Fenix 5 Plus Series – The Ultimate Multisport on-wrist Trainer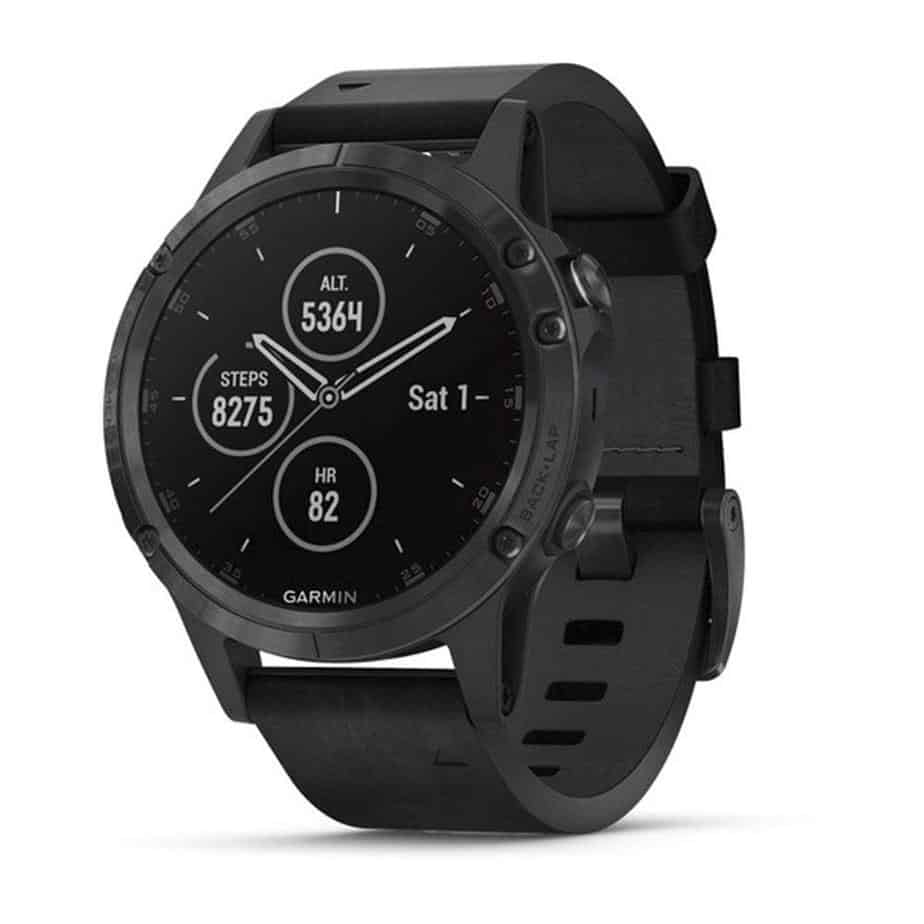 The Garmin Fenix 5 Plus multisport watch features top-of-the-line navigation and tracking capabilities while offering plenty of smartwatch functionality. This multisport GPS watch features a 32GB memory, a built-in wrist heart rate monitor, a barometric altimeter, and a compass with GPS and GLONASS connectivity.
The Fenix 5 Plus Series is the best multisport watch ever made. It's packed with new features designed to take your training to the next level. These include Elevate wrist heart rate technology, Training status with VO2 max for fitness evaluation, Training load with a recovery advisor, Group tracking, GymKit, and more. This watch is built for athletes who want to push their fitness further than ever before.
Key Features: GPS | Optical heart rate | Water resistant to 100 m | 18 hours battery, 42 hours UltraTrac | TOPO mapping | Garmin Pay | Music player | VO2 Max | Smartwatch notifications
Pros
Durability
GPS accuracy
Onboard color topographic maps
Onboard music
Supports a wide range of activities
Long battery life (5X Plus)
Cons
Battery Life (5S Plus)
Too bulky (5X Plus)
No products found.
Suunto 9 – An outperformer
The Suunto 9 is a real outperformer with an outstanding battery life of 120 hours of GPS monitoring that will outlast even the longest endurance challenges.
The Suunto 9 Baro is a durable multisport GPS watch with over 80 sports modes, a barometer for accurate altitude info, and a wrist heart rate monitor. This watch is for training, racing, and extreme adventures, delivering up to 120 hours of continuous exercise tracking in one charge.
The Suunto 9 Baro is water-resistant to 100 meters (330 feet), so it's great for swimming, surfing, and diving. Connected features include Bluetooth Smart notifications from your smartphone and the ability to share with friends via social media using Suunto Live.
Key Features: GPS | Optical heart rate | Water resistant to 100 m | 120 hours GPS Fusedtrack | Bluetooth Smart | Sunrise, Sunset, Storm Alarm | Temperature | Alti/Baro Profile, Pressure Resolution| Move Altitude Graph
Pros
Outstanding battery life
Accuracy even in power-saving mode
Innovative FusedTrack motion-based tracking
High-resolution, touchscreen display
Switch option from one battery management mode to another
Richness of performance metrics
Comfortable fit
Quality, robustness and reliability
Reasonable price
Cons
Lacks advanced sleep analysis
Not the brightest display
Complex menu
No products found.
Amazfit Stratos – Premium watch at low cost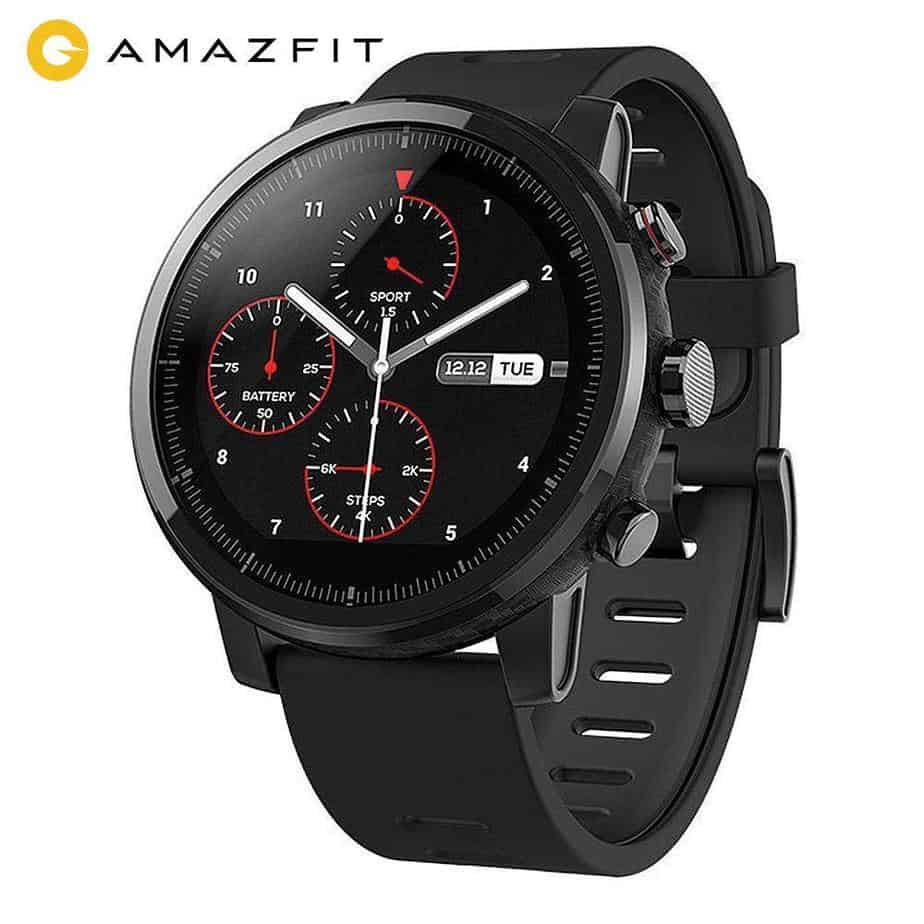 The Amazfit Stratos is an affordable GPS sports watch, that goes head to head with top-of-the-range sports watches like Garmin or Suunto.
Amazfit Stratos 3 is a professional sports smartwatch powered by FirstBeat Analytics with a 1.34-inch full-round transflective MIP display. The watch features an integrated GPS, heart rate monitor, barometer, and three-axis accelerometer to track your daily activity, including calories burned, distance covered, steps taken, and sleep quality.
With the help of advanced sensors and algorithms, Amazfit Stratos 3 provides accurate data on your VO2Max, Training Load, Training Effect, Recovery Time, and more to keep you motivated and improve your performance. It also has a built-in speaker and microphone for voice calls and messaging.
Key Features: GPS | Optical heart rate | Water resistant to 50 m | Up to 5 days battery life | Bluetooth 4.0 / BLE + WiFi | VO2 max | Onboard music | All-day Heart Rate and Activity Tracking
Pros
Very low price
Solid design
Feature packed
High-resolution color touch screen
On-board music (mp3 player)
GPS quality and altimeter
Battery life
Cons
No products found.
Alex is a passionate fitness enthusiast dedicated to helping people lead healthier, more active lifestyles. He encourages small – sustainable changes over drastic transformations and works with people to create customized wellness plans. His mission is to help others benefit from the most effective methods available, sharing tips, strategies, and health & fitness tools on Gearuptofit.com to inspire people to live their best lives.