The Garmin Fenix 6 Pro is the latest in Garmin's line of high-end multisport watches. This watch is quite different from its predecessor, the Garmin Fenix 5, and packs many new features and capabilities.
The Garmin Fenix 6 Pro is a multisport watch that can track time, distance, altitude, and pace while running, cycling, swimming, and hiking. It also features full-color maps, color maps, and GPS navigation.
Garmin Fenix 6 series – Introducing Solar Technology to Boost Your Body's Abilities.
The newest version of Garmin's flagship multisport smartwatch performs admirably well on our hands-on review, offering the best features your money can buy. For the last five years at least, Garmin's Fenix smartwatches have been considered one of, if not the, best multisport smartwatches, offering the best and most accurate GPS-based tracking activities and performance monitoring. To defend its reputation, Garmin introduces the Garmin Fenix 6 Series.
Garmin declares it the firm's most significant yet tweaked design and feature enhancements. The last we saw of this Fenix lineup was the 5 Plus series. It came a year ago and delivered some appreciated upgrades for its faithful Garmin fan base. The most significant one was the onboard music feature, offered by Spotify and Garmin Pay for payments. Fundamentally, the Garmin Fenix 6 Series doesn't differ massively from its predecessor. It's the same sports monitoring and mapping tools and the same smartwatch attributes we found on the Fenix 5 Plus.
Similarly, the Fenix 6 comes in with numerous similar variations, each targeted at different types of users. One more thing which has not changed here is the cost. It is still quite expensive in the overall smartwatch marketplace, with many skews and price tags for different model variations.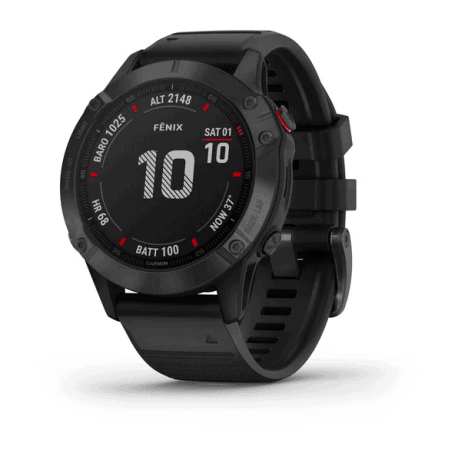 What does Fenix 6 introduce?
Garmin tried to tackle the size issue. Despite having a 17% bigger (1.3-inch) display over the 5 Plus, it is lighter and smaller. It measures just under 1 mm thinner and weighs 7g less than Fenix 5 Plus. Being this kind of subtle design upgrade, though, means you might not even notice.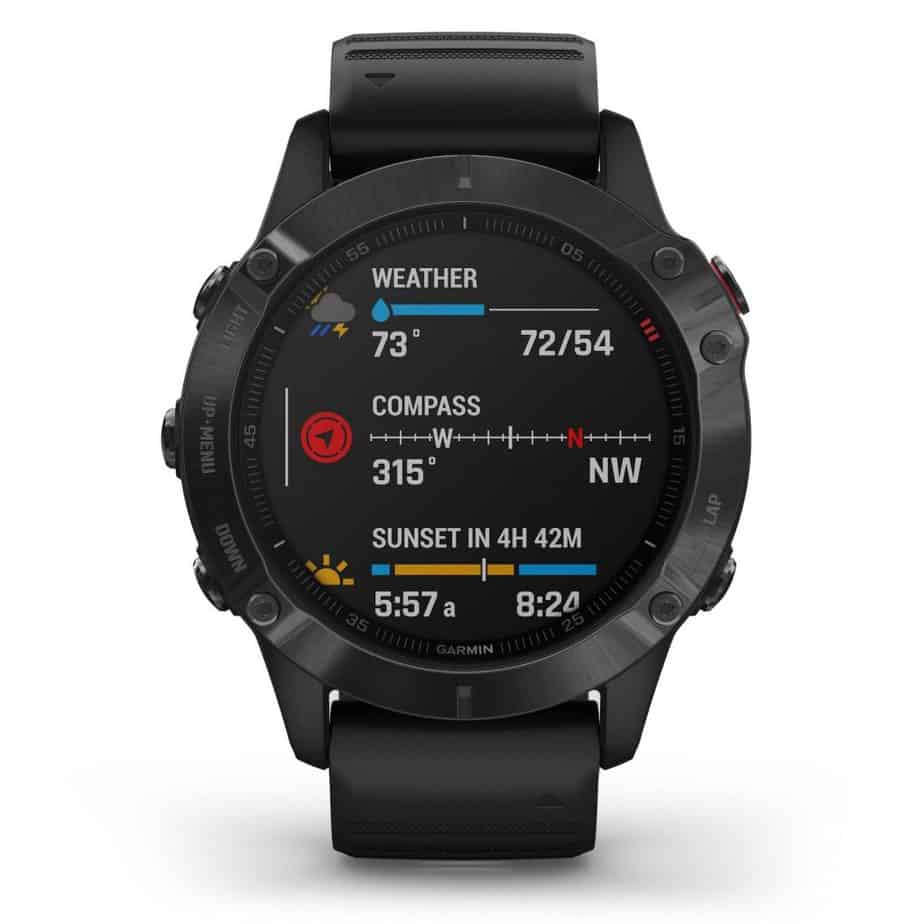 Display
However, design-wise, one of the most significant upgrades is the display. The bezel size has been reduced, so there is no longer a black rim separating the actual screen and also the edge of the watch face. And due to that, you can fit more customizable data areas (up to 8) on display on one screen.
At 1.4 inches round, the Garmin Fenix 6X Series is equipped with a large display capable of screening lots of data. It is a lot more potent than standard LCDs and saves you from cramming up the show's brightness, which severely impacts battery life. It's an always-on screen, so you don't have to activate it with a powerful wrist-flick to check the moment. This is a nice touch; checking the time should be completely effortless.
As Garmin has stated, the new screen uses lower power, and you can easily see it in the sunlight. It is impressive how bright and clear the screen was in direct sunshine. This is a noticeable improvement in the five series, which would often require excellent eyesight. The one drawback to this Fenix screen is that it looks a little more pixelated than LCD and AMOLED screens.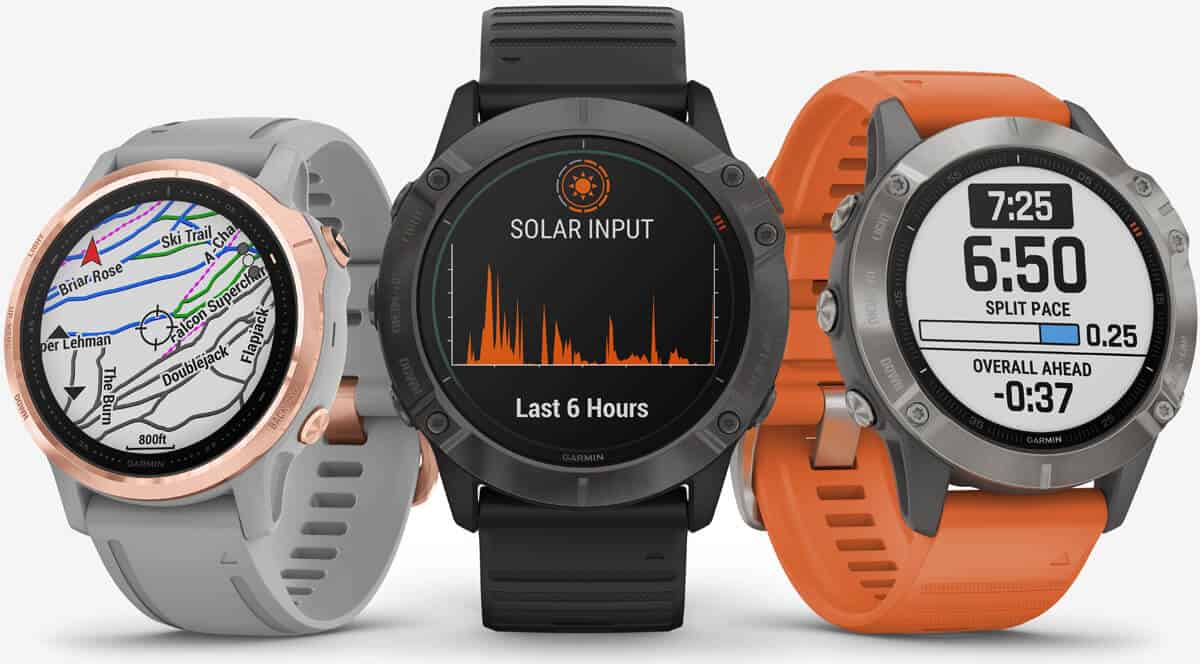 Different ring colors
Each model is available in various case and ring colors; bands can now be swapped out more quickly via a quick-release mechanism. The watch has a standard rubber strap that serves its function well and eels comfortably, fastening securely with the QuickFit Band design. Also, for the verst time, Garmin is bringing some smarter-looking nylon fabric offerings to its strap lineup this year. We should test them to see how well they e working with the rugged vibes of the Fenix 6, particularly the larger 6X.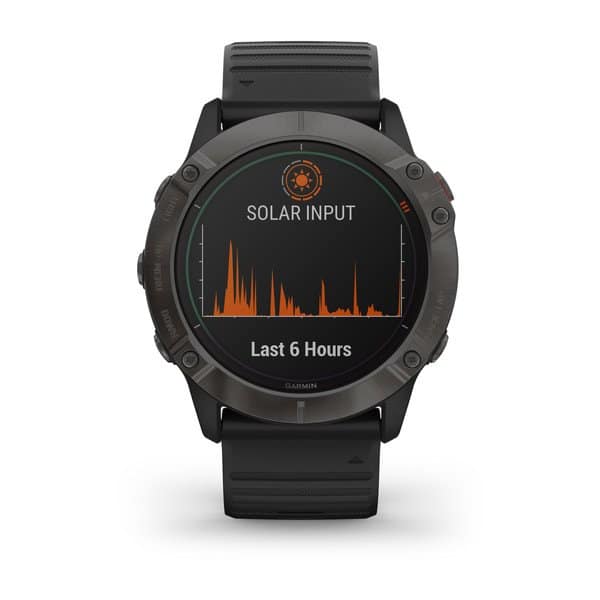 Fenix 6X Pro Solar
With case dimensions of 51mm, Fenix 6X Pro Solar is massive and a severe piece of jewelry that will make most wrists look like matchsticks. The underside of the Garmin Fenix 6 Series comes with an optical heart rate sensor and a charging port, the latter of which seems to be the same as on other recent Garmin GPS watches. Although it's not usually the case that you'll switch between distinct watches, it's great to see the company standardizing on this. The Fenix 6X Pro Solar's case is made from titanium, which still weighs 54 grams (1.9 ounces). However, the Fenix 6S variant has a 42mm case and weighs only 1.5 ounces.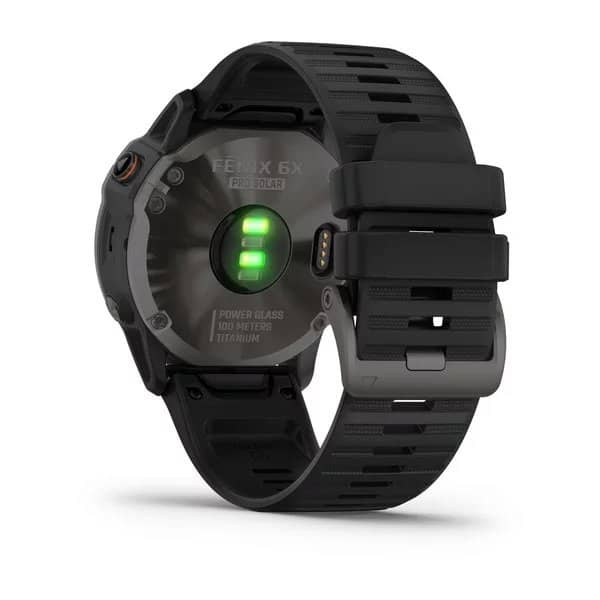 Solar power and battery life
The Fenix 6X Pro Solar's key feature is the solar panel built into the screen. With it, Garmin estimates that you'll have the ability to get an extra 28 hours of juice on top of the battery's 120 hours when used in standard GPS mode. The 6X Pro Solar can last up to 46 days if you're using GPS in expedition mode, meaning the satellite pings are less frequent, with ten days more with the solar charger.
The most impressive improvement is that the solar energy feature extends battery life. It does drastically improve the length of battery life. It should give you an additional day of battery each week, compared to those with no. The only drawback to the Solar variant is that you can't get it using a sapphire case (it has Gorilla Glass instead), making it slightly less scratch-resistant.
Runners who want to ensure they're pacing properly during a race can use the brand-new PacePro feature in the Garmin Fenix 6 Series. This new feature offers the ability to keep tabs on their own goal split pace and when they are ahead or behind on their speed. The Pro and Sapphire versions of every Fenix watch have up to 32GB of storage and come preloaded with more than 41,000 golf courses and over 2,000 ski resorts. The ononboardtorage can be used to get songs to the watch and synced with Spotify and Amazon Music.
TOPO Maps and Navigation with Trendline Popularity Routing
The Fenix 6X has a ton of features, including the ability to download TOPO maps and explore offline. If you use your watch for navigation, some great options are available to help you on the trail.
Garmin's Trendline popularity routing allows you to search for routes based on their popularity or by a specific category (hiking or cycling). You can then see the elevation profile and follow it with your device.
This function is great if you're looking for something new to do or want something off the beaten path—you can even pick from several different activities like hiking, running, mountain biking, and more!
GPS, GLONASS, and Galileo Satellite Network Compatibility
The Fenix 6X can be used with the GPS, GLONASS, and Galileo satellite navigation networks.
GPS, the market's most widely used satellite navigation system, stands for Global Positioning System. Built by the US military in the 1980s, it was initially intended to help troops navigate their way around during missions in hostile territory but has since become an integral part of our everyday lives. Today you'll find GPS devices everywhere, from smartphones to cars and boats, right through to your wrist with Garmin's Fenix 6X Premium Multisport Watch.*
GLONASS stands for "Global Navigation Satellite System" and is Russia's version of GPS. It was introduced in 1995 as a replacement for its legacy, the "Pioneerskaya Navigatsiya Sputnikovaya Sistema" (Navigation Satellite System). Like GPS, GLONASS provides precise real-time positioning information and accurate time measurement services all over the Earth, 24 hours a day.*
Galileo is Europe's answer to global satellite navigation systems like GPS and Glonass – but unlike its Russian counterpart, it isn't yet fully operational (though there are plans underway). Galileo will provide coverage across all 28 member states and four other European countries when fully functional. Norway, Switzerland, Iceland, and Liechtenstein.
Blood Oxygen Saturation Awareness with Pulse Ox Sensor
The advanced Pulse Ox Sensor for Blood Oxygen Saturation Awareness (SPO2) gives you information about the oxygen level in your blood. This can help you ensure that you're exercising at a safe level for your body, especially if you have any pre-existing medical conditions like COPD or high blood pressure.
It's also beneficial because it allows you to monitor how much oxygen gets into your body during exercise without stopping and checking on a pulse oximeter. Press the upper right button on the watch face, which will start tracking SPO2 levels when prompted by an audible beep. This feature is convenient if you're trying to track whether it's time for another interval training round!
Wrist-Based Heart Rate Monitor with VO2 Max and Stress Tracking
The Fenix 6X is equipped with a wrist-based heart rate (HR) monitor that uses photoplethysmography (PPG), a technology that measures changes in blood volume beneath your skin. The monitor also monitors your stress and VO2 Max, which is the maximum oxygen uptake and can help you improve your fitness levels.
How does it work?
The Fenix 6X uses optical sensors inside its HRM4 chest strap to measure your heart rate. The strap connects to a small transmitter on the back of the watch; when you put it on, you're ready to go.
How do I use this data?
After each workout, Garmin Connect will show you how much time was spent in each zone, calories burned, steps and sleep quality—just like any other tracker would do after each workout. You can view graphs to see how much improvement has occurred over time for each activity (like running or cycling).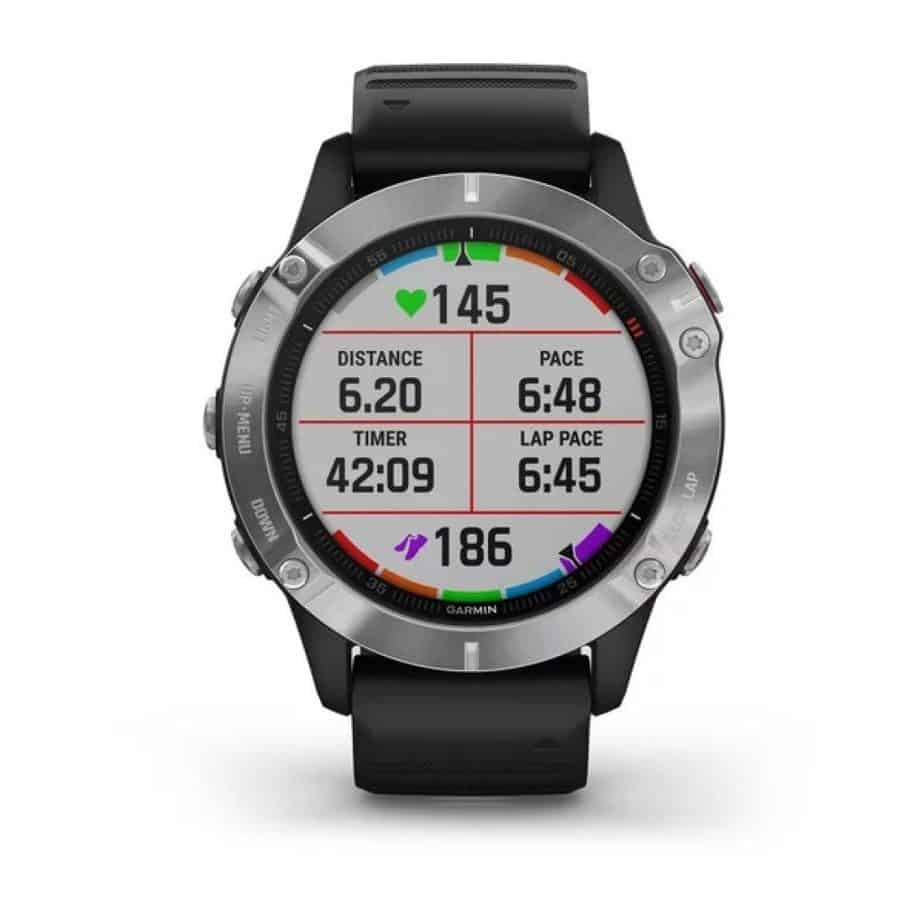 How does the Garmin Fenix 6X Premium Multisport Watch compare to other top multisport watches?
Regarding multisport watches, the Garmin Fenix 6X Premium is the best on the market. This watch is perfect for athletes who want to track their progress and performance in various sports.
First and foremost, the Garmin Fenix 6X Premium is a GPS watch. It can track your location and routes while running, cycling, swimming, or other sports. This is important because it helps you stay consistent and ensures you get the most out of your training.
Second, the Garmin Fenix 6X Premium is a multisport watch. This means that it can track multiple sports simultaneously. This is great for athletes who want to track their progress and performance in various sports.
Third, the Garmin Fenix 6X Premium has various other features that are perfect for athletes. These features include VO2max tracking, automatic lap/time tracking, and multiple sensors that help track your performance.
Overall, the Garmin Fenix 6X Premium is the best multisport watch on the market and is perfect for athletes who want to track their progress and performance in various sports.
Our review and verdict of the Garmin Fenix 6X Premium Multisport Watch.
We've been using the Garmin Fenix 6X Premium Multisport Watch for the past few weeks and have had a lot of fun with it. Here's our review and verdict on the movie.
First of all, the Fenix 6X is a powerful and versatile watch. It can track a wide range of activities, from running to cycling to swimming, and has all the features you'll need to track your progress.
The watch also has several features that make it an excellent choice for athletes. For example, it has a heart rate monitor and a built-in GPS that makes it easy to track your progress. It also has many other fitness-related features, like a timer and a stopwatch, making it an excellent choice for those looking to improve their fitness.
Overall, we're impressed with the Fenix 6X Premium Multisport Watch. It's a robust, versatile watch that is perfect for athletes or anyone who wants to track their progress in various activities.
What are the pros and cons of the Garmin Fenix 6X Premium Multisport Watch?
Regarding activity trackers, the Garmin Fenix 6X Premium Multisport Watch is a top contender. Here are some of the pros and cons of this device:
Pros:
The Garmin Fenix 6X Premium Multisport Watch has several unique features, like its swimming mode and heart rate monitor.
-It is waterproof to 50 meters so you can use it for swimming, kayaking, and other aquatic activities.
The Garmin Fenix 6X Premium Multisport Watch has several sensors that monitor various activities, including running, cycling, swimming, and climbing.
Cons:
The Garmin Fenix 6X Premium Multisport Watch is bulky and not very easy to wear.
Depending on the version you purchase, it can be expensive.
-The battery life is not as long as some other similar devices.
If you are looking for a top multisport watch, the Garmin Fenix 6X Premium Multisport Watch is a great option.
The Garmin Fenix 6X Premium Multisport Watch is an excellent option if you're looking for a top multisport watch.
This watch tracks multiple sports, including running, cycling, swimming, climbing, and more. It has various features make it perfect for athletes of all levels, including tracking heart rate, distance, pace, calories burned, and more. Additionally, the watch can be used for navigation, so you can find your way without ever having to take your phone out of your pocket.
The Garmin Fenix 6X Premium Multisport Watch is an excellent choice for anyone who wants a top-of-the-line multisport watch that will track their progress and help them achieve their fitness goals.
Conclusion
Overall, we think the Garmin Fenix 6X Premium Multisport Watch is an excellent choice for runners and cyclists. It's easy to use and provides detailed information about your performance. We think the Garmin Fenix 6X Premium is a perfect option if you're looking for a top-of-the-line multisport watch.
The Garmin Fenix 6X is a high-quality watch with many great features to keep you active and healthy. Whether you're out for a run or swimming laps in the pool, this watch has everything you need to stay on track with your fitness goals. We highly recommend it!
FAQs
What type of activity tracking does the Garmin Fenix 6 Pro offer?
The Fenix 6 Pro tracks various activities, including running, hiking, mountain biking, swimming, skiing, snowboarding, paddle sports, triathlon, and weight training. The watch uses GPS and altimeter/barometer to track elevation changes during activities and track pace, distance, and cadence during running, walking, and cycling activities.
You can also set alerts and reminders on the watch, such as sending emails or texts, setting a daily step goal, or receiving a call or text from your smartphone. The clock does this with Garmin Pay, which allows you to make payments at the tap of your smartwatch.
The Fenix 6 Pro has a battery life of up to 20 hours in GPS mode or up to 40 hours in UltraTrac mode; it charges with a magnetic dongle.
The Fenix 6 Pro Premium Multisport GPS Watch comes bundled with the Garmin Swim.
Does the Garmin Fenix 6 Pro have a barometer?
No, the 6 Pro does not have a barometer.
What size are the buttons on the Garmin Fenix 6 Pro?
All buttons are 0.5 inches.
What different display colors can the Garmin Fenix 6 Pro have?
The Garmin Fenix 6 Pro has three display colors: black, gray, and orange. The premium multisport GPS watch is available in black and gray.
How does the Garmin Fenix 6 Pro charge?
The Garmin Fenix 6 Pro charges through a micro-USB cable. The watch has a battery that can last for 20 hours in GPS mode, 9 hours of use in training mode, and 4.5 hours in UltraTrac mode. It's also compatible with the Garmin Charge and ANT+ USB PowerTap Adapter.
Sale
Garmin 010-02158-01 fenix 6 Pro, Premium Multisport GPS Watch, Features Mapping, Music, Grade-Adjusted Pace Guidance and Pulse Ox Sensors, Black
Fit for performance with rugged, sophisticated design that features an always-on 1.3" (18% larger than previous Fenix models) sunlight-readable display with bezels in stainless steel, titanium or diamond-like carbon (DLC) coating.Special Feature:Bluetooth.
Enhanced estimated wrist heart rate and Pulse Ox to support advanced sleep monitoring and altitude acclimation at high elevations (this is not a medical device and is not intended for use in the diagnosis or monitoring of any medical condition)
Advanced training features include PacePro for grade-adjusted pace guidance throughout your activity plus environmentally adjusted VO2 max and training status estimates
Navigate the outdoors with preloaded topo maps, ski maps for over 2,000 worldwide ski resorts, multiple global navigation satellite system (GPS, GLONASS and Galileo) support and built-in sensors for 3-axis compass, gyroscope and barometric altimeter
Support for Garmin Pay contactless payments (not all countries and payment networks are eligible), music storage with premium streaming service (may require subscription with third-party music provider) support, smart notifications and more
Alex is a passionate fitness enthusiast dedicated to helping people lead healthier, more active lifestyles. He encourages small – sustainable changes over drastic transformations and works with people to create customized wellness plans. His mission is to help others benefit from the most effective methods available, sharing tips, strategies, and health & fitness tools on Gearuptofit.com to inspire people to live their best lives.