Running is one of the most popular sports among kids. Read more to find out the Best Kids Running Shoes.
Kids running shoes are necessary gear for kids who love to run. Just as with adult shoes, there is no perfect pair of kids running shoes, as each child's needs vary.
It is important when buying kids running shoes to consider their size, shape, and flexible­ness, as well as the child's individual needs and preferences. Additionally, avoid purchasing expensive running shoes that may not be very durable.
Kids running shoes should fit snugly but not too tightly and have a flexible sole to allow natural movement. If your child experiences pain or discomfort when running, it is essential to stop and assess the situation before continuing.
Why Kids Need Running Shoes?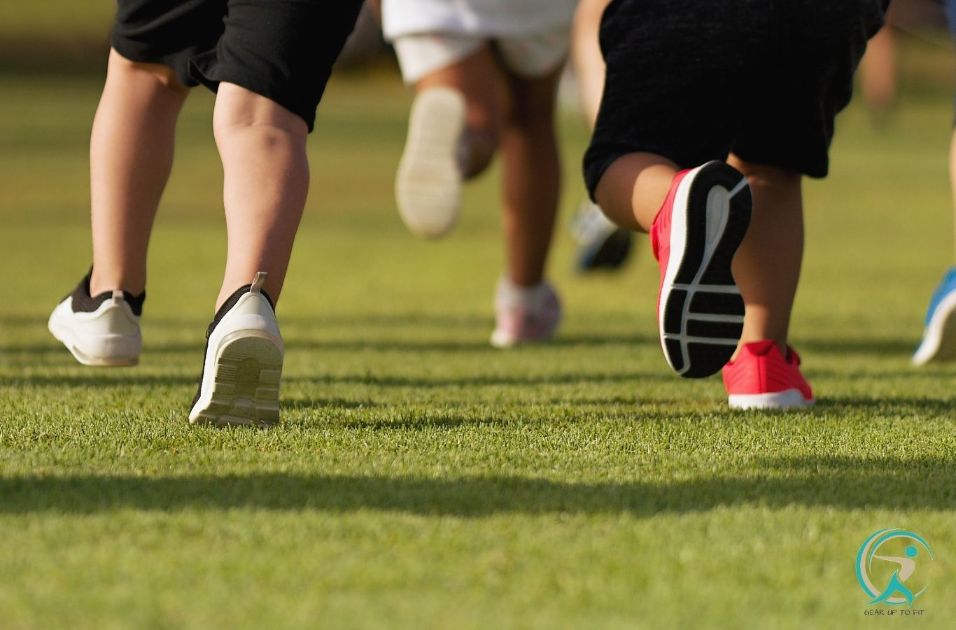 Kids need running shoes for their health and safety. They can help them run faster, jump higher, and even prevent injuries.
According to the American Academy of Pediatrics, all children between ages 5-18 years old should participate in some form of physical activity every day. This includes walking, playing team sports such as soccer, basketball, football, baseball, hockey, tennis, and participating in other activities like swimming, dancing, riding bikes, skateboarding, rollerblading, skiing, snowboarding, and horseback riding.
Children who do not get enough exercise tend to become overweight, which increases the risk of developing heart disease, diabetes, high blood pressure, cancer, and osteoporosis later in life. In addition, they also tend to develop carpal tunnel syndrome, shin splints, stress fractures, and knee problems.
In fact, according to the Centers for Disease Control and Prevention, nearly half of all childhood obesity cases can be attributed to lack of exercise.
What Kinds Of Running Shoes Are Available For Children?
There are many different types of running shoes available for kids. The best type of running shoes depends on the child's age, height, weight, foot structure, and level of fitness.
For instance, if you're looking for a comfortable shoe that will provide support, stability, and cushioning, then consider buying a neutral shoe. These shoes are ideal for beginners because they offer good shock absorption and protection from injury.
If you want a shoe that provides additional support and stability, choose a supportive shoe. These shoes are designed specifically for runners who already experience mild to moderate overpronation.
If your child has flat feet, they might benefit from wearing orthotics. Orthotic insoles are custom-made inserts used to correct misalignment of the joints and bones.
These insoles are usually made of soft materials and are worn inside the shoe to relieve pressure points and improve posture.
How To Choose A Good Pair Of Running Shoes For Your Child?
Choosing a suitable pair of running shoes for your child requires understanding their foot anatomy and biomechanics.
It is essential to know whether your child has normal arches or flat feet. Flat feet occur when the arch collapses during growth and development.
This condition causes the heel bone to rub against the front part of the foot, leading to pain and inflammation.
If you notice any changes in shape or size, this could indicate that they need new shoes. You can also ask them if they feel like they are getting hot when they run. This means that there may be something wrong with the shoe.
What to look for when buying kids running shoes?
Make sure that they fit well. It should be snug enough to keep the foot from slipping around but not tight. A good rule of thumb is to buy shoes 1-2 sizes larger than the actual shoe size. For example, if your child wears an 8, get a 9 or 10.
Look for a shoe that has a flexible sole. These will allow your child to move naturally as they run. Also, avoid shoes that have hard plastic soles. This type of material can cause blisters on the bottom of the foot.
Avoid purchasing expensive running shoes for your kids. While these types of shoes might seem cool and trendy, they are usually made of materials that are not very durable.
Adidas Unisex-Child Lite Racer Adapt 4.0 Running Shoe
No products found.
The Lite Racer Adapt 4.0 features a Unisex-Child sizing option and a casual, breathable upper that dries faster fast. Folding BOOST™ is a full-length boost midsole that offers relentless energy return and comfort, while Stretchweb outsole provides lightweight support, cushioned landings, and durability. The Adidas logo is featured on the shoe's tongue, with a stripe pattern around the outside.
Adidas Unisex-Child Ultraboost 21 Running Shoes
No products found.
The Adidas Ultraboost 21 is an updated version of the popular running shoe. It has a wider midsole for extra comfort and stability. The upper is made from Primeknit, which offers a comfortable fit with the no-sew material application. There are also two different types of boost foam in the midsole: soft and responsive. The outsole features Continental rubber for superior grip on any surface while running. 
Adidas Unisex-Child EQ21 Running Shoe
No products found.
The Adidas EQT Support 93/16 is a modernized version of the classic Equipment running shoe. The upper features a mesh and synthetic leather construction, with three stripes on the side panel. The Boost midsole provides energy return and comfort, while rubber outsole pods provide traction.
New Balance Kid's Fresh Foam Arishi V2 Bungee Running Shoe
No products found.
New Balance Kids Fresh Foam Arishi V2 Bungee Running Shoe is a perfect fit for little ones with an active lifestyle. The fun bungee laces and lightweight cushioning will keep them running all day long.
Lightweight cushioning – Bungee lacing system – Flexible rubber outsole – Durable upper material.

Under Armour Unisex-Child Grade School Assert 8 Sneaker
No products found.
Under Armour's Grade School Assert 8 Sneaker is a great option for kids who need the extra support and comfort that comes from an athletic shoe. The synthetic upper of this sneaker will keep your child comfortable all day long, while the rubber sole will provide excellent traction. With a padded tongue and collar, as well as a cushioned footbed, this sneaker has everything your kid needs to be active throughout the day!
Just one look at this Under Armour Assert 8 Sneaker, and kids will know how awesome it is. This sneaker has everything that runners need. It comes with a breathable mesh upper that offers excellent ventilation for the feet. The Velcro strap closure ensures top security as well as a snug fit. The rubber outsole provides long-lasting durability on any surface, while the molded insole offers cushion and support for the foot.
PUMA Unisex-Child Cell Regulate Running Shoe
No products found.
The PUMA Cell Regulate is a lightweight training shoe with an adaptive cushioning system. The single-layer mesh upper features a quick-drying finish, and the lower section of the shoe has been constructed from Eva foam to provide added comfort, while the color pop on the heel helps you stand out from other runners.
Nike Unisex-Child Revolution 4 (Gs) Running Shoe
No products found.
The Nike Air Zoom Mariah Flyknit Racer Running Shoes for men and women are built with a lightweight, breathable, one-piece upper that molds to your foot while you run. The shoes feature a full-length Max Air unit in the heel and forefoot for maximum cushioning and support. The Flywire cables wrap around the midfoot for an adaptive fit. Plus, they're made with recycled materials like recycled polyester fabric in the upper.

Adidas Unisex-Child Fortarun Running Shoe
No products found.
The Adidas Unisex-Child Fortarun Running Shoe is an advanced engineered mesh for lightweight comfort. The padded collar and tongue provide a snug fit that feels great. The rubber outsole flexes naturally with every step to ensure optimal stability without compromising on comfort. This shoe also has a lace closure system to keep the shoe secure.
Adidas Unisex-Child Racer Tr 2.0 Running Shoe
No products found.
The Adidas Unisex-Child Racer Tr 2.0 Running Shoe is an excellent choice for the athletic child looking for comfort and support without sacrificing style. The shoes feature a breathable mesh upper that allows air to flow through the shoe keeping your child's feet cool and dry during play. A supportive midsole provides stability during play, and an EVA outsole offers traction on multiple surfaces.
New Balance Kid's 680 V6 Lace-up Running Shoe
No products found.
The New Balance 680 V6 is the perfect choice for your young athlete. This lightweight running shoe has a breathable mesh upper and an EVA midsole to help support their growing feet. The ABZORB® heel cushioning system absorbs shock, while the REVlite midsole provides added comfort and durability. Complete with a durable rubber outsole, you can be sure that this sneaker will keep up with your active child!
New Balance Kids FuelCore Reveal Boa V2 Alternative Closure Running Shoe
No products found.
The New Balance Kids FuelCore Reveal Boa V2 Alternative Closure Running Shoe is the perfect shoe for your little one who loves to run. These kids running shoes feature a mesh upper with synthetic overlays for added support and durability and a lightweight EVA midsole that provides cushioning. The lace-up closure system makes it easy to get your little one in and out of these running shoes, while the rubber outsole offers traction on multiple surfaces.
Alex is a fitness aficionado, empowers others towards healthier, active lives through small, sustainable changes for lasting results. Visit Gearuptofit.com for insightful tips and resources to enrich a balanced lifestyle.