Introduction
In this Nike Pegasus Turbo Review, we will evaluate step by step all the major features and characteristics of these running shoes.
Nike's Zoom Pegasus Turbo is an innovative running shoe designed to help you run faster. The profile of the shoe is a combination of Vaporfly 4% and the classic Nike Pegasus.
The Nike Zoom Pegasus Turbo running shoe was developed and tested by elite Nike marathon runners in Kenya. Amongst them, feedback was provided by the Kenyan marathon world champion, Eliud Kipchoge, who last year nearly broke the two-hour barrier for the 42.2km race.
Kipchoge wanted a pair of daily trainers with a similar racing performance to Zoom Vaporfly Elite but with better cushioning.
Nike's ZoomX brings record-breaking innovation to your daily training. The shoe delivers revolutionary responsiveness for a lightweight running shoe. Flywire cables integrate with the laces to wrap the midfoot and arch providing a secure, dynamic while comfortable. The translucent mesh is well built, delivering a feather-light feel around your foot.
Here is the breakdown of the Nike Pegasus Turbo review.

Product: Nike Air Zoom Pegasus 35 Turbo
weight: 8.1 ounces (size 9)
midsole drop: 10 mm
recommended for: speed sessions, fast runs, racing
product color:

Black/Oil Grey/Gunsmoke/Vast Grey
Gridiron/Atmosphere Grey/Peat Moss/Black
Blackened Blue/Flash Crimson/Black/Orange Peel
Rating: 9/10
Where to buy: Amazon
Upper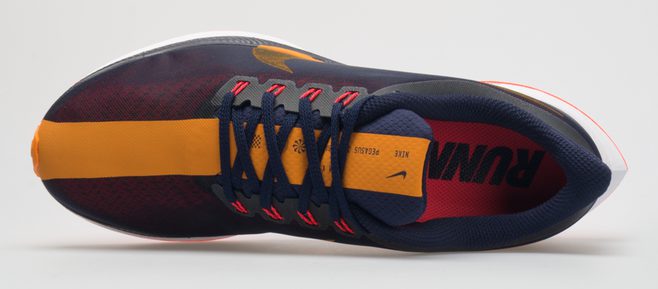 The upper body of the shoe is using luminous material. It uses the flywire cords to help lock your foot in place when you tighten your laces.
The upper is fully breathable, while the toe box is extremely spacious, more than the Pegasus 35 and even more than the Vaporfly 4%.
Three external characteristics make the shoe stand out, declaring that this is a fast, racing shoe. A racing stripe at the center of the shoe, a curved heel pad, and a large Nike swoosh that takes up half the shoe.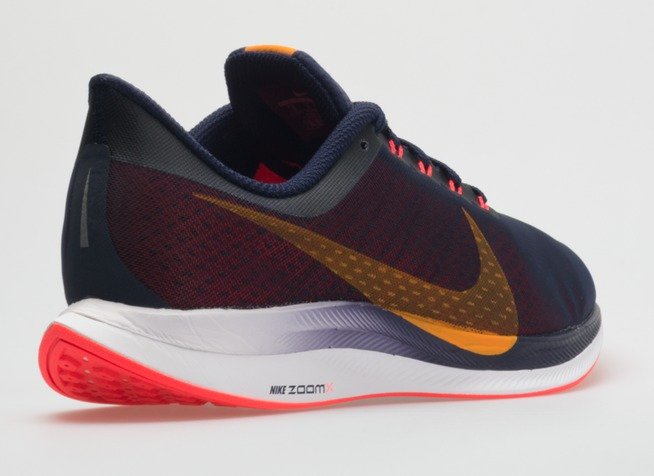 The aerodynamic shape of the curved heel pad is also found in Vaporfly 4%, Zoom Fly, and Pegasus 35. I would say that the curved fin heel pad is for decorative purposes only, but Nike would argue that it reduces friction on your Achilles' tendon when running.
Midsole
The key factor of ZoomX is the lightweight foam in the midsole made from Pebax. A material more typically used for plastic bridges and other molded parts in shoes. Pebax has a lower density than some thermoplastic alternatives, but is lighter, flexible, resists impact, and returns energy. All those properties remain unchanged when it's blown into a foam.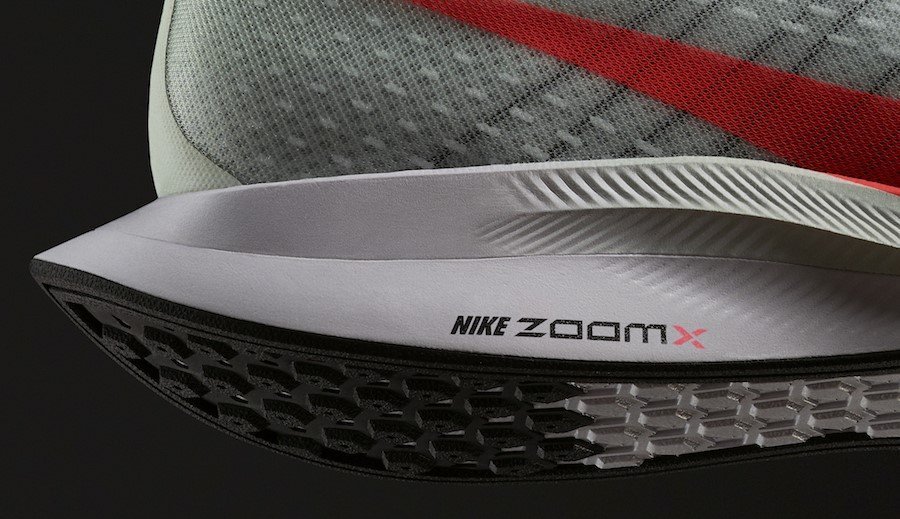 The ZoomX foam in the midsole combined with the upper featherweight part of the shoe contributes to the lightness of ZoomX, weighing only 238g (men's size 9) compared to the 281g of the standard Pegasus 35. However, the actual weight understates how light it really feels on foot.
Comfort and fit
Nike Zoom Pegasus Turbo offers a very comfortable ride that feels good and soft.
The Flymesh, at the upper part of the shoe combined with the Flywire laces, wraps around the foot in a very comfortable way, ensuring a secure fit in the midfoot area. For a running shoe designed for racing, this model has a very well-cushioned heel and tongue.
The shoe offers a spacious toe box, which is comfortable for every runner. In addition, the shoe foam feels incredibly lightweight. Flywire cables running along the sides keep the foot stable once they are laced up.
This is a very well-built running shoe that fits perfectly at the upper part. Width-wise, it's almost above average. The lacing system is efficient and can be adjusted to fit most foot widths.
Cushion
Nike Zoom Pegasus Turbo offers great cushioning. The ZoomX foam feels similar to Adidas's Ultra Boost foam. However, the shoe is far lighter than any Ultra Boost shoe, with comparable cushioning making the shoe even faster.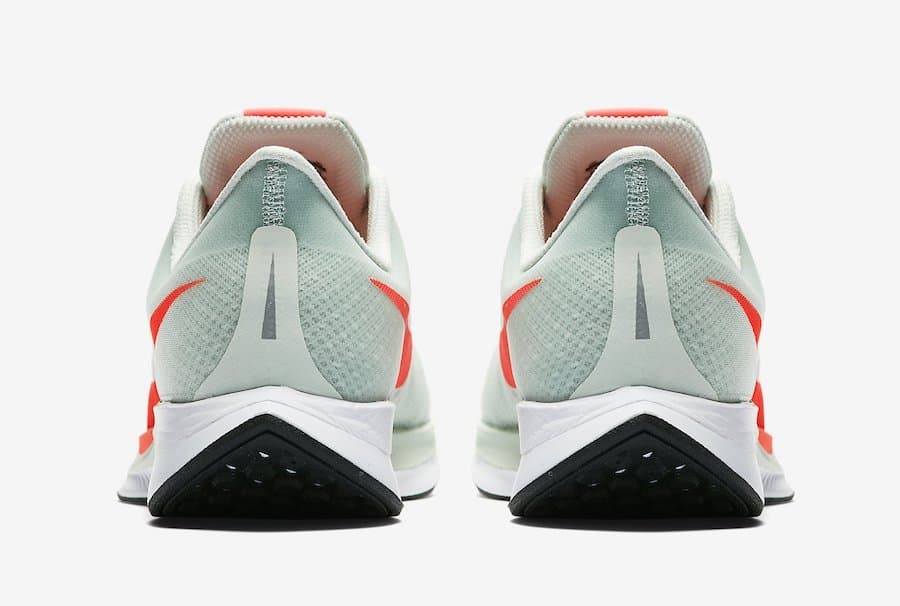 Hands down, the combination of a lightweight, cushioning shoe is undoubtedly a great option for a marathon or half marathon runner.
Ride
Nike has combined ZoomX foam from the Nike Vaporfly 4% with new React cushioning. The upper layer of cushioning consists of React, while the lower layer is Zoom X, resulting in a very soft cushioning effect for a racing shoe. According to Nike, this shoe achieves 85% energy return, putting it on the Nike running shoes.
With every step, the bouncy foam of ZoomX offers more of your energy is returned rather than absorbed. If you translate this, it means that after each run, you'll end up with more energy compared to a shoe with soft, less bouncy foam.
The carbon fiber plate offered on the Vaporfly Zoom Elite, and the Vaporfly 4% is completely removed, providing less stiffness and less forward propulsion. It's exceptional when it comes to going as fast as possible on race day. ZoomX provides a great balance to keep you feeling fast, bouncy while your stride feels smooth.
Traction – Grip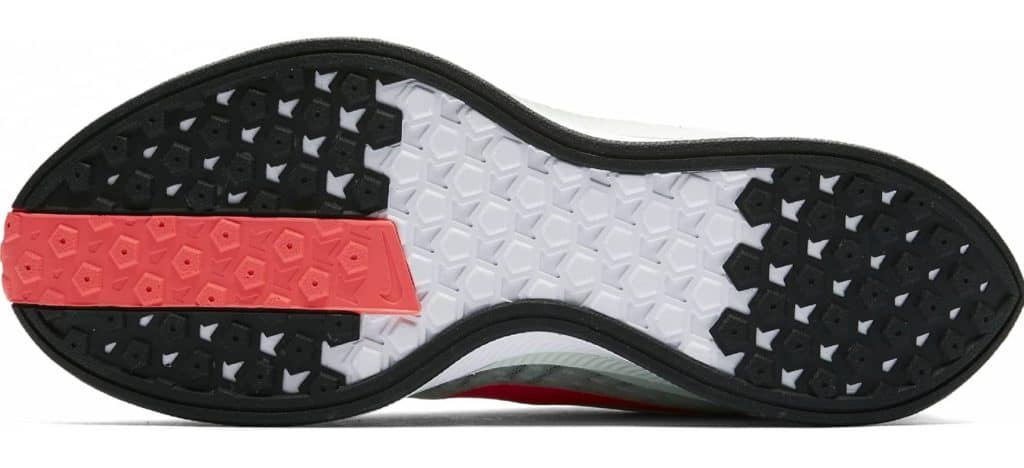 Traction-wise, the shoe is great. Transitioning from pavement to dirt or even to small rocks, the shoe responds more than satisfactory. It responds very efficiently in the long run, giving you the feeling that the last few miles are like the first few.
The outsole is similar to the classic waffled design to promote traction and durability and hold up over time.
It provides a great grip on the most common running surfaces. The sole follows a minimalistic approach and has a large recess in the middle for less weight, making the shoe very light. So, it provides great traction at high speed.
Conclusion
Nike Zoom Pegasus Turbo is a shoe that makes you want to run all day.
Running in the ZoomX is a joyride. The shoe combines the cushion of a support shoe with the lightness of a racing flat. The outsole provides great traction and is reliably grippy.
This is a great shoe designed for up-tempo runs. If you are looking for an everyday trainer with great cushioning and outstanding energy return, Nike Zoom Pegasus Turbo is the best choice.
Pros
Superb energy return.
The foam delivers heightened responsiveness.
Provides comfort around the Achilles tendon.
Absorbs impact and provide multi-surface traction.
Lightweight.
Performs great as running shoe and lifestyle wear.
Cons
Nike Men's Air Zoom Pegasus 35 Running Shoe Bright Crimson/Ice Blue/Sail 8 Medium US
Weight: approx. 12.0 oz.
Upper: Single layer engineered mesh with internal, seamless notched inner sleeve for maximum comfort coupled with Dynamic Flywire technology for maximum lockdown. Bottom eyelet has been moved up to open up the forefoot flex zone and provide an optimal fit.
Midsole: Full-length Cushlon ST foam works with a Nike Zoom unit in the heel for soft, responsive cushioning and great forefoot flexibility. Beveled heel.
Outsole: Environmentally preferred solid rubber with classic Waffle outsole for durable traction. Lateral rubber blades for added sensory feedback and cushioning.
Last update on 2021-09-20 / Affiliate links / Images from Amazon Product Advertising API