Discover the best running shoes for different distances, featuring top brands like Brooks, Hoka, and New Balance.
As an avid runner, you know that each stride carries immense power, but are you sporting the perfect running shoes to unlock your full potential? Navigating the ever-evolving world of running shoes can seem overwhelming, given the many options designed to cater to various running styles, distances, and terrains. Whether you're a casual jogger, a long-distance devotee, or a marathon trailblazer, finding one pair of shoes that effortlessly enhances your running experience is paramount.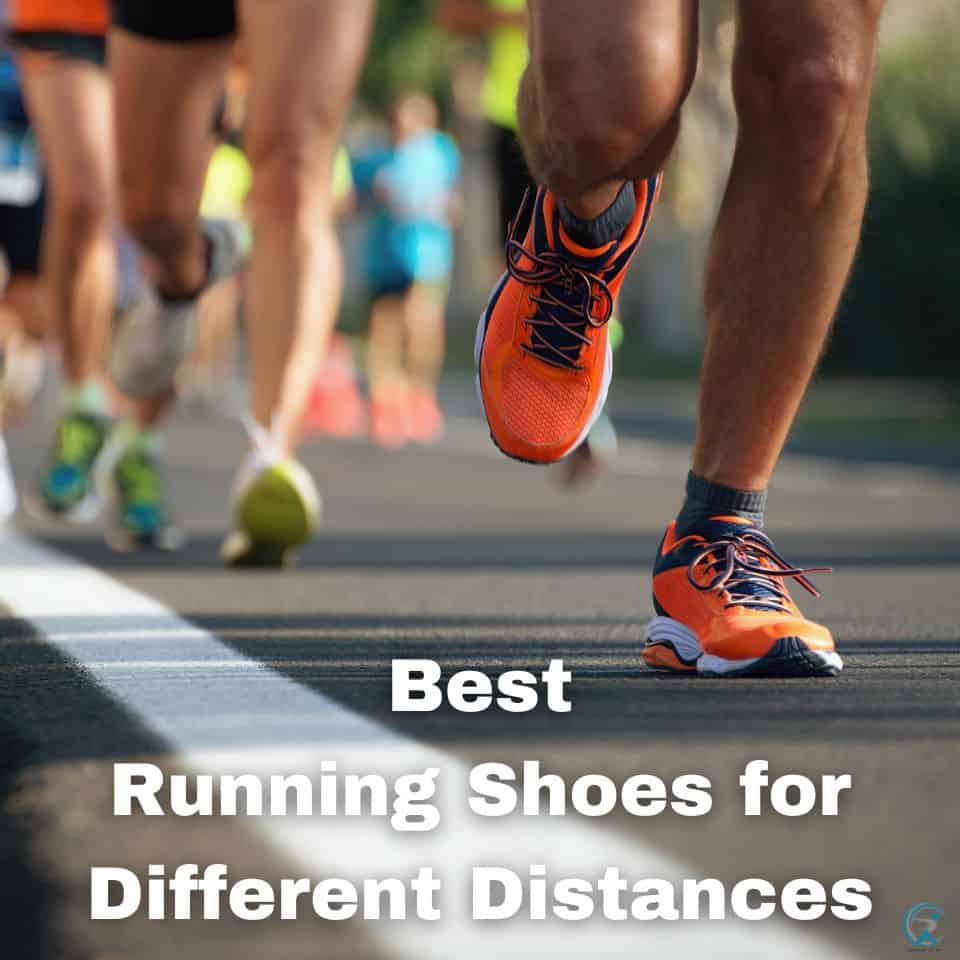 In 2023, the running shoe industry has soared to new heights of innovation, with renowned brands like ASICS, Brooks, Hoka, Saucony, and New Balance competing to deliver unparalleled comfort, performance, and durability. From ultra-lightweight sneakers designed for high-speed workouts to sumptuously cushioned trainers for extended runs and even specialized shoes tailored for marathon training—there's a flawless shoe for every runner and every distance.
Why stick to only one pair, though? In this comprehensive guide, we'll delve into the advantages of alternating between several pairs of running shoes, making certain that your feet stay revitalized and properly supported as you rack up those miles. So, get your laces tightened and set off on an exhilarating adventure into the realm of top-notch running shoes for varying distances, as we reveal the keys to mastering your stride in 2023!
Check out: How To Choose The Right Running Shoes
What are Running Shoes?
Running shoes, a type of athletic footwear, are crafted explicitly for use while running. They come with cushioning, flexibility, and support features that help to absorb shock, making your runs more comfortable.
The primary categories of running shoes include neutral, stability, and motion control. Each of these types possesses its own distinct features:
Neutral shoes have low arch support, which means they're great for people who don't need extra support or stability from their shoes but still want some cushioning.
Stability shoes feature additional padding in the heel area (the part at the back) and midsole (the middle section), making them ideal for those with flat feet or high arches who need extra stability while running because they tend to overpronate (roll inward). If your foot rolls too much when you run–or if it feels unstable–then this is probably what you should get!
Check out: How to get better at running – A simple guide
Why is it Important to Rotate Running Shoes?
Rotating your running shoes is important for several reasons.
First, it will help prevent injuries and reduce the risk of overuse injuries.
Second, rotating your running shoes allows you to get more out of them before they become worn down and must be replaced. This saves you money in the long run since you won't have to buy new pairs as often!
Thirdly (and this one's my favorite), rotating your running shoes helps keep things interesting! When we wear the same pair every day, our bodies become accustomed to them and don't work as hard during our workout sessions; this can lead to boredom or burnout if we don't mix things up occasionally by alternating which pair we use each week or month.
Types of Running Shoes for Long Distance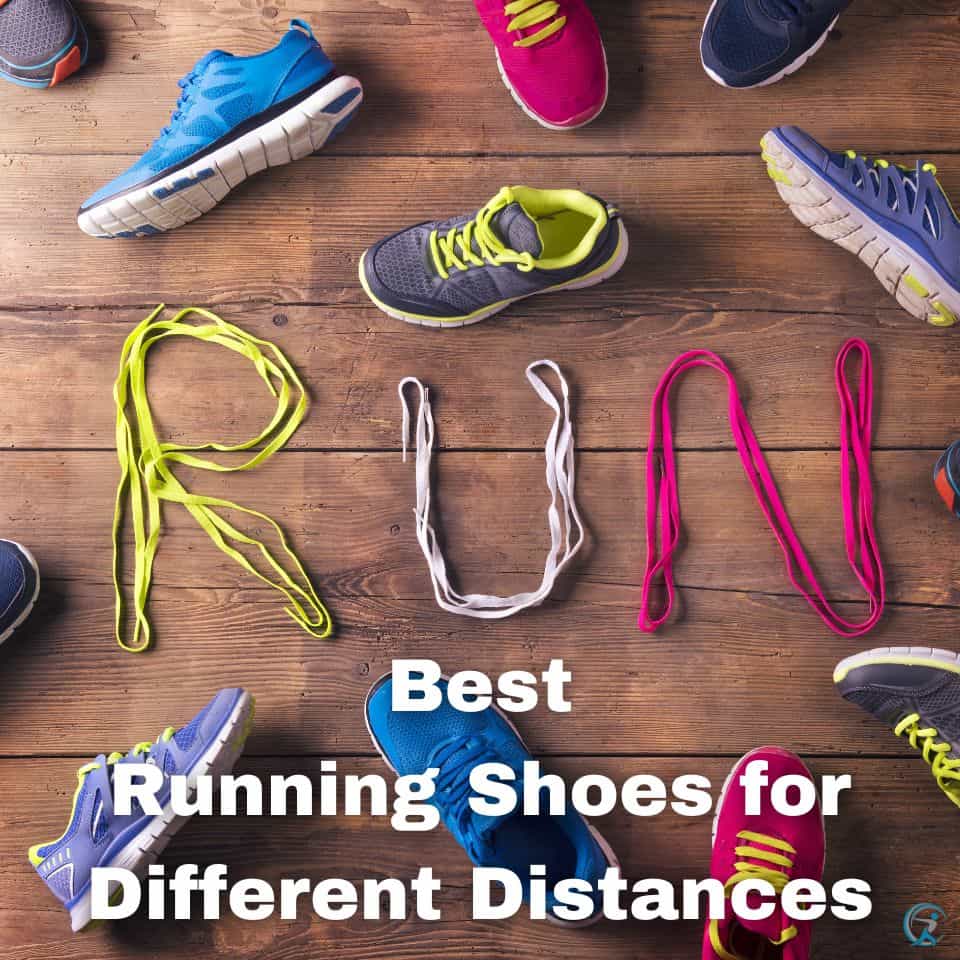 Stability shoes are the most popular type of running shoe. They're designed to provide support and stability for runners who tend to overpronate (roll their feet inward), which can lead to knee pain or other injuries. Cushioned shoes have extra cushioning in the heel, midsole, and forefoot areas to help absorb the impact from each step you take while running. Lightweight running shoes are ideal for speedsters looking for lightweight performance without sacrificing comfort or durability.
Factors to Consider Before Buying Running Shoes for Long Distance
Choosing the right running shoes is essential to avoid injuries and improve performance. Here are some factors to consider when selecting running shoes for different distances:
Distance: Different distances require different types of shoes. For example, sprinting shoes are designed for short distances, while long-distance shoes are designed for marathons and beyond.
Foot type: Your foot type is also a crucial factor to consider when selecting running shoes. Some shoes are designed for flat feet, while others are designed for high arches.
Cushioning: The level of cushioning you need in your shoes will depend on the distance you plan to run. Shoes with more cushioning are ideal for long-distance running, while those with less cushioning are ideal for short distances.
Terrain: The terrain you plan to run on is also a crucial factor to consider when selecting running shoes. Some shoes are designed for road running, while others are designed for trail running.
The Best Running Shoes for Different Distances
Asics
Brooks
Hoka
Saucony
New Balance
Mizuno Wave (Wave Rider)
The Best Marathon Running Shoes
New Balance Fresh Foam X
New Balance Men's Fresh Foam X 1080 V12 Running Shoe, Black/Thunder/White, 10.5 Wide
This model runs large, compared to previous versions. You may consider ordering down from your normal size.
Fresh Foam X cushioning delivers our most cushioned Fresh Foam experience for incredible comfort
Hypoknit upper designed to provide strategic areas of stretch and support
Bootie upper construction hugs your foot for a snug, supportive fit
The New Balance Fresh Foam X is a great shoe for those who want to run long distances. It's lightweight, comfortable, and has a breathable upper, making it ideal for hot weather. The midsole features cushioning foam that absorbs shock while providing stability and support during your run. The outsole is durable enough to handle any surface you come across on race day–from pavement to gravel trails–so you can focus on hitting your goal time instead of worrying about how much mileage your shoes have left in them.
Mizuno Wave Rider 25
Sale
Mizuno Men's Wave Rider 25 Running Shoe, Obsidian, 10.5
MIZUNO ENERZY (FOAM): Offering versatility in its application, while still maintaining softness and resilience.  It will help enhance performance capabilities.
MIZUNO WAVE: The MIZUNO WAVE plate disperses energy from impact to a broader area providing a stable platform and a superior cushioning.
X10 Outsole: Durable carbon rubber that allows for longer wear.
U4ic Midsole: Delivers optimal shock reduction, durability, and a superior ride.  Innovatively light, well cushioned, responsive, and resilient.
Engineered Mesh Upper: Both breathable and durable for high performance.

The Mizuno Wave Rider 25 offers plenty of comfort with its soft yet supportive foam cushioning system, which provides excellent shock absorption while maintaining an extremely lightweight (only 10 ounces per pair). Its wide toe box allows runners with wider feet or high arches to move around inside their shoes without feeling cramped up against their toes as they might in some other models today! Plus, this model comes in both men's and women's sizes, so everyone can enjoy using them regardless if they're male or female!
| Feature | New Balance Fresh Foam X | Mizuno Wave Rider 25 |
| --- | --- | --- |
| Type | Neutral | Neutral |
| Cushioning | Fresh Foam X midsole | U4ic and U4icX midsole |
| Support | Moderate | Moderate |
| Weight | Lightweight | Lightweight (10 oz) |
| Upper Material | Breathable mesh | Breathable mesh |
| Outsole | Durable rubber | Durable X10 carbon rubber |
| Arch Support | Neutral | Neutral |
| Terrain | Road, track, light trails | Road, track, light trails |
| Best For | Long distance, daily training, speed workouts | Long distance, daily training, speed workouts |
| Sizes Available | Men's and Women's | Men's and Women's |
The Different Types of Running Shoes: Matching Your Needs with the Perfect Pair
When choosing a pair of running shoes, it's essential to consider the distance you'll be running and the type of terrain you'll be covering. Different shoes cater to different needs, so let's explore the main categories and the best brands in each category.
1. Cushioned Shoes: Comfort for Long Distance Running
If you're a long-distance runner, you'll need shoes that provide ample cushioning and shock absorption to keep your feet comfortable during those long miles. Some top brands that offer cushioned shoes for long-distance running include:
ASICS: Known for their Gel-Nimbus and Gel-Cumulus lines, ASICS provides a comfortable ride with responsive cushioning.
Brooks: The Brooks Glycerin and Ghost lines offer a plush, cushioned feel with reliable durability.
Hoka One One: The Clifton and Bondi series provides maximum cushioning for a pillowy, soft feel on the pavement.
Check out: Brooks Trail Running Shoes
2. Lightweight Running Shoes: Speed and Agility for Shorter Distances and Workouts
Lightweight and responsive shoes can aid in attaining swifter speeds and more nimble movements for shorter runs or speed-focused workouts. Here are some top picks for lightweight running shoes:
Saucony: The Saucony Endorphin Speed 2 delivers a lightweight, responsive sensation, making it suitable for speed workouts and brief races.
New Balance: The New Balance Fresh Foam X series offers a lightweight, springy feel accompanied by a responsive midsole.
Mizuno: The Mizuno Wave Rider 25 is well-liked for its lightweight, breathable mesh upper, and responsive cushioning.
Check out: Best Running Shoes for Women in 2023: A Comprehensive Guide
3. Stability Shoes: Support for Overpronation and Long-Distance Running
Stability shoes are your best bet if you're an overpronator or require additional support during your long-distance running. Some of the top stability shoes on the market include:
Brooks: The Adrenaline GTS series features guide rails for added support and stability, making it ideal for runners needing extra stride help.
Saucony: The Saucony Guide series offers a stable, supportive ride with responsive cushioning for a comfortable run.
New Balance: The New Balance 860 series provides reliable stability and support for overpronators, ensuring a smooth, comfortable ride.
Best Running Shoes for Different Distances
Short distances (up to 5K)
Sprinting shoes like Nike Zoom Superfly Elite or Adidas Adizero Prime SP is ideal for short distances.
Medium distances (up to 10K)
Shoes with moderate cushioning like Asics Gel-Nimbus or Brooks Ghost are ideal for medium distances.
ASICS Men's Gel-Nimbus 25 Running Shoes, 12, Black/Pure Silver
Engineered knit upper: Wraps the foot with a soft feel while improving…
At least 75% of the shoe's main upper material is made with recycled content to…
The sockliner is produced with the solution dyeing process that reduces water…
PureGEL technology: Helps provide lightweight cushioning and softer landings
FF BLAST ECO PLUS technology: Cushioning creates a softer landing and a more…
Long distances (over 10K)
Shoes with ample cushioning like Hoka One One Clifton or Saucony Triumph are ideal for long distances.
Sale
Trail running
Shoes with a rugged sole and extra grip like Salomon Speedcross or Inov-8 Trailroc are ideal for trail running.
Salomon Speedcross 5 Trail Running Shoes for Men, Black/Black/Phantom, 10
Trail Running Shoes: Featuring an aggressive grip, precise foothold, and…
Get Rough: Redesigned with deep, sharp lugs for an improved grip and a more…
Go The Distance: Whether you love road running in your neighborhood, an escape…
Time To Play: Whether you are into trail running, hiking, backpacking, or…
Since 1947 Salomon has created innovative outdoor sports gear. From running and…
Multiple Pairs of Running Shoes: The Benefits of Rotating Your Running Shoes
A multitude of runners firmly believe in maintaining several pairs of running shoes in their collection. This practice not only prolongs the lifespan of your shoes but it also brings a host of additional benefits. Here's a look at some of the advantages of possessing multiple pairs of running shoes:
Reduced risk of injury: Alternating between various shoes for different types of runs can help lower the risk of injury since each shoe offers unique levels of support, cushioning, and responsiveness.
Adaptation: A range of running shoes can aid your body in adapting to diverse running styles, thereby enhancing overall performance and flexibility.
Optimal performance: Distinct shoes cater to different kinds of runs and workouts. For example, a lightweight shoe is perfect for speed workouts, while a cushioned shoe is more appropriate for extended distances. You can optimize your performance by rotating your shoes based on your running style.
Increased shoe lifespan: Using multiple pairs of running shoes spreads the wear and tear across all your footwear, helping them endure longer.
How to Choose the Right Running Shoes
You need to understand your running style and foot type to choose the right running shoes. You also need to know what type of terrain you will be running on.
Running Styles: There are three main types of runners: overpronator (flat feet), neutral runner, and under pronator (high arches). If you have flat feet and overpronate when running, then a motion-control shoe would be best for you; if your arch is high and/or under pronation occurs when running, choose a stability shoe; if both conditions apply then go with a stability/cushioning model.
Check out: How running shoes should fit – A simple guide
How to Buy the Right Running Shoes
The best way to find the right running shoe is by visiting a running store. A trained staff member will help you choose the right pair based on your foot type and gait and any injuries or ailments you may have.
You should try on multiple pairs of shoes before making a final decision–you might be surprised at how different they feel when compared side-by-side! It's also important to take them for a short test run around the store to understand how they'll feel while running outside on concrete surfaces (or whatever surface you prefer).
The Benefits of Rotating Running Shoes
Longer lifespan of shoes
Reduced risk of injury
More comfortable running experience
Tips for Rotating Running Shoes
Have two pairs of shoes.
Rotate your running shoes for different types of runs.
Use your running shoes for their intended purpose, which is to run in them!
How to Build Your Shoe Rotation: Finding the Best Running Shoes for Different Distances
When assembling your shoe rotation, think about the types of runs and workouts you typically participate in. Below are some suggestions to assist you in selecting the right shoes for various distances and workouts:
Long runs: Focus on shoes that offer plenty of cushioning and support, such as the ASICS Gel-Nimbus or the Hoka One One Clifton.
Speed workouts: Choose lightweight and responsive shoes like the Saucony Endorphin Speed 2 or the New Balance Fresh Foam X series for quicker, more nimble workouts.
Marathon training: If you're gearing up for a marathon or another long-distance race, think about investing in a pair of stability shoes, like the Brooks Adrenaline GTS series, to provide extra support during those lengthy training miles.
Tips for Buying Running Shoes and Putting in the Miles
Here are some helpful tips to keep in mind when purchasing new running shoes and integrating them into your running routine:
Get professionally fitted: Visit a specialty running store to measure your feet and receive personalized shoe recommendations based on your running style, foot shape, and any specific needs.
Replace shoes regularly: Running shoes typically last for around 300-500 miles. Be sure to replace them regularly to maintain optimal performance and reduce the risk of injury.
Gradually introduce new shoes: When you buy a new pair of running shoes, gradually incorporate them into your routine to give your feet and body time to adapt to the new footwear.
FAQs
Conclusion
Running shoes are important for any runner. They provide the cushioning and support you need to run efficiently and protect your feet from injuries. However, it's also important to rotate running shoes regularly so they don't become worn out too quickly.
You should choose the right running shoes for your body type and running style. Suppose you're an experienced runner who likes to run long distances regularly. In that case, it's best to invest in high-quality shoes with lots of cushioning and support–this will help prevent injury and improve performance over time!
Considering the various kinds of running shoes, the leading brands in 2023, and the perks of owning multiple pairs, you'll be all set to discover the ideal running shoes for your requirements. Whether tackling your maiden marathon or just relishing a leisurely jog, sporting the proper shoes will greatly impact your comfort, performance, and overall pleasure in the activity. Here's to happy running!
References
The Best Running Shoes of 2023 | Running Shoe Reviews – Runner's World
New Balance Fresh Foam X 860 v13 Running Shoes for Stability. Like the 860 v12, the updated 860 v13 still has two layers of Fresh Foam in its midsole—the top …
The best running shoes 2023 | TechRadar
The Nike ZoomX Vaporfly Next% 2 is a running shoe built for speed (Image credit: Fergus Scholes) 1. Nike ZoomX Vaporfly Next% 2. The best overall race running shoes available …
Best Long-Distance Running Shoes in 2023 | ACTIVE
Best Overall Long-Distance Running Shoes: Nike Air Zoom Pegasus 40. The Best Breathable Long-Distance Running Shoes: Hoka One One Rincon 3. Best Lightweight Long-Distance Running Shoes: adidas Adizero Adi …
Best Long-Distance Running Shoes | Marathon Shoes 2023 – Runner's World
The Best Long-Distance Running Shoes for Putting in the Miles. … In 2017, he ran in 285 different pairs of shoes, including a streak of 257 days wearing a different …
Best Running Shoes of 2023 | Running Shoes Guru
Smoother ride transitions. Better breathability. Improved stability. More cushioning. "The ASICS Novablast 3 is a polished daily trainer which is best suited to relaxed, easy runs. Its midsole has bee …
Alex is a passionate fitness enthusiast dedicated to helping people lead healthier, more active lifestyles. He encourages small – sustainable changes over drastic transformations and works with people to create customized wellness plans. His mission is to help others benefit from the most effective methods available, sharing tips, strategies, and health & fitness tools on Gearuptofit.com to inspire people to live their best lives.