Discover the best running socks for blister prevention. Learn about materials, features, and tips to keep your feet healthy while running.
Blisters are the bane of every runner's existence, but fear not, for "Best Running Socks for Blister Prevention" is here to save the day! Laugh in the face of blisters as we glide through the soft, cushiony world of socks that promise to keep your feet snug and blister-free. Keep reading for happy feet!
The Importance of Choosing the Right Running Socks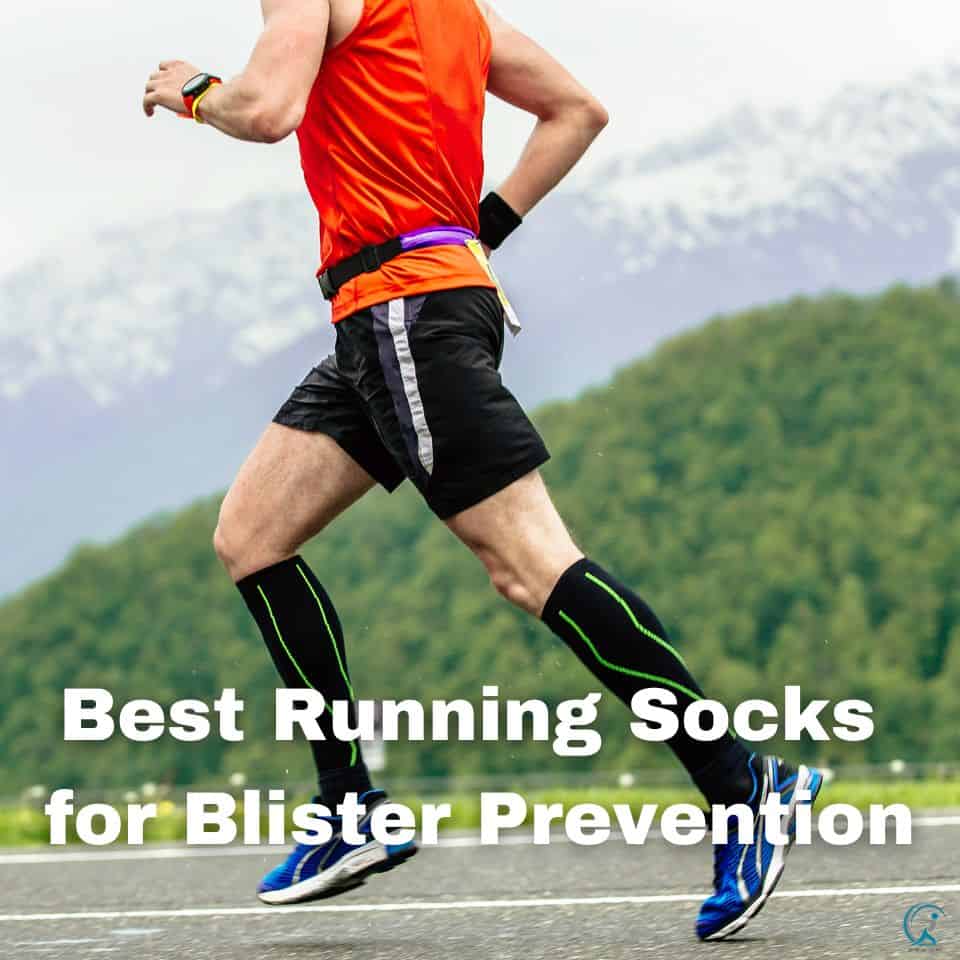 Running is an invigorating activity that can transform physical, mental, and emotional health. However, a blister on your foot can quickly ruin that experience.
Blister prevention is important for all runners because it reduces the risk of injury and ensures a comfortable, enjoyable run. One way to prevent blisters when running is by wearing appropriate socks.
The right pair of socks should provide comfort and support while protecting your feet from the repetitive impact of running. Wearing poorly fitted or inappropriate socks while running can lead to blisters forming due to friction caused by moisture build-up, poor cushioning, or inadequate ventilation.
Overview of Blister Prevention
Preventing blisters requires a three-pronged approach: manage moisture, reduce friction, and adjust fit. Moisture build-up in shoes causes friction between skin and sock fabric, leading to hot spots on feet- these hot spots eventually become blisters if ignored.
Reducing friction between skin and sock fabric will minimize rubbing effects that cause blisters- this can be accomplished through seamless construction, proper cushioning design, or targeted padding in high-pressure areas such as heels or toes. Adjusting fit means selecting well-fitting socks with enough length to protect ankles yet not too long that they bunch up inside shoes.
Therefore, having the right running socks is crucial for promoting a healthy running experience without painful blisters hindering progress. In this article, we will guide you through features you should look for when selecting a pair of socks specifically designed for runners and recommend our top picks based on customer feedback!
Materials and Features to Look for in Running Socks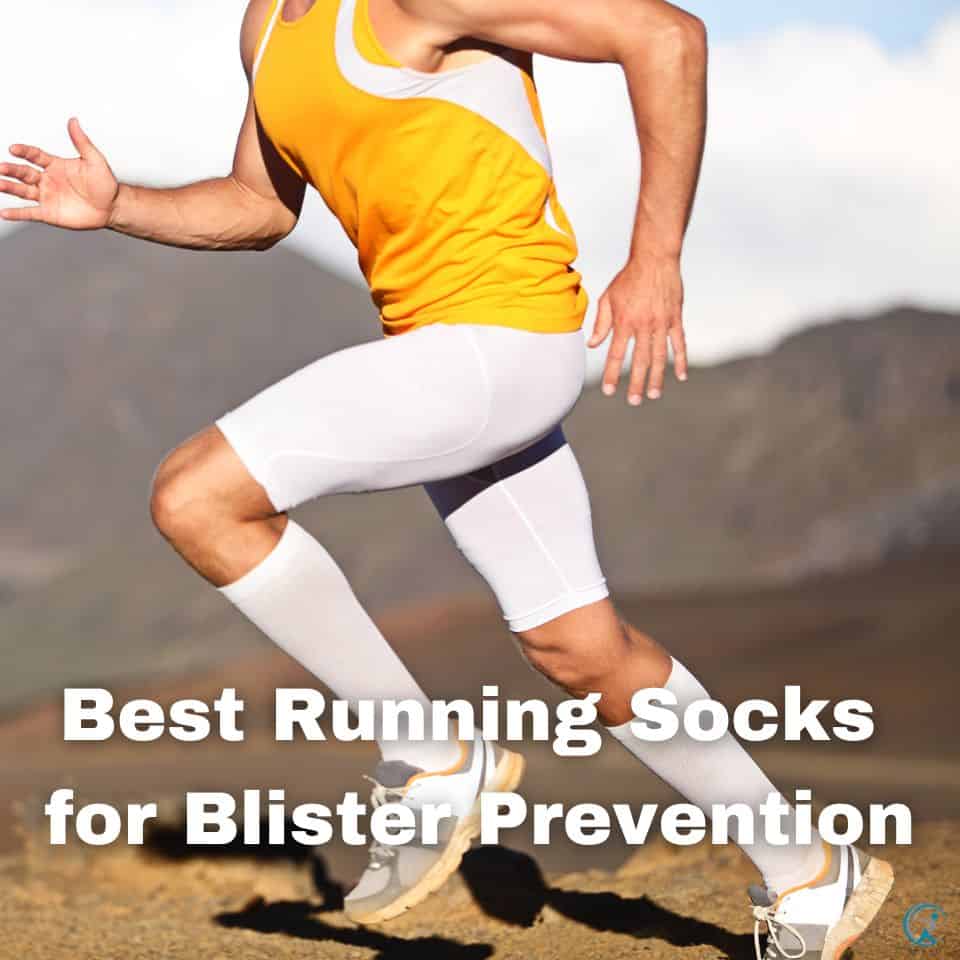 Moisture-wicking materials
One of the most important factors when choosing running socks is moisture management. Sweaty feet can increase the risk of blisters, so it's essential to choose socks made from moisture-wicking materials that will keep your feet dry.
Synthetic fibers such as polyester or nylon are typically used in moisture-wicking running socks as they can wick away sweat more effectively than natural fibers. These fibers are also quick-drying, useful when washing and drying your socks between runs.
Seamless toe design
A seam on the toe box can rub against your toes, leading to friction and potential blister formation. A seamless toe design ensures no seams on the sock that could cause rubbing or irritation. This design feature also offers a more comfortable fit.
Arch support
Running puts much pressure on your feet, particularly on the arches. Arch support is crucial for reducing this pressure and preventing blisters caused by repetitive motion.
Look for running socks with built-in arch support to help maintain your foot's natural shape while running. Some brands provide targeted compression areas in their designs to offer additional support and reduce fatigue.
Cushioning
Running can be tough on your feet, so choosing running socks with cushioning can help absorb shock and reduce impact forces while you run. Cushioning provides extra padding where it's needed most — on the heel and ball of the foot — helping prevent blisters caused by friction or pressure points against shoes.
Breathability
Breathable fabrics allow air to circulate your feet, keeping them cool and dry during runs. Running socks made from breathable materials help reduce heat buildup, which can cause blisters. Look for socks with mesh panels, which provide additional ventilation to keep your feet comfortable and dry.
Best Running Socks for Blister Prevention
No products found.
Balega is a trusted name in the industry when it comes to running socks. Their Hidden Comfort Running Socks are a top pick for athletes who want to prevent blisters. The material used in these socks is a unique blend of synthetic fibers that are designed to wick away moisture and keep your feet dry and comfortable.
In addition, the seamless toe design eliminates any potential irritation or rubbing that could cause blister formation. The arch support in these socks provides added comfort and stability during runs, while the cushioning ensures impact absorption with each step.
Customer reviews have been overwhelmingly positive, with many runners praising how well they work for blister prevention. One customer said, "I haven't had a single blister since switching to these socks!" If you're looking for reliable running socks that will keep you blister-free, Balega Hidden Comfort Running Socks are an excellent choice.
Feetures Elite Max Cushion No Show Tab Socks
No products found.
Feetures Elite Max Cushion, No Show Tab Socks, is another top contender for blister prevention. These socks are made with iWick fibers that wick away moisture, leaving your feet cool and dry.
The targeted compression zones in the arch provide extra support while preventing slippage. The cushioning in these socks is also noteworthy; it's thicker than most other brands and absorbs more impact from each step.
Customer reviews rave about how comfortable these socks are during long runs without causing any blisters or hot spots. One customer wrote, "I've tried so many brands of running socks over the years – nothing compares to Feetures! They're cushioned just enough without being too thick or bulky." If you're looking for running socks that provide support and comfort while preventing blisters, Feetures Elite Max Cushion No Show Tab Socks are a solid choice.
Thorlo Experia XCCU Thin Cushion Running Socks
No products found.
The Thorlo Experia XCCU Thin Cushion Running Socks are designed for athletes who want to prevent blisters. The material used in these socks is a blend of synthetic fibers that wick away moisture and keep your feet dry during runs.
The thin cushioning provides just enough padding without adding any extra bulk. The unique design of the socks includes ventilation panels that promote airflow to keep your feet cool and dry, even during intense runs.
The compression in the arch provides added support while preventing slippage or bunching. Customers have been impressed with the quality of these socks, with many stating that they are "well worth the investment" and "the best running socks I've ever owned." One customer said, "I can run 13 miles in these socks without any issues – no blisters, no hot spots, nothing!" Thorlo Experia XCCU Thin Cushion Running Socks are worth considering if you're serious about preventing blisters while running.
The Merino Wool Magic: Say Goodbye to Blisters
No products found.
Merino wool socks are a runner's best friend regarding blister prevention. Their natural wicking fibers keep feet dry and comfortable, even during those long runs on the trail. Unlike cotton socks, which tend to retain moisture and cause friction, merino wool offers superior breathability and moisture management. Wool's natural anti-blister properties make it the perfect choice for trail running and hiking enthusiasts. Brands like Smartwool and Balega offer high-quality merino wool socks designed for runners, ensuring the right sock for every stride.
Toe Socks: Innovative Design for Blister-Free Running
No products found.
Injinji toe socks are another top choice for runners looking to prevent blisters. These unique socks feature individual toe compartments, which help reduce friction between toes, a common cause of blisters. Perfect for trail running, hiking, or simply logging miles on the road, Injinji toe socks provide a secure, comfortable fit and pair well with various running shoes. Additionally, they can be worn as liner socks under thicker outer socks for added protection and warmth during colder months. With toe socks in your running arsenal, you can confidently tackle any terrain blister-free.
Compression Socks: Boosting Performance and Reducing Blisters
Runners seeking extra support and protection should consider compression socks. This snug-fitting, high-performance socks provide targeted compression to improve blood flow, reduce muscle fatigue, and minimize the risk of blisters. Whether hitting the trails or pounding the pavement, compression socks can enhance your running experience by providing extra cushioning and stability in your shoes. Plus, with various styles, including crew socks and ankle socks, there's a compression sock to suit every runner's preference and style.
How to Choose the Right Size of Running Socks?
Choosing the right size of socks is crucial for blister prevention. Wearing too tight or loose socks can cause friction and irritation, leading to painful blisters. When buying running socks, it's essential to check the sizing chart provided by the manufacturer.
Size chart guide for men, women, and kids.
Most sock manufacturers provide detailed sizing charts on their websites or product packaging. It's important to note that different brands may have slightly different size ranges and measurements. Hence, checking the sizing chart before purchasing a pair of running socks is vital.
For men's sizes, the range usually starts from US shoe sizes 6-12 and goes up to 13-16. Women's sizes increase shoe sizes 5-10 and go up to 11+.
Children's sizes vary according to age and foot length. Measuring your child's foot first with a measuring tape or ruler before referring to the size chart is recommended.
How to measure your feet?
Measuring your feet accurately helps determine which sock size would fit you best. Here are some steps to measure your feet:
1) Trace both feet on paper while standing upright.
2) Use a ruler or measuring tape and measure from the heel of your foot to the tip of your longest toe.
3) Compare your measurements with the sizing chart provided by the sock manufacturer.
4) If you fall between two sizes, it is recommended to choose a larger size for more comfort. Choosing the right size of running socks is crucial in preventing blisters during exercise or physical activities.
Always refer to sizing charts provided by manufacturers when purchasing running socks online or in-store. Accurately measuring your feet will help ensure a proper fit for added comfort during long runs or workouts.
Tips on How to Prevent Blisters While Running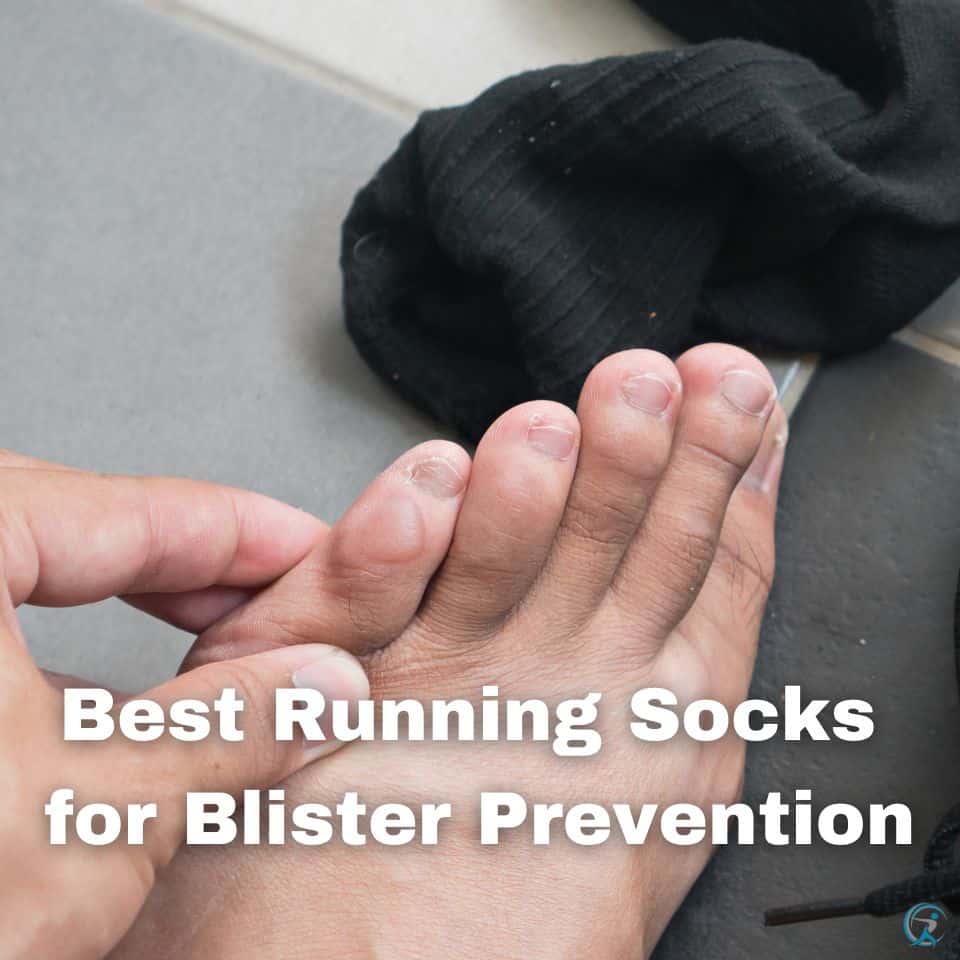 Wear Proper Shoes
One of the essential things you need to do to avoid blisters while running is to wear proper shoes. Running shoes should fit firmly around the heel and provide enough room in the toe box area.
Ensure your toes can wiggle and move freely in your running shoes without feeling cramped or squeezed. Always wear socks when running, and break in new shoes gradually by starting with shorter runs before going for longer distances.
Apply Petroleum Jelly or Anti-Blister Balm
Lubricating your skin with petroleum jelly or anti-blister balm can help reduce friction, which is one of the primary causes of blisters. Apply a thin layer of lubricant on areas prone to blistering, such as feet and toes, before running. This will create a barrier between your skin and socks or shoes, reducing friction and minimizing blister formation.
Wear Moisture-Wicking Socks
Another effective way to prevent blisters while running is by wearing moisture-wicking socks. These socks are designed to quickly remove moisture from your feet, keeping them dry during exercise. Wet feet increase friction between your skin and your socks or shoes, making you more likely to get blisters.
Trim Toenails
Overgrown toenails can cause additional pressure against the front of your shoe, creating irritation and painful blisters. Always ensure that toenails are trimmed straight across (not curved), at length, not exceeding the tips of toes (not too short). Any corners should be smoothed out using an emery board rather than cut at an angle; this prevents ingrown nails.
Conclusion
Preventing blisters while running is essential to keep you motivated and injury-free. The tips outlined in this article are simple yet effective ways to minimize the risk of blisters while running.
Wear properly fitting shoes, apply petroleum jelly or anti-blister balm, wear moisture-wicking socks, and trim your toenails regularly. Incorporating these tips into your running routine can make all the difference in preventing blisters and providing a comfortable and enjoyable run.
References
Here's How You Can Prevent Foot Blisters While Running
The researchers said all it takes is some paper tape applied to the foot in blister-prone areas before running. To test this blister-prevention method, the researchers recruited 128 runners who …
Blisters on Feet From Running: How to Prevent Blisters During Your …
1. Stop running in cotton socks. Cotton socks may feel soft and comfy, but they may also be the perfect breeding ground for blisters on your feet. "One-hundred percent cotton …
Blisters: how to stop getting them and how to get rid of them
Try to wash the foot and then pat it dry with clean gauze. If you can't wash it, try to keep it clean. Cover the blister with a plaster that …
An Easy Way to Prevent Blisters? Try Tape – The New York Times
Blisters hurt, as most of us know from experience. So active people have tried many methods to avoid them. Past studies in the small field of blister science have found …
Blisters: The Runner's Guide to Prevent and Treat Blisters
Wash your hands. Clean the blister with water and soap, rubbing alcohol, or iodine. Use rubbing alcohol and a clean swab or pad to sterilize a needle. Puncture the side
Alex is a passionate fitness enthusiast dedicated to helping people lead healthier, more active lifestyles. He encourages small – sustainable changes over drastic transformations and works with people to create customized wellness plans. His mission is to help others benefit from the most effective methods available, sharing tips, strategies, and health & fitness tools on Gearuptofit.com to inspire people to live their best lives.