Discover the best smartwatches for runners in 2023! Compare features, battery life, GPS accuracy & more to find your perfect running companion.
Running with a smartwatch allows you to accurately track your pace, distance, heart rate, and more on the go. But with so many options on the market, it can be tricky to find the perfect smartwatch to complement your running needs.
This definitive guide will help you shop for the best smartwatch for your running habits and performance goals in 2023.
Background on Smartwatches for Runners
Modern smartwatches are essentially mini computers for your wrist. They have a range of built-in sensors to track fitness metrics and can sync data to smartphones and fitness apps. Smartwatches for runners go a step further by offering features like GPS tracking, advanced run tracking, training plans, and coaching.
Key aspects to look for in a smartwatch for running include:
Heart rate monitoring – Track heart rate zones during workouts and rest periods.
GPS tracking – Map outdoor runs, track pace, distance, and elevation in real-time.
Waterproof design – Durable enough for rain and sweat during tough workouts.
Long battery life – Enough juice to last through long runs and training cycles.
Fitness tracking – Step counting, calorie burn, sleep stages, and more.
App integration – Sync data to popular running apps like Strava and MapMyRun.
Smart notifications – View texts, calls, email alerts, and more on your wrist.
Music storage – Store songs for phone-free running.
Contactless payments – Use your watch for purchases on the go.
The best smartwatches balance advanced running features with versatility for everyday use. When choosing a model, think about your specific needs and training goals.
Comparison of Features and Specifications
There are dozens of smartwatch models catering to runners. To help narrow down the options, here's an overview of 10 top smartwatches for runners and how they compare in key categories.
| Smartwatch | Battery Life | GPS | Water Rating | Heart Rate | Music | Price |
| --- | --- | --- | --- | --- | --- | --- |
| Garmin Forerunner 255 | 14 days | Yes | 5ATM | Yes | No | $349 |
| Garmin Forerunner 955 | 15 days | Yes | 5ATM | Yes | Yes | $499 |
| Garmin fenix 7 | 18 days | Yes | 10ATM | Yes | Yes | $699 |
| Apple Watch Ultra | 36 hours | Yes | WR100 | Yes | Yes | $799 |
| Samsung Galaxy Watch 5 Pro | 80 hours | Yes | 5ATM | Yes | Yes | $449 |
| Polar Pacer Pro | 7 days | Yes | WR100 | Yes | No | $299 |
| COROS Vertix 2 | 28 days | Yes | 5ATM | Yes | No | $699 |
| Fitbit Sense 2 | 6 days | Yes | 5ATM | Yes | Yes | $299 |
| Amazfit T-Rex 2 | 24 days | Yes | 10ATM | Yes | No | $229 |
| Huawei Watch GT Runner | 14 days | Yes | 5ATM | Yes | Yes | $300 |
This table shows key differences between popular smartwatch models in terms of battery performance, GPS connectivity, water resistance rating, heart rate tracking, on-board music storage, and retail pricing. There are quality options at every price point.
Pros and Cons of the Top 10 Smartwatches for Runners
To provide a more detailed overview, here is a breakdown of the pros and cons for each of the 10 best smartwatches for runners:
Garmin Forerunner® 955 Solar
The Garmin Forerunner 955 tops our list with long battery life, advanced training features and solar charging capabilities.
Key features:
Solar charging extends battery up to 20 days
Multi-band GPS with GLONASS, Galileo and QZSS
Training readiness score based on sleep, recovery and workout data
Advanced run training features like race predictor and VO2 max
Smart notifications, Garmin Pay and music storage
Pros
Long battery with solar charging
Most accurate GPS tracking
Excellent run training insights
Cons
Expensive
Heavy and large on small wrists
The Forerunner 955 impresses across the board with its extensive functions tailored specifically for avid runners and athletes.
Garmin Forerunner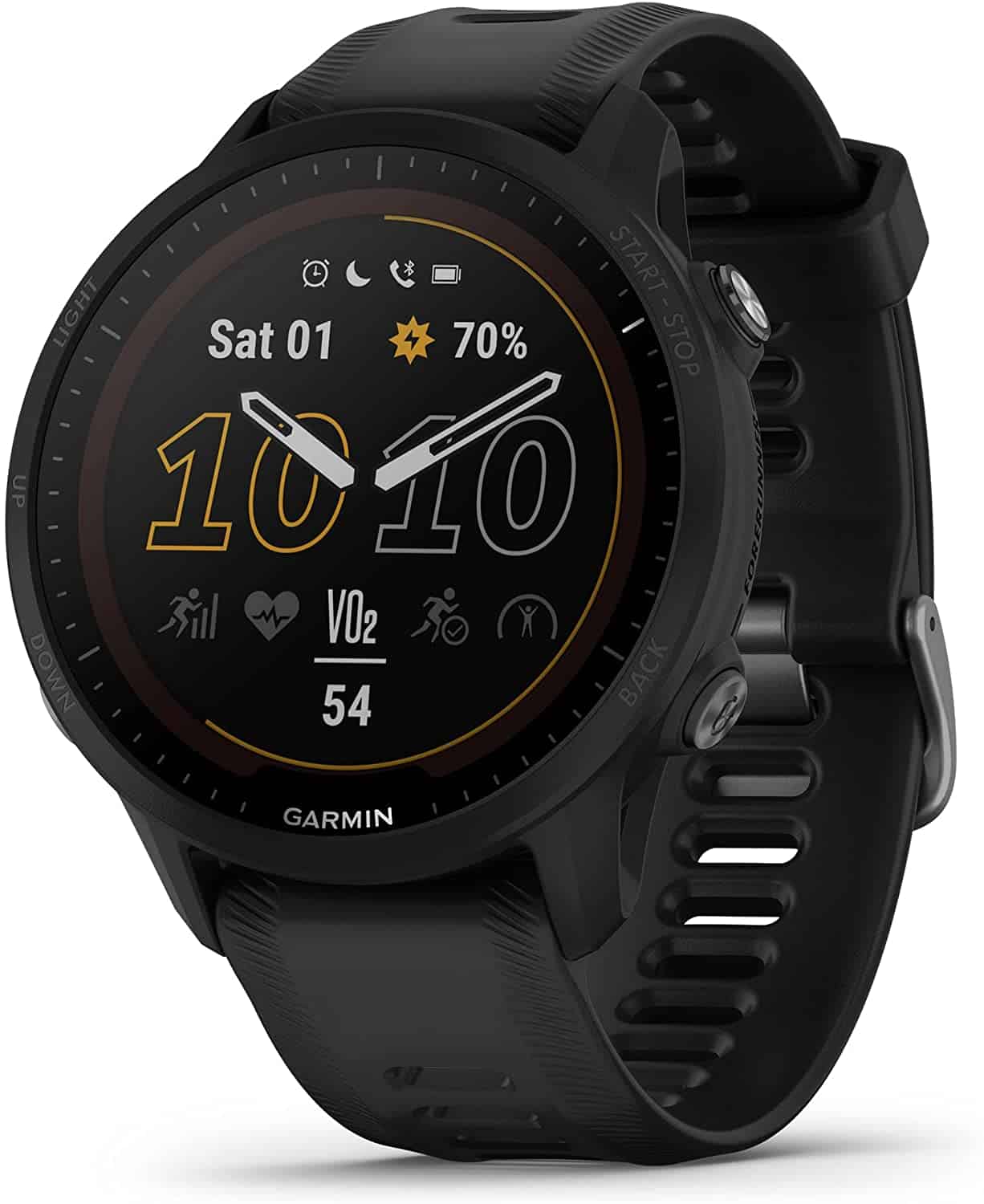 Solar, GPS Running Smartwatch
Power Glass solar charging lens
Responsive touchscreen and full-color display
Multi-band GPS and full-color maps
Daily suggested workouts and race widget
Music controls and storage
Coros Apex Pro
This premium multisport watch boasts an ultra-long battery, rugged design and advanced performance metrics.
Key features:
30 day battery life in smartwatch mode
40 hours with continuous GPS use
Rugged titanium bezel and sapphire glass display
Running power metric shows muscular load
Recovery advisor looks at sleep, training and more
Pros:
Ultra-long battery life even with GPS
Highly durable and scratch-resistant
Provides excellent running performance insights
Cons:
Touch buttons take some getting used to
App and social features limited compared to competitors
The Apex Pro focuses on delivering stellar GPS sports tracking in a rugged package built to last.
Apple Watch Ultra
This rugged Apple smartwatch packs advanced sensors, a bright display and long battery life.
Key features:
Up to 36 hour battery life
Rugged titanium case and sapphire crystal display
Precision dual-frequency GPS
WR100 water resistance rating
Advanced safety features like Crash Detection
Pros:
Excellent durability for outdoor sports
Bright, vivid display
Seamless iPhone connectivity
Cons:
Very expensive
Limited battery life compared to competitors
The Ultra provides Apple enthusiasts with a durable smartwatch optimized for fitness and outdoor adventuring.
Apple Watch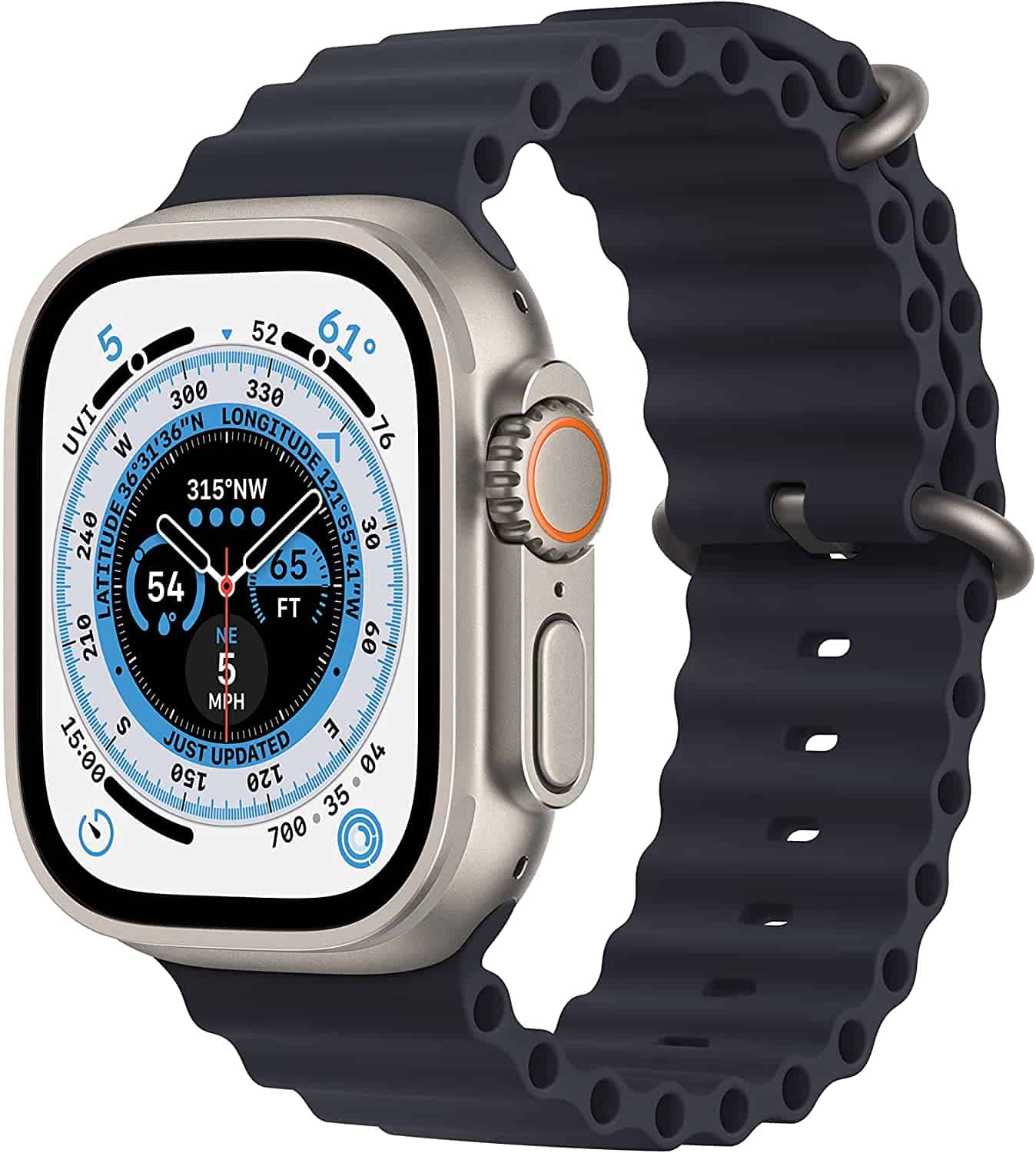 GPS + Cellular 49mm
Rugged and capable design
Bright and large display
Precision dual-frequency GPS and full-color maps
Long battery life and solar charging
Specialized bands for different activities
Coros APEX Pro
Premium Multisport GPS Watch
Features
Pros
Long-lasting battery life Users report only needing to charge the watch once every other week, even with regular GPS use.
Quick GPS lock and heart rate monitor Both features activate within 5-10 seconds.
Durable design The titanium bezel and sapphire glass screen are resistant to scratches.
Easy user experience Activating runs and ending them is simple and requires intentional actions, preventing accidental pauses or finishes.
Accurate altitude functions Pulse oximeter readings are consistent with finger pulse oximeters for pilots.
Cons
Difficult-to-use mapping feature Some users report difficulty using the loaded maps during outdoor challenges, relying on paper maps instead.
Pedometer accuracy issues Some users found step counts differed from their previous devices.
Coros APEX Pro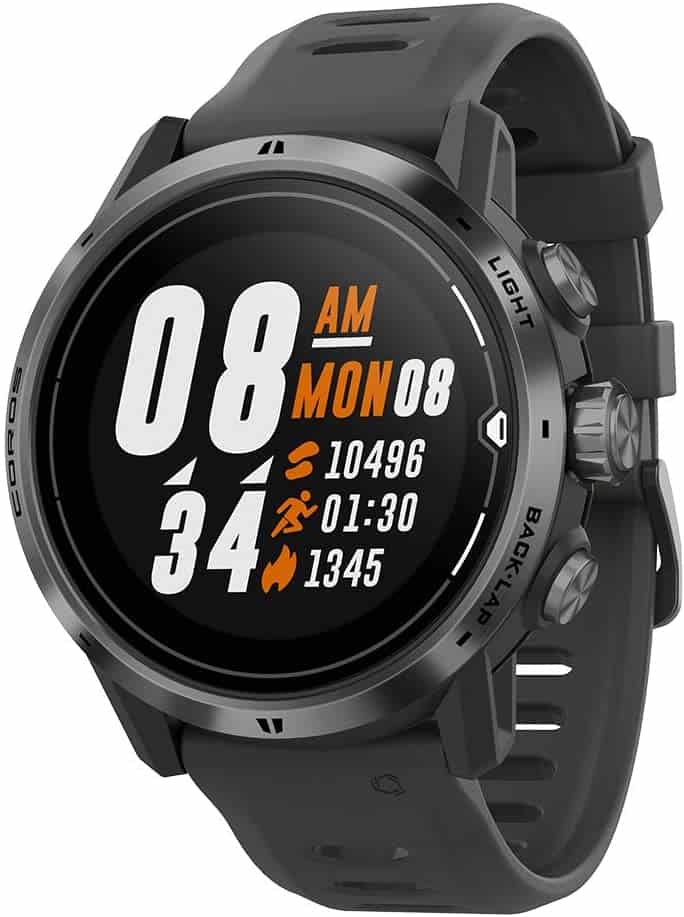 Premium and durable design
Long battery life and fast charging
Accurate GPS and navigation
Advanced fitness tracking and metrics
Smart features and compatibility
Garmin Forerunner® 255 Music
GPS Running Smartwatch with Music, Advanced Insights, Long-Lasting Battery, Black
Features
Pros
Long-lasting battery life in smartwatch mode (up to 14 days)
Download up to 500 songs, with support for Spotify, Amazon Music, and Deezer
Provides advanced insights such as sleep tracking, HRV status, and daily workout suggestions
Adaptable training plans from Garmin Coach for various race distances
Compatible with Running Dynamics Pod or HRM-Pro monitor for additional performance monitoring
Cons
Some users reported inconsistent battery life and charge duration
Issues with buttons having an annoying two-step click feel
Inaccurate stair climbing measurements reported by some users
Garmin Forerunner®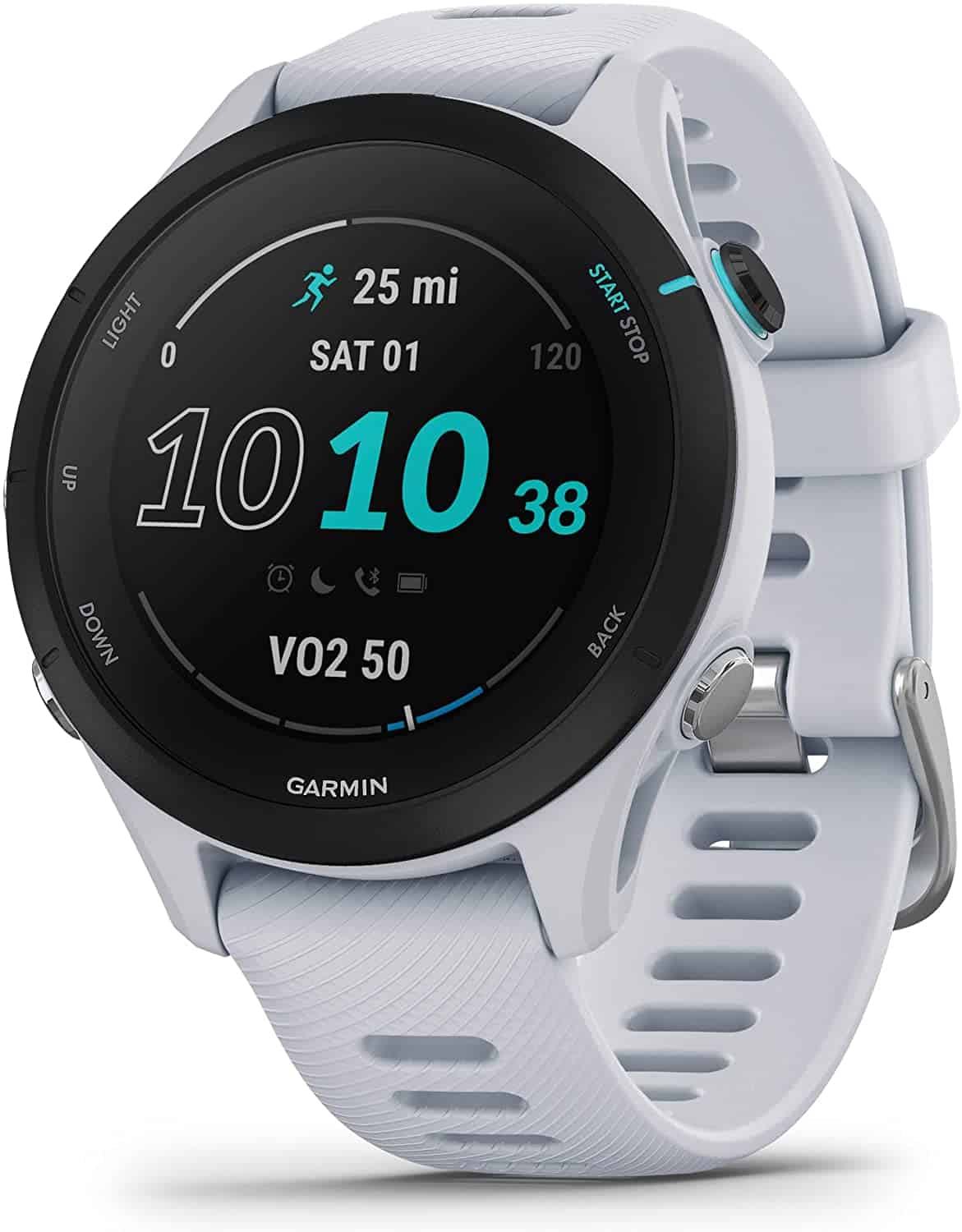 255 Music
Music storage and streaming
Full triathlon tracking
New heart rate monitor and pulse oximeter
Multi-band GPS and navigation
Daily activity and recovery reports
User Reviews and Feedback
Looking at user reviews and testimonials can provide helpful insight into real-world performance of these smartwatches. Here are some key themes from trusted experts and buyers:
The Garmin Forerunner 255 earns consistent praise for its lightweight design, accurate GPS tracking, battery life, and Garmin ecosystem integration. Users say it provides all the key running data you need at an affordable price.
Garmin Forerunner 955 users compliment its extremely precise GPS tracking and mapping capabilities. Many expert reviewers say it's the most capable Garmin watch yet in terms of advanced metrics and training tools. The main complaints are its bulky size and high cost.
Garmin fenix owners rave about the durable build quality and wealth of performance data. Fans of the high-end outdoor watch say it excels in rugged environments. Some find it too heavy and expensive compared to other Garmin models though.
Apple Watch Ultra earns acclaim for its bright, customizable display and seamless connectivity with iPhones. Reviewers appreciate the accurate wrist-based heart rate but note GPS tracking isn't as precise as dedicated sports watches.
The slim design and intuitive interface of the Samsung Galaxy Watch 5 Pro earn praise in reviews. Users like the responsiveness of the navigation and apps. Battery life is a common compliment, though some wish advanced run metrics were more Garmin-like.
Polar Pacer Pro users highlight the comfortable, lightweight build and accurate heart rate tracking of this affordable watch. Fans say GPS accuracy keeps up with pricier watches. Some note occasional smartwatch connectivity issues.
COROS Vertix 2 owners love the extreme 28 day battery life and rugged durability. The GPS precision earns acclaim in testing though the interface feels sparsely designed to some reviewers.
Price and Value for Money
With smartwatches ranging from $229 to $799, an important consideration is price and overall value. Here's an overview of performance you can expect at different budget levels:
Under $300 – Watches like the Amazfit T-Rex 2 and Polar Pacer Pro offer solid basic activity tracking and GPS accuracy at a wallet-friendly price point. You'll miss out on advanced metrics and premium build quality.
$300 to $500 – This is the sweet spot for runners wanting great value for money. Watches here like the Garmin Forerunner 255 and Fitbit Sense 2 provide accurate tracking of all running essentials and often boast week-long battery life.
$500 to $700 – Investing more gets you premium materials, onboard music storage, and the most advanced performance metrics and training tools. Models like the Garmin fenix 7 and COROS Vertix 2 are built for serious athletes.
$700+ – Top-end watches like the Garmin Forerunner 955 and Apple Watch Ultra offer the ultimate in sports tracking technology and luxury design. But not everyone needs this overkill of advanced metrics and tech.
Consider your exact needs and typical training habits. Casual runners can get by with more affordable options, while hardcore racers will benefit from the best technology on high-end watches.
Durability and Longevity
For a watch you'll wear daily, sweat in, knock around on runs, and rely on for training, you want something rugged and built to last. Here are factors that affect durability and longevity:
Waterproof Rating – Look for ATM and WR ratings of 5 or above. This allows using the watch swimming and in rain. Higher 10ATM ratings provide extreme water resistance.
Scratch Protection – Sapphire crystal glass face like on the Garmin fenix 7 provides enhanced scratch protection compared to Gorilla Glass.
Casing Material – Premium metals like titanium or stainless steel resist damage better than aluminum or plastic.
Watch Strap – Interchangeable silicone straps withstand sweat better than leather or fabric. Opt for a durable rubber or nylon strap.
Battery Life – Recharging less often preserves long-term battery performance. Watches with weeks rather than days of battery life have a longevity advantage.
OS Software Updates – Ensures you get the latest features and maximizes usable life. Companies like Garmin excel at regular software support.
Following durability best practices allows a quality smartwatch to remain reliable for years of active use rather than needing frequent replacement.
Integration with Fitness Apps and Devices
To make the most of your running watch data, integration with popular third-party fitness apps and devices is key. Here are top apps runners use to sync workout data:
Strava – Social fitness app great for analyzing and sharing run stats. Most watches integrate directly with Strava.
MapMyRun – Under Armour's running app syncs distance, pace, heart rate and maps your route.
Nike Run Club – Track your runs and get audio guided runs. Seamlessly works with Apple Watch.
Garmin Connect – Garmin's comprehensive fitness eco-system analyzes your data across all devices.
Fitbit App – View health metrics from your watch on Fitbit's intuitive app and dashboard.
Besides apps, syncing accessories include:
Bluetooth headphones – Listen to music and take calls wirelessly.
Chest heart rate straps – Enhance heart rate data accuracy during intense training.
Foot pods – Clip-on pods improve pace and distance tracking via stride analysis.
Bike sensors – Track cycling metrics like speed, cadence and power.
Smart scales – Sync weight and body comp changes to watch apps.
With comprehensive app and device connectivity, training data from a running watch can populate an entire fitness ecosystem for motivated runners and athletes.
Battery Life and Charging Options
For runners logging long miles or multi-day events, battery life is a major factor. Here are battery specs and charging methods for top models:
Garmin Forerunner 255 – 14 days battery, 12 hours GPS, rapid USB charging
Garmin Forerunner 955 – 15 days battery, 42 hours GPS, solar charging option
Garmin fenix 7 – 18 days battery, 57 hours GPS, solar charging
Apple Watch Ultra – 36 hour battery, 60 hours in low power mode
Samsung Galaxy Watch 5 Pro – 80 hours battery, 20 hours GPS
Polar Pacer Pro – 7 day battery, 35 hours GPS, quick USB charging
COROS Vertix 2 – 28 day battery, 140 hours GPS, magnetic charger
Fitbit Sense 2 – 6 days battery, 10 hours GPS, fast charging dock
Amazfit T-Rex 2 – 24 days battery, 24 days GPS, magnetic charger
Huawei Watch GT Runner – 14 days battery, 50 hours GPS, wireless charging
For marathon training or ultramarathon racing, multi-day battery life of the COROS Vertix 2 and Amazfit T-Rex 2 is appealing. Frequent runners will appreciate quick charging models like the Garmin 255 that can fully recharge in an hour or less.
Design and Comfort
For a device worn daily, design comfort is paramount. Ideal features include:
Lightweight under 50 grams so it doesn't weigh down your wrist.
Low profile with a slim case to avoid an overly bulky watch.
Flexible bands like silicone that contour nicely to your wrist. Interchangeable bands are ideal.
Adjustable band with enough holes to fine tune fit for different wrist sizes.
Curved design that properly ergonomically hugs your wrist for comfort.
Breathable construction using materials that allow airflow to your skin.
No sharp edges for a smooth, non-irritating feel on your wrist bone.
Touchscreen should be responsive but avoid accidental taps, especially mid-run. Physical buttons are a plus.
Readable display with adjustable brightness and night mode. Should be visible in direct sun.
While aesthetics are personal preference, an ideal running watch prioritizes lightweight comfort for all day and all night wearability.
Display and Touchscreen Technology
Your running watch's display should make accessing data and menus intuitive both mid-run and day-to-day:
Size – Optimal display size balances visibility with compact watch size. 1.2 to 1.4 inches is ideal for most wrists.
Resolution – Higher resolution displays like Garmin's Power Glass allow sharp, vivid visuals.
Bezel – A smooth bezel improves swipe gestures and minimizes accidental touches.
Touch responsiveness – Screen should recognize tap and swipe commands when hands are wet or wearing gloves.
Brightness – A display easily readable in direct sun is crucial for outdoor use. 500 nits or greater brightness.
Custom watch faces – User changeable watch faces keep the display experience fresh.
Always-on display – Conserve battery by only lighting the display fully when in active use.
Night mode – Reduces blue light emission to improve sleep if checking the watch at night.
Advanced display technology enhances usability but should also maximize battery efficiency to maintain long runtimes between charges.
Health and Fitness Tracking Features
In addition to hardcore run tracking, smartwatches include extensive health and wellness features:
Steps – Daily step counting encourages movement goals and walking habits.
Sleep stages – Tracking sleep quality and patterns provides insight for better rest.
Heart rate variability – Monitoring HRV helps gauge training readiness and stress levels.
VO2 Max – This oxygen consumption metric predicts cardio fitness levels.
Hydration logging – Manually or automatically track daily water intake.
Menstrual health – Cycle tracking for pregnancy planning or symptom management.
Stress monitoring – Watch can continuously measure stress signals like heart rate.
Blood oxygen – SpO2 sensors detect variations in nighttime blood oxygen levels.
Calorie burn – Estimate calories burned during workouts and daily activity.
Respiration rate – Breaths per minute indicate recovery status and health conditions.
Today's smartwatches provide a comprehensive view of your holistic health and performance beyond just workout stats. These features motivate better daily habits.
Frequently Asked Questions (FAQs)
What features should I look for in a running watch?
Key features like GPS tracking, heart rate monitoring, long battery life, waterproof rating, smartphone connectivity, and comprehensive fitness tracking.
Are Garmin watches the best for runners?
Garmin is renowned for extremely accurate GPS tracking and advanced running metrics. Models like the Forerunner 255 and Fenix 7 are top choices.
Is the Apple Watch good for running?
The Apple Watch works very well for running thanks to accurate sensors and seamless iPhone connectivity. It lacks some advanced metrics of Garmins.
What is the most affordable running watch?
Great budget options include the Amazfit T-Rex 2 at $229 and Polar Pacer Pro at $299. They provide basic tracking.
How long do running watch batteries last?
Battery life ranges from 1-2 days for Apple Watch, up to 2 weeks for many Garmins, and over 20 days for the COROS Vertix 2.
Conclusion
When deciding which of these best-in-class running smartwatches fits you best, consider your budget, fitness goals and favorite features.
Technology is rapidly advancing to serve runners better every day. Investing in one of these top smartwatches for runners in 2023 can elevate your fitness journey and enhance your overall running experience. Remember always to consult reviews from other users and compare features before deciding on the ideal smartwatch tailored to your preferences – Happy running!
Hopefully this guide has helped you zero in on your ideal running watch companion for achieving new PRs and getting the most out of your miles in 2023! Let us know if you have any other questions.
References
Alex is a fitness aficionado, empowers others towards healthier, active lives through small, sustainable changes for lasting results. Visit Gearuptofit.com for insightful tips and resources to enrich a balanced lifestyle.