Garmin Fenix 5 Plus Series Review
This Garmin Fenix 5 Plus series review aims to analyze all the major features and functionalities comprehensively.
Garmin introduces three new models in its lineup, 5 Plus, 5S Plus, and 5X Plus. All models offer the same features.
The Fenix 5 Plus is Garmin's elite all-rounder sports watch. Even the most demanding elite athlete must be fully satisfied with this model.
It offers additional features and an even more rugged design than its predecessor Garmin Fenix 5X. Compared to Garmin Fenix 3 HR, its predecessor model, the Garmin Fenix 5 Plus (and available variants), is bulkier and slightly heavier but offers a larger display and more features, especially to hikers and mountaineers.
Garmin Fenix 5 Plus is for everyone who wants an all-rounder sports watch that can be used in the gym or fishing. Garmin offers additional Garmin Fenix 5 Plus models with specialized features (for triathletes or hunters – see Garmin Fenix 5X Plus review below). The Garmin Fenix 5S Plus model is Garmin's slimmest and smallest sports watch Garmin (at least, on paper). The Garmin Fenix 5X Plus will be Garmin's first touch screen model.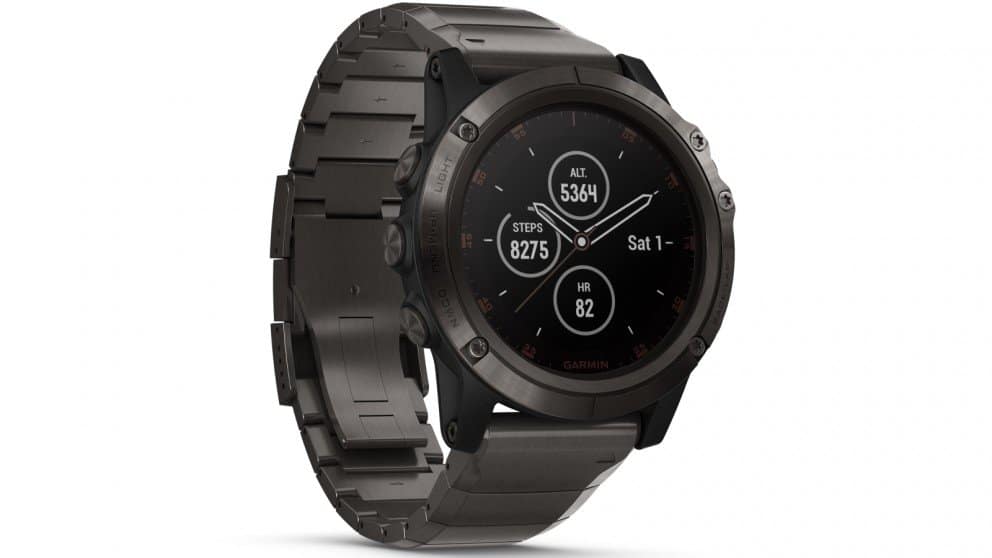 Features
Battery Performance: up to 12 days in 8 hours and style at GPS mode with Built-in navigation sensors include three-axis compass, gyroscope, and barometric altimeter as well as multi-satellite (GPS, GLONASS, and Galileo) network capability to monitor in more challenging environments than GPS alone.
Garmin Pay™ contactless payment alternative lets you make convenient payments with your watch.
Premium multisport GPS smartwatch with wrist heart rate technology and color TOPO maps comprising Trendline™ popularity routing that will assist you to find and stick to the top avenues.
Music (depending on preferences). Sync with audio streaming services like Spotify® to easily store and play your favorite songs right from your watch.
The Fenix 5 Plus Series watches are the high-performance way to beat yesterday and deliver your music and maps along for athletes and outdoor adventurers. These rugged, premium-crafted watches feature routable color mapping, wrist-based heart rate, storage for up to 500 songs, and our Garmin Pay contactless payment solution.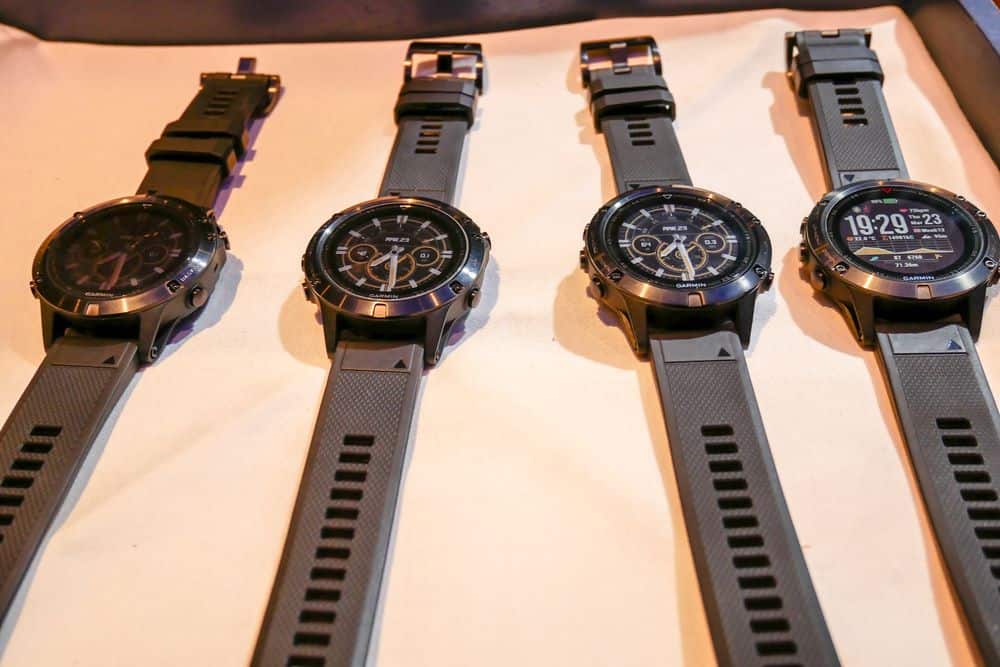 Design
The display is pretty decent, considering the fitness focus of the watch. It has a 240 x 240 resolution that is sharp enough, and colors are fine, and max brightness levels are high enough for it to remain legible in sunlight, although nowhere near as vibrant as watch screens. In every other aspect, Fenix 5 Plus is superb.
Build quality is excellent, and to date, the system stays even though putting it through some fairly brutal workouts. Under the hood, Garmin has taken advantage of every square millimeter, loading the Fenix 5 Plus.
Fenix 5 Plus is very durable. However, it's quite bulky, and if fashion is your main concern, this isn't the tracker for you. It comes with a built-in pulse ox acclimation feature. In addition, it has a topographic mapping functionality. Hands down, Fenix 5 Plus, is an exceptional tracker.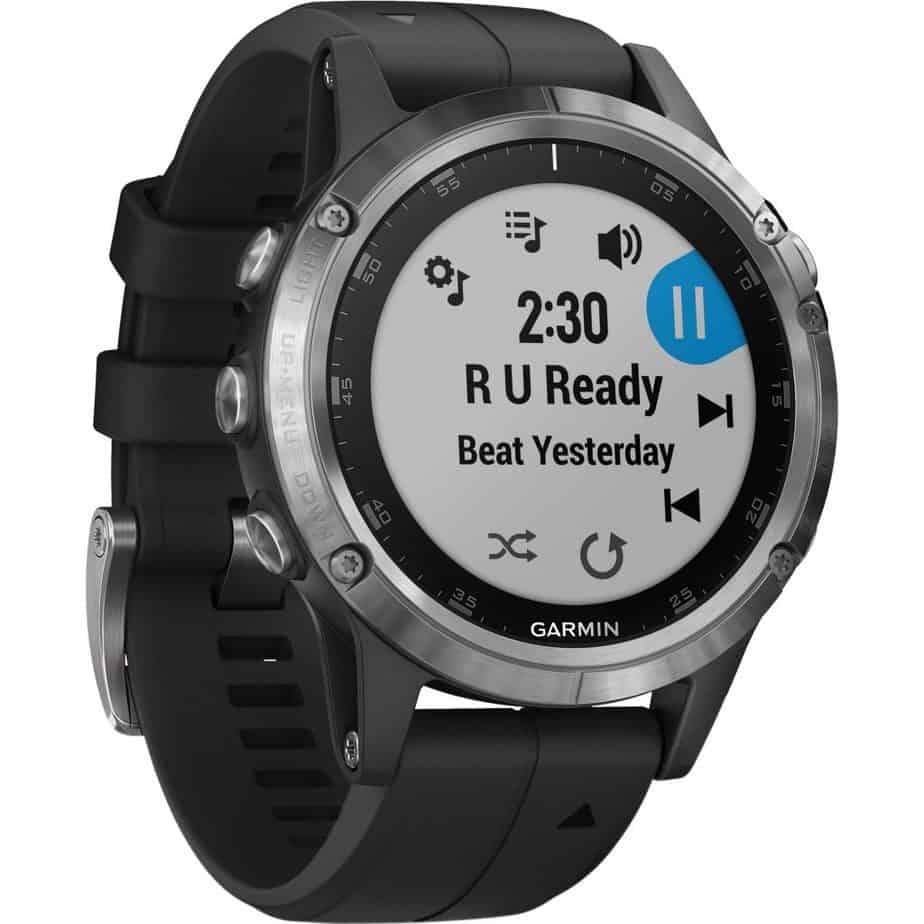 Management System
Garmin's management system has been a key factor for most buyers. The main menu is controlled using the buttons, which let you scroll through installed programs and features. Based on the 10-ATM rating, it can easily survive every kind of water sport.
The Start menu brings up sport monitoring options. Each side is customizable so that you can set sports and the apps to track. Doing so with only the buttons can be time-consuming, and the setup is basic. This implies serious athletes will have to spend time customizing the UI. Around the sides, you'll find the same button setup. On the left are up and down controls; on the back, start/stop, and right buttons.
Overall, the Fenix 5X Plus looks pretty identical to other Forerunner GPS trackers. It has a round watch face, which is coated in and Sapphire glass and comes with a choice of leather, metal, and silicon straps and a ceramic-metal bezel. These include a thermometer altimeter, compass, gyroscope, accelerometer, and a heart rate monitor.
However, what makes it interesting is the addition of the more standard GPS and GLONASS Galileo support. It's just in early access right now, but it is nippier and more accurate than regular GPS on paper.
For music lovers, the watch has an insane 16GB of internal storage. This lets you manually load the watch with local map files or audio. The ability without having to bring a phone to listen during a workout to music is as amazing as ever.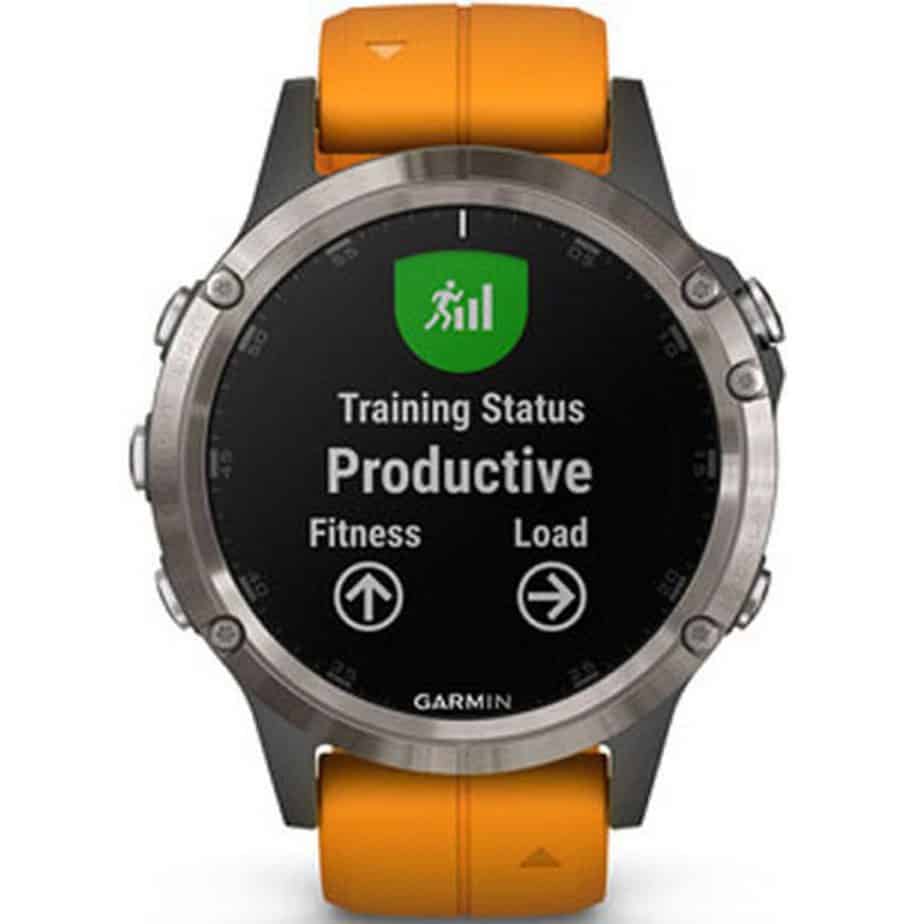 Activity features – Tracking capabilities and performance
Fenix 5X Plus includes a range of popular exercises such as running, treadmill, biking, hiking, and much more upon setting up the device. But there is a whole collection of activities to choose from, too, with climbing, skiing, trail running, sports like pilates, strength training, and others. As you like, you can add as favorite tasks. You can choose them from the Task menu.
Having a library of trackable activities is great, but even better are the metrics that the Fenix 5X Plus may monitor. The Fenix line can monitor from the basics like cadence, and distance, calories, speed to metrics like stride length, vertical oscillation, heart rate zones, recovery period, and much more.
It can connect to anything using ANT + accessories or Bluetooth. Garmin provides many ways to customize which data points you can see through a workout.
You can scroll through your displays. This means it can be easy for someone like myself (a busy six from seven weekdays but sticks to basic activities like jogging, cycling, and strength training) to dive deeper into their exercise routine simply due to all the new metrics can easily track while exercising.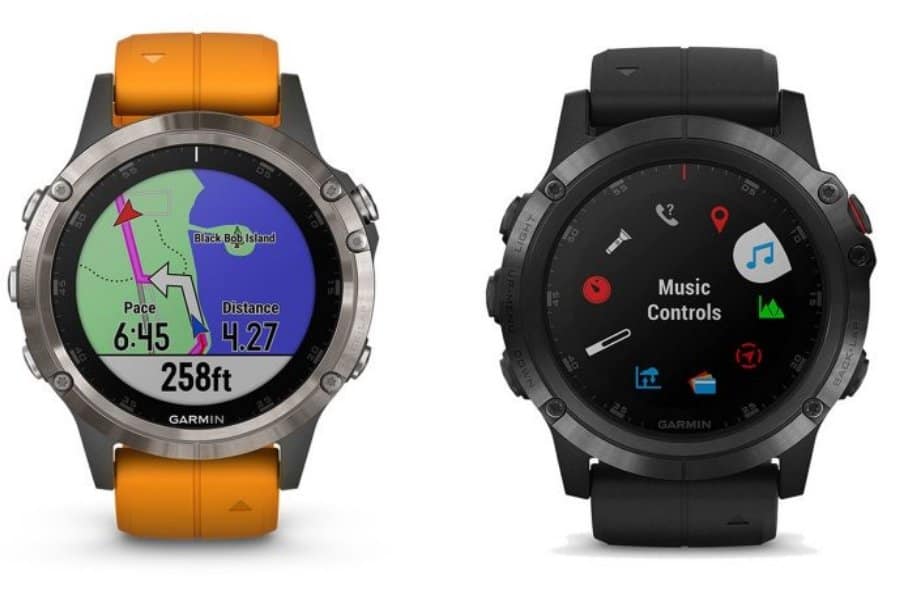 GPS Accuracy – Navigation
Navigation on the Fenix 5 Plus is significantly better than its rivals due to the pre-loaded color topographic maps, which display a topographic data layer, nearby roads, local trails, and popular points of interest. Still, the Fenix's 1.2-inch screen (240 × 240) is not big enough to substitute a handheld GPS or even your smartphone.
The Fenix 5 Plus can monitor almost anything. Ranging from snow-based and water sports to golf, hiking, and indoor aerobic sessions. Whether you're into kayaking, swim-run, triathlons, or mountain biking, it's got your back. The beauty of the watch is its fully customizable multi-sport capabilities.
For runners, that means run time, distance, and pace, but also being able to scroll through a handful of other relevant screens (lap time/pace display, heartbeat screen, map, and time). Due to its combination of location tracking services — GLONASS, GPS, and Galileo – the Fenix 5 Plus is dependable for outside sessions, either walking or running.
As the watch has the information built-in, you can bring up an onscreen map you want, wherever you are. It could still be useful if you're lost, while the map interface is a bit slow to animate when leaning in/out — ideal for trail runners.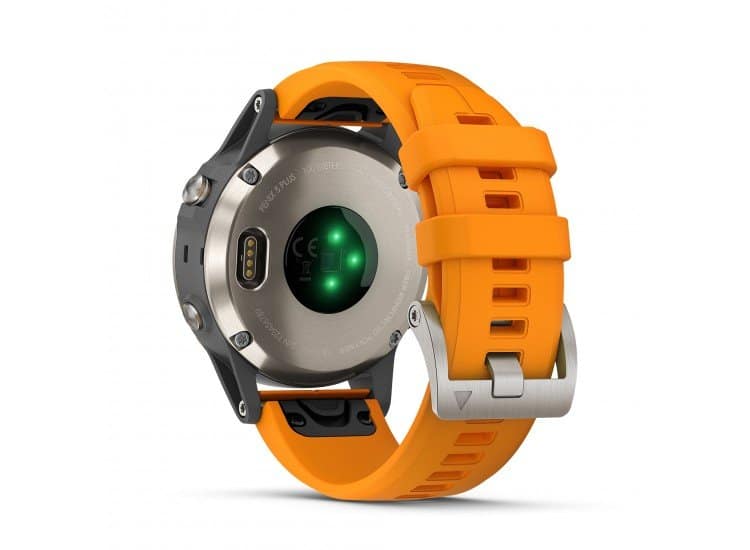 Heart Rate Accuracy
Heart rate monitor technology in wearables has not significantly improved in the last years. It's important to remember that the optical heart rate has its limitations. Although it's great for getting an idea of how hard you worked through low to medium-intensity sessions, it is not accurate during high-intensity workouts. The ANT+ chest strap is preferable as it's more accurate.
The Fenix 5 Plus comes with built-in Elevate heart rate monitoring technology found in most of Garmin's wearables. The heart rate monitor in Fenix 5 Plus is good enough but not exceptional.
Battery Life
Battery life is stellar, even by fitness tracker criteria. Garmin estimates the Fenix 5 Plus as offering 12 times' battery life for a smartwatch, 18 hours with GPS, eight hours with GPS and music. Generally, for regular use, you can get a full week before a charge. But if you plan to have this as your trusty hiking companion, be warned that battery performance has been compromised a bit.
Pros
Durability
GPS accuracy
Built in color topographic maps
Onboard music
Supports a wide range of activities
Long battery life for 5X Plus model
Cons
Limited Battery Life for 5S Plus model
5X Plus is bulky
Conclusion
This watch is hands down one of the best all-rounder currently on the market, packed with all the features any serious athlete could imagine. Tracks almost every sport and activity you could possibly need and does it reliably and consistently.
The battery life can last over a week on a single charge.
The watch has been upgraded with onboard maps, offering some of the most accurate location and distance tracking services. You can even navigate without your phone.
Garmin Pay functionality is built-in, allowing to turn your watch into a contactless card.
Onboard music functionality, offers you the option to load your favorite songs.
Fenix 5X Plus is crafted with a pulse oximetry sensor that will measure blood oxygen saturation (SpO2) levels. Hikers and climbers will highly appreciate this functionality.
The only downside is the high price.
For serious athletes, the Garmin Fenix 5 Plus is a must-buy!!
No products found.
Alex is a fitness aficionado, empowers others towards healthier, active lives through small, sustainable changes for lasting results. Visit Gearuptofit.com for insightful tips and resources to enrich a balanced lifestyle.