Discover the best smartwatches for seniors! 🌟 Keep loved ones safe & connected with life-saving features, impressive durability, and easy-to-use designs! 💖🔥🕒
Some of the top smartwatches designed specifically for seniors in 2023 offer lifesaving features and capabilities that give peace of mind. As seasoned consumers in their golden years, seniors want smartwatches that provide medical alert assistance, fall detection, fitness tracking, health monitoring, and long battery life – all in a durable and easy-to-use design.
Brands like Apple, Fitbit, and Samsung are developing smartwatches built for active seniors and those requiring additional care. Options include the Apple Watch Series 8, Fitbit Versa 3, Samsung Galaxy Watch 4, and Galaxy Watch 5, which feature ECG, heart rate monitoring, GPS, and notification alerts. These smartwatches make it simple for seniors to stay connected, get help in an emergency, and track the health metrics that matter most.
Empowering Seniors with Cutting-Edge Smartwatches: Enhance Independence, Safety, and Health Monitoring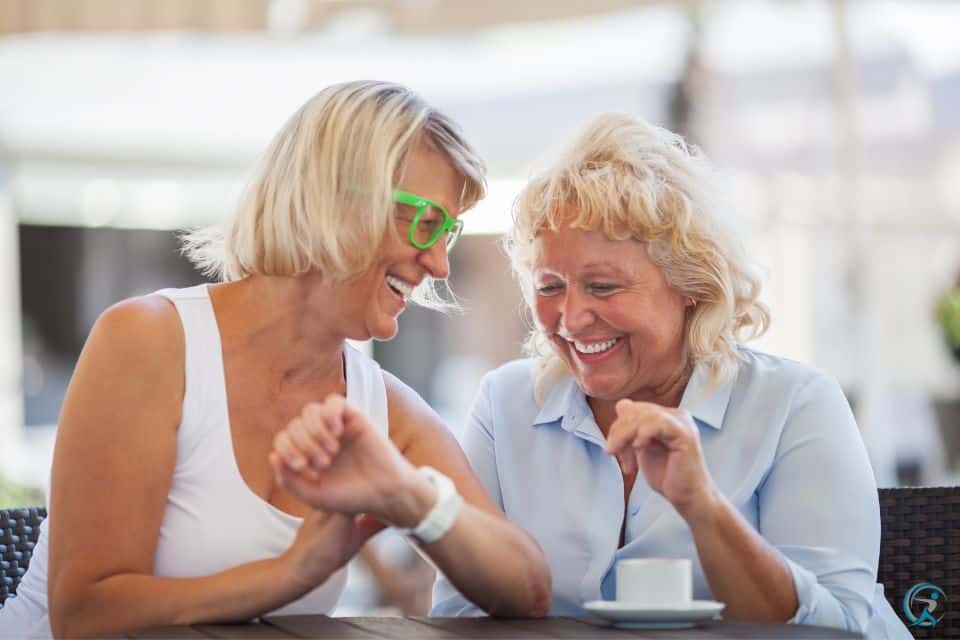 For seniors wanting independence and the convenience of a smartwatch without complicated controls or interfaces, many options now have large text, high-contrast displays, and simple navigation. Features like emergency calls, medication reminders, and monitoring conditions like blood pressure, blood oxygen levels, and sleep can reassure seniors and their loved ones. By 2023, smartwatches will become a virtual medical device for at-home seniors and those transitioning from independent living to assisted care facilities.
Smartwatches can make a meaningful difference in the lives of seniors by helping them live actively, maintaining safety, monitoring health, and creating peace of mind for themselves and their families. When evaluating smartwatches for seniors, consider must-have features, ease of use, battery life, durability, and the level of medical assistance and alerts that will provide the most value. With the best smartwatches tailored for seniors, independence and functionality can be extended well into the future.
Discover the Surprising Benefits of Walking for Seniors
Why Smartwatches are Important for Seniors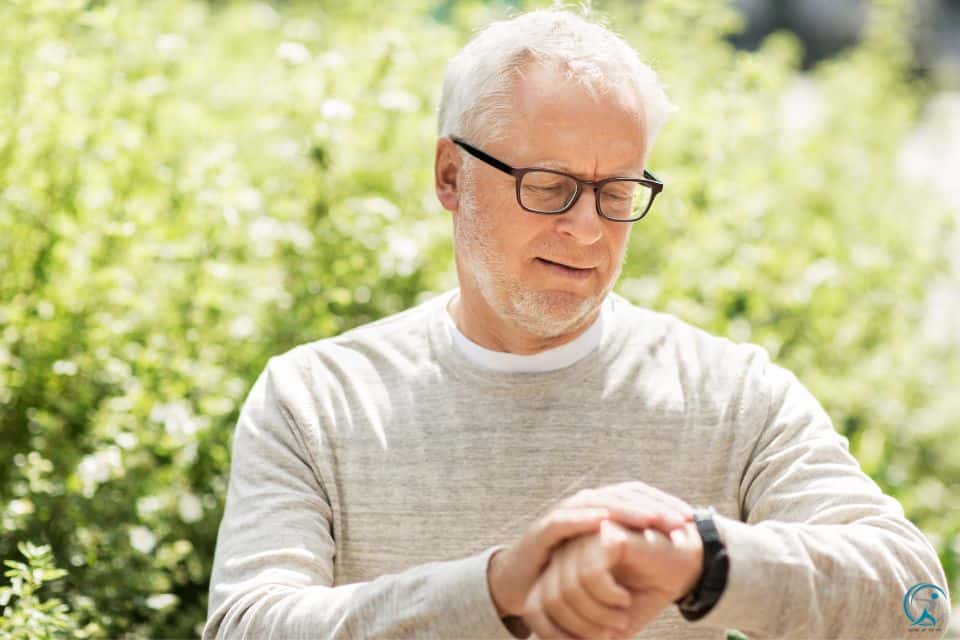 In 2023, top smartwatches have become essential for seniors to maintain mobility, monitor health conditions, and stay connected with loved ones. Brands are developing more intelligent and durable smartwatches with built-in medical sensors, audible alarm alerts, customizable watch faces, and simplified navigation for all ability levels. Fitness trackers, smartwatches, and medical alert systems have converged into powerful yet easy-to-use platforms for independent aging.
What Are the Best Exercises for Older Adults To Do?
Features to Look for in a Smartwatch for Seniors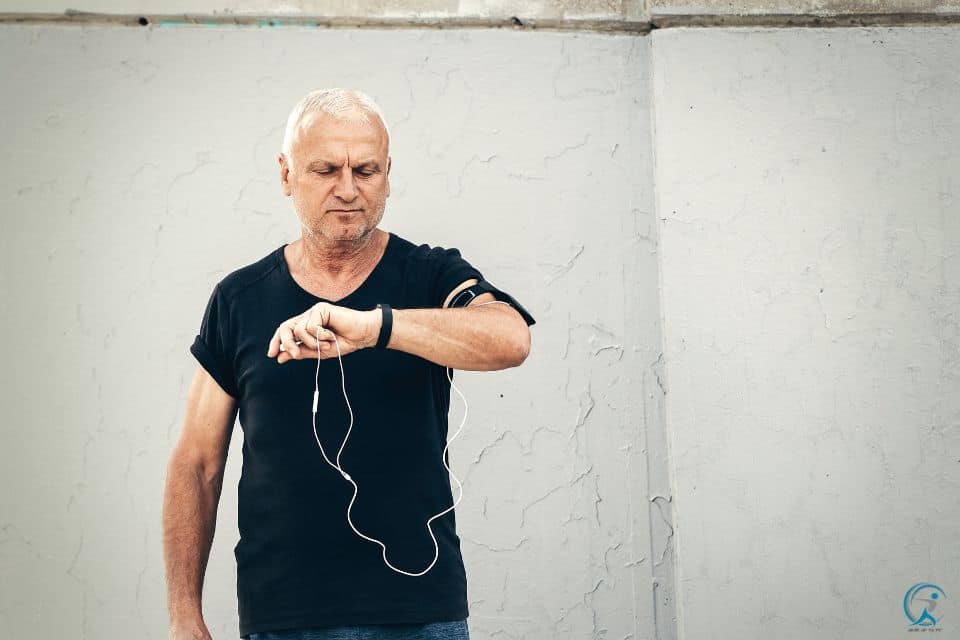 The features you should look for in a smartwatch for seniors are:
Large display and buttons. Seniors may have difficulty seeing small screens, so look for one with an extensive collection that's easy to read. If the buttons are too small or difficult to press, they won't be able to use the device effectively.
Long battery life. Seniors don't want their watches dying on them halfway through the day; make sure yours has enough power reserves before purchasing it!
Built-in GPS tracking system (or cellular data plan). Seniors who live alone can use this feature if they get lost or disoriented while out and about–it will allow them access to information about where they are at any given time and help rescuers locate them more quickly if necessary.
Enhanced medical monitoring. ECG, heart rate, oxygen, blood pressure, and fall detection sensing. Readings can be shared with doctors for improved care.
Improved independence. Features like emergency alerts, medication reminders, GPS navigation, and more allow for active lifestyles with added safety. Seniors don't need constant assistance and oversight.
Reminiscence stimulation. Music playback, photo sharing, and video chatting spark happy memories and social engagement, which helps combat age-related cognitive decline.
Motivation for exercise. Activity/step tracking, calorie burn detection, and goal setting motivate seniors to stay mobile and build strength through physical activity and movement, leading to better health and longevity.
Peace of mind. Smartwatches reassure seniors and their loved ones through alerts for emergencies, unknown falls, low activity, or other potentially concerning deviations from regular routines.
Check out the best smartwatches of 2022
Pros and Cons
Pros
1. Enhanced Safety: With features like fall detection and GPS location tracking, smartwatches for seniors provide an extra layer of security.
2. Improved Health Monitoring: Constant monitoring of vital signs allows for the timely detection of concerning trends or irregularities in a senior's health.
3. Medication Management: Medication reminders help avoid missed doses or overdosing on medications.
4. Encouragement of Physical Activity: Fitness tracking and goal-setting features promote a more active lifestyle.
5. Simplified Communication: Quick access to call emergency contacts or view notifications offer more independence and convenience.
Cons
1. Price: Some smartwatches catered to seniors can be expensive, especially when considering additional subscription services required for certain features.
2. Technical Learning Curve: Some seniors may find it challenging to learn how to use a smartwatch and navigate its interface.
3. Battery Life: Depending on the usage and the device, seniors may need to charge their smartwatches daily or every few days, which can be inconvenient.
Best Smartwatches for Seniors
The best smartwatches for seniors are the ones that provide the most value, and they're not necessarily the most expensive. The following watches were chosen based on their ease of use and accessibility and ability to help seniors stay connected with family members and caregivers.
Apple Watch Series 8 (Apple Watch Ultra)
No products found.
The Apple Watch Series 8 is the latest model of Apple's smartwatch, released in 2022. It has some features that may be useful for seniors, such as:
Temperature sensor: This feature can measure your body temperature and track your menstrual cycle and ovulation. It can also alert you if you have a fever or are at risk of heatstroke.
Car crash detection: This feature can detect if you are involved in a car accident and automatically call emergency services and share your location. It can also send a message to your emergency contacts with your medical information.
Low-power mode: This feature can extend your battery life by turning off some functions when your watch is low on power. You can still see the time and receive important notifications, but you won't be able to use apps or sensors.
Health features: The Apple Watch Series 8 also has the same health features as the previous models, such as fall detection, heart rate monitoring, blood oxygen monitoring, ECG, and irregular rhythm notification. These features can help you monitor your health and alert you if something is wrong.
Large display: The Apple Watch Series 8 has a more extensive and higher resolution screen than the previous models, making it easier for people with limited vision to read and use. The screen also has an always-on feature that lets you see the time and other information without raising your wrist.
Samsung Galaxy Watch 4
No products found.
The Samsung Galaxy Watch 4 provides advanced health monitoring and fitness tracking features in a simple, stylish design. It offers ECG, heart rate, and blood pressure sensing to detect any concerning changes in health. Fall detection alerts for emergencies and a 360×360 display enhance visibility.
Mobile payments, expansive apps, and long battery life keep you connected all day. Make payments with Samsung Pay, stream music/podcasts, or link mobile banking apps. The Galaxy Watch 4 lasts up to 40 hours per charge to enjoy features without interruption.
Despite its capabilities, a minimal, intuitive interface makes the Galaxy Watch 4 easy to use. Though packed with technology, Samsung aimed for a clutter-free experience with one-tap access and large text. Bid farewell to complicated menus or navigation between health sensors, mobile payments, and other intelligent features.
Durable construction, larger screen sizes, and a refresh rate for smoother graphics harness technology to achieve a premium smartwatch experience. Whether monitoring health, tracking fitness, or staying on top of life's events, the versatile Galaxy Watch 4 delivers highly capable yet simple innovation for all-day comfort and convenience.
Samsung Galaxy Watch 5
No products found.
The Samsung Galaxy Watch 5 is Samsung's latest smartwatch designed to provide advanced health monitoring and assistance features for independent living. Released in 2023, the Galaxy Watch 5 has several benefits useful for seniors, including:
Fast charging – The Galaxy Watch 5 supports 10W smart charging, delivering over 10 hours of battery life in just 15 minutes. Long battery life means less frequent charging and more time enjoying features.
Enhanced workout tracking – An improved algorithm tracks workouts with increased accuracy and precision. It provides personalized coaching, feedback, and progress monitoring for over 100 exercises via the Samsung Health app and watches. Staying active is easier than ever before.
Advanced sleep sensing – Monitor sleep quality, duration, blood oxygen, heart rate, and more. Set sleep schedules or get tips to improve rest. Better sleep improves health, mood, memory, and daily functioning.
Biosensors for insight – Accurate biosensors measure blood pressure, ECG, oxygen, stress, and body composition. Access health/wellness reports and share them with doctors through the Samsung Health app for enhanced diagnostic ability and care management.
Integrated emergency features – Set up emergency alerts to send SOS messages, location, and health information to contacts in case of emergencies like falls, accidents, or health issues. Fast, relevant information helps get critical assistance and support quickly when needed.
Optional LTE connectivity – Cellular connectivity allows calling, streaming media, turn-by-turn navigation, and more without a smartphone nearby. Stay connected to friends/family, access community resources, and enjoy features wherever you go for increased independence.
Fitbit Versa 3
No products found.
The Fitbit Versa 3 is Fitbit's latest smartwatch designed to provide enhanced health monitoring and medical assistance features for independent living. Released in 2020, the Fitbit Versa 3 has several benefits useful for seniors, including:
Continuous heart rate tracking – Track your heart rate 24 hours daily and get alerts for abnormally high or low readings. See your resting heart rate and heart rate zones on the watch or Fitbit app for monitoring changes over time.
Blood oxygen monitoring – Measure your blood oxygen level (SpO2) while sleeping or engaging in activity. View trends over time or how factors impact your oxygen saturation, like high altitude, illness, or sleep apnea. Gain greater awareness of respiratory health and wellness.
Body temperature sensing – Track body temperature variations during sleep for insight into your health. See how factors such as menstrual cycle, stress, infection, or other influences may impact night temperature changes. Temperature sensing provides an indicator of potential health issues.
Built-in GPS – Track pace, distance, and heart rate zones during outdoor workouts like running, hiking, or cycling without a smartphone. View workout intensity maps on the Fitbit app for monitoring progress and staying active for cardiovascular health. GPS allows exercising without a mobile device.
Voice assistants – Use voice assistants like Google Assistant or Amazon Alexa to control the Fitbit Versa 3, get information, set reminders, manage smart home devices, and use only your voice. Voice dictation also allows responding to messages or chatting with other Fitbit users by speaking instead of typing. Hands-free control and communication enhance convenience.
Garmin Venu 2 Plus
No products found.
The Garmin Venu 2 Plus is Garmin's smartwatch designed to provide health monitoring and enhanced fitness features for independent living. Released in 2023, the Garmin Venu 2 Plus has several benefits useful for seniors, including:
Bluetooth calling – Make and receive calls from your watch using the speaker and microphone. Voice assistants like Google Assistant, Siri, and Bixby also allow controlling the clock, getting information, setting reminders, managing intelligent home devices, and more using voice commands alone. Hands-free communication and control enhance convenience.
Advanced heart rate sensor – Track your heart rate 24 hours daily using Garmin's 4th generation Elevate heart rate sensor. See your fitness age, health snapshot, and heart rate trends on the watch or Garmin Connect app for monitoring changes over time. Insight into cardiovascular health and endurance.
Blood oxygen monitoring – Measure oxygen saturation (SpO2) and view trends daily. See how various factors impact your oxygen levels, like high altitude, illness, sleep quality, or other influences. Blood oxygen sensing provides awareness of respiratory wellness and potential issues.
Body battery energy monitoring – Track energy levels from your heart rate, stress, sleep, and activity. See when you're ready for the action or need rest. Energy monitoring helps find the right balance of movement and downtime each day for optimal health and wellness.
Enhanced sleep tracking – Monitor sleep quality, duration, stages, respiration, movement, and score. Gain insights into improving your sleep habits. Better sleep improves daytime functioning, health, memory, mood, and independence.
Additional features – Built-in stress tracking, incident detection, women's health tracking, navigation, music control, and mobile payments.
Conclusion
These best smartwatches for seniors in 2023 give greater control and insight into wellness, longer battery life for less charging, emergency alerts for peace of mind, and aids like medication reminders, fall detection, or navigation assistance for mobility. They stimulate reminiscence through music/photo sharing, enable social engagement via communication features, and motivate exercise through activity/fitness tracking – all vital for well-being, longevity, and quality of life.
Smartwatches provide unprecedented opportunities for independent living, chronic disease management, and looping in loved ones whenever extra care or oversight may be needed. More intelligent and durable than ever, they combine advanced innovation with simple convenience and intuitive interfaces for easy use by all ability levels.
By staying on the cutting edge of progress, smartwatches will continue transforming what it means to age through enhanced medical monitoring, prolonged engagement, and independence. They give back priceless joy, adventure, and togetherness – moments that matter most.
Smartwatches are redefining the future of senior citizenry by providing opportunities to live life fully up until the very end. Before, health, home management, mobility, social bonding, and safety were never more seamlessly integrated into a single personal device. Evolution has brought us to a pivotal point where technology nurtures humanity instead of replacing it.
As smartwatches evolve, seniors can evolve with them; stronger, wiser, and better equipped to thrive. By choosing a premier smartwatch partner, you choose optimism over decline. You choose living well over simply surviving as the years pass. You choose to make every moment count by staying connected to what matters – relationships, experiences, growth, and love.
References
Best Smartwatches For Seniors Of 2023 – Forbes Health
Best Smartwatches for Seniors of 2023 Samsung Galaxy Watch4 5.0 Price: $169.99 Battery life: 40 hours Has an emergency feature
The Best Smartwatches for Seniors | SeniorLiving.org
HandsFree Health WellBe Smartwatch- Best health monitor Alert1 On-the-Go Wrist Watch Medical Alert- Best emergency assistance for active seniors Fitbit Versa 3- Best all-around smartwatch
Best Smartwatches for Seniors in 2023 – The Senior List
Best Smartwatches for Seniors MGMove Watch: Best Overall Smartwatch Fitbit Versa 3: Best Wellness Features SOS Smartwatch
The Best Smartwatches for 2023 | PCMag
The Best Smartwatch Deals This Week Apple Watch Series 8 (GPS, 45mm) — $359.00 (List Price $429) Samsung Galaxy Watch 5 40mm Smartwatch — $249.00 (List Price $279.99) Garmin Venu …
Best Smartwatch for Seniors (2023): Types, Top Models – Seniors Mobility
Final Thoughts. The Fitbit Versa 2 is one of the best smartwatches for seniors.
Best Smartwatch For Seniors 2023 ~ Top Elderly Health Watch – Gadget Review
Top 10 Best Smartwatches for Seniors #1 Samsung Galaxy Watch 3 Smartwatch for Seniors #2 Apple Watch Series 4 Smartwatch for Seniors #3 Fitbit Blaze Smartwatch for Seniors #4 Fitbit… …
Best Health Watches for Seniors (2023): Types, Top Models + Expert …
Best Health Watches for Seniors (2023): Types, Top Models + Expert Buying Guide Wearables
10 Best smartwatches for seniors In 2023 | Picked Watch
The Best for Monitoring the Fitness of Seniors: Donerton Smart Watch Best for Tracking Location: Garmin Venu Best for the Battery Life
Best Smart Watch For Seniors (2023 Updated) – Just A Taste
With the right smartwatch, seniors can stay connected with loved ones, monitor their health, and know they can get help when needed.
Alex is a fitness aficionado, empowers others towards healthier, active lives through small, sustainable changes for lasting results. Visit Gearuptofit.com for insightful tips and resources to enrich a balanced lifestyle.