Sale
Garmin tactix Delta Solar, Specialized Tactical Watch with Solar Charging Capabilities, Ruggedly Built to Military Standards, Night Vision Compatibility, Black
The solar charging lens uses sunlight to extend battery life and custom power manager modes to achieve weeks long battery life.Control Method:Touch.Special Feature:Wireless.Water Resistant: Yes
The solar charging lens uses sunlight to extend battery life and custom power manager modes to achieve weeks long battery life
Battery performance: up to 21 days in smartwatch mode or 24 days when solar charging; up to 15 hours in GPS mode or 16 hours when solar charging
Specialized tactical features include Jumpmaster mode, waypoint projection, dual-position format and preloaded tactical activity, stealth mode and kill switch
Quickly access customizable battery modes with power manager to extend battery life
The Garmin tactix Delta Solar is a high-end watch for pilots, scuba divers, triathletes, and other enthusiasts who need a device that can work on almost any adventure. Garmin technology is well known among the users for its superior quality design and capabilities that exceed expectations.
A Rugged All-Weather Sports watch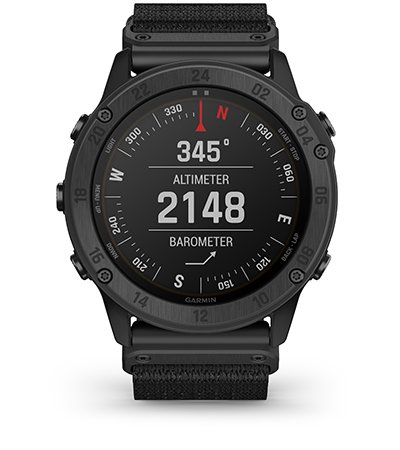 The tactix® Delta is a durable solar-powered navigator designed for outdoor tactical missions and training. It features specialized functionality, terrain and route planning maps and is compatible with night vision devices. The Solar-Powered Specialized Tactical Watch for Rugged All-Weather Military Missions
This solar-powered tactical watch is ruggedly built to military specifications and has night vision compatibility. It features a digital compass, altimeter, barometer, stopwatch, sunrise/sunset times, tide graph, and an emergency alarm with a backlight. With its high-performance GPS tracking capabilities, the Tactix Delta also displays waypoints, routes, and tracks current location. Use it in harsh environments with a water rating of 100 meters and an antiglare scratch-resistant Sapphire lens.
With a ruggedly built, solar-powered specialized tactical watch that's viewable in sunlight and total darkness, the tactix® Delta from Garmin is the outdoor tool you need. The scratch-resistant, always-on display ensures that you can see your stats at a glance; buttons give you quick access to GPS functions and your data screens. You can even use this outdoor timepiece for night vision compatibility.
Get tough-as-nails versatility in a solar-powered GPS watch with the tactix® Delta. This multisport training watch helps you accomplish any mission, with features like wrist-based heart rate, up to a 16-hour GPS battery life, and water resistance up to 50 meters. It's built to military standards, with rugged features that include advanced location tracking. Comes with full auto LED illumination for the display and buttons, 3 physical buttons on the bezel, and more.
A solar-powered special operation watch
The Tactix Delta is a solar-powered special operation watch with a wrist-based heart rate and GPS. It withstands the toughest environments on land or underwater. Engineered for use by elite military forces, it delivers reliable performance when and where it's needed most.
The tactix® Delta's ruggedly built, dual-layer face and side-mounted buttons offer increased durability. It offers small design elements – like its scratch-resistant sapphire lens and backlight with off-time brightness control – that show the detail of advanced watchmaking. The solar-powered Garmin tactix® Delta is a watch built for Special Forces…and for you.
The Garmin tactix Delta Solar is a rugged, military watch powered by light—no battery changes required. This watch features rugged materials and advanced GPS navigation, making it perfect for tactical missions, outdoor adventures, or everyday wear. Packed with advanced features and easy-to-use training tools, this watch is the ultimate companion for your high-octane lifestyle.
Sunlight to extend battery life
The tactix Delta is a serious tactical watch built for the field, with features optimized to give you more than just the time. Regardless of your role, this watch is there to help you when it matters. The Solar charging lens uses sunlight to extend battery life and custom power manager modes to achieve weeks-long battery life. So you can spend more time focusing on the mission and less time worrying about your gear. The sunlight-readable, high-resolution color screen is easy to read under any light conditions. The well-equipped device features tools like an altimeter, barometer, compass, storm alarm with alert settings, sunrise.
GPS-equipped tactix watch with sunlight-powered GPS and a battery life of up to 60 hours/66 hours with solar in UltraTrac mode.
The Garmin Tactix Delta Solar GPS watch is one of Garmin's premium military-grade multisport GPS smartwatches that feature a sunlight-readable, high-resolution display with an ultra-thin, curved lens and a rugged, lightweight design. The watch is water-rated to 100 meters so that you can dive with it.
The Garmin tactix®Delta solar is a navigator built for the outdoor lifestyle with GPS and ABC sensors. It is designed to provide superior navigation in an incredibly durable device. With smartphone alerts designed to keep you in touch, Tactix®Delta solar goes where you go and keeps ongoing.
Most advanced multisport watch

Enhance your time outdoors with the tactix Delta solar wristwatch from Garmin. The watch comes equipped with a solar panel, which harnesses sunlight to charge it. That way, its battery life lasts for weeks at a time. It also has a high-sensitivity Garmin Alpha GPS receiver. It is capable of locating your position within mere seconds and storing up to 10,000 waypoints. You can even customize it by adding other devices, such as a heart-rate monitor and a cadence sensor.
Garmin's most advanced multisport watch yet, the tactix solar features an altimeter, barometer, and 3-axis compass to monitor weather changes. It is equipped with a wireless heart rate monitor, and Bluetooth connectivity Garmin heart rate monitor and foot pod use, plus sunrise/sunset alerts. You can also download topographic maps in advance for offline use during your adventure. This GPS watch is designed for world travelers who only pack a carry-on and is certified 100M water-resistant to keep up with your active lifestyle.
Garmin tactix is a rugged smartwatch built for tactical training and endless adventure. The sunlight-readable, high-resolution color touchscreen lets you check your heart rate. You can control music, and your VIRB camera, and get precise GPS navigation and location information in challenging environments. Tactix features a bright sunlight-readable, high-resolution color touchscreen that gives you quick access to actionable data to keep you prepared and informed in all conditions.
A rugged yet sophisticated watch
The tactix delta solar provides GSP coordinates, altitude, and barometric pressure trend graphs. The watch features a sunlight-readable, high-resolution 1.4″ display with a black DLC–coated (diamondlike carbon) bezel for the ultimate in tactical performance. It also has a color Garmin Chroma Display for even better visibility in all lighting conditions.
Like some of your missions, the Tactix stays in the dark—it has a black DLC-coated bezel that sheds cosmetic scratches. Engineered for maximum durability and optimized for extreme conditions, it features an always-on, 1.4″ sunlight-readable, color display with high resolution; GPS and GLONASS capability; and optical heart rate monitoring to track your workouts.
The Garmin tactix® Delta Solar is made with a rugged yet sophisticated design. This watch combines a high-tech display and solar power technology with tracking modes for multisport training. Yet, is small enough to wear comfortably with a wetsuit or with a dress shirt and tie. Still, it has one of the largest displays available on a GPS watch of this size. With its 1.4″ sunlight-readable color display, you can check the time and data anywhere, without having to push multiple buttons.
Built to perform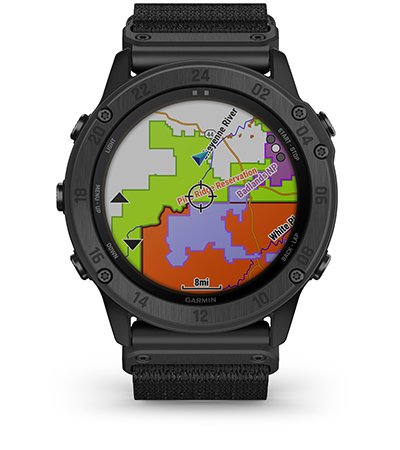 Built to perform, the tactix Delta Solar is a rugged yet sophisticated outdoor watch that provides quick, at-a-glance information. It features an always-on black LED display, GPS, and GLONASS capability for navigation with preloaded TOPO U.S. 100K maps and a high-sensitivity antenna.
Carry out the mission with the Garmin Tactix Delta. This rugged watch features a built-in altimeter, 3-axis compass. The barometer helps you track air pressure changes and predict weather trends, GPS to mark waypoints and locations, and an ultra-tough solar charging system. It also has ABC (altimeter, barometer & compass) functions to track your elevation, monitor weather trends, and navigate navigation.
The tactix® Delta is inspired by the rugged terrain of the world's toughest training grounds. It's designed to optimize your time in both training and tactical environments. This multisport GPS watch features a wrist-based heart rate, a move bar with an audible alert. It also has color TOPO maps, activity profiles, route planner, and auto-follow, so you'll never miss a beat.
This watch is all about training and getting the job done in any situation. Featuring a solar battery that never needs to be replaced, high-sensitivity GPS, and a dot-matrix display that shows critical data right on your wrist, the Tactix® Delta is a powerhouse of technology and timeless design.
Preloaded TOPO maps, public land map, ski maps for 2,000 ski resorts worldwide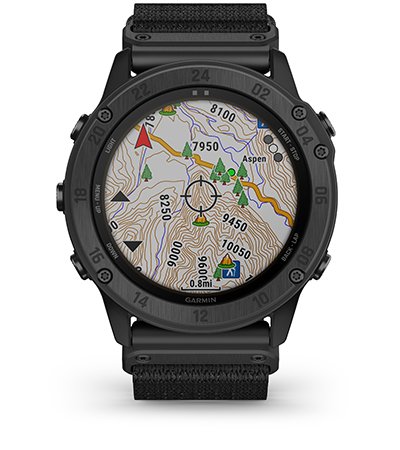 The Garmin tactix delta solar is a high-tech wristwatch that's rugged enough for your outdoor adventures. It features smart notifications so you can stay connected, preloaded topo maps, and a wide array of sensors that make it easy to navigate in the backcountry. A sunlight-readable high-resolution color Garmin Chroma Display™ and always-on electronic compass ensure you'll always have your bearings. This timepiece is the perfect companion for any adventure… or even business trip.
The tactix® Delta is about helping you find your way, in more ways than one. To start, there's its built-in 3-axis electronic compass that works together with its barometric altimeter to track how far and high you go—even in GPS-disconnected situations. Then there's GPS and GLONASS support, a standard in the industry that provides superior positioning. And with Garmin's unique UltraTrac™ power management technology, battery life can last through even the longest adventures. Even when you're not out exploring, this watch is still at work, so you can see the information you need most.
All-weather tactical watch
The tactix® Delta is an all-weather tactical with ABC sensor capabilities that monitor compass heading, barometric pressure, altitude, and local temperature. Connected to compatible devices like fenix® 3 will even display your current pace on the watch face as you race back to base camp. Stay connected with smart notifications for email, texts, and alerts.
With its rugged design and go-anywhere features, this watch is for those who want to keep moving throughout the day. It features circuit training, calorie calculation, interval timer, and more. Plus, there's a sunlight-readable, high-resolution color display. From GPS to GLONASS to Galileo, it's ready to help you find your way.-1 Color
If you demand performance and versatility, then tactix® Delta Solar is the Forerunner for you. Featuring a high-sensitive touchscreen; sunlight-visible high-resolution display; barometric altimeter; 3-axis compass with Mag sensor and external temperature sensor; rugged construction, and more, this watch is guaranteed to keep up with whatever your next big adventure may be.
Garmin tactix Delta Solar looks good on the inside, too. It offers a transflective high-resolution sunlight-readable color display with a backlight for night time viewing. So you can access critical information without having to push buttons in low light. The sunlight-readable display has a full-color QVGA resolution (180×208) with LED backlighting and a transflective screen that works well under intense sun exposure.
Garmin developed the tactix Delta Solar as an outdoor watch that meets stringent military standards. This rugged, tested timepiece utilizes cutting-edge technology, keeping you up to date with performance-monitoring data while helping you plan your next move.
Specialized tactical features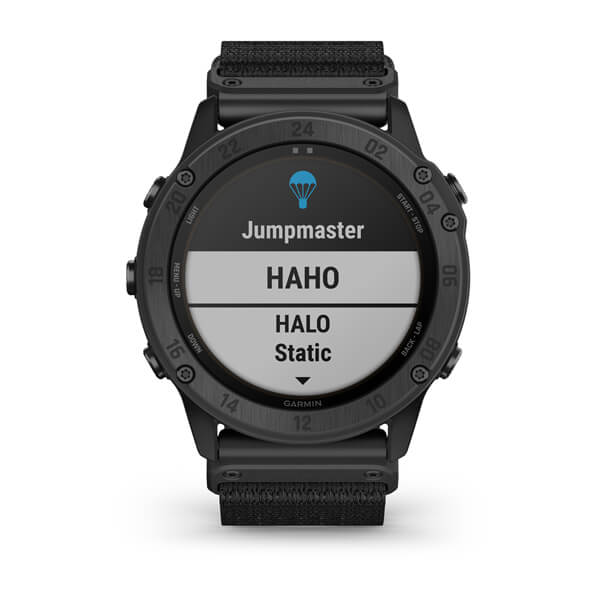 Includes Jumpmaster mode, waypoint projection, dual-position format, and preloaded tactical activity, stealth mode, and kill switch.
The tactix Delta solar is a specially-designed, highly-sophisticated watch for elite Special Forces and military units. The redesigned unit features added features to meet the needs of military special operations personnel. It has many customizable options, including Jumpmaster mode, waypoint projection, dual-position format, red/green reticles, preloaded tactical activities, and more. The latest sunlight-readable Garmin technology is available in this specially designed product.
Designed for highly-trained soldiers and special operations units, the Garmin tactix delta is engineered with multiple military features such as waypoint projection and jumpmaster mode. This watch is built to handle tough situations with an ultra-durable construction that features stainless steel bezel, buttons, and rear case, along with an IPX-8 waterproof rating. The photochromatic high-contrast lens provides visibility in bright light or total darkness while highlighting a high resolution, high contrast display set against a blackened background. Transflective display capabilities enable it to project information onto a reflective surface when needed.
Jumpmaster mode uses GPS/GLONASS to calculate accurate, 5-meter radius points of impact for various drop heights. Waypoint projection allows the user to label and store multiple waypoints, which you can project onto a mapping screen and provides waypoint navigation on approach to target – even after jumping.
Jumpmaster mode allows you to create and name waypoints for use during parachute operations quickly.
The tactix® Delta has all the features of the original tactix, plus preloaded topographic and cycling maps. And with its solar-powered features and rugged construction, this Garmin watch will never let you down.
Go beyond the boundaries
Garmin's tactix Delta is the first watch in our line-up that provides specialized features for elite and tactical users. This high-tech multisport GPS watch tracks your routes, speed, distance, and more. The durable, high-strength glass allows you to read all of this data in bright sunlight. If you're looking for a higher level watch with special operations features and training capabilities, then the tactix Delta is your choice.
Go beyond the boundaries that limit other watches. tactix® Delta is made to handle the most challenging training so that you can push beyond your limits. Powered by a new battery with intelligent power management, this rugged Garmin multisport GPS watch gives you an extended battery life of up to 60 hours/66 hours with solar in UltraTrac™ battery saver mode and a water rating of 5 ATM. With interchangeable digital and analog watch faces, you can track your tactical training progress on the field and in the office. The stainless steel EXO antenna is designed to withstand harsh conditions and deliver faster satellite acquisition times.
Quickly access customizable battery modes with power manager to extend battery life
No one likes battery drain surprises. This multi-function watch has a smart power manager feature that lets you customize how you use your watch and conserve battery life. It's thin, lightweight, and has the classic look of a timepiece worn by explorers since the turn of the last century. With its customizable display and high-altitude barometric altimeter with temperature, the tactix solar is ready to keep up with your active lifestyle.
Keep your pace and crush the competition with the tactix Delta Solar. This GPS watch is large enough to display essential information but lightweight so that you can wear it comfortably for several hours. Designed to work equally well in the office or out on the trail, this GPS sports watch features a color map detail page, track up feature for use on uneven terrain, one-button operation for easy use during training, and an auto-scrolling feature designed to keep your current pace in view. Ready to take on any distance?
The tactix® Delta smartwatch features training-specific navigation and tracking functionalities, as well as smart notifications, activity tracking, a built-in compass, altimeter and barometer sensors, and interchangeable wristbands that can be personalized with graphics.
Ultimate versatility and durability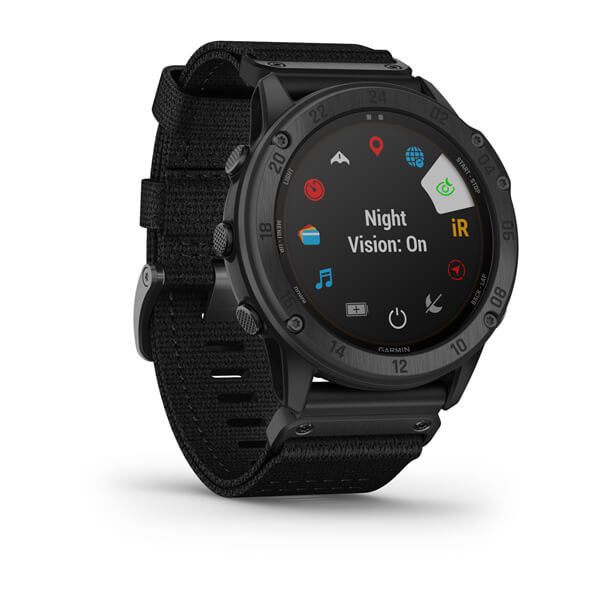 A solar charging panel folds out from the steel housing and connects to devices via the micro USB port. A power level indicator helps you keep track of battery status and supports up to 24 hours of GPS operation with maximum brightness or up to 21 days/24 days with solar in low-power mode. The tactix delta is preloaded with 25,000 geocaches making it an ideal companion for geocaching adventures.
Not only is it technically advanced, but its looks are too. With clean lines and a simple design, tactix Delta is down-to-business with its large display window, which allows you to review data, change settings or enter information. The sunlight-readable display has a backlight and reduces the need for extra lighting in the dark. The tactix Delta shares these impressive features and comes in multiple case/bezel material combinations that offer a choice of combinations.
The tactix delta solar provides the ultimate versatility and durability, with a high-quality solar panel that charges your watch even on cloudy days—featuring multi-band 6 capabilities fully, up to 8-day battery life in geocaching mode, built-in altimeter, barometer, and 3-axis compass.
Pick up the tactix®Delta, and you will be amazed by the level of craftsmanship and technological sophistication that has gone into making this watch. Customized to work in harsh or wet conditions, its high-sensitivity GPS combines with a smart, sunlight-readable display to give you comprehensive data for every activity—from hunting to skiing.
Verdict
The Garmin tactix Delta Solar is an excellent choice for anyone looking for a tough and efficient GPS watch that offers amazing features. It is perfect for sportsmen, athletes, and adventurers looking for a GPS watch that can provide them with all the needed functionality in one place.
Alex is a passionate fitness enthusiast dedicated to helping people lead healthier, more active lifestyles. He encourages small – sustainable changes over drastic transformations and works with people to create customized wellness plans. His mission is to help others benefit from the most effective methods available, sharing tips, strategies, and health & fitness tools on Gearuptofit.com to inspire people to live their best lives.