Amazfit GTS 2e is the latest generation of Amazfit smartwatch, which pushes wearable technology boundaries to a whole new level. 
The New Amazfit GTS 2e Smartwatch is a smartwatch with GPS sports tracking capabilities. It has a built-in heart rate monitor, a high-quality mineral lens, and 14-day battery life. SpO2 monitor can measure your bloodstream oxygen saturation levels, which can indicate your overall health. It is also able to identify when you are stressed out and keep track of how much sleep you're getting. Also notifies you when it is time to move a little if sitting still for too long. 
The Amazfit smartwatch is a multifunctional health monitoring, fitness tracking, and sports tracker smartwatch. It provides an accurate heart rate, steps tracking, calories calculation, and sleep monitoring. Beautifully crafted from a single slab of hardened crystal, the GTS 2e can help you to monitor your health 24 hours and stay fit on the go. 
The perfect smartwatch
The Amazfit GTS 2e Smartwatch is the perfect smartwatch for those who are always on the go! Whether you are relaxing beside the pool on your vacation or out running in the park, this smartwatch will give you all the information you need to get your day started. 
The Amazfit GTS 2e smartwatch helps you live a healthier lifestyle by tracking heart rate, stress, oxygen saturation, and more. Easily monitor your daily step count, speed, heart rate, and distance traveled using the GPS on this smartwatch. Keep up with your friends and family members by sharing your location in real-time. 
The GTS 2e is equipped with a 24-hour heart rate monitor. It also tells you how much deep sleep you get and how stressed you are. It has the capabilities to track your steps, calories burned, the distance you travel, and monitor your sleep pattern. 
Price and availability
Elegant and minimalist, this high-performing smartwatch is designed for the modern traveler who demands a stylish product that doesn't compromise performance. Equipped with GPS+GLONASS capability, Amazfit GTS 2e Smartwatch boasts world-class sports tracking capabilities and a sleek stainless steel finish that complements any outfit.
The smartwatch is available for $139.99 on Amazon. The watch comes with an extra battery, which will give you more than 30 days of usage. The device is compatible with both iOS and Android devices having Bluetooth connectivity. 
Open your door to a world of discovery with the all-new Amazfit GTS 2e smartwatch. The GTS 2e blends performance and style to deliver an experience that's new every day. Powered by GPS, its proprietary location algorithm tracks distance and direction accurately. The heart rate monitor offers a personalized training plan with on-screen graphics for optimal results. Learn what your body is capable of with the Amazfit GTS 2e. 
The smartwatch offers a wide range of health tracking features. It is compatible with the Mi Fit (Android) and Mi Fit (iPhone) mobile apps. The watch's optical heart rate monitor monitors your heart rate during exercise. It also allows you to keep track of your calorie burn and maintain target heart rate zones. 
Design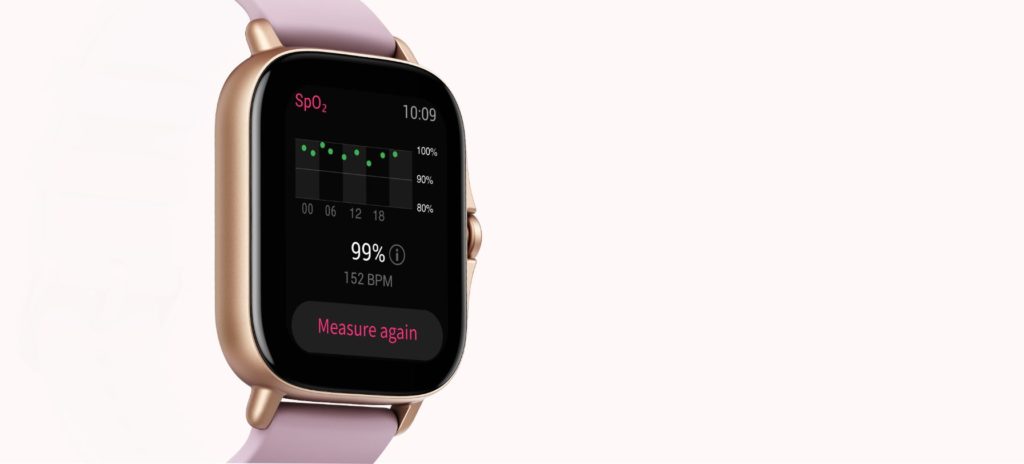 Tightly integrated with iOS and Android devices, Amazfit GTS 2e Heart Rate Smartwatch lets you monitor your heart rate, activity time, and sleep quality at any time. It has a sweat-proof function and provides timely audio feedback on daily exercise time, calories burned, and sports data. It is designed with a large touch screen, round dial ripples that are easy to operate. 
Elegant, powerful, and fashionable, the smartwatch has a small, ergonomic design. It comes complete with a scratch-resistant sapphire bezel for protection. Comfortable to wear all day long thanks to the new silicone strap, the GTS 2e is beautifully lightweight and water-resistant up to 50 meters. Wear the watch in winter during your morning routine and in summer when you're outdoors enjoying the sunshine. 
Named "Best Budget Sports Watch," the Amazfit GTS 2e Sports Watch is utilized GPS/GLONASS/QZSS positioning systems to accurately track every detail of your outdoor activities such as running, cycling, and hiking. 
A great design makes products more appealing to consumers. 
A new generation of multisports smartwatch, the GTS 2e comes with a 1.65-inch full circle AMOLED reliable screen, a very multipurpose GPS function, high-cost configuration, and distributed control system, which can satisfy your heart's needs for sports and fitness. The stronger heart rate and running distance functions will be an excellent assistant in training for basketball players, runners, cyclists, and other sports enthusiasts. 
This is how the Chinese smartwatch brand Amazfit shows off its second-generation smartwatch in a commercial. 
Smartwatch features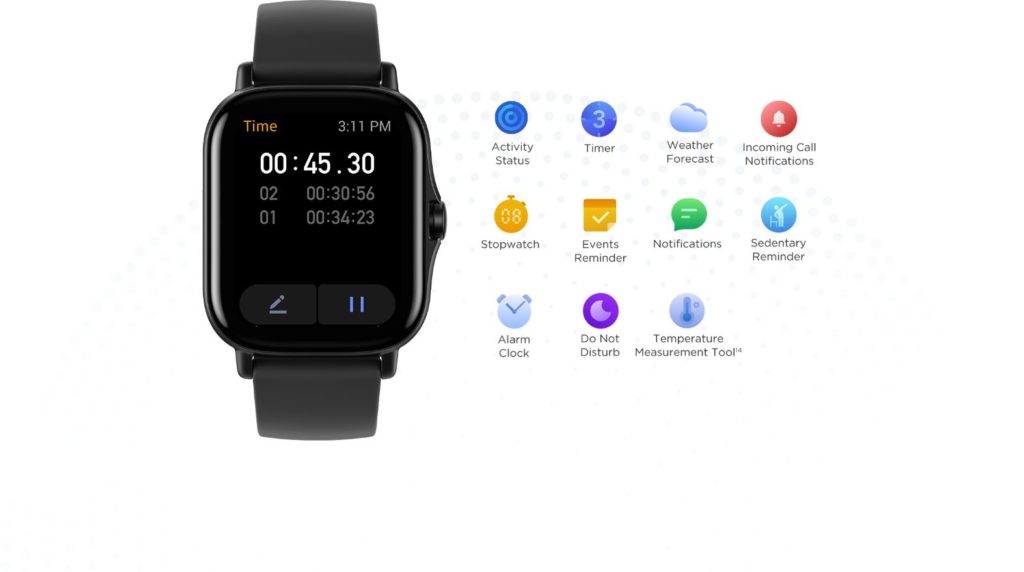 A variety of features of the Amazfit GTS 2e makes it smart. Here follows a shortlist. 
Making lifestyle adjustments is easy with Amazfit GTS 2e. This lightweight, durable wrist sensor continuously tracks steps, distance and calories burned. The built-in heart rate monitor provides additional information on your heart rate as well as blood pressure. You can estimate calorie intake by using the Amazfit GTS 2e Smartwatch's VO2 Max estimation feature. Choose from a variety of watch faces to customize it to your needs. The ultra-convenient timer and alarm features let you easily keep track of reminders. 
The Amazfit GTS 2e Smartwatch is a multifunctional smartwatch. This smartwatch provides you with all the functions you could wish for. Functions like "find my phone", remote capture and tracking of information, and voice control. 
Amazfit GTS 2e aims at providing accurate calls, messages, notifications, and biofeedback in real-time. It has a susceptible touch screen, good autonomy of 14 days, and many other features. 
The Amazfit GTS 2e smartwatch is a fashionable ultra-resistant watch designed for easy activity tracking, heart rate monitoring, and GPS running. 
The Amazfit GTS 2e for iPhone and Android smartphone users expect to receive a message and need to respond in seconds. It's essential to easily control music playlists on your phone and have access to tracking real-time sports data and exercise statistics, such as GPS running on your Apple Watch and Android devices.
A high-quality watch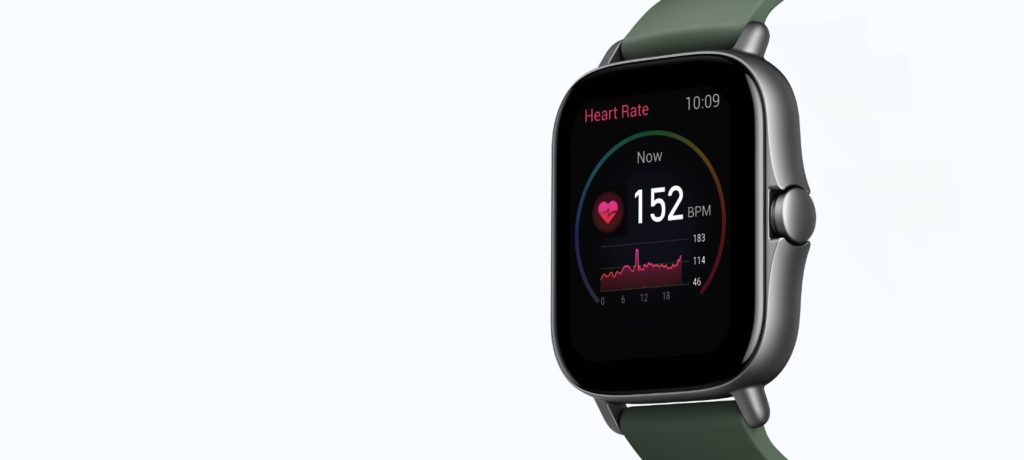 A high-quality watch can do more than tell time, so you do not have any excuse to be late. If you want a modern watch with a classic rectangular dial, then Amazfit GTS 2e Smartwatch is your best choice.
The smartwatch features local time for 40 time zones and all major cities. It measures calories burned and distance traveled, LED indicator displays information like battery life, and more. It is 45% thinner than rival products.
From the moment you pick up the new Amazfit GTS 2e, you'll notice a watch you can wear all day. Designed for an active lifestyle, its lightweight, great craftsmanship, and anti-sweat protection ensure your look remains perfect throughout the day. The display's always-on feature gives you precise information at a glance. It comes with four standard watch faces to choose from, including a classic analog face and one specially designed for women. With built-in heart rate sensors, this smartwatch enables you to track your daily workouts. It also keeps track of your heart rate history in comprehensive fitness.
Aesthetically designed and packed with useful features, the Amazfit GTS 2e Smartwatch is a dual-screen smartwatch with an inbuilt heart rate monitor, sleep tracker, activity tracker, and sedentary reminder, and more.
Fitness features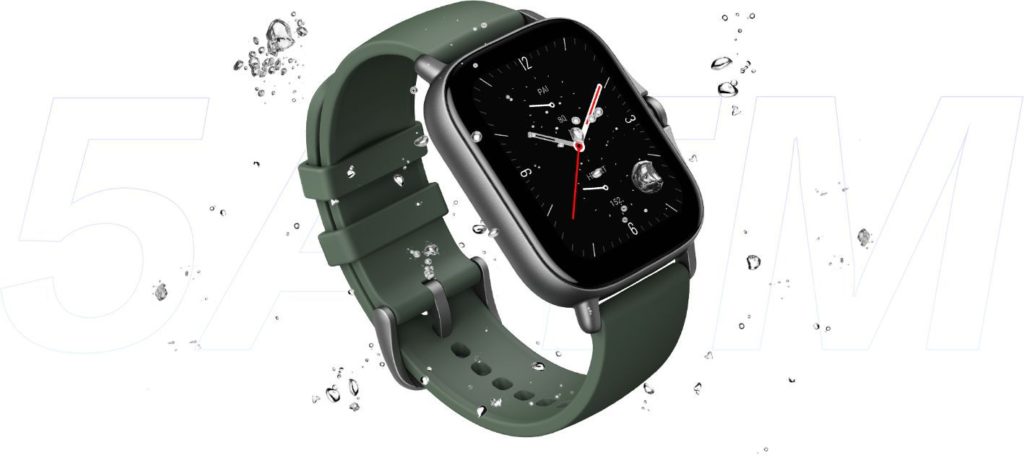 Learn more about the fitness features of the Amazfit GTS 2e Smartwatch 
The Amazfit GTS 2e Smartwatch is a smartwatch that features a 24-hour heart rate monitor and a heart rate stress test. You can even get your blood oxygen level checked! The watch has a 1.65-inch AMOLED HD touchscreen display, making it easy to check connections and take calls and messages from Amazfit GTS 2e Smartwatch. Plus, it was built with IP68 water resistance to ensure water resistance up to 50 meters deep and dustproof. 
When you work out, you want a minimal distraction. Play your favorite tunes without missing the beat. Be in touch with friends and family, all while getting directions to your next location. Put it all on your wrist, the new Amazfit GTS 2e Smartwatch. 
A sporty and functional watch
A sporty and functional watch designed for the modern user, the Amazfit GTS 2e Smartwatch combines style, comfort, and versatility to create a well-rounded smartwatch that won't weigh you down. This GPS-enabled watch is excellent for any situation, from work to travel and sports. 
The Amazfit GTS 2e is an ultra-stylish smartwatch with sporty features like heart rate monitoring, swim-proof design, and sleep tracking. The 1.65-inch AMOLED display is fully viewable under direct sunlight. The smartwatch also syncs wirelessly with your smartphone and notifies you of incoming calls, texts and emails. 
The Amazfit GTS 2e Smartwatch is the successor to the original model and the best option if you want a smartwatch with a heart rate monitor. The previous model has been lauded for the price, durability, and battery life, and the GTS 2e keeps all of these aspects. The Amazfit GTS 2e packs in more features than any other smartwatch in this price bracket. 
The GTS 2e is the second iteration in the Amazfit series. While it might not be the most exciting product, it is packed with features and capabilities like the heart rate sensor, sleep tracking, and more. The durable construction with a combination of metal and plastic makes it possible to withstand drops. The AMOLED display is easy to read, even in direct sunlight. It also comes equipped with a stylish band, making this watch an excellent choice for sports lovers. 
Packed with a long-lasting battery, per-app GPS, and heart rate measurement capabilities, this fitness watch is as smart as it is stylish. Its cutting-edge design pairs perfectly with any outfit and its wide range of customizable dials make it the perfect gift for loved ones. Get in shape today with Amazfit. 
Companion app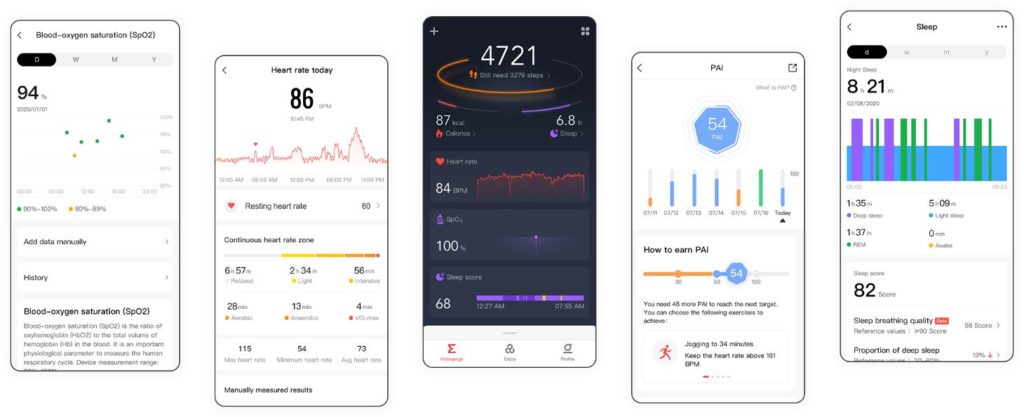 The Companion app of Amazfit GTS 2e Smartwatch features a two-day battery life, heart rate, sports, sleep tracking, and notification support for third-party messaging services. Control your multiple devices simultaneously from your mobile device to achieve a more convenient daily life. 
The companion app of Amazfit GTS 2e Smartwatch gives you quick access to the functions of the watch. You can make or answer calls, check your emails, listen to music without a cellphone and track your sports data by heart rate monitor. 
No Amazfit GTS 2e Smartwatch at hand? No problem! Download the companion app, and you'll have a full-fledged second screen to make the most of the Amazfit GTS 2e Smartwatch. You can secure the full functionality of this smartwatch from your mobile devices. 
The GTS 2e app is the companion app for the Amazfit GTS 2e 
smartwatch. The app shows time, date, and useful features like Weather, Step Records, Heart Rate, and more. 
The companion app of Amazfit GTS 2e helps to install firmware upgrades, connect your smartwatch and Android phone, transfer music to your watch. 
Control your Amazfit GTS 2e Smartwatch and display more data, such as weather, calendar, time zone, steps, etc. 
Amazfit GTS 2e, the new sports smartwatch developed by Huami, uses the customized fine-scroll wheel in its side buttons to serve as the control panel for smartphone features, such as voice reply messages. The watch's companion app helps set up and optimize this watch, including weather forecast and overseas time zone. 
Should you buy Amazfit GTS 2e Smartwatch?
Never miss a beat while you're getting your sweat on. Amazfit GTS 2e Smartwatch connects directly to your smartphone via Bluetooth and never requires charging, so you'll complete your workout without interruption. Check out the time and steps taken while you run; measure distance and calories burned when you go for a bike ride. The watch's built-in heart rate sensor also helps guide you through personalized exercise programs to keep your body and mind healthy. 
Enjoy your every moment while keeping yourself fit and healthy with the Amazfit GTS 2e Smartwatch. This smartwatch is built to work with both Android and iOS smartphones with great accuracy. With GPS-enabled features, you can also track your running routes, enjoy music while running, and stay connected to calls, messages, and social media. This fitness tracker is IP68 rated waterproof for added protection in different weather conditions. 
The Amazfit GTS 2e is an incredible device that does everything you'd need a sports watch to do, plus so much more. It's equipped with a heart rate monitor that will track your heart activity and calories burned during exercise, as well as your heart rate and breathing while asleep! You can even use the SpO2 monitor to check for signs of sleep apnea or other respiratory issues. In addition to all of these amazing features, it offers 90 different sports modes, so no matter if you're running on the road or lifting weights in the gym, it'll have the perfect mode for you!