Step into the future with the Best Smartwatches of 2023! These sleek and affordable timepieces are packed with cutting-edge features like stress level monitoring, blood oxygen sensors, and fitness tracking capabilities.
Stay connected with phone notifications, access Google Assistant, and track your body temperature effortlessly. With all-day battery life, stylish designs, and compatibility with Android phones, these smartwatches are a must-have for tech enthusiasts.
From kids' options to premium models, there's a perfect fit for everyone. Don't miss out on the next evolution in wearable technology!
1.1. The Rise of Smartwatches in Modern Tech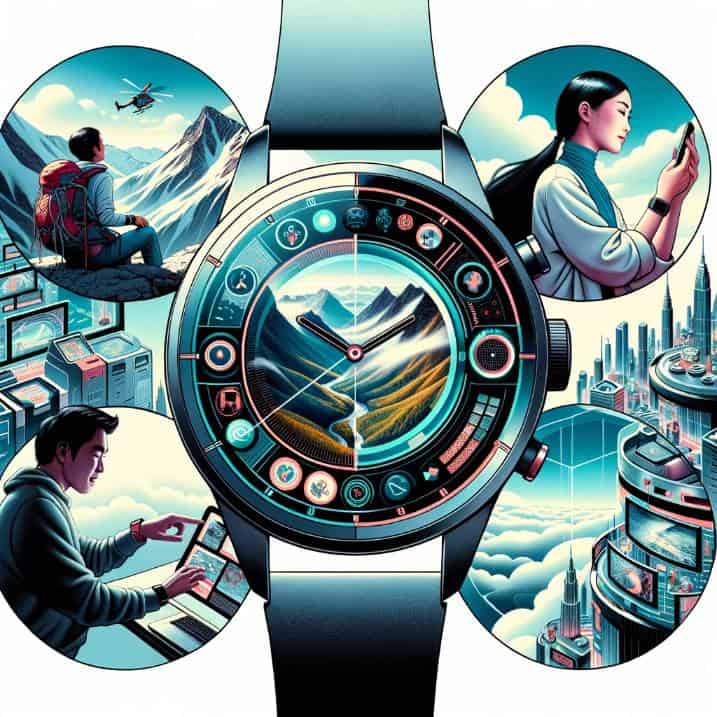 In the panoramic landscape of modern technology, smartwatches have swiftly emerged as one of the most iconic pieces of wearable tech. Initially perceived as a luxury, they have seamlessly integrated into the lives of millions, transcending boundaries between fashion, health, and connectivity. This integration has been largely driven by their potent ability to amalgamate the best of smartphone features into a device strapped to one's wrist, offering an amalgam of convenience and style.
1.2. How Smartwatches have Evolved in 2023
The year 2023 has been a watershed moment for the smartwatch industry. The best smartwatches of this year boast impressive specifications that rival even some of the latest smartphones. From vibrant OLED displays to potent processors, the top smartwatches are no longer mere time-telling devices. They're complete communication hubs, fitness companions, and sometimes even health saviors, capable of ECG readings and oxygen saturation measurements.
Additionally, smartwatch brands this year have fine-tuned their devices' user interfaces, offering smoother navigations and a multitude of smartwatch features. These evolutions are not merely restricted to the realm of hardware but extend to software adaptations, accommodating a broader spectrum of apps and services tailored exclusively for these wearables.
Smartwatch comparison studies in 2023 have shown a clear trend toward devices that offer a blend of performance, aesthetics, and extended battery life. The lines between different smartwatch technology types are blurring as hybrid models, combining the best of fitness trackers and traditional smartwatches, gain traction.
1.3. The Importance of Choosing the Right Smartwatch
In today's tech-savvy world, being armed with the latest smartwatches is not just about keeping pace with time; it's about maximizing one's potential. From tracking daily activities, and receiving timely notifications, to even making contactless payments, the right smartwatch can be a game-changer.
However, with an avalanche of smartwatch reviews and a myriad of options flooding the market, choosing the right one can be daunting. Therefore, it's imperative to understand individual needs and preferences. Some might prioritize health and fitness features, while others might lean more toward aesthetics or brand loyalty.
Regardless of the inclination, 2023 has proven that there's a perfect smartwatch for everyone, provided one knows where and how to look. The future of smartwatches promises even more innovations, and getting acquainted with the current best ensures a head start in the wearable tech evolution.
In the ensuing chapters, we will delve deeper into the nuances that make a smartwatch truly stand out, aiding you in making an informed choice in a market brimming with potential.
2. The Criteria for the Best Smartwatch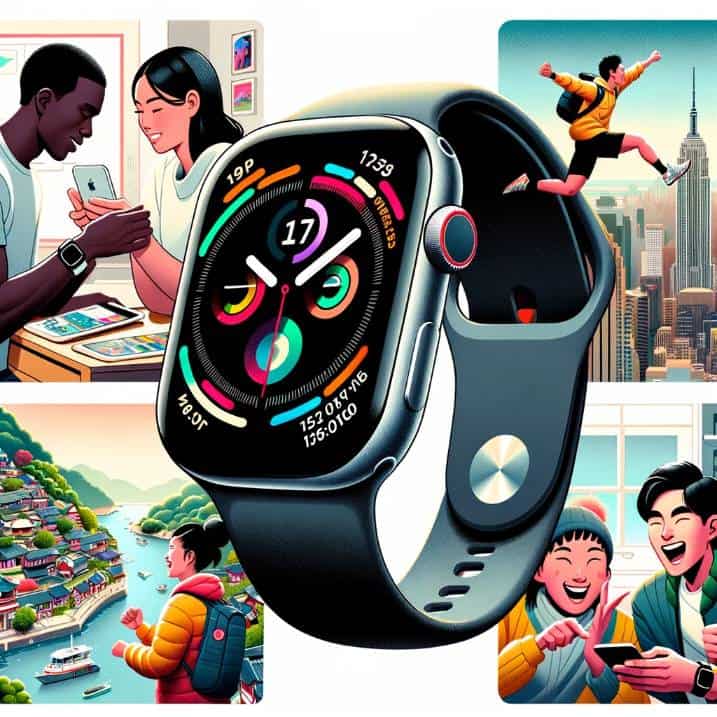 To navigate the world of smartwatches, understanding the essential criteria for what makes the best smartwatches stand out is paramount. With numerous smartwatch brands introducing an array of models each year, the competition has intensified, offering consumers a plethora of options. Here, we delve into the core facets that differentiate a mediocre watch from the top smartwatches of 2023.
2.1. Performance and Speed
Performance underpins any technological device, and smartwatches are no exception. The latest smartwatches are equipped with robust processors ensuring quick app launches, smooth multitasking, and lag-free user experiences.
Processor Types: Some leading brands have their in-house processors, while others rely on established tech giants.
RAM: While seemingly a smartphone feature, RAM in smartwatches determines the number of applications that can run simultaneously without hitches.
2.2. Design and Build Quality
A smartwatch is not just a piece of tech; it's a fashion statement. Best smartwatches seamlessly blend functionality with style.
Materials: From premium metals to durable plastics, the choice of material affects both aesthetics and longevity.
Water and Dust Resistance: Given its wearable nature, resistance against elements is crucial.
2.3. Features and Functionalities
Smartwatch features are pivotal. From fitness tracking to notifying about a crucial business email, functionalities can vary.
Health Tracking: Heart rate monitors, sleep tracking, and more cater to health-conscious individuals.
Connectivity Options: LTE connectivity in smartwatches ensures that they aren't just tethered devices to smartphones.
2.4. Battery Life and Charging
No one desires a smartwatch that requires charging multiple times a day.
Battery Duration: The best smartwatches can last several days on a single charge, depending on usage.
Charging Mechanisms: Wireless charging, rapid charge, and energy-saving modes all play a role.
2.5. Compatibility with Other Devices
Interconnectivity is the backbone of modern tech ecosystems. Smartwatches should be no outliers.
Smartphone Sync: Top smartwatches seamlessly sync with both iOS and Android devices.
App Ecosystem: A rich app store ensures the smartwatch grows and evolves with user needs.
2.6. Value for Money
While smartwatch technology has become more accessible, ensuring you get the most bang for your buck is essential.
Premium vs. Budget: Both segments have their champions. It's about balancing needs with budgets.
Warranty and Support: Post-purchase support can be a determining factor for many.
In conclusion, smartwatch reviews and smartwatch comparison tools are handy, but knowing what criteria matter most ensures an informed and satisfying purchase. Whether you prioritize design over battery life or need a mix of everything, 2023 offers a smartwatch tailored for every wrist.
3. The best Smartwatches of 2023
The landscape of wearable technology has seen an undeniable surge in 2023, with various smartwatch brands pushing boundaries and setting new standards. To guide your journey through this year's best smartwatches, we've compiled a comprehensive review, spotlighting the top 5 smartwatches that have dominated discussions, ratings, and wrist real estate.
Garmin Instinct 2S Solar
Dive into the future with the Garmin Instinct 2S Solar, a watch that harnesses the power of the sun. Designed for the adventurer at heart, its solar-charging feature ensures you're never left powerless during your explorations. With rugged aesthetics meeting cutting-edge technology, this watch is a testament to Garmin's commitment to innovation, making it a must-have for those who tread off the beaten path.
Key Features:
Solar charging capabilities
Multi-GNSS support
Tracback routing
10 ATM water resistance
51 days of battery life in smartwatch mode with solar charging
Pros:
Long battery life
Rugged design
Accurate fitness tracking
Solar charging capabilities
Cons:
Small display
Limited smartwatch features
Expensive
User Reviews:
Wired: "Absurdly long battery life and an insane array of fitness features make this small outdoor watch my favorite fitness tracker"
Amazon: 4.6 out of 5 stars, with users praising the battery life and durability
Tom's Guide: "There are a few catches, from which features work on solar power, to which versions of the Garmin Instinct 2 even pack a solar panel, to how many hours a day the watch needs to be exposed to sunlight. But beyond that, the Instinct 2 is better than the first Garmin Instinct in almost every way"
Road.cc: "Garmin Instinct 2S Solar is a great watch for anyone who wants a rugged, durable watch with long battery life"
BASE Magazine: "The Garmin Instinct 2S Solar is a great watch for anyone who wants a durable, waterproof watch with long battery life"
Treeline Review: "Impressive features, long battery life, different sizes, and solar options make the Garmin Instinct 2 series our favorite ABC GPS watch"
Garmin 010-02564-10 Instinct 2S Solar 40mm GPS Smartwatch Graphite Bundle with Premium 2YR CPS Enhanced Protection Pack
as of November 25, 2023 9:48 am
Apple Watch Ultra 2
The Apple Watch Ultra 2 is not just a watch; it's a statement. With its sleek design and unparalleled functionality, it stands as a testament to Apple's dedication to excellence. Whether you're tracking your fitness journey or managing your daily tasks, this watch seamlessly integrates into your lifestyle, making every moment count.
Key Features:
New processor
Long battery life
Storage capacity
High-quality titanium materials
Sleep-tracking capabilities
Women's wellness features
Advanced workout metric feature suite
Pros:
Sleek design
Advanced features
Long battery life
High-quality materials
Cons:
Expensive
Limited compatibility with Android devices
User Reviews:
Amazon: 4.8 out of 5 stars, with users praising the design, features, and battery life
Tom's Guide: "The Apple Watch Ultra 2 is the best smartwatch overall, with a sleek design, advanced features, and long battery life"
Treeline Review: "The Apple Watch Ultra 2 is a great choice for anyone looking for a high-quality smartwatch"
Apple Watch Ultra 2 [GPS + Cellular 49mm] Smartwatch with Rugged Titanium Case & Blue/Black Trail Loop M/L. Fitness Tracker, Precision GPS, Action Button, Extra-Long Battery Life, Carbon Neutral
as of November 25, 2023 9:48 am
Garmin Fenix 7
For those seeking the ultimate smartwatch experience, the Garmin Fenix 7 delivers. Packed with advanced features like phone call capacity, heart rate measurements, and Wi-Fi/water resistance, it's a reliable companion for everyday use and outdoor adventures. Whether you're a fitness enthusiast or a professional athlete, the Fenix 7 has everything you need to track your progress and reach your goals.
Key Features:
New touchscreen interface
Multi-GNSS support
Tracback routing
10 ATM water resistance
Multiple editions with different features and sizes
Pros:
Rugged design
Accurate fitness tracking
Multiple editions to choose from
Cons:
Expensive
Limited smartwatch features
User Reviews:
Garmin Customer Support: "The fēnix 7 watch editions come with a new touchscreen interface for quick access to selections and functions. Similar to previous fēnix watch models, button controls are also available"
DC Rainmaker: "There are 22 models, along with country-specific versions. Comparing the two units, they notice that the Fenix 7 is missing various trails and features shown by the Epix. These include a trail along the top, added mountain symbols, trails across the middle-bottom, and mountain names."
The Verge: "The $899.99 Garmin Fenix 7S Pro is an excellent multisport watch with solar charging, great battery life, multiband GPS, and sapphire glass. But it's also a watch that's too much of the same"
Garmin fenix 7 Solar, adventure smartwatch, with Solar Charging Capabilities, rugged outdoor watch with GPS, touchscreen, health and wellness features, slate gray with black band
as of November 25, 2023 9:48 am
Samsung Galaxy Watch 6
The Galaxy Watch series from Samsung continues to dominate the market with its exceptional performance and stylish design. Equipped with a temperature sensor, Android users can enjoy seamless integration with their smartphones, making phone calls and accessing third-party apps a breeze. The crash detection feature ensures safety during outdoor activities, while the bright display offers excellent visibility in any setting.
Key Features:
Google's latest Wear OS 3 software
Automatic workout detection
ECG
SpO2
Stress analysis
Pros:
Impressive health tracking
Sleek design
Advanced features
Cons:
Expensive
Limited compatibility with iOS devices
User Reviews:
Tom's Guide: "The Samsung Galaxy Watch6 is the best smartwatch for Android phones, with impressive health tracking and advanced features"
Treeline Review: "The Samsung Galaxy Watch6 is a great choice for anyone looking for a high-quality smartwatch with advanced health tracking features"
SAMSUNG Galaxy Watch 6 40mm Bluetooth Smartwatch w/ Fitness Tracker, Personalized HR Zones, Advanced Sleep Coaching, Heart Monitor, BIA Sensor, US Version, Graphite
as of November 25, 2023 9:48 am
Garmin Venu 2S
Designed for athletes and outdoor enthusiasts, Garmin Venu 2 boasts a powerful battery life that lasts for days between charges. Its excellent tracking capabilities make it an ideal companion for fitness goals, while the dual-band GPS ensures accurate location data even in remote areas. With water resistance and a comfortable design, it's perfect for extreme sports and outdoor adventures.
Key Features:
Bright AMOLED display
Thorough fitness tracking
Accurate GPS
Garmin Coach for custom training plans
Pros:
Versatile design
Accurate fitness tracking
Custom training plans
Cons:
Expensive
Limited smartwatch features
User Reviews:
Tom's Guide: "The Garmin Venu 2S is the best fitness-tracking smartwatch, with a bright AMOLED display, accurate fitness tracking, and custom training plans"
Treeline Review: "The Garmin Venu 2S is a great choice for anyone looking for a versatile smartwatch with accurate fitness tracking"
Garmin 010-02429-01 Venu 2S Fitness Smartwatch Light Gold Bezel with Light Sand Silicone Band Bundle with Tech Smart USA Fitness & Wellness Suite and 1 YR CPS Enhanced Protection Pack
as of November 25, 2023 9:48 am
Apple Watch SE
Meet the Apple Watch SE, where sophistication meets affordability. Designed with the same ethos as its high-end counterparts but at a more accessible price point, it offers a perfect blend of style and functionality. Whether you're a fitness enthusiast or a tech aficionado, the SE promises to elevate your daily experiences.
Key Features:
S8 chip and operating system
Fitness-tracking sensors
Pros:
Affordable
Sleek design
Advanced features
Cons:
Limited features compared to the Apple Watch Ultra 2
No always-on display
Can't measure blood-oxygen saturation
No ECG capabilities
User Reviews:
Tom's Guide: "The Apple Watch SE is a great alternative to the Apple Watch Ultra 2, with a similar design and fitness-tracking sensors"
Apple Watch SE (2nd Gen) [GPS 40mm] Smartwatch with Silver Aluminum Case with Storm Blue Sport Band M/L. Fitness & Sleep Tracker, Crash Detection, Heart Rate Monitor
as of November 25, 2023 9:48 am
Withings Scanwatch
Revolutionize your health monitoring with the Withings Scanwatch. Beyond just telling the time, it offers advanced health scanning features, from heart rate monitoring to sleep tracking. Its elegant design ensures that while you're keeping tabs on your health, you're also making a style statement.
Key Features:
Traditional watch face
ECG
SpO2
Sleep tracking
Pros:
Stylish design
Elegant watch face
Advanced health tracking features
Cons:
Limited compatibility with Android devices
Expensive
User Reviews:
Wired: "The Withings Scanwatch is a stylish and elegant watch that combines the best of both worlds"
Withings Scanwatch - Smart watch & Activity Tracker: Heart Monitor, Sleep Tracker, Smart Notifications, Step Counter, Waterproof with 30-Day Battery Life, Android & apple smart phone compatible, GPS
as of November 25, 2023 9:48 am
Fossil Gen 6
Dive into the world of smart technology with the Fossil Gen 6. A perfect blend of Fossil's classic design and modern tech, this watch offers a seamless experience, from fitness tracking to managing notifications. It's not just a gadget; it's a fusion of style and innovation.
Key Features:
Minimalistic design
Comfortable fit
Pros:
Affordable
Comfortable fit
Minimalistic design
Cons:
Limited features compared to other smartwatches
Limited compatibility with iOS devices
User Reviews:
Treeline Review: "The Fossil Gen 6 is a great choice for anyone looking for a comfortable smartwatch with a minimalistic design"
Fossil Men's Gen 6 44mm Stainless Steel and Leather Touchscreen Smart Watch, Color: Black, Brown (Model: FTW4062V)
as of November 25, 2023 9:48 am
Tag Heuer Connected Calibre E4
Luxury meets technology in the Tag Heuer Connected Calibre E4. Crafted with precision, it exudes elegance while offering a range of smart features. For those who seek the finer things in life without compromising on functionality, this watch is the epitome of luxury tech.
Key Features:
Luxury sapphire, ceramic, and steel build
High-resolution screen
Pros:
Luxury design
High-quality materials
Advanced features
Cons:
Expensive
Limited compatibility with Android devices
User Reviews:
Tom's Guide: "The Tag Heuer Connected Calibre E4 is the best luxury smartwatch, with a luxury sapphire, ceramic, and steel build, and a sharp, high-resolution screen"
TAG Heuer Connected Modular 41 Men's Smartwatch SBF818000.11FT8031
as of November 25, 2023 9:48 am
In essence, 2023 has proven that the future of smartwatches is here. With brands constantly evolving, integrating unprecedented features, and refining designs, users are spoilt for choice. Whether it's the design aesthetics, health metrics, or sheer performance, there's a perfect smartwatch waiting to adorn every wrist.
4. Smartwatch Trends to Look Out for Beyond 2023
As the world propels further into the digital age, smartwatches continue to evolve, bringing forward groundbreaking features and refining user experiences. As 2023 unravels the best smartwatches to date, the horizon teems with emerging trends set to define the future of wearable technology. Here, we spotlight the next-generation trends anticipated to sculpt the smartwatch realm beyond this year.
4.1. Health Monitoring Advancements
While current models offer a range of health metrics, future smartwatches aim to provide a more comprehensive health monitoring system.
Real-time Blood Analysis: Harnessing micro-needles and sensors, the next wave of smartwatches could potentially detect blood glucose levels, hydration, and even vitamin deficiencies.
Mental Health Metrics: Stress, anxiety, and mood detection could become standard features, aiding users in managing their mental well-being more effectively.
4.2. Integration with Augmented Reality (AR)
Augmented Reality, with its immersive interfaces, holds significant potential for smartwatch technology.
Interactive Maps: Imagine your smartwatch guiding you through a city with AR overlays, indicating landmarks or restaurants.
Virtual Assistant Visualization: Interact with your smartwatch's virtual assistant not just through voice, but visually, with holographic interfaces.
4.3. Improved Voice Assistant Integration
Voice assistants have been pivotal in the smartwatch experience. However, the future promises even more seamless integrations.
Gesture Control: Combining voice commands with wrist movements might redefine user-smartwatch interactions.
Multi-language Support: As smartwatches become more global, expect real-time translation features to enhance cross-border communications.
4.4. Sustainable and Eco-friendly Designs
With sustainability at the forefront of technological advancements, smartwatch brands are set to embrace eco-friendly designs.
Solar Charging: Some brands are dabbling in integrating solar panels into the smartwatch design, reducing electronic waste and ensuring longer device lifespan.
Recycled Materials: From straps to the watch body, recycled and sustainable materials will become increasingly prevalent, appealing to the eco-conscious consumer.
In culmination, the future of smartwatches promises unparalleled innovations. As brands strive to outdo one another, users stand to benefit from an ever-evolving array of features, designs, and experiences. The race towards the perfect smartwatch is on, and the forthcoming trends signal an exciting journey ahead.
5. Making the Most Out of Your Smartwatch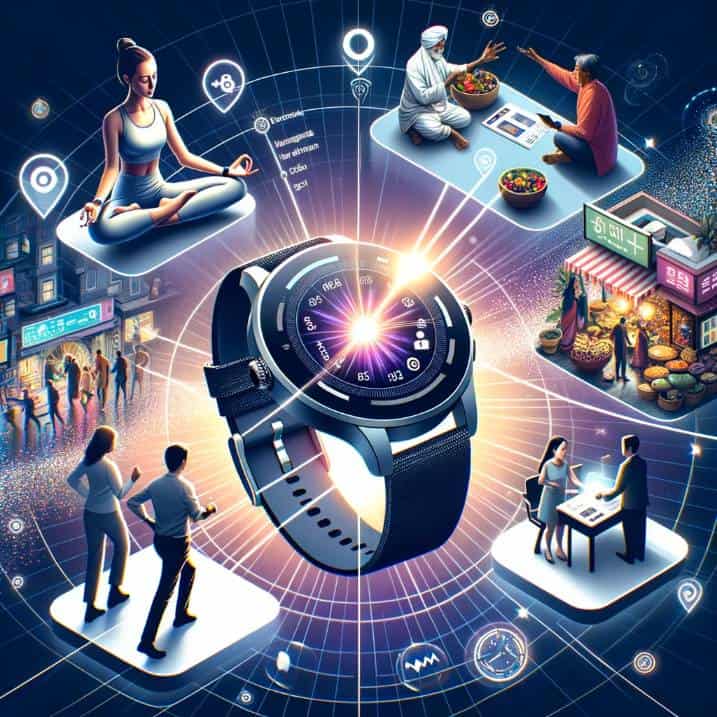 Possessing one of the best smartwatches of 2023 is just the beginning. The true essence of these top smartwatches lies in optimizing their features to fit seamlessly into daily life. From prolonging battery life to personalizing notifications, there's a myriad of ways to refine your smartwatch experience. Dive into these handpicked strategies to leverage the full potential of your wearable companion.
5.1. Tips for Prolonging Battery Life
The vitality of your smartwatch is governed by its battery. Here are techniques to ensure its longevity:
Dim the Screen Brightness: A brighter display drains the battery faster. Adjust according to ambient light.
Limit Background Processes: Often, multiple apps or functions run simultaneously. Close unused apps to save power.
Use Battery-Saver Modes: Most latest smartwatches come with power-saving settings that limit certain functionalities but drastically enhance battery longevity.
5.2. Setting Up Efficient Notifications
Effective notification management can reduce distractions and amplify productivity:
Prioritize Alerts: Not all notifications warrant immediate attention. Customize which apps can send alerts.
Use Quiet Modes: Set specific hours where only priority alerts get through, ensuring uninterrupted focus or rest.
Custom Vibrations: Distinguish between alerts based on vibration patterns, allowing you to gauge an alert's importance without looking.
5.3. Integrating with Fitness and Health Apps
To maximize the health benefits of your smartwatch:
Synchronize with Dedicated Apps: Brands often have dedicated health apps. Ensure your smartwatch data syncs for comprehensive insights.
Set Daily Goals: From steps to calories, setting targets motivates consistent health routines.
Track Sleep Patterns: If supported, use your smartwatch to analyze sleep for improved rest and recovery.
5.4. Ensuring Regular Software Updates
Staying updated is pivotal for optimized performance and security:
Enable Automatic Updates: Let your smartwatch update its software overnight or during idle times.
Regularly Check for Updates: Sometimes, manual checks reveal updates that might have been overlooked.
Stay Informed: Join smartwatch forums or sign up for brand newsletters to stay abreast of new features or crucial patches.
To sum up, while owning one of 2023's top smartwatches is a significant step into the future of wearable tech, the journey doesn't end there. It's the meticulous calibration of its features and the insightful adoption of its functionalities that truly define the smartwatch experience. Embrace these strategies and let your smartwatch become an indispensable extension of your daily life.
6. Conclusion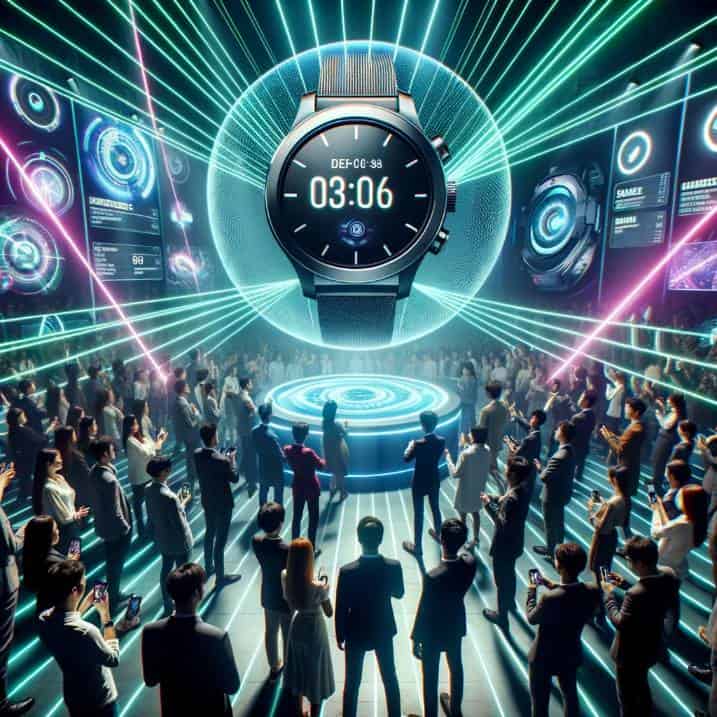 In conclusion, the best smartwatches of 2023 offer an array of impressive features that cater to different lifestyles and preferences. From the Samsung Galaxy Watch to the Garmin Fenix 7, these smartwatches provide exceptional performance, extensive health tracking capabilities, and seamless connectivity. Whether you're a fitness enthusiast, a tech-savvy individual, or simply someone looking for an attractive wearable device, there is a smartwatch on this list that will meet your needs. Stay connected, track your health, and embrace the future of wearable technology with these exceptional smartwatches.
6.1. Reflecting on the Future of Wearable Tech
Today, smartwatches go beyond just telling time. They are extensions of our smartphones, health monitors, fitness trainers, and even travel guides. This transformation has been rapid and profound:
Personalization: The future beckons an era where smartwatches will be deeply personalized, adapting in real-time to user preferences, habits, and health metrics.
Interconnectivity: With the advent of IoT, smartwatches will likely play a central role, interfacing with a network of devices, from home appliances to vehicles.
6.2. How the Best of 2023 Might Shape 2024
The best smartwatches of 2023 have set high standards. These benchmarks, however, are not endpoints but foundations for the upcoming innovations:
Advanced AI Integration: As AI becomes more sophisticated, so will its integration into smartwatches, offering predictive and more intuitive user experiences.
Greater Autonomy: Future smartwatches might reduce their reliance on smartphones, possessing standalone features that could rival their larger counterparts.
The world of smartwatches is an embodiment of the dynamic interplay between design and technology. As we bid adieu to 2023, one thing remains certain: the journey of these wearables is just beginning. They are not just devices but companions, evolving each day to enhance the human experience in ways previously deemed imaginable. As brands, developers, and users come together in this collective vision, the horizon promises a future punctuated with innovations, surprises, and transformations.
Frequently Asked Questions (FAQs)
In the world of smartwatches, with their ever-evolving functionalities and rapidly changing technology, it's common for users and potential buyers to have a barrage of questions. To further demystify this domain, we've compiled a list of the most pressing questions related to smartwatches, providing succinct, yet informative answers.
How often do smartwatches typically require charging?
Most modern smartwatches require charging every 1 to 2 days, depending on usage. Some top smartwatches with energy-efficient technology and larger batteries might extend this duration up to 3 to 5 days. As smartwatch technology advances, battery life is continuously improving.
What is the average lifespan of a modern smartwatch?
The average lifespan of a smartwatch ranges from 2 to 5 years. While the hardware can last longer, advancements in smartwatch technology and software might render older models obsolete over time. Factors like brand, build quality, and maintenance play crucial roles in determining longevity.
How can I ensure my smartwatch is compatible with my smartphone?
To ensure compatibility:
Check the smartwatch's specifications. It will mention which operating systems it supports.
Look for smartwatch reviews and smartwatch comparison articles. They often provide insights about device compatibility.
Visit the official website of the smartwatch brand. Most brands have a dedicated page listing compatible devices.
Are there significant differences between fitness trackers and smartwatches?
Indeed, while there's an overlap in functionalities, significant distinctions exist:
Purpose: Fitness trackers primarily focus on health and fitness monitoring. In contrast, smartwatches offer a broader range of features, including but not limited to, notifications, apps, and sometimes even cellular capabilities.
Features: Smartwatches usually possess all the features of fitness trackers and more. This might include voice assistants, mobile payment options, and more extensive app integrations.
Price: Due to their extended range of functionalities, the best smartwatches are often priced higher than fitness trackers.
How do I secure my smartwatch from potential threats?
Given that smartwatches are essentially wearable computers, they're susceptible to security threats. Here's how you can bolster your smartwatch's security:
Regular Updates: Ensure your device's software is up-to-date. The latest smartwatches often come with security patches.
Strong Passwords: Use strong, unique passwords and change them periodically.
App Permissions: Regularly review and manage app permissions. Limit access only to necessary apps.
Trusted Sources: Download apps only from trusted sources or official app stores.
Lock Features: Use features like screen lock and biometrics to secure your device.
Navigating the realm of smartwatches, especially with its pace of evolution, can be daunting. Yet, armed with knowledge, you're better equipped to make informed choices and maximize your experience with these remarkable devices.
Alex is a fitness aficionado, empowers others towards healthier, active lives through small, sustainable changes for lasting results. Visit Gearuptofit.com for insightful tips and resources to enrich a balanced lifestyle.