Product: Suunto 9 / Suunto 9 Baro
Rating: 9/10
Where to buy: Amazon
Introduction
Suunto 9 is a real outperformer. It has an outstanding battery life of 120 hours of GPS monitoring to outlast even the longest endurance challenges. Tracking more than 80 sports activities modes and an optical heart rate monitor. This is an adventure-sports watch for extreme athletes that are willing to push themselves to their limits. Here is the Suunto 9 Baro review:
Design and features
Battery life: 25-120 hours with GPS
Dimensions: 50mm face x 16.5mm depth
Weight: 72g
Resolution: 320 x 300
Stainless steel bezel & removable silicone strap
Operating temperature: -20° C to +55° C
Glass fibre reinforced polyamide casing
Water resistance: 100 m
LED back-lit screen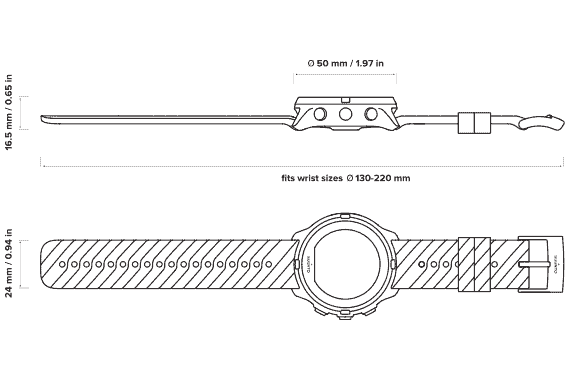 This is a chunky piece of the watch, standing between the Garmin Fenix 5 Plus and 5X Plus. It measures 50 x 50 x 16.8 mm, with sharp plastic edges but doesn't feel as natural on the wrist.
The display is a sapphire crystal that can survive knocks and scratches. It comes with a 320 x 300 matrix color touchscreen, which isn't that bright to look at. The display is big enough to show up to five in-session stats at a time easy to read. It displays numbers and charts such as heart rate progression in enough detail.
The resolution is pretty high compared to top market competitors. Garmin 5 Plus series is crafted with 240 x 240 pixels. However, although the resolution is much higher, the readability lacks behind Garmin's flagship.
Suunto 9 comes in 3 colors: black with a dark metallic bezel, white with a brushed aluminum bezel, and lime.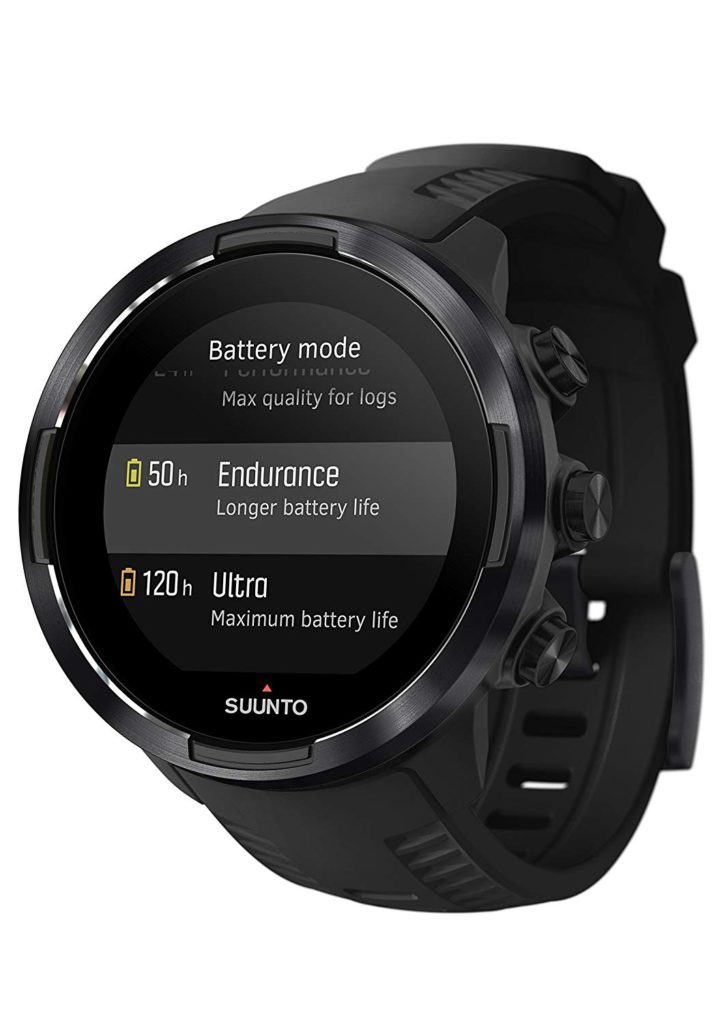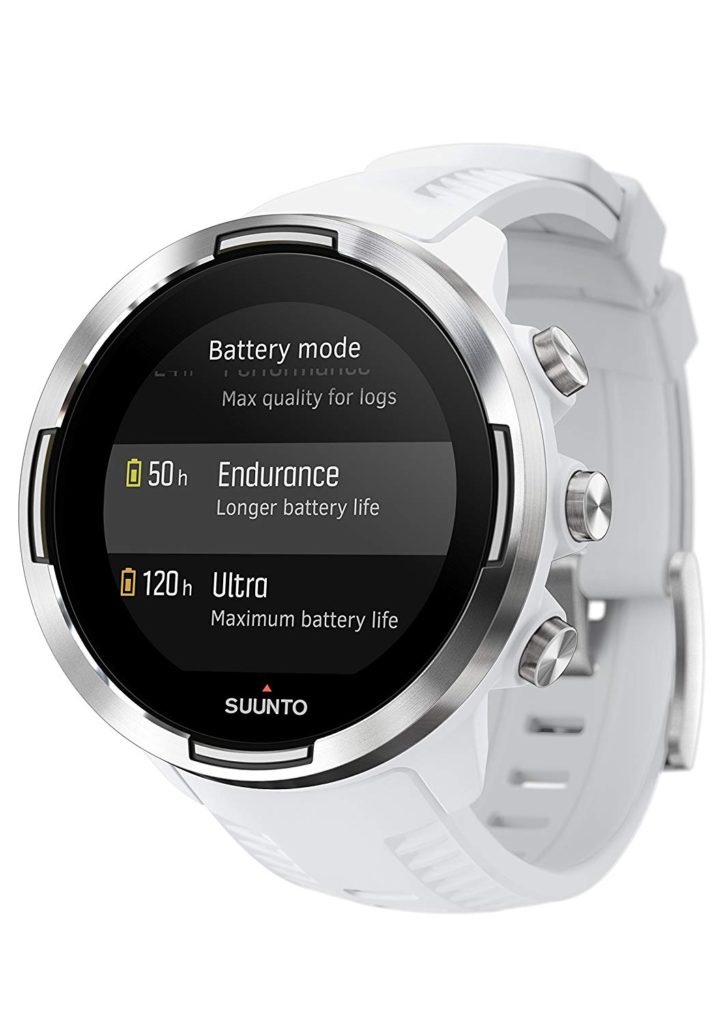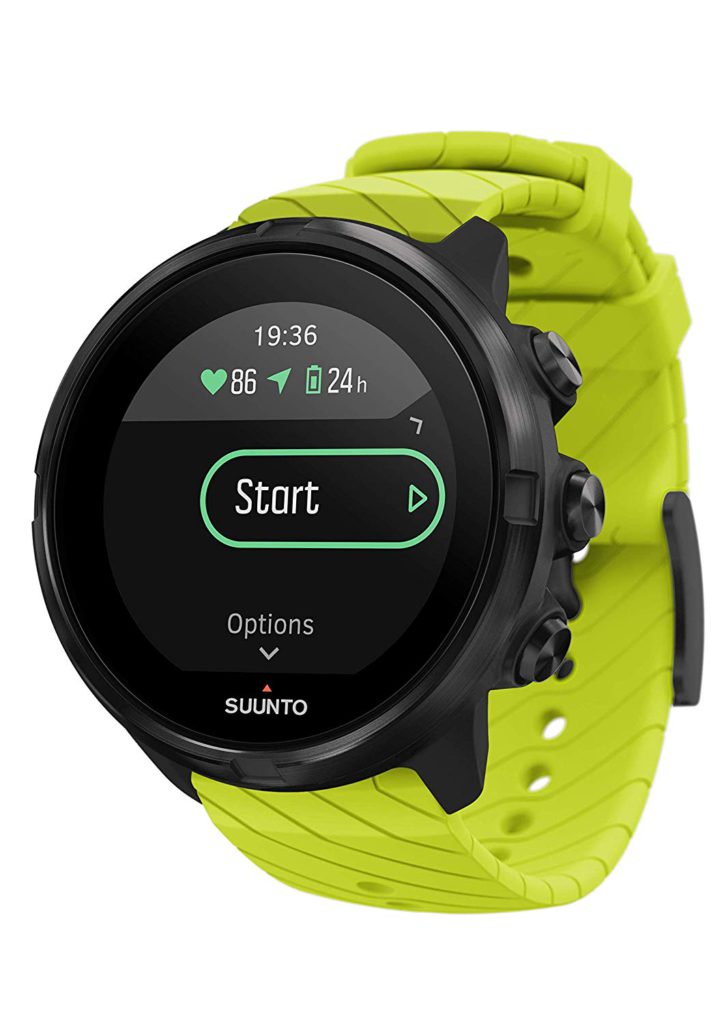 It offers a variety of customizable features to help preserve battery life. These are manually adjustable brightness, screen-saver style dimmer, and auto power saves settings kick in when you move between power modes.
The watch locks to avoid any miss-presses. This means that you need to push a button first and then start swiping.
When it comes to the menu, the Suunto 9 still suffers from complexity. Out of the box, the menu is entirely intuitive. The interface needs some time to get used to.
Performance
Tracking covers a huge range of activities apart from Running, Cycling, Swimming
GPS, Altimeter, Optical heart-rate monitor
Long battery life (with tracking capabilities)
Magnetic charging cable
The Suunto 9 supports up to 80 different activities. These range from the most common ones like running or walking to rare ones like yoga, sailing, and everything in between.
Every activity can be customized by adjusting what exercise data is shown on the screen. Changing screen data during the activities is straightforward. The user can choose to add extra data or less to optimize battery life.
The menu is organized into a shortlist of up to 20 activities you can add using Suunto Movescount software.
To start an exercise, choose one from the training menu and wait for the GPS signal. GPS is quick and takes less than a minute to lock. The touchscreen is automatically turned off as soon as you start exercising. During any activity, you can use the buttons to navigate between screens. As in most multisport watches, the Suunto 9 displays distances, elevation, heart rate data, and much more.
After exercising, you're requested to reply to how you are feeling with a "smile" scale from excellent to poor. You can skip this process or turn it off. The data is saved in a logbook on your smartphone so you can review it whenever you like.
Coaching
Apart from the outstanding battery life, the watch offers many coaching choices for all sorts of activities fulfilling the most demanding athletes. These are Running, Cycling, Swimming, Trail Running, Treadmill, Power Cycling, Indoor Cycling, Mountain Biking, Openwater Swimming, Triathlon Race, Obstacle Race, Weight Training, Circuit Training, Hiking, Cross-Country Skiing, Alpine Skiing, Ski Touring, and many other.
Apart from the activities, Suunto 9 is equipped with a step counter and a sleep tracker. Step counting is performed with a built-in accelerometer.
The large display of Suunto 9 offers a wide range of data during and after any activity.
Regarding the battery, you will never worry about running out of whatever activity you choose. It comes with three predefined battery modes, Performance, Endurance, and Ultra, delivering from 25 hours to up to 120 hours of recording time with GPS tracking on.  This means it can easily accompany you at any ultra race event, like Spartathlon or Iron man, without any worries.
Charging is straightforward using a magnetic docking clip easily put in place.
GPS Accuracy
One of Suunto 9 over the Spartan models is the chipset switch from SIRF to Sony.
In Performance mode, rated for 25 hours in training mode with GPS, Suunto 9 delivers the best GPS accuracy with maximum brightness. This mode provides GPS accuracy quite closely to the Fenix 5 Plus.
Endurance mode, rated for 50 hours in training mode with good GPS accuracy and 20% brightness. This mode can last approximately 5 days on one charge averaging around 2 to 3 hours per day.
Ultra mode, rated for 120 hours in training mode with GPS. This mode offers adequate GPS accuracy, and the display screen operates at 10% normal brightness.
In Ultra & Endurance modes, GPS readings are further apart, up to 60 seconds, to extend battery life.
FusedTrack: improve accuracy, less energy consumption
At this point is where FusedTrack comes in. A major innovation introduced by Suunto 9.
FusedTrack technology combines GPS signal with motion sensor data delivering great GPS accuracy. This function, developed by Suunto, reduces the necessary GPS performance and thus increases battery life. A useful function, especially for long training sessions. FusedTrack supports power management lowering the sampling rate of GPS signals.
Once you hit the navigation function during your activity, the watch automatically switches to the best GPS accuracy. In case of low battery during an activity, Suunto 9 will ask if you switch modes. If the watch is running out, it automatically switches to Chrono to ensure it lasts until the end of your activity.
FusedSpeed is ideal for serious athletes. It combines wrist acceleration and GPS data to measure running speed more accurately. It's great running interval training.
Wrist HR Accuracy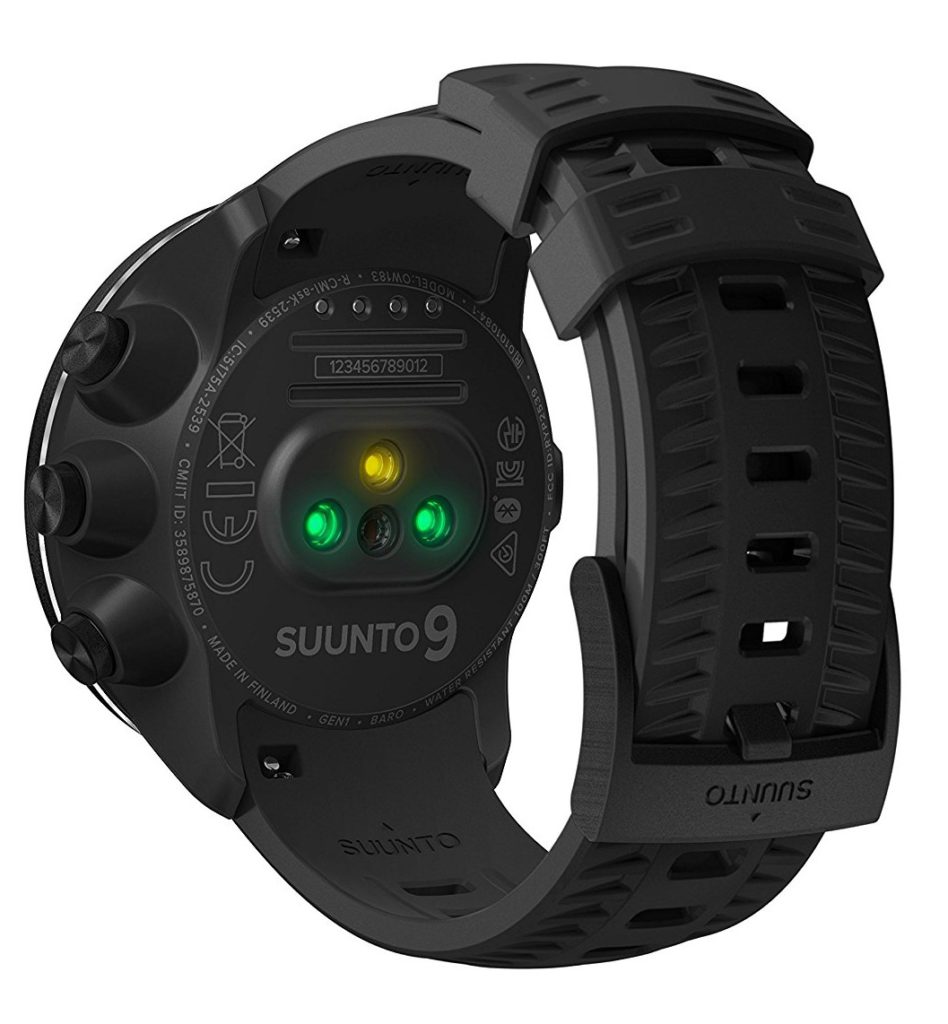 Suunto 9 is equipped with a new Valencell wrist HR sensor. An improvement in heart rate data accuracy over the Spartan Wrist HR Baro.
Still, as in all sports watches, the wrist-based heart rate monitor lacks accuracy. So, for serious heart rate training, you'll need the Suunto Smart Sensor, another Bluetooth-compatible device.
The optical heart rate sensor in Suunto 9 is sufficient for low-intensity activities. Based on my experience, this is actually true. The more static you are, the more accurate are the heart rate measures.
This means that the heart rate readings seem to be adequate in a brisk walk, better in a mild walk, and even more accurate when you are standing still. However, during a run, the HR readings are not that accurate.
We observe that the heart rate measurements through the wrist optical sensor can provide a sufficient indication for amateur athletes. In the case of serious athletes wearing a chest strap will give you accurate HR data.

Suunto 9 Baro vs Suunto 9
Suunto 9 comes in two different variations. The only difference is the built-in barometric pressure sensor in Suunto 9 Baro model. However, the original Suunto 9 does not measure barometric pressure and relies solely on GPS to calculate altitude. This makes it less accurate if GPS strength is low.
When not tracking activity, the Baro version still tracks trends in barometric pressure, which can help you forecast changes in the weather.
Setting the GPS measure interval to more than 60 seconds (60 or 120) will more accurately record vertical gain and loss.
The Suunto 9 Baro model comes in 3 editions: Titanium, Black, and White.

Conclusion
The new Suunto 9 Bar watch comes as a replacement for the Suunto Spartan Ultra. In terms of innovations, it brings an outstanding battery life and FusedTrack algorithm.
The main difference is targeted in combining extended battery life (up to 120 hours) with accurate measurements. Suunto 9 delivers optimal energy-saving modes (Performance, Endurance, Ultra) thanks to the new FusedTrack functionality.
FusedTrack is ideal for long-distance runners looking for a sports watch lasting at least 50 hours and even several days while maintaining accurate and reliable measurements.
The battery management works great. Battery life can be extended over 14 days in time mode. In the case of selecting recordings and mobile notifications, the battery lasts at least 7 days. In GPS mode, battery life can survive 25 to 120 hours, depending on the energy-saving mode.
The intelligent battery management makes Suunto 9 is a great choice for endurance athletes who prefer long training sessions.
Suunto 9, compared to other sports watches in the same price range, makes a clear difference here. It offers the longest-running battery life of any other sports watch.
Pros
Outstanding battery life
Accuracy even in power-saving mode
Innovative FusedTrack motion-based tracking
High-resolution, touchscreen display
Switch option from one battery management mode to another
Richness of performance metrics
Comfortable fit
Quality, robustness and reliability
Reasonable price
Cons
Lacks advanced sleep analysis
Not the brightest display
Complex menu
Where to buy: Suunto 9
Where to buy: Suunto 9 Baro