Are you ready to take your rowing machine workouts to the next level? One important factor that can greatly enhance your performance and comfort is the right pair of shoes. Whether you're a beginner or an experienced rower, having the best shoes for rowing machines can make a significant difference in your overall experience.
In this guide, we'll take a closer look at some top shoe options that can provide you with the perfect combination of support, stability, and grip to help you maximize your rowing sessions. So, let's dive in and find the perfect footwear to propel you towards your fitness goals!
Rowing is an excellent full-body cardio and strength workout. Using a rowing machine engages muscles in your legs, back, arms, shoulders, and core. To get the most out of your rowing workout, having the right footwear is important. The best shoes for rowing machines provide stability and comfort and allow you to generate power from your leg drive.
Criteria for Choosing Rowing Shoes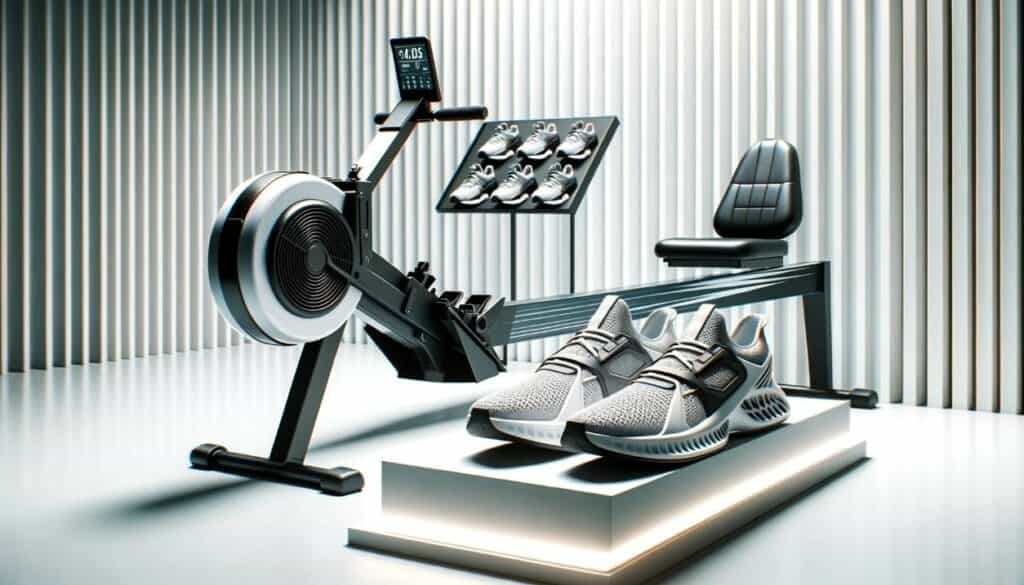 When selecting shoes for rowing, there are a few key factors to consider:
Stability
You need shoes that will keep your feet securely in place as you drive back with each stroke. Shoes that are too compressible or have excess cushioning can cause your feet to slide around in the straps. This wastes energy and decreases power. Look for shoes with a firm, supportive sole.
Close Fit
Shoes should fit snugly so your feet don't slip around inside them. But they can't be uncomfortably tight either. As your foot flexes during the drive phase, you don't want the upper digging into your foot.
Breathability
Rowing shoes need to be well-ventilated to keep your feet cool and dry during long workouts. Sweaty feet can cause blisters and make your shoes wear out faster. Mesh uppers or ventilation holes help airflow.
Low Profile
Thick, bulky shoes raise your feet higher off the footpads, altering your rowing mechanics. A low-profile shoe puts you closer to the footpads for optimal leg drive.
Flexibility
Some flexion in the sole allows your foot to bend as you move through the rowing stroke naturally. But too much flexibility reduces power transmission. Look for moderate sole stiffness.
Grip
The sole should provide traction on the footpads, even when damp with sweat. Avoid super slick materials like plastic or leather. Rubber outsoles with tread work best.
Best Shoe Types for Rowing
With the criteria above in mind, here are the top shoe types for rowing machines:
Cross-Training Shoes
Cross-trainers provide the ideal blend of support, breathability, and flexibility for rowing. Models like the Nike Metcon, Reebok Nano, and Under Armour TriBase Reign are great options with flat, grippy soles and lightweight uppers. They strike the right balance between foot control and natural movement.
Minimal Running Shoes
Many minimalist running shoes work well for rowing too. They have a close fit, moderate flexibility, and low profile. Popular choices include the Merrell Vapor Glove, Vivobarefoot Primus Lite, and New Balance Minimus. Just be aware that the thinnest, most flexible soles may reduce power transmission.
Wrestling/Weightlifting Shoes
With their stiff soles and ankle support, wrestling/weightlifting shoes provide a super stable platform for driving leg power. Just be sure to remove any metal hooks or straps that could scratch or catch on the rower. Some options to try are the Adidas HVC Wrestling shoe or the Reebok Legacy Lifter.
The 6 Best Shoes for Rowing Machines in 2023
​
Reebok Men's Nano X2 Cross Trainer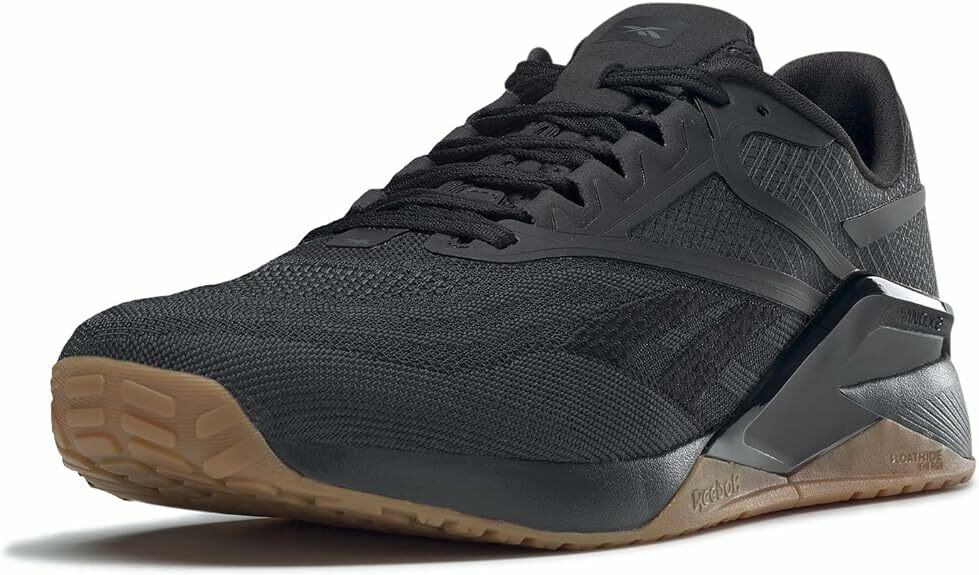 Best cross-training shoes
Reebok Training Footwear
The Reebok Men's Nano X2 Cross Trainer is a versatile and reliable piece of cross-training equipment. It is versatile enough to be used for various training activities and durable and affordable. The Nano X2 Cross Trainer is a great choice for a versatile and reliable cross-trainer.
Pros
Flexible and durable construction
Lightweight cushioning
Flexible and soft foam
Flexible, durable construction
Cons
Firm cushioning
No heel height adjustments
Gender: Mens
Color: Grey
Feature: Flexweave knit
Brand: Reebok
Size: 12.71 x 7.87 x 4.61 inches
Sole: Rubber
Surface: All-Surface
WHITIN Men's Cross-Trainer | Barefoot & Minimalist Shoe | Zero Drop Sole | Wide Toe Box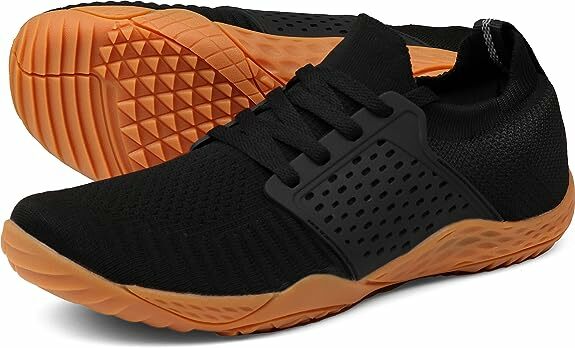 The best cheap cross-trainer
WHITIN Barefoot & Minimalist Shoe
Would you believe there's a shoe out there that can improve your Cross-Training performance AND make you feel more connected to the ground below you? It sounds like a paradox, but it's true! The Zero Drop Sole on the WHITIN Men's Cross-Trainer Barefoot & Minimalist Shoe provides unmatched comfort and connection.
Plus, the wide toe box gives your toes plenty of room to move and spread out, promoting a more natural form and helping to prevent blisters. Whether running on the track, working out on the CrossFit floor, or doing agility drills, the WHITIN Cross-Trainer will help you feel light on your feet and perform at your best.
Pros
Minimalist design
Uses a zero-drop design
Minimalist and barefoot shoe
Calls for a zero-drop running platform
Cons
Comfy and cozy, but don't expect blister-free runs
No cushion for a heel strike
Size and weight: 1.21 Pounds
Brand: WHITIN
Department: mens
Package size: 10.55 x 8.31 x 3.23 inch
Color: Black
Nike Men's Metcon 8 Training Shoes (Armory Navy/Arctic Orange, us_Footwear_Size_System, Adult, Men, Numeric, Medium, Numeric_8_Point_5) 8.5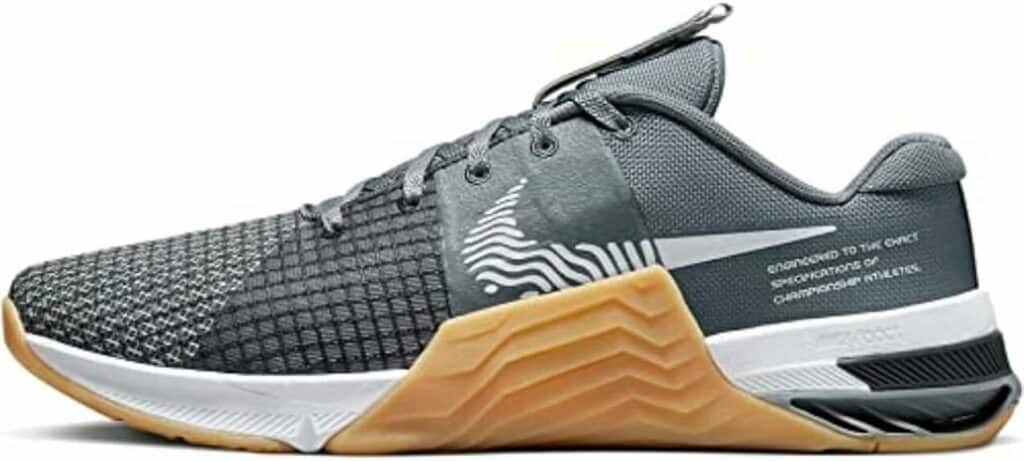 Best lightweight running shoes
Nike Men's Training Shoes
Nike's Metcon 8 Training Shoes are the latest and greatest in the company's cross-training shoes. These shoes are designed for fitness enthusiasts who want a shoe that can handle any kind of workout. The Metcon 8 is built with a durable yet comfortable rubber sole that can take any abuse you throw at it. The upper is made of a breathable mesh that will keep your feet cool and dry even when the workouts get intense. The Nike Metcon 8 Training Shoes are available in various colors and sizes to fit any lifestyle.
Pros
Good cushioning for heel
Good cushioning
Relatively unlined for warmth
Well-padded heel
Good protection forfoot
Cons
Made for landings and pushing off
Made for men only, didn't work for me
Size: Medium
Weight: 1.91 Pounds
Batteries included: No
Gummi profile: Creates traction
Shoes type: Metcon
Body Glove Mens Water Shoes | 3T Cinch Mens Barefoot Water Shoes – Quick-Dry Durable Mens Beach Shoes Swim Shoes Aqua Shoes Slip-On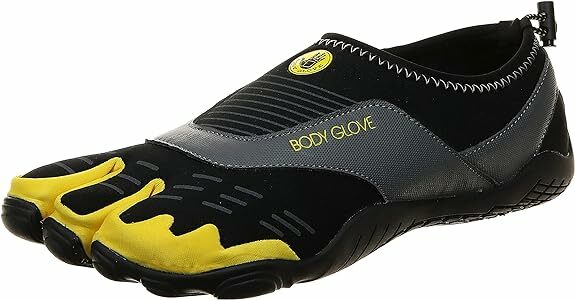 Best men's water shoes
Body Glove Mens Barefoot Water Shoes
If you're looking for a good pair of water shoes, you can't go wrong with Body Glove's Mens Water Shoes. They're quick-drying and very durable, making them perfect for swimming, beach volleyball, or any other water activity you might want to do. They also have a nice slip-on design, which makes them easy to get on and off.
Pros
Well-built heel support
Works with or without water
Good traction
Excellent in water
Flexible, lightweight construction
Cons
Sizes are limited to certain widths
No heel cushion
Water shoe: Flexible, breathable and lightweight
Material: Rubber sole
Design: MINIMALIST BAREFOOT FEEL
Feature: Integrated Drainage System
Package weight: 1.2 pounds
Nike Womens Free Rn Flyknit 2018 Running Shoes
The best running shoe for those who don't like to run
Nike Womens Free Rn Running Shoes
Nike's Women's Free RN Flyknit 2018 Running Shoes are designed for the runner who wants a light, fast shoe with a sock-like feel. The Flyknit upper hugs the foot for a comfortable, secure fit and the Nike Free sole provides natural movement and flexibility. These shoes are ideal for road running and will help you fly down the pavement.
Pros
Great for short jogs
Contracts and expands with your feet
Available in different colors
Comes in sizes for women as well as men
Improved toe flexibility
Cons
Transition from running to walking difficult
Looser fit
Breathability: Inspired by the Flyknit Racer
Weight: 14.08 ounces
Design: Womens Free Rn
Sole: Improved construction
Department: Womens
Size: 9.06 x 12.99 x 0.79 inches
WHITIN Women's Barefoot & Minimalist Shoe | Zero Drop Sole | Trail Runner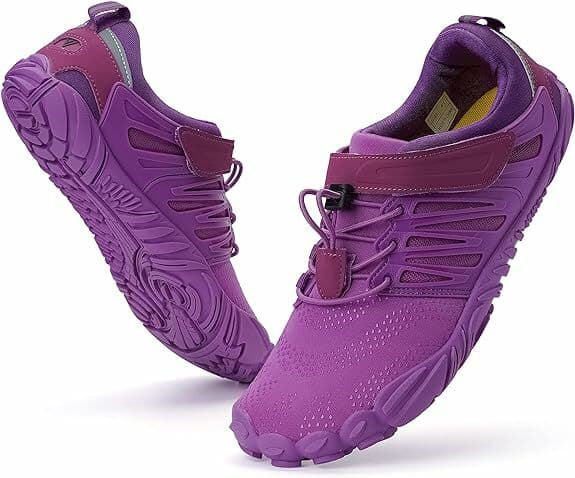 The best lightweight hiking boot
WHITIN Women's Barefoot & Minimalist Shoe
The WHITIN Women's Barefoot & Minimalist Shoe is a great trail running shoe for those who want a zero-drop sole. The shoe is very versatile and can be used for various activities. The brand has a great reputation for making quality products; this shoe is no exception. The shoe is very comfortable and has a great fit. The sole is very comfortable and provides a great deal of cushioning. The shoe also has great traction and is very stable on various surfaces. Overall, the WHITIN Women's Barefoot & Minimalist Shoe is a great trail running shoe that is versatile, comfortable and fits.
Pros
Flexible sole
Minimalist design
Made with 3D custom molding technology
Cons
No arch support
Thick midsole cushioning
Department: womens
Size: 9.8 x 7.72 x 3.58 inch
Brand: WHITIN
Type: Barefoot & minimalist shoe
Package weight: 1.01 Pounds
Should I buy a pair of rowing shoes?
​There's a lot to consider when trying to figure out whether or not you should buy a pair of rowing shoes. On one hand, they can help improve your rowing machine's performance. On the other hand, they can be quite expensive and may not be worth the investment for everyone. So, how do you know if you should buy rowing shoes?
Here are a few things to consider:
1. Are you a competitive rower? If you're serious about rowing and competing in races, then a good pair of rowing shoes can certainly help you shave off some time. They're designed to be lightweight and provide good traction on the rowing machine, which can help you row more efficiently.
2. Do you have any problems with your feet or ankles? If you tend to pronate (roll your feet inward) when you walk or run, you may benefit from the extra support that rowing shoes provide. This can help prevent injuries and also make your rowing workouts more comfortable.
3. How much are you willing to spend? Rowing shoes can range in price from around $100 to $200, a significant investment. If you're just starting rowing, you may want to try using a regular pair of sneakers first to see if you like them before investing in a more expensive pair of shoes.
So, should you buy a pair of rowing shoes? Ultimately, the decision comes down to personal preference and your budget. If you're a competitive rower or have problems with your feet or ankles, a good pair of rowing shoes can certainly help improve your performance and comfort. However, if you're just starting or on a tight budget, you may want to stick with a regular pair of sneakers.
How do I select the right size for my shoes?
​When finding the best shoes for a rowing machine, size is everything. You want to make sure that you select a size that is comfortable for you and will not slip while using the machine. Here are a few tips to help you select the right size for your shoes:
1. Make sure to measure your foot before selecting a size. This will ensure that you get the right size shoe for your foot.
2. Consider the width of your foot when selecting a size. If you have a wide foot, you may need to select a size up to get the right fit.
3. Try on the shoes before you buy them. This will help you determine if they are comfortable and will stay on your feet while using the rowing machine.
4. Ask a sales associate for help if you are unsure what size to select. They will be able to help you find the right size shoe for your foot.
5. Remember that you can always return shoes that don't fit. If you are unsure about the size, buying a pair that is slightly too big is better than buying one that is too small.
Size is important when finding the best shoes for a rowing machine. Make sure to measure your foot, try on the shoes, and ask for help if you are unsure what size to select. With a little bit of effort, you will be able to find the perfect pair of shoes for your feet.
Which are the best materials for rowing shoes?
When it comes to rowing shoes, the best materials to consider are:
Leather: Durable, breathable, and offers good support. However, it can be pricey.
Synthetic materials: Cheaper than leather, lightweight, and still provide durability and comfort. May be less breathable than leather.
Natural materials (e.g., wool, cotton): Breathable and comfortable, but not as durable as synthetic or leather materials. A more budget-friendly option.
Ultimately, the best material depends on your personal preferences and needs. Leather is a great choice for durability and breathability. Synthetics offer a lighter weight and lower cost. Natural materials may be preferred if you're looking for affordability and breathability.
So, which material is the best for rowing shoes? Ultimately, it depends on your personal preferences and needs. If you are looking for a durable and breathable material, leather is a great choice. If you are looking for a lighter weight and cheaper option, synthetics may be the way to go. And if you are looking for a natural material that is breathable and comfortable, wool or cotton may be the best option.
What kind of shoes should I wear for rowing?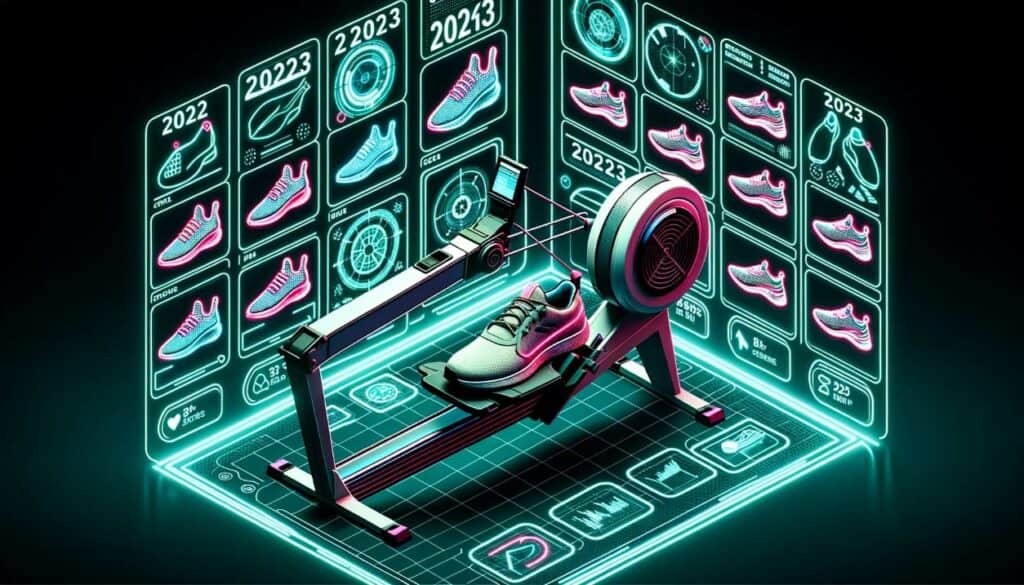 Rowing is a great workout for your whole body, but it's important to ensure you have the right shoes to protect your feet and keep you comfortable. This blog post will give tips on choosing the best shoes for a rowing machine.
First, choosing a shoe with good support and cushioning is important. This will help protect your feet from the impact of the rowing machine. You'll also want a shoe that is comfortable and breathable so your feet don't get too sweaty during your workout.
A few different types of shoes are good for rowing machines, including cross-training, running, and even walking shoes. If you're not sure which type of shoe is right for you, ask a salesperson at your local sporting goods store for help.
Once you've selected the right type of shoe, it's important to ensure it fits properly. The shoe should be snug but not too tight, allowing you to move your foot freely. You should also make sure the shoe is the right size – too big and it will be difficult to row, too small and it will be uncomfortable.
When you're ready to buy your shoes, try them on and walk around to ensure they're comfortable. Once you've found the perfect pair of shoes, you'll be ready to row your way to fitness!
What is proper technique, and how do I achieve it?
Rowing machines are a great way to get a workout in, but it's important to use proper technique so you don't injure yourself. Here are some tips for proper rowing machine technique:
Sit up straight with your feet in the stirrups. Don't slouch or round your back.
Keep your knees bent at about a 90-degree angle.
Lean forward slightly from your hips, not your waist.
Use your legs to drive the stroke, not your arms.
Keep your arms relatively straight, and keep your hands close to your body.
Finish the stroke by pushing with your legs and pulling with your arms.
Don't jerk the handle or machine, or you could injure your back.
By following these tips, you can ensure you're using proper technique on the rowing machine and avoid any injuries.
How can I prevent injury while rowing?
Maintaining good form and using proper rowing techniques is the best way to prevent injury while rowing. Additionally, it is important to use the proper type and size of rowing shoe.
Maintaining good form means keeping your back straight, shoulders down, and legs parallel to the ground. It is also important to keep your hands close to your body and move your legs in a smooth, fluid motion.
Using proper rowing technique means using a rowing machine that is properly adjusted to your height and weight. Additionally, it is important to keep your knees bent at a 90-degree angle and to drive your legs back while keeping your upper body still.
The best type of rowing shoe for preventing injury is a lightweight, breathable shoe with a flat sole. Additionally, it is important to ensure the shoe fits snugly and does not rub or chafe against your skin.
Alex is a fitness aficionado, empowers others towards healthier, active lives through small, sustainable changes for lasting results. Visit Gearuptofit.com for insightful tips and resources to enrich a balanced lifestyle.