This Garmin Instinct Review will explore all the features and functionalities of Garmin's smartwatch. The Instinct smartwatch adds a tough new look to Garmin's line-up of activity trackers. Unlike the sleek and sophisticated Garmin Vivoactive 3, which was announced earlier this year, the Garmin Instinct looks like it could survive an apocalypse. However, that doesn't mean it's not a good device. It combines some of the best features of Garmin's more extreme wearables, like the Fenix 5x/6x and the D2 Bravo series.
Garmin Instinct Overview
Take your outdoor adventure to the next level with Garmin Instinct. The Instinct is designed for rugged use, featuring a 200-meter water rating and 100M of GPS coverage. It's also built with the most advanced navigation features available in a wrist-based device, including GLONASS and Galileo satellite positioning systems, 3-axis electronic compass, barometric altimeter, accelerometer and gyroscope sensors, and Garmin Elevate™ wrist heart rate technology.
Connect your phone to Instinct via Bluetooth® Smart or ANT+, then view real-time data such as time of day, speed, distance traveled, and calories burned right on your wrist display. Plus, get instant notifications from incoming calls as well as text messages directly to your wrist display.
The Garmin Instinct is a great outdoor sports watch with all the features you need to track your outdoor activities. The Garmin Instinct is not your typical GPS watch or smart watch. It comes with GPS mode so you can track your location, and it has an altimeter, barometer, and compass. The Garmin Instinct is a firm outdoor sports watch that comes from the same essence as Garmin's Phoenix range. Despite its name, this outdoor watch is one of the company's most versatile watches.
Garmin Instinct Specifications
45mm watch with interchangeable 22mm straps
128 x 128-pixel monochrome display
Up to 16 hours of GPS battery life
GPS / GLONASS / Galileo
Works with iOS and Android
24/7 activity tracking
Heart rate monitoring
Multisport (running, cycling, swimming, hiking, skiing, and much more)
Let's start with the basics. The Instinct comes in three colors: Flame Red, Tundra, and Graphite.
Garmin Instinct: interface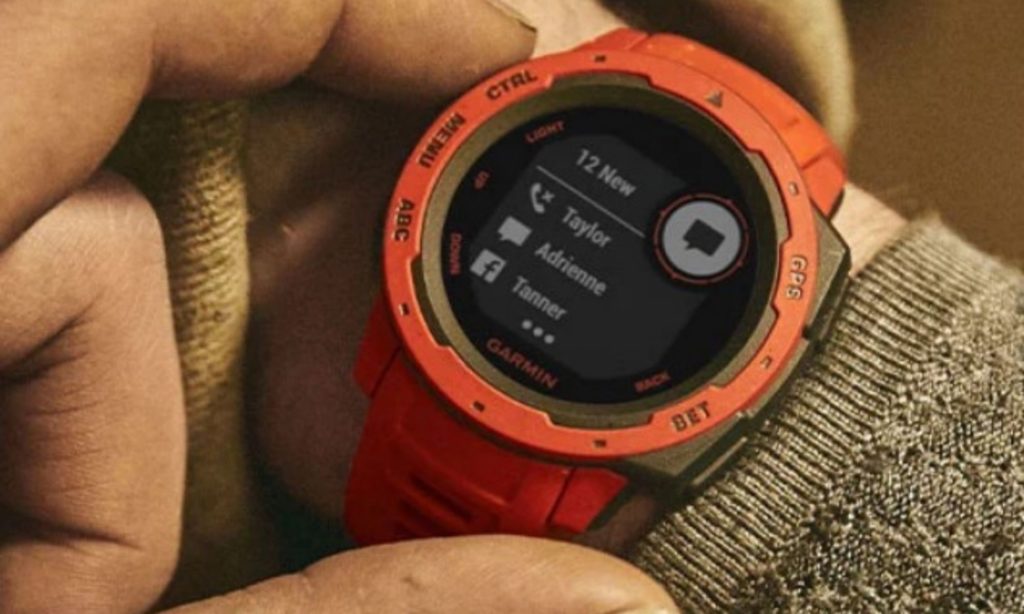 Although the Instinct is very easy to use, its five-button control system takes some getting used to.
Like activity selection or forward / backward / up-down, some of them are relatively simple to 'memorize' after half an hour of use. But delving into the options can be a bit more complicated.
The Instinct has a wide range of display options that provide heart rate information in the last four hours, top-of-the-line activity statistics, phone notifications, events, weather, and compass.
Access to each of these is via simple up and down buttons, and for the most part, most are what you would expect from a Garmin.
The real superiority of the Instinct comes from the customization options. First, you can customize the top-level displays (12 standard clock displays from the beginning).
Each visible information acts as a small modifiable block. Once selected (using the top right customization button), you can scroll through other options to replace it, depending on your needs.
You can customize data such as heart rate, cadence, temperature, elevation, goal, intervals, and stress data.
Garmin Instinct – Outdoor Tracking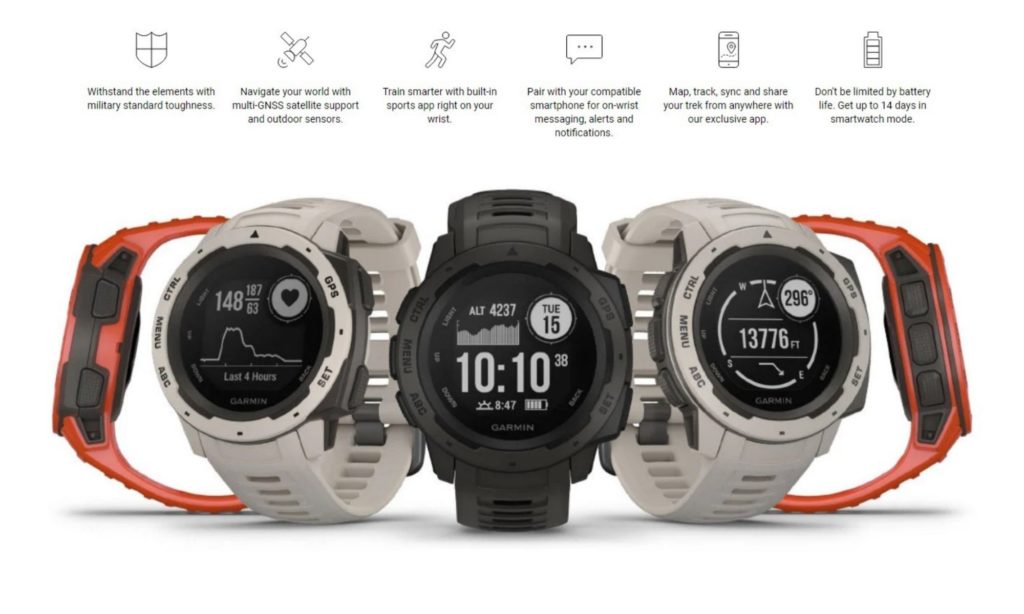 As we have said before, with Instinct, you can measure a wide range of sports. Running, biking, and swimming is basic modes, but it will also cater to outdoor activities like hiking, climbing, and even skiing.
For many sports watch companies, incorporating activities like hiking into a standard list of activities has been a problem with most sports watches.
Hikers or trail hikers want very different information mainly because the kinds of things that concern us are issues like getting lost in the middle of the night or falling off a cliff because of the fog.
Overall, the Instinct is a sleek compass that accurately tells you the direction you're going and tracks your taking route.
Unlike the Phoenix, the monochrome display doesn't allow for a map. Instead, the route you follow is drawn via GPS markers in a very simple line drawing.
Map
At first glance, and without messing with the zoom settings, the "map" appears utterly useless as it is labeled. The first time I tried to get information, I thought I broke it. However, it is not a map but a device to track your location.
It does not offer the ability to see landmarks, but you can use topography and direction data to get plenty of exercises. You need to spend a little time on it.
This may lack the apparent benefits of a more sophisticated map, but it makes finding routes that much easier. The information it gives you goes a long way in solving most of the problems you are likely to encounter.
Compass
In addition to a magnetic compass, something not always present in smartwatches, the Instinct includes elevation profiles, the ability to have specific coordinates, storm alerts, Galileo support (to use multiple satellites for optimized accuracy), Site and Go (which essentially allows you to set a direction to follow) and routes (the ability to download a route to follow using a breadcrumb trail).
After getting used to the route tracking features, I suddenly realized how useful it would have been on the previous hikes I had done where I ended up walking in circles for a long time.
Garmin Instinct: Sports tracking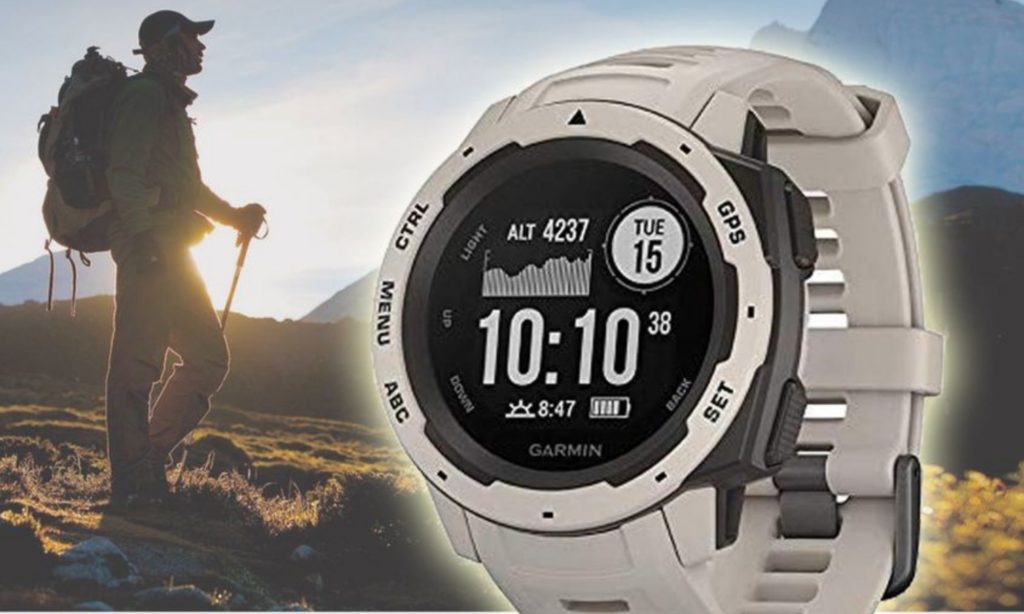 The Instinct is aimed at hikers and outdoor activity (especially climbers or trail runners). However, if you want a watch for a specific sport, that doesn't mean the Instinct isn't a multi-sport watch. It just means that for the price, you'd probably be disappointed if you were using it primarily for city running.
Hikers do other things, though, and luckily I got to try the Instinct for a half marathon. Like a general racing Garmin watch, it did the job.
Like almost all Garmin watches, the Instinct offers 24/7 activity tracking.
So we're talking about counting steps, monitoring sleep, and displaying that bar to give you a quick indication of your activity level throughout the day.
There are also stress tracking and adaptive step goals to motivate you a little more each day. Garmin's fitness tracking capabilities are on par with Fitbit's when it comes to striking the right balance between features and insights.
I didn't have many complaints from an accuracy standpoint, though sleep tracking tended to attribute more sleep time than the Garmin Forerunner 935.
Smartwatch Features
The Garmin Instinct is an adventure-ready smartwatch that provides outdoor enthusiasts with a wealth of information at a glance. This includes details such as the GPS coordinates, altitude, air pressure, sunrise and sunset times, and more. It also comes equipped with a barometer, altimeter, and compass. The display is full color and sunlight-visible, and it is compatible with Garmin's Connect IQ app market.
In terms of smartwatch features, with the Instinct, you can see notifications on the watch screen. There is the possibility of answering text messages and answering/rejecting calls (if paired with an Android phone).
You can also control music playback, connect to the Garmin Virb Action Camera, and view calendar and weather information.
Garmin Connect App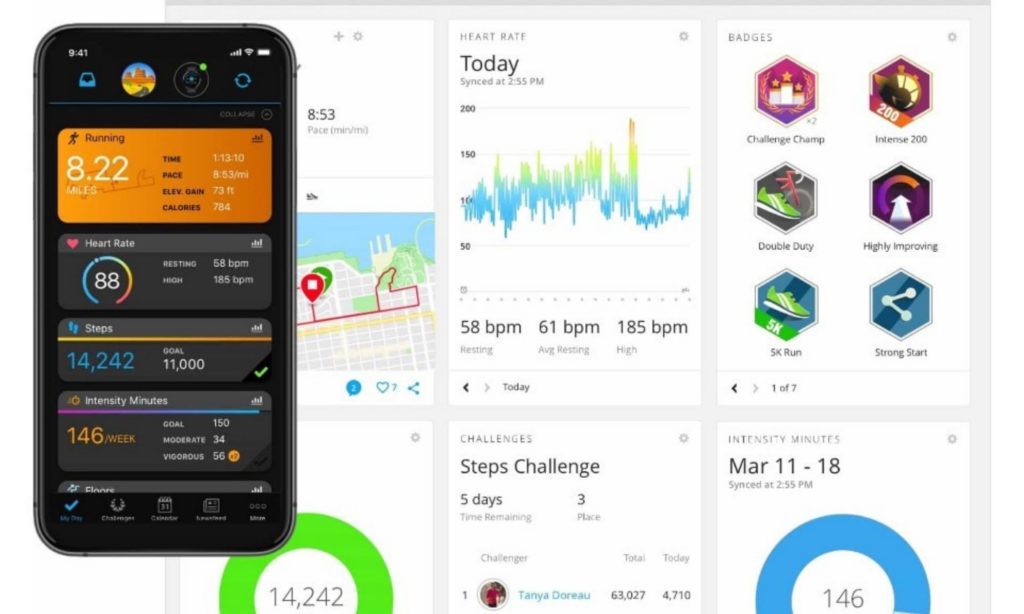 The display is full color and sunlight-visible, and it is compatible with Garmin Connect App (Garmin's Connect IQ app market).
To use the Instinct device's connected features, you must pair it directly through the Garmin Connect app instead of from the Bluetooth settings on your smartphone.
You won't have Garmin Pay, the ability to listen to music with Spotify or Connect IQ support. That means you can't add custom fields, widgets, and apps to the watch.
While you can review much of the Instinct data on the watch, you are more likely to explore it more once it syncs with Garmin Connect. Whether it's the phone or the web app, there's a lot to look at here, and of course, you can send data to third-party services like Strava once the two accounts have been linked.
There is nothing significant to say when offering a different experience than what you would get by combining a Fenix ​​watch or a Forerunner watch.
If you've used a Garmin device before, much of what you'll see will be very familiar. It's packed with data, and it can take a little time to understand where everything is.
Solar Panel
Garmin Instinct has a solar charging panel on its screen. The watch does need to be exposed to light to charge, and it is not a very powerful one, but if you are going to be in the sun anyway, you can just let your watch charge.
Garmin Instinct – Heart Rate Accuracy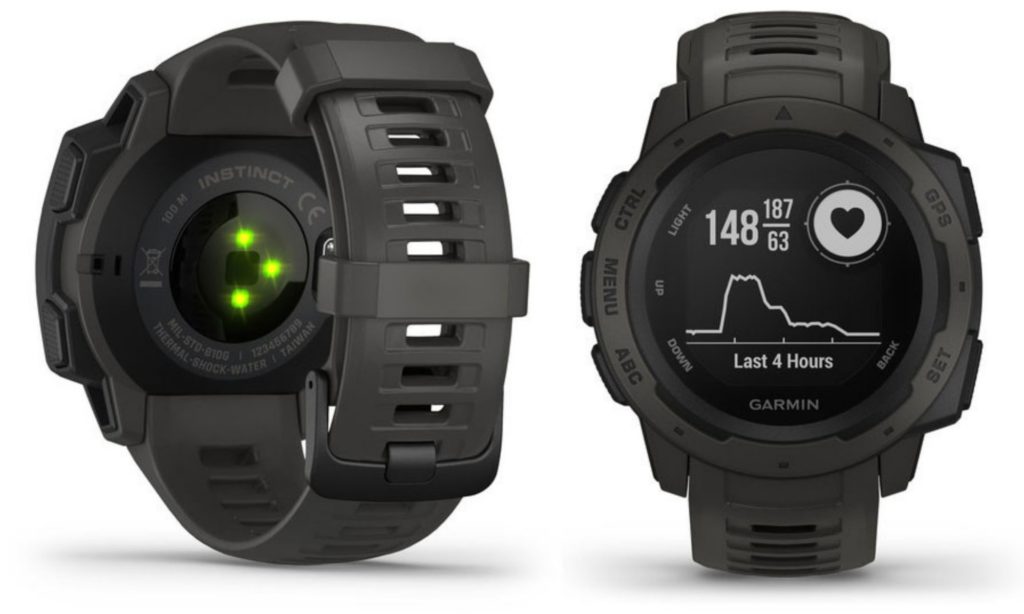 If you're going to make fair use of the built-in heart rate monitor, I'd say it works similarly to other Garmin watches that include the same technology.
Overall, it's okay, particularly for 24/7 monitoring, but not exceptional once you start putting it through the high-intensity training test.
Against a Garmin chest strap, the live data appeared to be quite inconsistent, with the chest strap reacting quickly to fluctuations in inactivity and rest periods. The Instinct tends to lag for a few seconds before reaching the chest strap.
On the other hand, if we talk about lower effort training sessions, the highest heart rate in interval training came in one or two beats per minute and the average of only three bpm, which is quite good.
But once you start increasing your training and quickly changing your pace and intensity, more variations begin to appear.
When tested against a more consistent bpm activity, in this case, a 10k run, the Instinct noticeably fits the chest strap but still registers a higher maximum heart rate reading.
For more endurance-based activities like trail running or hiking, it seems to be well equipped to do a pretty good job.
However, suppose you plan to use the Instinct as your primary training watch. In that case, I recommend purchasing a compatible chest strap to give you the most reliable information on your heart rate.
Garmin Instinct: battery life
The battery is an essential factor for outdoor watches when you plan to spend a lot of time away from civilization and not carry that charger with you.
Garmin claims the Instinct gives you 16 hours with GPS on, 40 hours using UltraTrac GPS optimization mode (worse GPS but better battery), and two weeks if you only use it as a smartwatch.
In my experience, these data make the price that is worth the right one. It is well equipped for a long day of trekking or hiking with all those sensors that are used well and without worry.
If you are willing to sacrifice your mapping data's accuracy for a longer tracking time, then this is your best option. For most users, the Instinct's battery life is more than enough.
Bottom Line of Garmin Instinct Review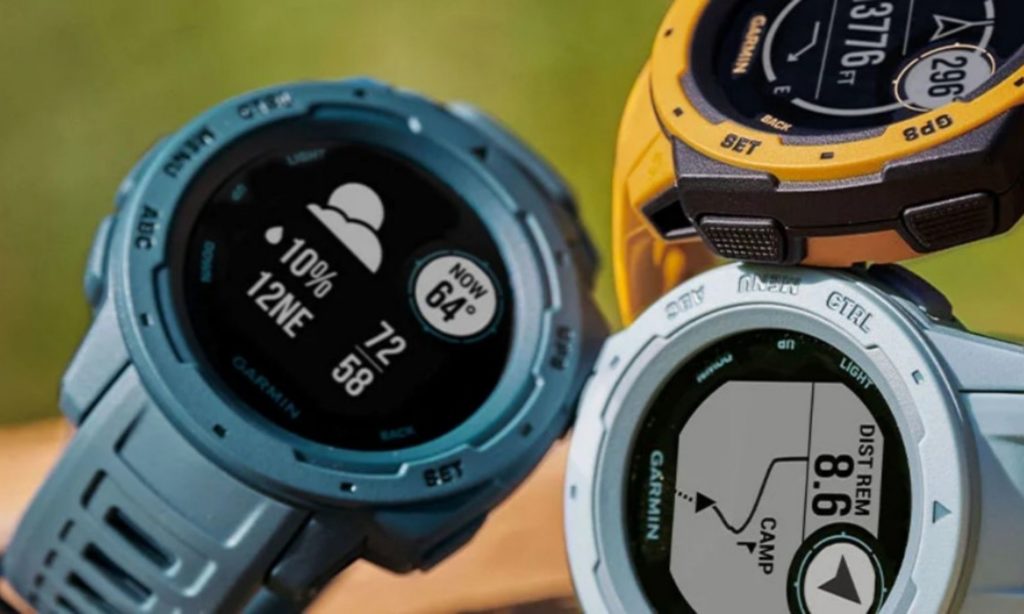 The INSTINCT fills a gap in the market and at a reasonable price. I suspect the demand for hiking devices is not very great. Still, it will grow as products as this target an increasingly sophisticated part of the market-driven by many young people interested in engaging in outdoor sports without straying too far from their home.
I suspect that the reasons you will like it are the reasons that others will too.
It's a lightweight and well-made device, apparently by military standards for durability.
I don't particularly like the Instinct's look and prefer something more refined, but for those who want Casio's rugged look, you will love the INSTINCT.
If I had a slightly larger screen with somewhat better resolution, I'd probably like more. But that innovation could probably have a negative impact on the very good battery life.
And that is one of the critical aspects. It has enough battery to stay active for a couple of days if you manage your GPS time sensibly.
The Instinct is not compatible with the Garmin PAY or Garmin CQI applications. I suspect the former results from hardware, and the latter exclusion prevents you from straying too far from the Garmin ecosystem itself.
Instinct also lacks onboard maps. But so does most of the competition and indeed ALL direct competition at this price.
You can also use it as a smart sports watch with many of Garmin's outstanding sports and connected intelligent features throughout the Connect ecosystem, but don't expect it to do fancy, high-end sports stuff like supportive power meters for a triathlon.
Sale
Garmin Instinct, Rugged Outdoor Watch with GPS, Features Glonass and Galileo, Heart Rate Monitoring and 3-Axis Compass, Graphite
Rugged GPS watch built to withstand the toughest environments.Supported Application:Phone. . Wireless comm standard:Bluetooth
Constructed to U.S. Military standard 810G for thermal, shock and water resistance (rated to 100 meters)
Built in 3 axis compass and barometric altimeter, plus multiple global navigation satellite systems (GPS, Glonass and Galileo) support helps track in more challenging environments than GPS alone
Monitor your estimated heart rate, activity and stress; Train with preloaded activity profiles. Strap material: Silicone
Stay connected with smart notifications (with a compatible smartphone) and automatic data uploads to the Garmin connect online fitness community
Alex is a passionate fitness enthusiast dedicated to helping people lead healthier, more active lifestyles. He encourages small – sustainable changes over drastic transformations and works with people to create customized wellness plans. His mission is to help others benefit from the most effective methods available, sharing tips, strategies, and health & fitness tools on Gearuptofit.com to inspire people to live their best lives.