The Amazfit GTS series has been gaining popularity among fitness enthusiasts with its advanced features. Read our Amazfit GTS 3 Review to find out why!
The Amazfit GTS3 is an excellent smartwatch that offers many great features and functions. It also comes with a built-in GPS sensor, perfect for outdoor activities such as running or hiking. This review will look at all the watch's key features, along with my thoughts on whether it's worth buying.
Amazfit GTS 3 Smart Watch for Women, Alexa Built-In, Health & Fitness Tracker with GPS, 150 Sports Modes, 1.75"AMOLED Display, 12-Day Battery Life, Blood Oxygen Heart Rate Tracking, Terra Rosa
【ALEXA BUILT-IN & OFFLINE ASSISTANT】 Easily set an alarm, ask a question, get a translation and more with Alexa, which is built into the Amazfit GTS 3 smart watch. If you're out and don't have internet access, the smartwatch also has an offline voice assistant for you to perform operations like engaging a sports mode or opening a health metric feature via voice command..Suported Application:Breath Monitor,Heart Rate Monitor,GPS,Voice Control,Multisport Tracker. Connectivity technology:GPS,Bluetooth. Wireless comm standard:Bluetooth
【HIGH PRECISION & POWERFUL NAVIGATION SYSTEMS】The GTS 3 smartwatch has a built-in barometric altimeter to help keep an eye on the altitude and air pressure of your outdoor activities, and suports GPS, GLONASS, Galileo, BDS and QZSS satellite navigation systems to accurately track your route. Charging Time: Approx. 2 Hours
【150plus SPORTS MODES & 5 ATM WATER RESISTANCE】The Amazfit GTS 3 sports watch is the ultimate easy-to-use smartwatch with over 150 built-in sports modes to suit your choice of activity. It can track metrics like heart rate, calories burned, and assesses specialized data such as maximum oxygen upake (VO2 Max), full recovery time, training load and training effect. With a water-resistance grade of 5 ATM, allowing you to enjoy the sea or take a dip in a pool without worry.
【TEST FOUR HEALTH METRICS IN ONE TAP 】Sometimes you just want a quick overview of your health stats without cycling through individual apps. With the Amazfit GTS 3 fitness watch you can test your heart rate, blood-oxygen saturation, stress level and breathing rate in one single tap of the watch, for a result in as little as 45 seconds. Get the data you need and then get on with your day.
【IGNITE YOUR PASSION FOR FASHION】The supr-sleek 8.8mm watch body is made from lightweight yet durable aircraft-grade aluminum alloy and weighs only 24.4g, while the ocean-like curved glass screen assimilates into the bezel-less design, for total immersion into your display. Navigate the smartwatch deftly with the elegant rotatable crown, and with an ultra HD AMOLED display that has 341 PPI, and is even visible under bright sunlight.
Specifications
| | |
| --- | --- |
| Product Dimensions | 42.4×36 x 8.8mm |
| Item Weight | 24.4 grams |
| Screen Size | 1.75″inch |
| Screen Resolution | 390 x 450 pixels |
| Battery Life | 250 mAh (20 days standby time) |
| Water Resistance | 5 ATM |
| OS | Proprietary OS |
| GPS | GPS Enabled |
| Display technology | AMOLED |
| Connectivity | Bluetooth 5.0 + BLE; GPS+GLONASS |
| Device interface – primary | Touchscreen |
| Colour | Black |
| Included Components | User Manual, Charger, Smart Watch |
| Manufacturer | Amazfit |
A Slim and Light Fitness Tracker
Apple Watch and Amazfit GTS 2 influenced the watches' predecessors. Like smartphones, the premium smartwatch market has stalled the pace of innovation. You are only getting a slight improvement on things these days, but not significant modifications. However, it's an entirely different story in budget-friendly smartwatches, where the desire to bridge the gap between the premium ones is on the rise. Amazfit GTS 3 Amazfit GTS 3 proves this without adjusting the price.
In this regard, it's clear that Amazfit's GTS 3 is a very efficient fitness tracker. It has a brand new display, a new application, and a new design, as well as a digital crown for navigation. However, all of them appear to cost. The tiny increase in battery capacity indicates that the GTS 3 is placed just below Amazfit GTR 3 Pro and Amazfit GTR 3.
Amazfit GTS 3 design
The Amazfit GTS 3 features a 42mm watchcase made from aluminum alloy.
The design of Amazfit GTS 3 is very similar to its predecessor GTS 2. The single button located on the right of the GTS 2 has now been upgraded to a navigation crown that can function as the home button. The button is released quickly and displays the list of available apps when you press it again. Its primary goal is to allow you to scroll through pages and lists and generate a haptic response when you scroll through them. Pressing the crown for a long time lets you access any function you wish to access.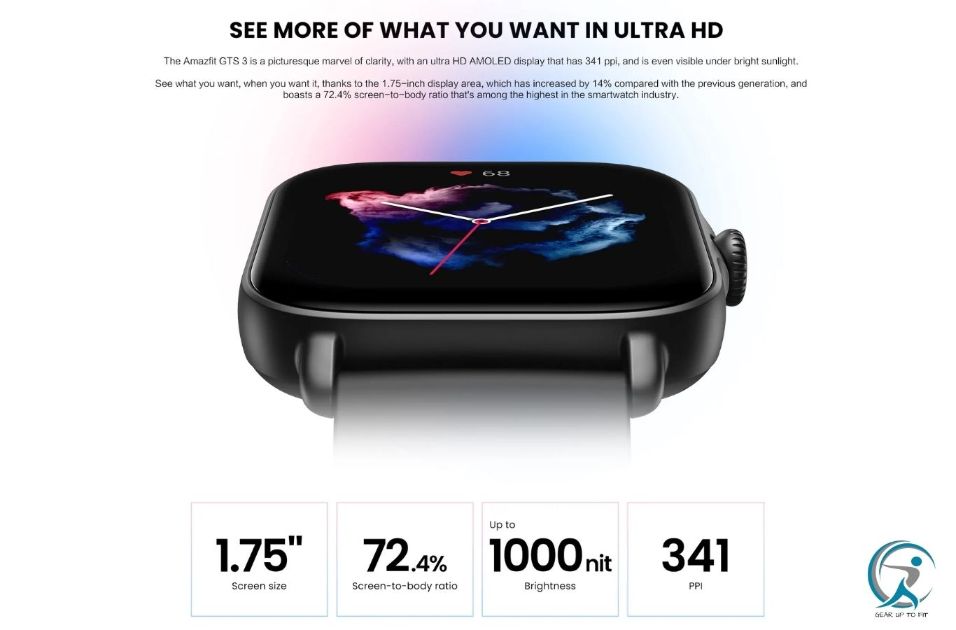 The display is 1.75-inches large, and the slim bezels increase the AMOLED display's Ultra HD resolution. The button that looks like a crown acts as a wheel scrolling through menus. However, it's not as precise as the one found on Apple Watch. The silicone strap has been gentle to my wrist throughout the day long, even when sleeping.
It is possible to replace the cheap silicone strap, which, like most silicone straps, can hold moisture, sweat, and dirt and cause adverse reactions to certain skin kinds. I did not experience any problems with it. However, my strap is a bit snagged and can get caught up on clothes and other items. That's enough to make me want to get rid of it in favor of an alternative 20mm strap.
Amazfit GTS 3 smart features
It's where the greatest improvement is happening this year. It begins with a brighter and sharper display than ever in the previous model and holds up to intense sunshine. Amazfit's latest Zepp OS is vibrant, with all the bright icons and beautiful watch faces rendered in total splendor.
Zepp OS is a massive improvement over the previous version. The interface optimized the hardware and provided smooth and consistent animations. Navigating menus and first-party apps feel natural, much better than Wear OS 2 watches.
Amazfit GTS 3 Health monitoring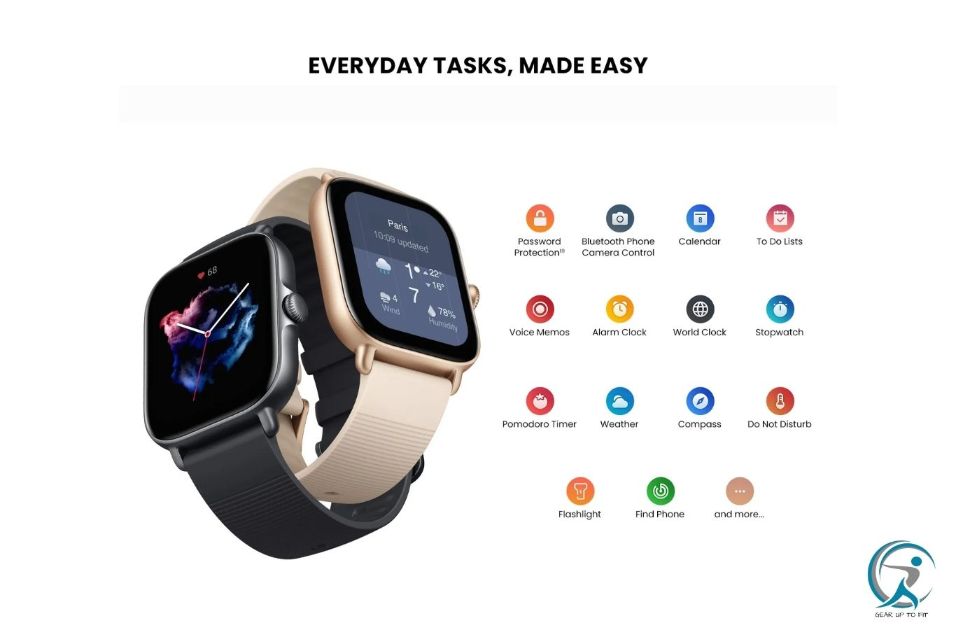 The strength that has always been the Amazfit watches, the health tracker is again the show's highlight in this case. With the latest BioTracker 3.0 sensor, it can monitor your heart rate and monitor blood oxygen saturation and sleep, menstrual stress cycle, sleep, and steps. I could not test the data against an equivalent medical device, but the GTS 3 registers data consistently in line with the Apple Watch Series 7. I found the step tracking quite accurate. The walking workout mode showed all the relevant data like the distance, pace, and heart rate.
What impressed me even more was the presentation of the data. For instance, GTS 3 records light, deep, and REM sleep patterns. And the data was easily relatable. The Zepp app displays all the data beautifully in graphs , and even connects the data to Google Fit and Apple Health.
Amazfit GTS 3 software
With their latest smartwatches, Amazon's AMAZFIT line now runs on an updated operating system called "ZeppOS." It is a customized operating system that communicates with the Zepp application on either an Android or an iOS smartphone. When I used the GTS 3 with an Android phone (not a Google device), I found that I couldn't get any notification alerts from apps. The fix for the problem was disabling the battery optimizations in the Zepp app. It allows the app to stay running even if there isn't enough space left for new apps. Then after this, I chose which applications I wanted to receive push notifications for.
The case has a base made of plastic and includes two charging contacts plus several health monitoring sensors. The user interface is simple, and using this on GTS 3 is fairly easy to comprehend. Swiping from the watch's screen lets you access shortcuts like Maps, Messages, Calendar, Phone, etc. You can tap any widget to launch an app quickly within the watch face. To see your notifications, just swipe down from the top edge of the screen. And if you want to change some basic settings like sleep mode or brightness, simply swipe right across the display.
You'll find plenty of integrated apps for Android and iOS devices from various manufacturers inside Zepp's companion app that allows you to download other mini-apps.Some apps are so helpful that they're worth downloading even if you don't use them daily. Others aren't quite as useful but may be fun once in awhile. Still others might not be useful at all.
Zepp OS interface
The watch has some built-in storage space for apps and music, but it isn't accessible. Apps like "Storage Space" tell us we've used up 1.3 GB out of 2.1 GB available. Strangely, Amazon does not allow users to use the additional 2GB of local storage.
The watch has two different voice assistants built into it. Amazon's Alexa has some limitations; she doesn't understand slang or colloquial language. She also requires specific phrasing when asking questions. It didn't launch the right app most of the time because it could not understand its user input. Alexa is much smarter however, it needs to be linked to the Internet in order to function.
Positives aside, there were certain things I did not enjoy regarding this model. Amazfit GTS 3. The watch faces built into the device (and ones from the Zepp store) display problems (data from applications) and customize the data you wish to see on the watch faces. But, pressing on these issues will not lead you to their respective apps. The removal of notifications from the notification tray is not an ideal experience.
Zepp OS interface is fairly simple
As opposed to simply deleting a specific notification, it was necessary to open each notification and then tap on the delete button (located at the bottom of the email) then swipe left to go back to the tray of notifications. This must be done for each notification separately. Notifications from certain apps like WhatsApp don't show up with icons, and it's difficult to identify the app or service from which they're coming from.
The GTS3's Zepp OS interface is fairly simple and easy to comprehend. There are other common UI problems, for instance, the inability of quickly accessing tools or apps running on the background. For instance, if I turn on the stopwatch and then look at an alert or open another app, I need to return to the watch's face and press the crown to reveal the drawer for the app, then scroll to the stopwatch application open it, and then press stop.
The same issue occurs when the workout is in progress and all additional functions on the device are inaccessible (save to the pull-down notification shade and the music controls). It is necessary to complete the workout before you can access additional features or tools. Although this isn't a problem whether you're in the middle of a vigorous exercise routine, I was able to not connect to the watch while on my daily stroll or when I was running, which forced me to take out my phone.
Battery Life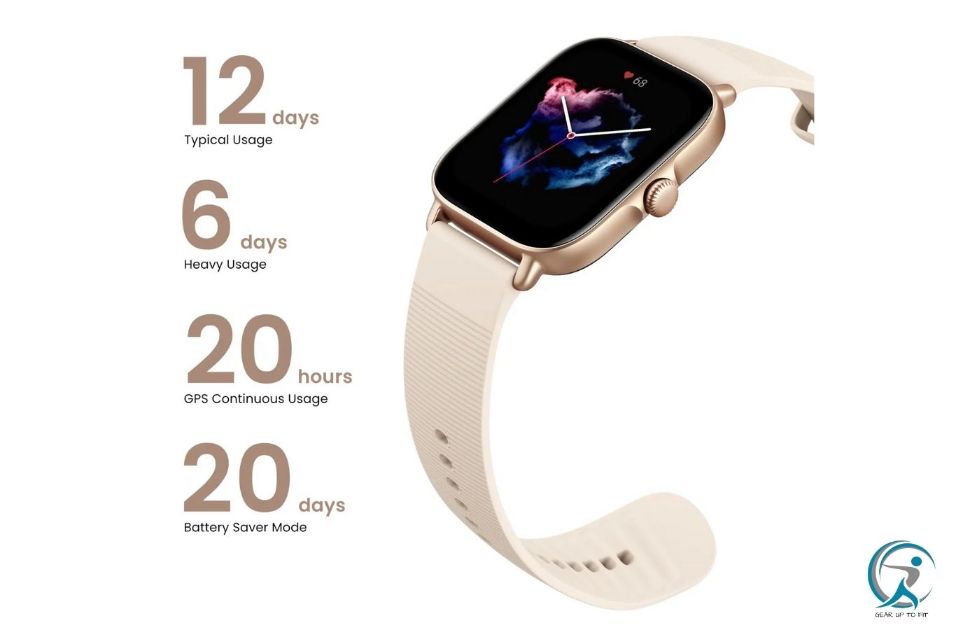 Amazfit claims to have a runtime of 12 days. However, this is actually the power-saving mode, the highest you'll ever get. Once you turn on features like continuous heart rate monitoring and the constantly on screen, this will be the average of 5 days.
Every time you try to enable a feature, you'll be advised that the feature "severely reduces battery life." However, 4-5 days is acceptable when market leaders only last a few hours.
Verdict
If the GTS 2 had a built-in speaker, it felt similar to that of the GTS 3 is a step forward. Sure, it has an enlarged display as well as a rotating crown, and automated SpO2 tracking on the back. However, the inability of taking calls or listen to Alexa's voice isn't the best alternative. It's also disappointing that it's still the case that only the Chinese models can use NFC to use contactless payment.
The Amazfit GTS 3 succeeds at what it's set out to achieve. It's a good fitness watch that is packed with essential features. It's not the Apple Watch. However, it's about as close as you can go to finding something similar to Apple Watch without breaking the bank. If you're willing to make some concessions, you'll never be dissatisfied.
Alex is a passionate fitness enthusiast dedicated to helping people lead healthier, more active lifestyles. He encourages small – sustainable changes over drastic transformations and works with people to create customized wellness plans. His mission is to help others benefit from the most effective methods available, sharing tips, strategies, and health & fitness tools on Gearuptofit.com to inspire people to live their best lives.