Amazfit Gtr 3 is a smartwatch that allows you to track your activities and keep up with your daily goals. Check out Amazfit GTR 3 Pro Review now!
Amazfit GTR 3 Smart Watch for Men, 21-Day Battery Life, Alexa Built-in, 150 Sports Modes & GPS, 1.39"AMOLED Display, SpO2 Heart Rate Tracker, Water Resistant, Fitness Watch for Android iPhone, Black
【ALEXA BUILT-IN AND OFFLINE VOICE ASSISTANT】Easily set an alarm, ask a question, get a translation and more with Alexa, which is built into the Amazfit GTR 3 smart watch. If you're out and don't have internet access, the smartwatch also has an offline voice assistant for you to perform operations like engaging a sports mode or opening a health metric feature via voice command. Body material-Aluminum alloy .Suported Application:Breath Monitor,Continuous Heart Rate Monitor,GPS,Voice Control,Multisport Tracking. Connectivity technology:GPS. Wireless comm standard:Bluetooth
【21 DAYS LONG-LASTING BATTERY LIFE】The Amazfit GTR 3 activity tracker brings a kind of power and performance that's going to stay with you for a long, long time. Even with the vast array of advanced functions assembled within its slim and light body, the GTR 3 smart watch maintains a refined elegance only found in classic round watches, and yet still finds a way to integrate a powerful battery which can last for upto 21 days.
【150 plus SPORTS MODES & GPS BUILT-IN】Whether you're a team player or prefer the focus of working out by yourself, the Amazfit GTR 3 sports watch is the ultimate easy-to-use device. With over 150 built-in sports modes to suit your choice of activity, the activity tracker can track metrics like steps, calories burned, and more. Come with a barometric altimeter to help keep an eye on the altitude and air pressure of your outdoor activities, and suports GPS, GLONASS, Galileo, BDS and QZSS satellite navigation systems to accurately track your route.
【TEST FOUR HEALTH METRICS IN ONE TAP】With the Amazfit GTR 3 smart fitness watch, you can test your heart rate, blood-oxygen saturation, stress level and breathing rate in one single tap, for a result in as little as 45 seconds. Get the data you need and then get on with your day.
【VIBRANT WATCH FACES & ALWAYS-ON DISPLAYS】The Amazfit GTR 3 smart watch offers more than 100 stylish watch faces, all of which have a matching always-on display. You can choose from 15 animated watch faces and prioritize preferred features with 8 editable watch faces - or even upoad your own photo as the background image. With unprecedented visual clarity that reaches upto 326 ppi, the Amazfit GTR 3 smartwatch has 1.39-inch truly clear & easy-to-read HD AMOLED display.
Amazfit GTR 3 Pro Specifications
Specification AmazFit GTR 3 Pro Aircraft-grade aluminum alloy case Silicone band Weight 32 g 1.45 inch AMOLED ultra HD round 70.6 % screen to body ration 331 PPI 150 + Sports mode Automatic sports recognition Continuous heart Rate Monitoring Blood Oxygen monitoring Stress Level Monitoring Breathing rate detection Sleep Tracking Menstrual Cycle tracking Storage 2.3 GB
The Amazfit GTS3 Pro is designed in such a way as to be comfortable to wear. It features a large, crisp display and a 360-degree rotating camera lens. There's also a built-in GPS and heart rate monitor, along with sleep monitoring capabilities, making this wearable device ideal for runners or cyclists looking to stay fit.
The Amazfit GTR3 Pro doesn't stand out from other watches in terms of design. However, it does come with some exciting features. For example, there is an Always On Display feature that allows users to see the information without turning their wrist. A built-in GPS receiver also tracks your location while you're running or walking. The GTR 3 Pro also includes heart rate monitoring capabilities. Finally, the device supports both Bluetooth 4.0 LE and ANT+ wireless technology. All of these functions make the Amazfit G TR3 Pro a great choice if you want a simple fitness tracker that offers a lot of functionality.
The back of the watch is relatively simple, featuring a large button to turn the device on/off, along with two buttons to select modes. A layer of glass protects the display. Underneath the glass is the battery compartment, which houses the internal batteries. Finally, a tiny hole near the top right corner of the case allows air into the watch.
Design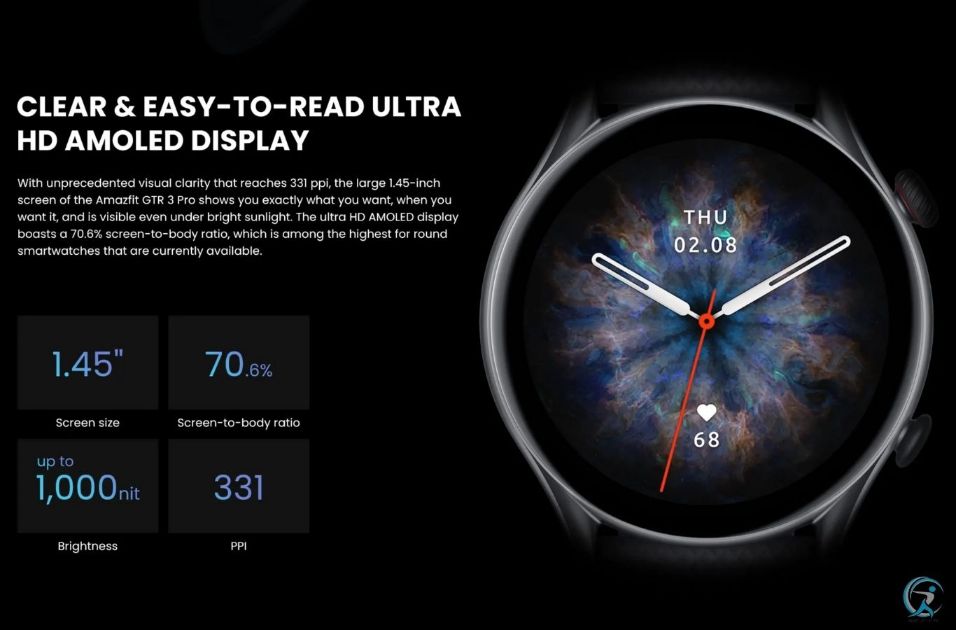 The GTR 3 looks great and is very comfortable to wear for long periods. While there are no fake leather straps, the strap material does provide excellent ventilation. You can also buy replacement straps if required.
With the GTR 3, there are two physical buttons on the side of the device to navigate through the different functions quickly. The top button has a crown that allows users to rotate through the menu options.
Display
The GTR 3 Pro is waterproof up to 50 meters and is designed to withstand harsh conditions. It also features a 46mm case size larger than some other smartwatches, making it easier to wear during workouts. You can choose either a black infinity strap or a brown leather strap.
The black leather version isn't as pretty, but it does offer more style than the stainless steel model. Although it might be seen as slightly less practical, I'm sure many men would prefer having a watch with a buckle instead of a clasp.
That case holds in position a 1.45 inch, 480×480 resolution AMOLED touchscreen, which is flanked by 2 physical buttons. Zepp has already planted awe-inspiring displays on most of its smartwatches, which does not change here. It's bright, colorful, and maybe switched to always-one mode if you need that display 24/7.
There are many different types of sensors used to detect heart rate or blood oxygen levels. You'll see some of them here. These devices use magnets to charge up and send the data wirelessly to your phone. Some need to be placed near a charging station, while others can be left wherever you want.
AMOLED display with interesting new watch faces
A layer of tempered glass protects the AMOLED display. The touch panel is coated with an anti-smudge coating, making it easy to use without leaving fingermarks or fingerprints.
The screen has automatic and manual brightness controls. You can adjust the setting using the touch panel or pressing the physical button in bright light. You can set the sensitivity level as well. The lift-wrist-to-wake function stays off during sleep time.
The always-on display drains the battery significantly, so better to turn it off and use your wrist as needed. The smartwatch also lacks fitness tracker features such as step counting, calorie-burning, etc.
About a hundred other watch faces are available in the Zepp App Store. These include animated watch faces as well. However, there are more than 100 available. Also, you can add your watch face. All of them work fine without any issues.
Fitness and sports tracking features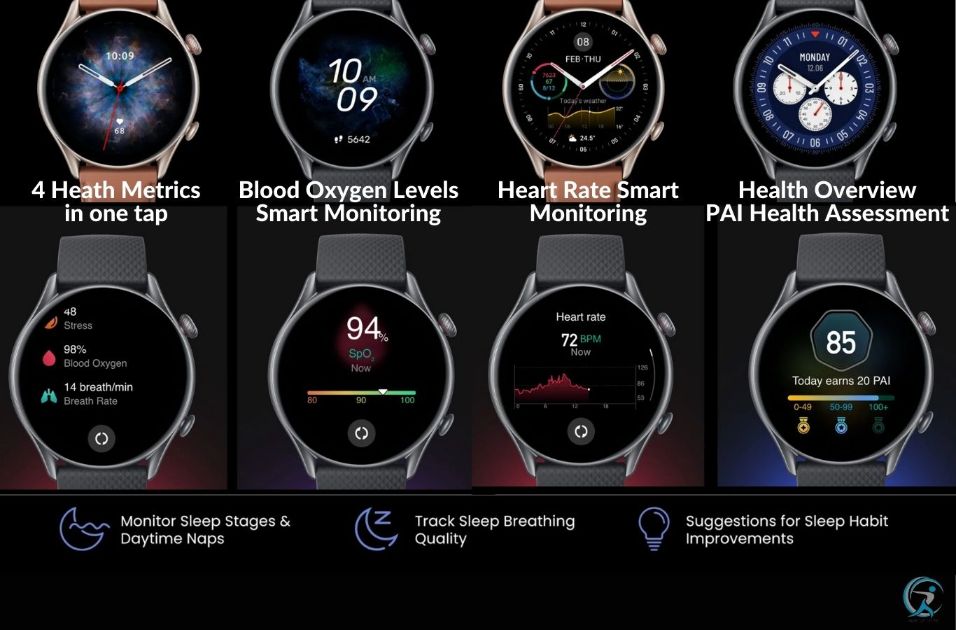 In addition to measuring your heart rate, blood oxygen level, and stress level, the PeakBeats BioTracker 3.0 also measures body temperature and monitors sleep quality.
While the watch isn't designed for medical purposes, it does include some interesting data points about your fitness levels. For example, if you raise your heart rate during exercise, you'll get a reading about how hard you were working out. And while there's no direct measure of stress, the watch will tell you if you're experiencing high or low blood pressure.
The GTR 3 Pro includes 150+ sport modes, including swimming and open water, indoor rowing, dance, and more. There's also a dedicated workout mode, as well as sleep monitoring.
In addition to being automatically recognized as exercises, eight of them are also supported by automatic workout recording if you don't want manual entry. These include cycling, treadmill running, and even walking. There's support across the five satellite navigation systems, including GPS, GLONASS, BeiDou, Galileo, and QZSS. Finally, there's support for the new Peakbeats Training Insights, which provide insight into training effects, load, and recovery times.
Tracking steps and distance
We were impressed by how well the GTR 3 tracked steps, distance covered, and calories burned. But sleep tracking remains unreliable. And while the app is easy to use, it lacks some of the features you might expect from a dedicated activity tracker, such as smart coaching and goal setting, plus there are no notifications to speak of.
Heart rate monitor
Regarding your question regarding whether or not the device is suitable for monitoring your heart rate, our tests showed that the heart rate monitor generally worked well. However, there were some instances where the reading was inaccurate. For example, the heart rate monitor may register a higher number than what you had when you're sleeping. In addition, if you're exercising, then the heart rate monitor may also be slightly off because of how quickly your body responds to exercise.
Blood oxygen levels
Our testing showed that the device was reasonably accurate regarding the accuracy of the blood oxygen levels. However, the results weren't always consistent. Sometimes the device read lower numbers than you'd expect, while other times, it was more accurate. There were also instances where the device wasn't working properly. For example, sometimes, the light wouldn't turn green even though the reading was correct. Other times, the display would show the wrong value. We tested our fitness tracker indoors and out and found that it performed pretty well overall. Outdoor runs were less precise than indoor workouts, but we did get decent results. Pool swimming was also very accurate while running outdoors or using the elliptical trainer was less consistent. Heart rate monitoring worked fine, except when exercising outdoors.
There are many different sensors out there, but none of them work well during intense exercise. So if you're looking for accurate data during your workouts, be sure to check out the PeakBeats app.
Battery life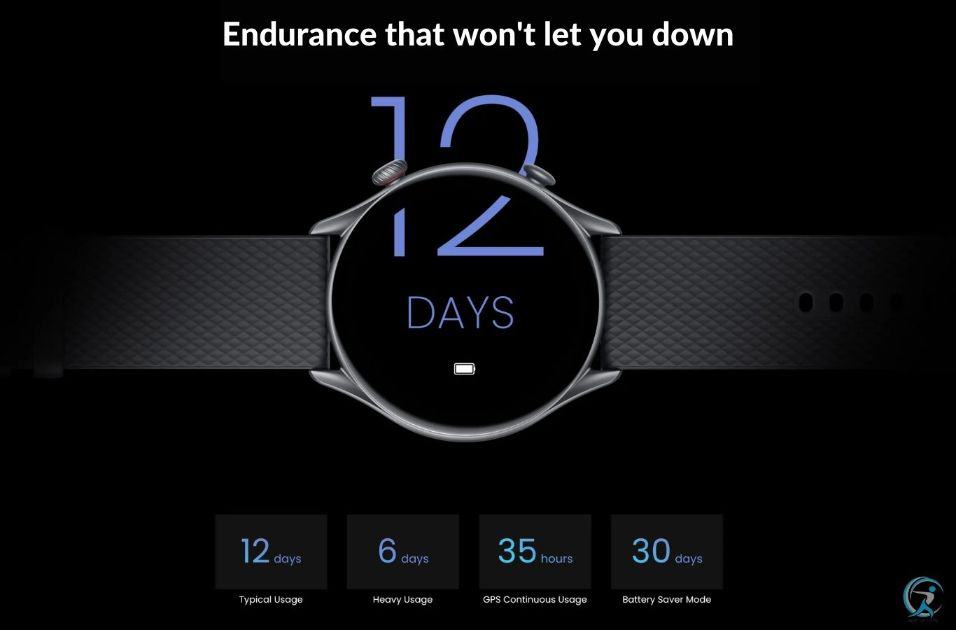 You'll get about 10 hours of screen time out of the device before needing to recharge. You'll be lucky to make it through a full day without having to plug into a charger.
With the new heart rate sensor, the GTR 3 Pro provides accurate readings during intense workouts while providing more than enough power to run for several miles before recharging.
Fairly reliable fitness tracking and faster measurements
Fitness Tracking is where the GTR3 shines, courtesy of the new Bio Tracker PPG 3.0 Biometric Sensor that can monitor heart rate, blood oxygen, stress levels & sleep. The first three parameters can be measured around the clock if you so choose. One significant improvement is the speed Of sp02 measurements that used to take ages in the gtr2. Here it takes anything between 15 -30 secs if you stay still, and that's brisk. Even better, this watch has one tap measurement For 4 health parameters In 45 seconds. It Measures your heart rate, oxygen level, stress level&breath rate At one go. The readings are reasonably accurate.
A smartwatch for indoors and outdoors activities
The Amazfit gtr3 is a great smartwatch that you can use indoors and outdoors. You get step count, calories burned, distance traveled, heart rate, sleep quality, etc. It also offers notifications about incoming calls, messages, emails, social media updates, weather alerts, reminders, alarms, and much more. The battery life lasts up to 4 days while using GPS mode and up to 7 hours using fitness tracking mode.
I tried out both the Zepp and Fitbit devices, and while the former could detect my activity, it failed to record any results. Both devices were unable to recognize my exercise routine. However, the Zepp device does provide some interesting insights into your lifestyle by displaying a weekly PAI score, giving you an idea of how much time you spent exercising per day. You get a summary of your overall activity level as well as a detailed breakdown of your physical activity throughout the week.
Overall, the smartwatch does a great job of measuring my sleep patterns. It measures the total amount of sleep and the quality of sleep. It gives me a sleep score and tips on improving my sleep habits. In addition, it monitors my heart rate throughout the night and calculates my stress level automatically.
The Amazfit GTR 3 Pro is a great all-in-one smartwatch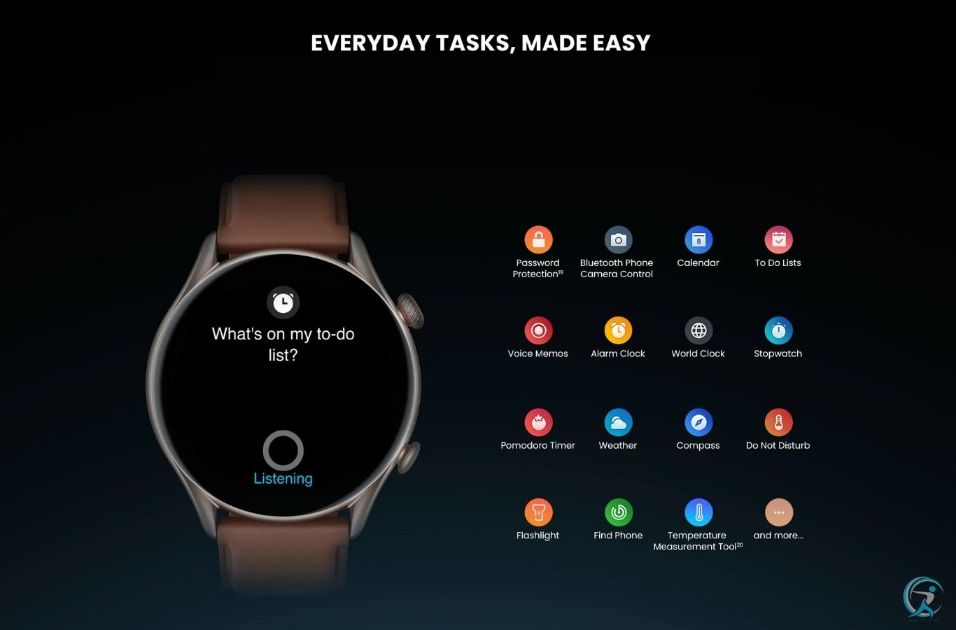 The Amazfit Bip Lite is a great fitness tracker for beginners looking for cheap and easy to use. You get basic metrics such as steps taken, distance traveled, calories burned, sleep quality, heart rate, and more. It also tracks your water intake and allows you to set goals for yourself.
The Amazfit GTR3 Pro is a smartwatch that also functions as a fitness tracker. It does everything you'd expect from a smartwatch — calls, texts, emails, notifications, etc. — plus some other stuff, such as step counting, heart rate monitoring, GPS, and more. However, it's expensive compared to most watches, and it lacks many features available on competing devices.
The Amazfit is an excellent choice if you want a watch that does everything well. You get automatic GPS tracking, large, bright screens, amazing battery life, lots of useful features, and the ability to read your time even in direct sunlight easily. There are some bugs in the software, so be careful about buying this watch.
Daily usage experiences and conclusion
With the new Amazfit GTR3, I've started wearing the heart rate monitor more often than I did with the previous version. By combining the heart rate sensor with the accelerometer, the device now detects any exercise activity and sleep patterns. So far, I'm seeing results regarding how much I move during the day. As long as I get up and take breaks throughout the day, I'm getting about 30 minutes of moderate physical activity per day. In addition, I'm also noticing some significant improvements in my sleep quality. While using the previous model, I woke up several times each night due to light snoring. Now, I wake up once or twice per night without even moving! That's a massive improvement for someone who struggles with sleep apnea.
I'm a huge fan of the scrolling top buttons and great display. The lightweight and comfortable silicone strap make it easy to wear every day. The Zepp smartphone app is impressive with the vast number of customizations available. For those looking at the GTR3 as a low-cost option, you can go with the default setting and may be perfectly happy or customize it to fit your personal preferences.
The Garmin GTR 3 is a solid smartwatch for runners to get more information about their runs. There are plenty of features to customize your run experience, and you can even use voice commands to control some aspects of the watch. The device also offers automatic detection of running activity and heart rate monitoring.
The GTR 3 does a great job answering text messages and taking phone calls. Battery life is excellent compared to other watches in this price range. You get a lot of bang for your buck.
Alex is a passionate fitness enthusiast dedicated to helping people lead healthier, more active lifestyles. He encourages small – sustainable changes over drastic transformations and works with people to create customized wellness plans. His mission is to help others benefit from the most effective methods available, sharing tips, strategies, and health & fitness tools on Gearuptofit.com to inspire people to live their best lives.