We are excited to announce that Fossil Gen 6 smartwatch is here. Explore the latest features of the newest generation of Fossil watches.
The Fossil Gen 6 is the best smartwatch available right now. It looks great, lasts long, and runs the latest version of Google's wearable operating system. However, some issues with the UI and battery life still need to be addressed before we can honestly give this device our recommendation.
No products found.
Fossil Gen 6 Specifications
Display: 1.28-inch Color AMOLED with a 416 x 416 resolution and 326ppi
Processor: Qualcomm Snapdragon Wear 4100+
Connectivity: Bluetooth 5.0 LE, GPS, NFC SE, WiFi
Sensors: Accelerometer, Altimeter, Ambient Light, Compass, Gyroscope, Off-body IR, PPG Heart Rate, SPO2
Water resistance: Up to 30 meters (3 ATM)
Audio: Microphone and speaker
Battery: Size not given. Fossil advertises "24 Hr + multi-day Extended Mode."
Memory and storage: 1GB RAM + 8GB Internal Memory
Fossil Gen 6 at a glance
Fossil Gen 6 uses the new Snapdragon Wear 4100 Plus CPU. They also have updated heart rate and blood oxygen sensors and faster-charging batteries. All Gen 6 models are upgraded to Wear OS by the end of this year.
The Fossil Gen 6 smartwatches are the direct successors of the company's Gen5 series, which was released in 2018. Since 2015, the flexible designs, excellent performance, unique software functions, and affordable pricing of the Gen 5 line have made it an essential component of our best Wear OS watches lists.
Fossil Gen 6 line includes improved heart rate and SpO 2 sensors.
Wear OS is a smartwatch operating system developed by Google and Samsung. It runs on Android Wear 2.0.
What's new with the Fossil Gen?
The Fossil Gen 6 smartwatch maintains the same looks as previous models. Like previous versions, it has a big AMOLED screen and three buttons on the right-hand edge. The center button serves as both a turning crown and a secondary function in larger sizes. On bigger models, two tiny guards surround the central button. Lugs are considerably more solid than they were previously.
The Gen 6 collection comes in 44mm and 42mm dimensions. Both versions are available in four colorways. The bigger size has a larger display, but the smaller size has a lesser one. Inside the watch, there have been some significant improvements made. Qualcomm's Snapdragon Wear 4102 processor is used in the first smartwatches from Fossil, which means improved performance and less energy consumption than prior generations.
The Galaxy Watch 4 operates on the same chipset as the TicWatch Pro 2, so it'll operate similarly. The Galaxy Watch 4, on the other hand, has some extra features over the TicWatch Pro 2, such as built-in GPS, a heart rate monitor, and water resistance up to 50 meters.
Quick Charge
When it comes time to charge your watch, you'll be able to do so much quicker than before. The new devices can fully charge in half an hour, unlike the previous model, which took 50 minutes. Fossil claims that the new function is twice as fast as other smartwatches. It's wonderful that a firm is committed to ensuring that your watch charges quickly. On the other hand, the new models take about 2 hours to charge from 0-100% fully. The newest Fossil watches include a heart rate sensor, allowing you to monitor your heart rate throughout the day.
SpO2 monitor
You can also check your blood oxygen levels with the SpO2 monitor. The Fossil Group also brings their Gen 6 technology to the Michael kors range. The glitzier Michael Kors gen 6 smartwatches are alternative alternatives to Fossil's products, based on the same underlying platform as Fossil's watches. They're both built on the same foundation as Fossil's models, so they have similar internal specifications and software.
Design
The Fossil Gen 6 is a black-cased smartwatch with varying watchbands. It has a crown on the right-hand side flanked by a pusher button on either side. The watch has got some minor changes compared to the previous model.
The watch face is very simple and minimalistic. There is no dial. The bezel does not rotate. The crown is slightly flatter and wider than before. There are now two-guard lumps rising to flank it, meaning you'll be able to click into it without accidentally rotating it.
Browsing through apps and menus is also quite pleasant. The new crown looks like a button on top of the watch face. You push it down to activate the app you want. There are two pushers on each side of the crown. The wider ends mean more surface area, so it's easier to press them. This makes it easy to use the watch when you're wearing gloves or if your hands are wet. The watch design follows its predecessors. Big lugs reach from either side of the watch to secure the watch band. There are sensors on the bottom of this watch, which flush the skin.
This watch is sleek, and while it weighs more than other watches, it doesn't feel awkward. You can work out with this watch, but if you wear it on your left hand and rotate your hand during exercise, accidentally pressing the crown might summon Google Assistant. The Fossil Gen 6 is a pretty nice smartwatch. It has a great display, and it looks good on your wrist. However, the display does not extend to the edges of the bezel. This makes the watch look a bit odd when you wear it.
Display
Over the past year, Fossil has made a few minor improvements to its Gen 5 model. Outdoors, the screen is easy to read. There are several choices for customizing your look. The fact that Fossil specializes in fashion is going for it in the smartwatch sector. Given that the Fosslgen5 was already a stunning-looking watch, only a few modifications were made to its successor's design.
The new Fossil Gen 6 is similar to the previous model, and there are several similarities in terms of construction. The top and bottom lugs have been beefed up somewhat, while a tiny covering has safeguarded the rotating crown on both sides. Finally, texture has been added around the edge of the wrist-worn gadget – which suggests that a rotating bezel isn't present. This all adds up to a display that is just a bit more confident than the device from its predecessors.
Unfortunately, despite acknowledging the screen's flaw and pledging to repair it, Fossil opted not to upgrade it. The return of the 1.3-inch AMOLED display isn't terrible in any way, but when compared to the Galaxy Watch 4's higher resolution and brightness level, it appears like a lesser improvement.
Features and Performance
New Chipset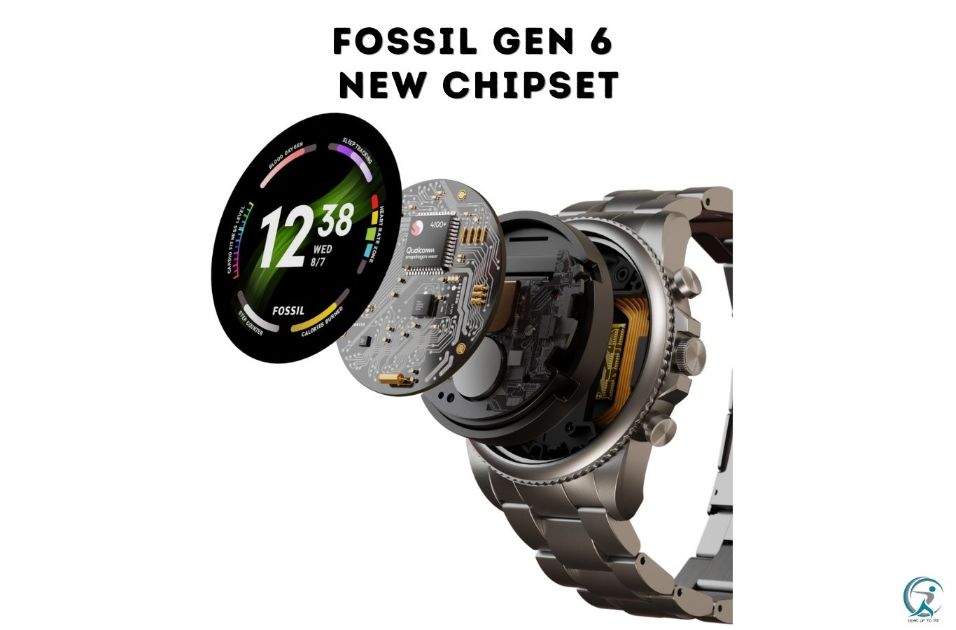 The Qualcomm Wear 4100+ has arrived on Fossil timepieces. This makes the Gen 6 the first smartwatch to not be produced by Mobvoi. Thanks to the newer chipset, the 56mm-sized Watch OS (NOT Android) is brighter than ever.
It's simple to move between applications, and the watch has never slowed down. From a technical standpoint, it's an excellent upgrade. However, even though Fossil Gen 5 had a Snapdragon Wear 2100 chipset, consumers regard the most significant feature as being different than before.
It appears a bit strange that Fossil, nearly a year after the TicWatch Pro 3 became the first Wear 4100 smartwatch, is now attempting to replicate its success with the Gen 6. Even though everyone has moved on to Wear OS 3, it just seems odd. If only the Fossil Gen 6 had been released with the 4100+ processor and Wear OS 3 at launch, it could have easily been this year's smartwatch. The Fossil Gen 6 will be available for purchase at a later date. The latter won't be available until late 2022.
Wear OS 3 upgrade
The Wear OS 3 upgrade is not only a game-changer for the Fossil Gen 6, but it also promises to make smartwatches more appealing and practical than before. However, due to limited functionality, some may question whether or not the Fossil Gen 6 is a viable alternative. Despite this (or perhaps because of it), the Galaxy Watch 4 has emerged as presently the best Wear OS 3 smartwatch available. While the Fossil Gen 6 appears to be focused on the future, the latter device seems more concerned with today.
It isn't all terrible, though. Spotify allows Wear OS watches to download music for offline listening (RIP Google Play Music). When coupled with the Wear 4100+, the updated app works flawlessly on Fossil Gen 6. I was curious to find out if Amazon Alexa's new software built into the watch would be feasible. It wasn't until recently that I discovered it.
GPS tracking
The GPS tracking procedure is incredibly quick, to say the least. The Fossil Gen 6 proved to be capable of establishing a GPS link right away in several tests, which I've never seen before with any other wearable. Although I have no idea what secret sauce is at work here, the fact that it happens so quickly has me perplexed.
The Apple Watch's blood oxygen sensor has been introduced by Fossil Gen6, which is following the Apple Watch's footsteps.
Watch faces
The Fossil Gen 6 only comes with a limited number of watch faces. This isn't very pleasant. Fossil watches have always valued watch faces as a sign of distinction. They rely on their sense of flair and inventiveness to create stunning designs that will endure a lifetime. The Gen 6 collection is no different.
There are several analog watch faces to select from. This isn't necessarily a problem in and of itself, but it is an issue because they have very little difference among them. You've seen them all after seeing one. Although a few digital faces are hidden beneath many menus, they aren't as creative as you would think from Fossil. I'd also say that none of them comes close to the Galaxy Watch 4.
Fitness and health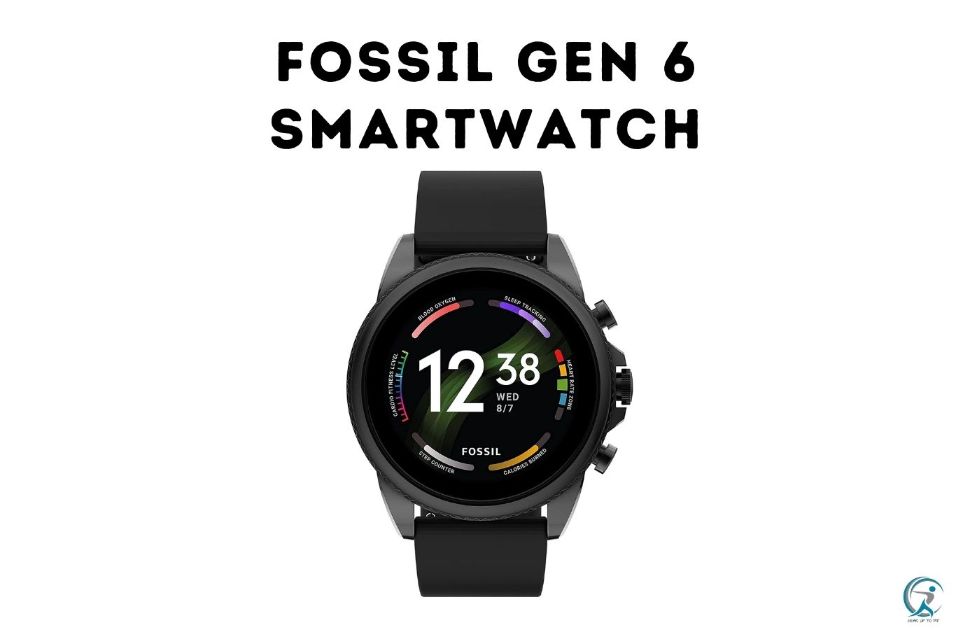 The Fossil Smartwatch is a great fitness smartwatch. It may also be used for running and workouts. However, the Fossil Gen 6 doesn't have any health-tracking capabilities.
Most persons will use the Google Fit app that comes pre-installed on their devices. Many different types of activity are outlined in Fit Workout, a fitness software. Heart rate monitors include the Apple Watch Series 4 and Garmin Vivoactive HR. Sleep monitoring applications include the Apple Watch Series 5 and the Fitbit Ionic. The Apple Watch and the Fitbit Inspire are examples of meditation apps.
Performance and battery
The Fossil Gen 6 is a powerful smartwatch. This watch has more than enough power to run any app or game you throw at it, thanks to the Snapdragon Wear 4100 Plus chip. This watch also includes 8GB of storage, which should ample for most users.
The Fossil Gen 6 is a smartwatch with excellent battery life. It runs the most up-to-date version of Wear OS, but it won't be upgraded until 2022. It has the same CPU as previous models, and it doesn't have many extras. The battery life is a significant drawback to the smartwatch.
You can get around 1 day of use if you turn off the always-on display, extend the periodical heart rate checks to the maximum interval, and switch to a less complex Fossil face. Including an in-box rechargeable battery on the Fossil Gen 6 is significant.
This indicates that the watch is now recharging more rapidly than before. The charger links to the watch via magnets, but turning the charger over the space between the two watch halves will halt charging.
No products found.
Should you buy it?
Under ordinary circumstances, the Fossil Gen 6 receives a passing grade. The Build Quality is robust, the Display is Appealing, and Hardware Features aren't Being Scrapped. However, the Short Battery Life and Occasional Performance Stutters cause it to fall far short of expectations.
There are many unanswered questions, but we know that the Fossil Gen 6 won't see an update for a long time and whether or not it will run well on this hardware. The Fossil Gen 7 will either be out or following close behind when these concerns are addressed.
The Fossil Sport will cost you $300 if purchased today. If you don't mind waiting until the middle of 2019 to get a new smartwatch, the Fossil Sport may be a good investment later this month. Otherwise, the Samsung Galaxy Watch 4 is $50 less expensive and comes with a clearer release date.
Alex is a fitness aficionado, empowers others towards healthier, active lives through small, sustainable changes for lasting results. Visit Gearuptofit.com for insightful tips and resources to enrich a balanced lifestyle.