In this Garmin Venue 2 Plus review, we'll go over everything you need to know about Garmin's stylish running watch.
GPS-enabled, the Venu 2 Plus allows you to enjoy true freedom of movement. You can intuitively track your activity, route, and distance with plenty of adventure and sports modes. Its new smart notifications allow you to access calls, texts, and other alerts directly from your watch.
GPS Smartwatch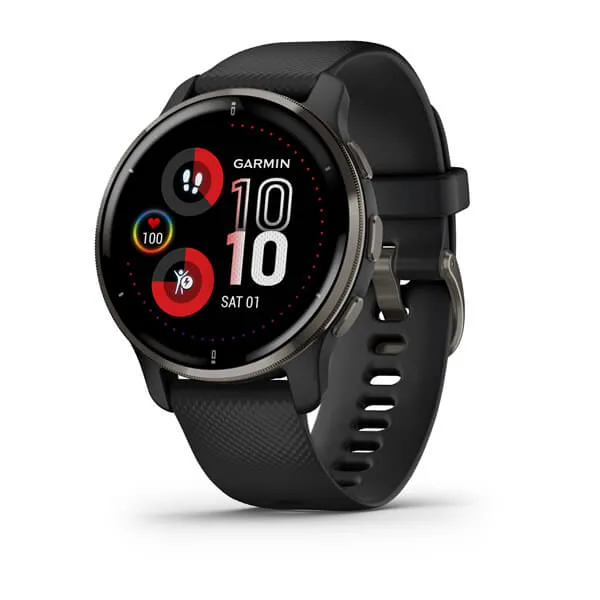 Garmin Venue 2 Plus
Available in three colors and features a bright, crisp AMOLED display
Compatible smartphone's voice assistant
Extensive health monitoring features, including the Health Snapshot feature, Body Battery energy levels, sleep score and more
25 built-in indoor and GPS sports apps
Preloaded workouts that include cardio, yoga, strength, HIIT, and Pilates
Download up to 650 songs to your watch
The Garmin Venu 2 Plus is one of the best smartwatches you can buy if you want something sporty and fitness-focused. This watch will help you take your performance to the next level. It is made of premium materials and has a sporty, robust design.
The GPS Health Smartwatch features advanced fitness and health functions that will allow you to understand your body better. The Venu 2 Plus is a smartwatch that meets the needs of runners and athletes while maintaining connectivity and smartwatch functions. It has a battery life of 11 days when used in smartwatch mode and 22 hours in GPS mode. Garmin Pay is available on the Venu 2 Plus, which allows you to pay with your watch and leave your wallet at home.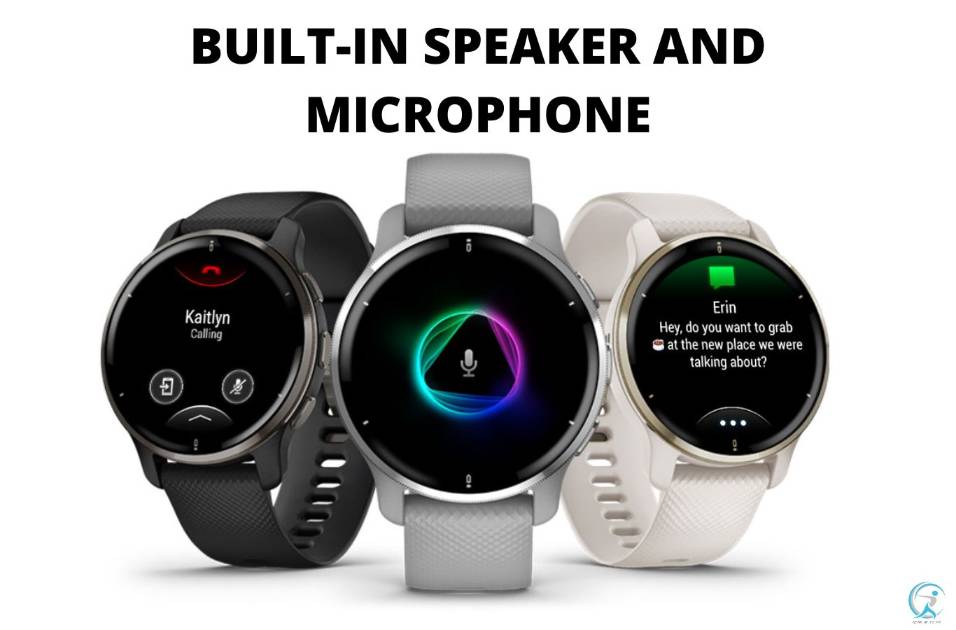 Garmin Venu 2 Plus Specifications
Garmin Venu 2 Plus
Display
1.3-inch AMOLED
416 x 416 resolutionCorning Gorilla Glass 3
Dimensions and weight
43.6 x 43.6 x 12.6mm
20mm band
51g
Build materials
Stainless steel bezel and hardware
Silicone band
Battery
Rapid charging
Up to 9 days in smartwatch mode
Up to 8 hours in GPS mode + music
IP rating
5ATM
Sensors
Garmin Elevate heart rate sensor
GPS
GLONASS
Galileo
Barometric altimeter
Compass
Gyroscope
Accelerometer
Thermometer
Ambient light sensor
Pulse ox blood oxygen saturation monitor
Connectivity
Bluetooth
ANT+
Wi-Fi
Storage
Music: Up to 650 songs
Activity data: 200 hours
Compatibility
Android, iOS
Garmin Pay
Yes
Smartwatch features
Make and receive phone calls
Google Assistant, Samsung Bixby, and Siri support
Connect IQ-compatible
Smartphone notifications
Text response/reject phone call with text (Android only)
Controls smartphone music
Plays and controls smartwatch music
Find my phone/find my watch
Incident Detection
LiveTrack
Colors
Silver bezel with Powder Gray case, Slate bezel with Black case, Cream Gold bezel with Ivory case
Design
Although the Garmin Venu 2 Plus looks almost identical to the original, it only comes in a 43mm case. It is a great compromise. Large enough to hold the extra components of the new watch but not too big that it overwhelms smaller wrists.
These new components are related to the watch's microphone, which is located on the left-hand edge of the case. A new button is located on the right edge. It acts as a shortcut for your phone's voice assistant. This is a great addition. Holding a button for just a second instead of scrolling through menus makes it much easier to use. We also found that we used Google Assistant more frequently than normal while testing the watch.
The Venu 2 Plus is available in three colors: cream-gold stainless with an ivory band (as seen here), slate stainless with a black band, and silver stainless with a light gray band. The standard bands are soft silicone, but you can choose from Garmin's selection of quick-release bands.
The Venu 2 Plus, like the Venu 2, has a 5ATM water resistance rating, making it suitable to shower and swim, but not for high-speed watersports like diving.
It is slightly heavier than the Venu 2 models of 40mm and 45mm (which weigh 38.2g each) and 49g, respectively. However, it's not noticeable in everyday wear.
Garmin's proprietary USB-A cable is used to charge the watch. The cable plugs easily into the watch case and holds it in place. However, wireless induction charging is more convenient.
Venu 2 Plus' bright, high-resolution AMOLED touchscreen displays feel smooth and responsive. Although it has an Always-On mode, it can significantly impact battery life.
Screen
Garmin Venu 2 Plus features the same OLED screen of 1.3 inches as the 45mm Venu 2 but has a smaller 43mm diameter (43.6mm). The Venu 2 Plus is more sophisticated than its predecessor. It has a higher screen-to-surface ratio and a smoother bezel. It is lightweight and extremely comfortable, a big difference from Garmin's bulkier watches.
Its design is also tough. Gorilla Glass is used for the screen cover. The display surround and back of the screen are made of steel sandwiched between toughened plastic. A hardy PVD coating is also applied to the bezel.
These materials are comparable to the ones used in higher-end watches, but they're not as durable as we've seen from Garmin. A lip protects the screen, but the Gorilla Glass 3 is more durable than the Gorilla Glass DX. This is the Gorilla Glass 3 that is used in the base Fenix7.
Garmin Venu 2 Plus's display tech is nothing new. This OLED screen is sharp and bright at 416×416 pixels. It has a much more punchy look than Garmin's transflective displays.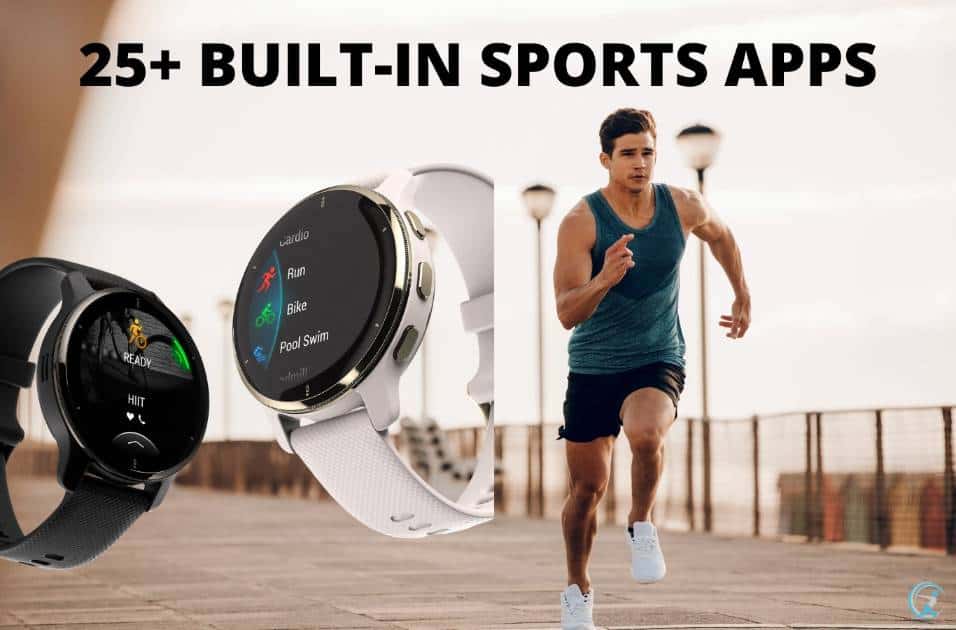 Workout tracking
The Venu 2 Plus features many popular Garmin fitness tracking features, including GPS tracking and multi-sport modes. Although other Garmin models, such as the Forerunner735 XT, offer more advanced training tools, the Venu2 Plus is an excellent entry-level running watch that runners and fitness enthusiasts alike can use to track their progress and prForerunner735 XTogress.
The heart rate monitor was comparable to the Garmin Forerunner, with no significant differences. It was useful in my daily life to monitor my heart rate while working, exercising, or lifting weights at the gym. The sleep tracking feedback was quite accurate during testing, but sometimes it thought my pre-bed reading was the time I went to sleep.
Although I don't expect GPS to pick me up so quickly in a city like mine, I was surprised by how fast the Venu 2 Plus declared itself ready to go. This running watch does not provide real-time navigation, which you get with higher-priced Garmin models such as the Sun Instinct 2S. When mapping out new routes, I used the return to start feature. Before running, I chose 'Navigation" from the watch's menu. This allowed me to use GPS to pinpoint my starting point. I could then use it to find my way back. This proved to be very useful.
The watch's menstrual tracking feature was a great benefit to me. You can log your feelings and symptoms daily and get reports about fluctuations in your body. I no longer have to use a separate app for this purpose, and all my fitness and health tracking is in one place.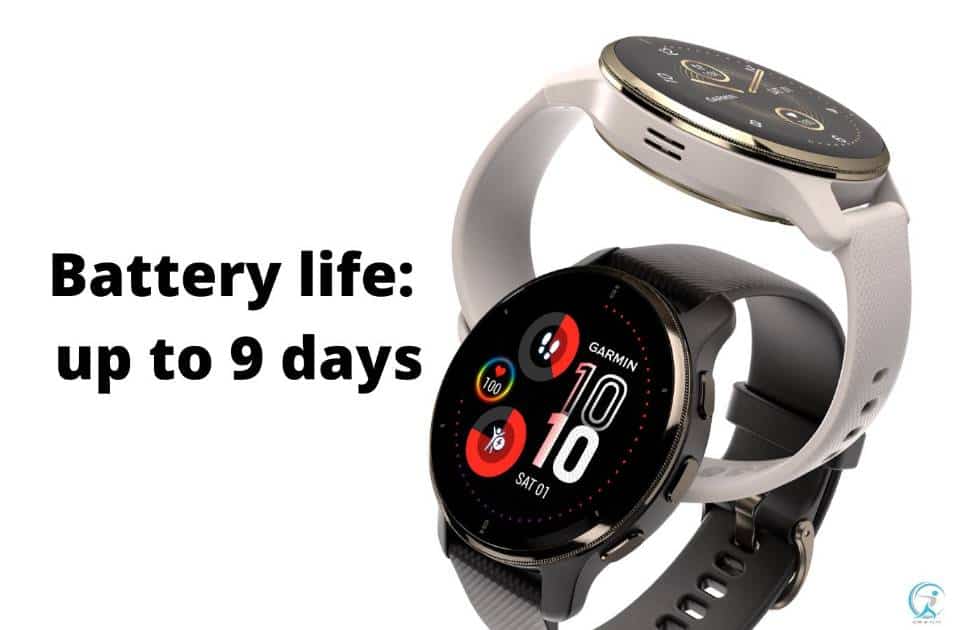 Battery life and charging
The Garmin Venu 2 Plus is a portable GPS device with a built-in rechargeable battery. The battery life is approximately 15 hours, but this can vary depending on how much you use the device. The battery life is up to 24 hours in GPS mode and 8 hours in GPS mode with music.
In addition to the built-in rechargeable battery, an AC adapter allows you to charge your Garmin Venu 2 Plus while it is still in use. Ten minutes of charging adds up to 1 day of smartwatch mode battery life or 1 hour of GPS with music battery life.
Health metrics
Heart rate tracking
Blood pressure tracking
Body fat tracking
Activity tracking (steps, distance, calories)
Sleep tracking (deep sleep, light sleep, time awake) with a smart alarm based on your sleep cycles to wake you up more refreshed and ready to go.
Stress monitoring (heart rate variability): If you're feeling stressed out or need to relax, the stress level graph will show you how much stress you are under so you can adjust your daily routine.
Battery life: Up to 10 days of battery life between charges.
Garmin Pay™: This new feature uses your compatible Garmin device as a payment card instead of carrying cash or credit cards.
Music storage via Bluetooth headphones: Store music on the watch so that it's ready at hand when needed without draining battery power.
Water resistance – rated at 5 ATM / 50 meters / 165 feet.
Notifications from a paired smartphone (texts, emails & other alerts). Display notifications from iPhone® devices only; Android™ compatibility coming soon.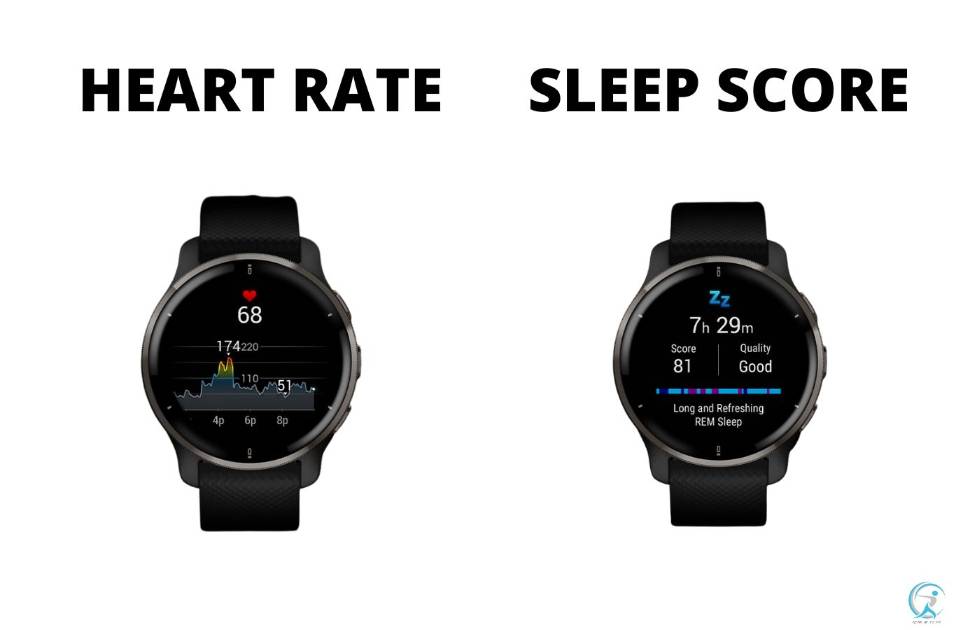 Proactive health tests
The Garmin Venu 2 Plus has a Proactive Health Check feature that performs health tests on you and recommends actions for improving your health. These tests include diabetes, hypertension, and cholesterol; sleep apnea; stress levels; depression and moods; inflammation levels; allergies to drugs like aspirin or penicillin (you can also manually add other medications); alcohol or tobacco use.
Garmin's new heart rate monitor tracks your pulse at five different intervals throughout the day: when you wake up in the morning (when you're still in bed), when you've just woken up but are still lying down on the floor or couch, at lunchtime (if possible), after work/class/whatever else it is you do during the day until bedtime again at night
Garmin Pay and onboard music storage
Garmin Pay is a built-in payment system that allows you to pay for things without carrying your wallet or phone. This can be very convenient when you're on the go, especially if you don't like carrying a lot of stuff in your pockets.
Once you pair Garmin Pay with an eligible checking account or credit/debit card, it will automatically recognize supported locations where you can use Garmin Pay and let merchants know that they are accepting payments via this platform. You still need to enter in the PIN code set on your account before making a purchase, though, so don't think that it's not secure because it doesn't require any extra steps!
Music storage and playback are other features I liked about this watch from Garmin. There are different ways in which music can be stored: Onboard storage (2 GB), microSD card slot (up to 512 GB), and phone app storage (via Bluetooth). If none of these options work for you, streaming support is available through Deezer Elite+ memberships, so long as they have an internet connection available at all times while wearing their watch/headphones set combo device set up correctly nearby too!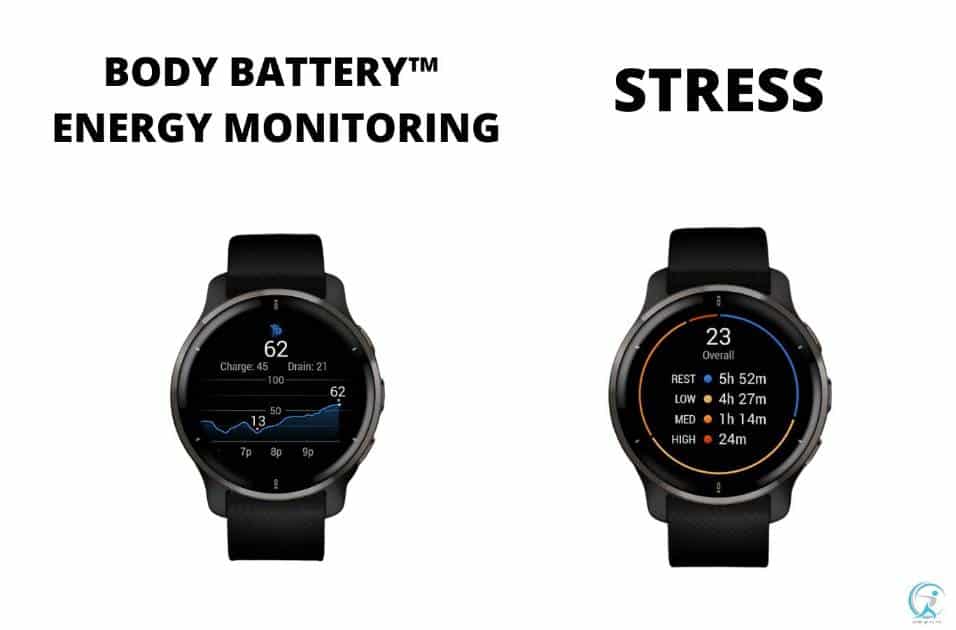 Takeaway
The Garmin Venu 2 Plus is a good fitness tracker with a great screen, battery life, and charging. It has good workout tracking and does well at health metrics. The health metrics include blood pressure, heart rate, stress levels, and more.
The device tracks your activity throughout the day and provides an overall picture of how active you have been compared to previous days. You can view all this information on the screen or in the Garmin Connect app, which is available on iOS or Android devices so there is no need to carry around another device when using this one!
Other features include: proactive health tests like sleep analysis that helps to improve your sleep quality by giving suggestions based on data collected from other users similar in age range; onboard music storage allows up to 500 songs which can be played directly through earbuds (not included) so no need for any extra equipment either!
No products found.
Conclusion
If you're in the market for a smartwatch that can do it all and look good, then the Garmin Venu 2 is a great choice. No matter what fitness goals you have, this watch will help you reach them with tracking features designed to monitor your progress.
In addition, it keeps track of your day-to-day activities like phone calls and text messages so that you don't have to worry about leaving anything behind while exercising. The battery life alone makes this product worth buying—up to seven days on one charge! When paired with other devices like headphones or smartphones via Bluetooth, users also access fun features such as music storage capabilities and Garmin Pay capability.
Alex is a passionate fitness enthusiast dedicated to helping people lead healthier, more active lifestyles. He encourages small – sustainable changes over drastic transformations and works with people to create customized wellness plans. His mission is to help others benefit from the most effective methods available, sharing tips, strategies, and health & fitness tools on Gearuptofit.com to inspire people to live their best lives.