This Adidas UltraBoost 19 Review will help you decide whether this ultra-light, ultra-cushioned, and ultra-responsive shoe is one of the best running shoes available.
Key Takeaways
---
Adidas UltraBoost 19 Review
Adidas started with 4000 runners to reinvent this shoe, asking the same question, can Boost be beaten? For the first time since the launch of UltraBoost in 2015, Adidas is making more substantial changes to the shoe. The newly renovated model offers a better fit, performance, and traction.
Product: Adidas UltraBoost 19
Rating: 9/10
No products found.
Ultra Boost 19 Specifications:
Regular fit
Lace closure
Supportive Adidas Primeknit 360
Flexible Stretchweb outsole; Continental™ Rubber outsole for extraordinary traction in wet and dry conditions; Midfoot cage
Responsive Boost midsole; Stabilizing Torsion Spring
Lightweight and adaptive
Weight: 10.9 ounces (size US 9)
Midsole drop: 10 mm (heel: 29 mm / forefoot: 19 mm)
Arch type: Normal; Adaptive and lightweight 3D heel frame
Product color: Clear Brown / Chalk White / Cloud White
Adidas UltraBoost 19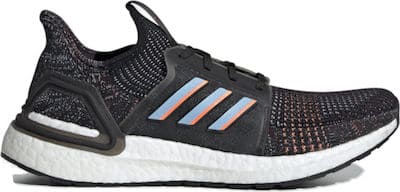 Running Shoe
100% Textile | Synthetic
Synthetic sole
Supportive Adidas Primeknit 360
Comfortable textile lining
Introduction
Before manufacturing UltraBoost 19, Adidas faced one challenge: Beat Boost! But, can Boost be beaten?
As always, innovation starts with a question. Adidas started with 4000 runners to reinvent this shoe, all asking the same question, can Boost be beaten? Yes, it can! Yes, it did!
Running reinvented. New design, new features. The new Adidas UltraBoost model is in the town. For the first time since the launch of UltraBoost in 2015, Adidas is making more substantial changes to the shoe. Adidas deconstructed the entire Ultraboost to improve every component. The newly renovated model offers a better fit, performance, and traction.
As Adidas is saying, "These high-performance neutral running shoes deliver unrivaled comfort and energy return. The lightweight and propulsive shoes have a seamless knit upper engineered with motion weave technology to provide stretch while also holding your foot in place as you run. The second-skin fit follows the shape of your foot to reduce pressure points."
More boost: 20% additional Boost foam into the midsole while weight remains the same
New Upper: Refresh the upper part of the shoe, with a Primeknit 360 sock that completely wraps the foot sitting on top of the Boost foam
Better midfoot cage: The plastic has been replaced by a translucent mesh that locks the foot in place without enforcing itself.
This is a shoe with endless energy for long city runs.
20 % More Boost – Endless Energy
The shoe offers the most responsive cushioning ever. It delivers incredible energy return. The more energy you give, the more you get back.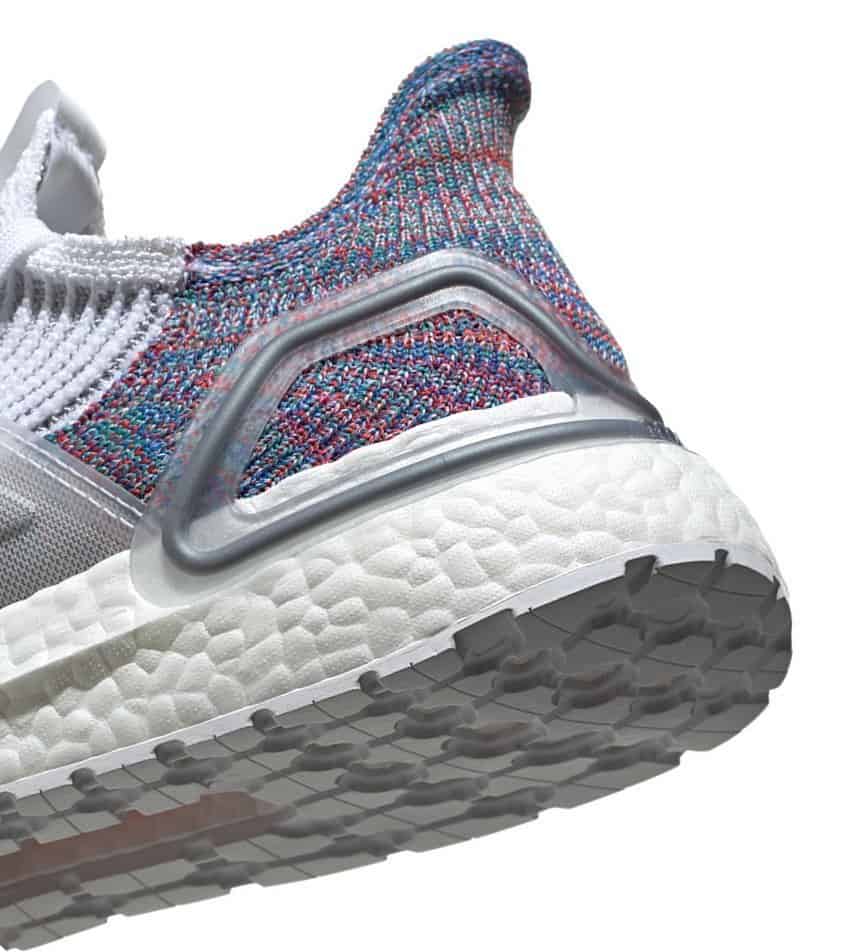 Adidas has reboosted UltraBoost. It has packed 20 % more Boost material into the midsole. The main accomplishment is that the shoe's weight remains the same. Adidas managed to fuse the TPU pellets in a different way without affecting the weight of the midsole.
As in all the UltraBoost models, the shoe is very bouncy and well-cushioned in all conditions.
Of course, the shoe can introduce countless new features, which may not be a good fit for you. So what matters is your actual running experience. Well, the good news is that the ride is even better than before. The shoe offers a better and more secure fit.
The difference in the shoe ride is less intense, but it is more stable than the original UltraBoost. The 20% more Boost at the bottom makes UltraBoost 19 a bit tricky if you try to run fast, but it's great for easy and steady runs, especially over longer distances when the Boost foam return energy helps you bounce without relaxing your pace.
Upper Part
The upper part of the shoe features a Primeknit construction. However, Adidas is wrapping your foot in a different way with this shoe. Instead of an upper knit covering only the top half of your foot, primeknit 360 covers the whole foot. Primeknit upper wraps the foot with an engineered fit and is tacked to the midsole at the edges. Primeknit 360 is basically a sock that fully surrounds your foot, with the bottom glued to the midsole. This offers targeted support that enhances movement.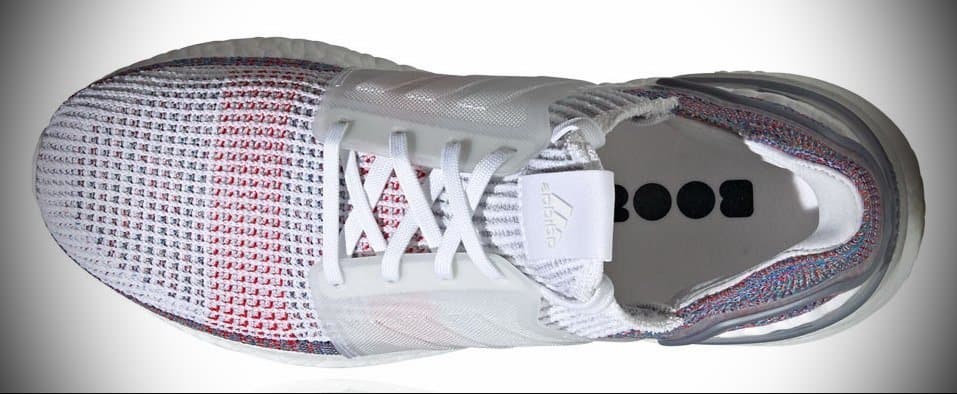 The design of the shoe is audacious. Someone will argue that the visual part of the shoe is not so appealing. Yet, no one can question that the design is bold. However, this appearance serves a functional purpose. The red threads in the forefoot and through the midfoot are designed to stretch, offering elasticity and comfort. But without reducing the secure feel. The part of the shoe over your forefoot is significantly less stretchy than the original model.
No more plastic cage
Comparing this new model with the past UltraBoost shoes offers a superior security feeling. The foot really locks in place as the knit upper is not elastic or even a little sloppy in fast runs or sharp turns. The UltraBoost 19's upper is a full sock that sits on top of the midsole, and the knit is less stretchy than in past editions, especially around the forefoot, resulting in a more secure fit.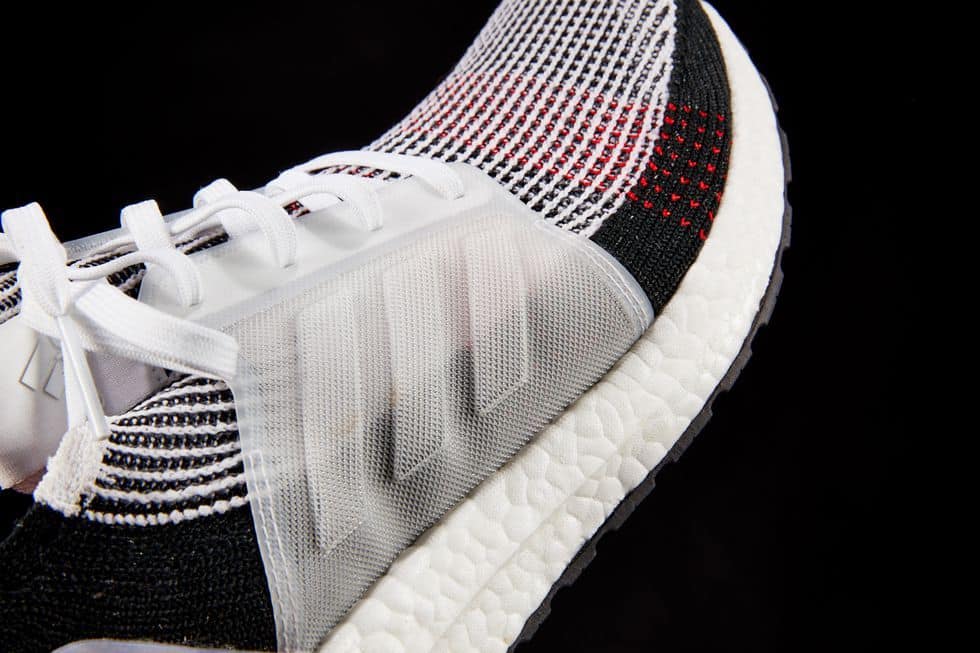 No more plastic cage. In the original version, a rigid plastic saddle locked down the midfoot, causing discomfort or even pain to some runners. This new model also includes a saddle above the midfoot but is more flexible and lightweight. The plastic cage around the midfoot is now mono mesh material that moves with your foot when you're running. It's soft and comfortable as it bends around your foot.
The fit is more firm, yet it is still very comfortable. Much more enjoyable to the foot than the old plastic cage, without losing out on the support.
The heel frame has been redesigned. The previous models of UltraBoost had a piece of plastic in the heel counter. Instead, UltraBoost 19 introduces a wireframe that allows the heel to expand on landing without encountering uncomfortable resistance.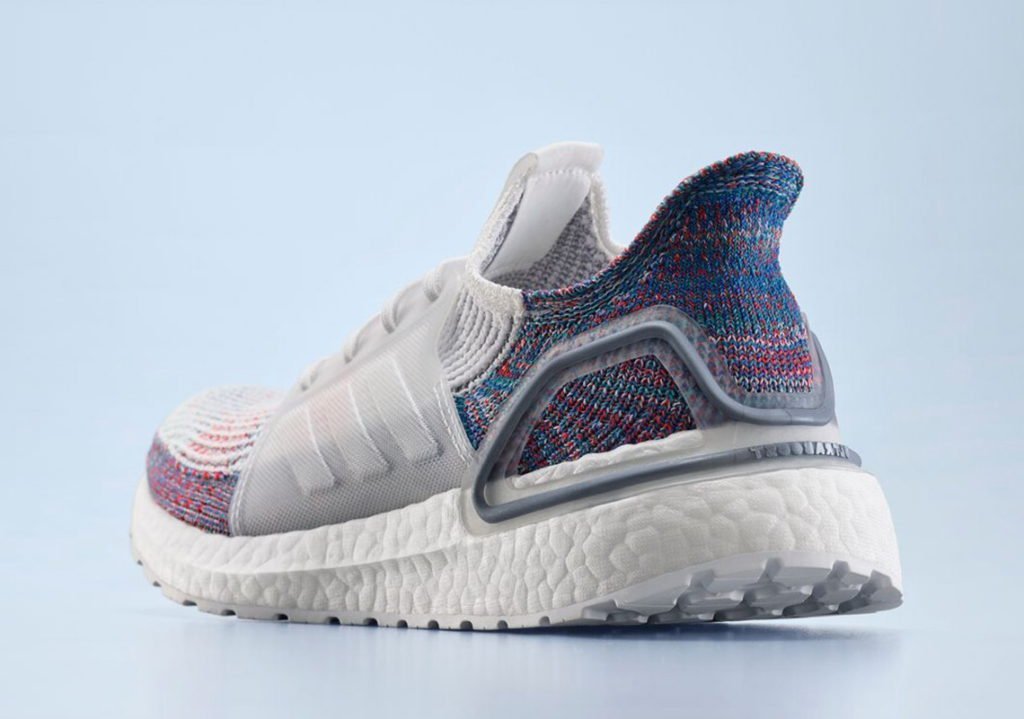 The new 3D heel frame provides a natural fit that allows optimal movement of the Achilles. The new radically engineered 3D Heel Frame is the new icon of Ultraboost 19. It is built from flexible and supportive materials and it delivers our smoothest ride yet.
Design-wise, the heel counter, has a red stripe to call attention to the new construction. A flexible wire wrapped inside a padded sleeve provides support upon landing. However, but is smooth against the heel bone and won't cause you troubles over the miles. Adidas used data insights about how the fat pad under the heel expands when you land with each step. So it stripped away the middle of the heel counter for a softer, more comfortable experience.
Torsion Support
The new Torsion Spring delivers great support through your stride. Torsion is integrated into the midsole to provide support during landing and propulsion at toe-off.
Rugged Outsole
Great improvements in the outsole as well. It has a firm grip and can hold on slick surfaces.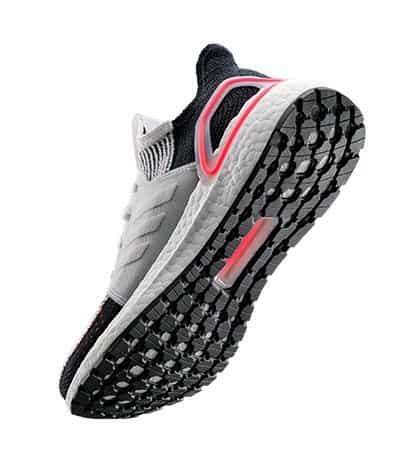 This is a street shoe. It is not suitable for off-road running as it has no protection from rocks and sticks. But it has an outer grippier sole made more like the all-weather version of UltraBoost All Terrain. The outsole is diamond-shaped and hard-edged, offering extra restraint on thin surfaces and dirt roads. It is made of durable Continental rubber so that it will be long-lasting.
Style
Ultra Boost running shoes have been established, apart from running, as casual wear as well. Part of their appeal has always been that they are stylish enough to wear out. They are a fashion statement. This newly redesigned shoe seems to be the evolution of the old UltraBoost style.
Adidas Ultraboost 19 vs Adidas Ultraboost 21
You may be wondering what all the fuss is about. After all, these are just two different shoes. But the Ultraboost 19 and 21 don't just look different. They're different in many ways, including fit, cushioning, support and weight.
If you're wondering which pair is right for you, here's what you need to know:
The Adidas Ultraboost 19 has a higher heel than the 21 (9mm vs 6mm). The difference won't affect your stride, but it can affect how your foot sits in each shoe if you have high arches.
The 19 has less cushioning than the 21 — 25 percent less, according to Adidas — but that doesn't mean it's less comfortable or protective. The 19 will give more feedback about the road beneath your feet. This could be good or bad, depending on how sensitive you are to pronation and how much cushioning you want from a running shoe.
The 19 weighs about 10 grams less than the 21, so it may feel lighter on your foot, but it also feels less stable at first use because of its lower drop height (11mm vs 12mm).
The Adidas Ultraboost 21 features major improvements over the older models, like increased stability and more durability! This shoe also comes with extra cushioning, making it perfect for running long distances without getting tired feet or ankles! There are also fewer seams on this shoe and more ventilation holes, which reduces overall weight, making these shoes even more comfortable than ever!
Adidas UltraBoost 19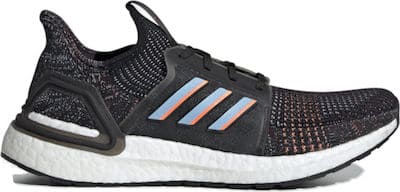 Running Shoe
100% Textile | Synthetic
Synthetic sole
Supportive Adidas Primeknit 360
Comfortable textile lining
Conclusion
To improve fit and performance, Adidas is touting that it used only 17 parts for this new shoe. Created from reboosted technology. Built to bring out your most authentic stride. Ultraboost 19 combines an Optimized Boost midsole with 360 Primeknit upper part, 3D heel frame, and a Tuned Torsion Spring for the ultimate in responsive running.
The redesigned UltraBoost is a better shoe than its predecessor, with a more secure upper and a firmer, bouncier ride. It's great fun for long distances while comfortable, lighter, and more responsive.
Pros
Firm Fit
Comfortable
Extremely responsive with great energy return
Flexible Heel Support
Lightweight
Firm Grip
Cons
Alex is a passionate fitness enthusiast dedicated to helping people lead healthier, more active lifestyles. He encourages small – sustainable changes over drastic transformations and works with people to create customized wellness plans. His mission is to help others benefit from the most effective methods available, sharing tips, strategies, and health & fitness tools on Gearuptofit.com to inspire people to live their best lives.