Product: Amazfit Stratos
Rating: 9/10
The Amazfit Stratos Multisport Smartwatch Review provides a comprehensive analysis of all the major features and functionalities.
Amazfit Stratos is a watch that lies just between a sports watch and a smartwatch. You could say that Stratos is primarily about fitness.
It can track a wide range of sports and activities, including walking, running, swimming, cycling, triathlon, elliptical, mountaineering, trail running, tennis, soccer, and skiing. It holds a reliable built-in GPS and GLONASS (Russian satellites, which should offer a faster lock-on).
On top of that, it has a heart rate monitor and an outstanding battery life that easily outperforms some of the best wearables.
All these, at only $179.99. A sports watch offering these features costs at least 0 more. So, it is cheaper than most of its competitors.
Overall, the Stratos is a relatively complete multisport watch, delivering a wide range of functionalities supplied with various sensors. It offers many functions at a challenging price for a watch of this type. A high-end watch at a low price.
Let's break it down.
Key Features
Polished ceramic bezel, scratch-resistant tempered glass, stainless steel physical buttons for easy navigation and an exchangeable 22mm durable silicone watch strap
Detailed sports tracking:

running, walking, cycling, swimming, elliptical machine, mountaineering, trail running, triathlon, tennis, soccer and skiing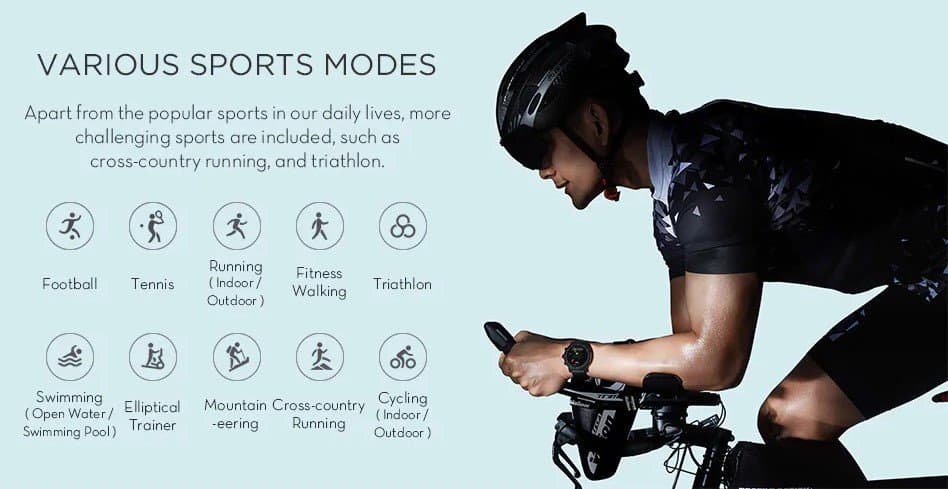 Daily tracking:

steps taken, distance traveled, calories burned, heart rate and sleep quality plus optional movement reminders

Messaging:

receive emails, text messages, calls and other notifications
Technical Specifications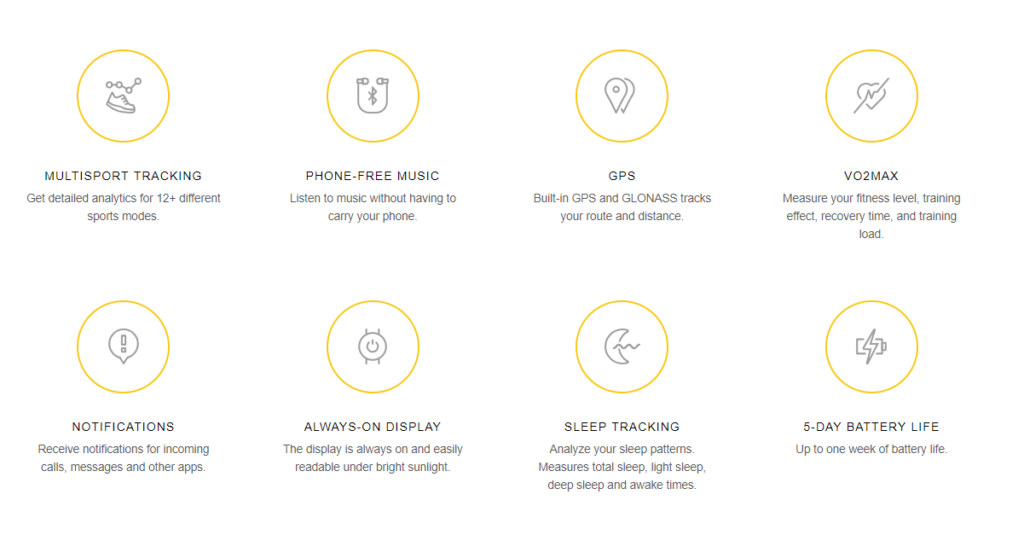 Weight: 70 g
Dimensions: 48 x 48 x 15 mm
Display size: 1.34" / 320×300 px
Type: Always-on transflective color LCD touch screen
Weight: 2.5 oz / 70 g
Processor: 1.2 GHz Core
Storage: 4GB Total
Connection: Bluetooth 4.0 / BLE + WiFi
Battery life: 290 mAh. Rated for 35 hours in GPS training mode, 5 days regular use / 11 days basic use
Water resistance: 5 ATM certified (50 meters water depth)
Heart rate sensor: Optical (PPG)
GPS + GLONASS
Design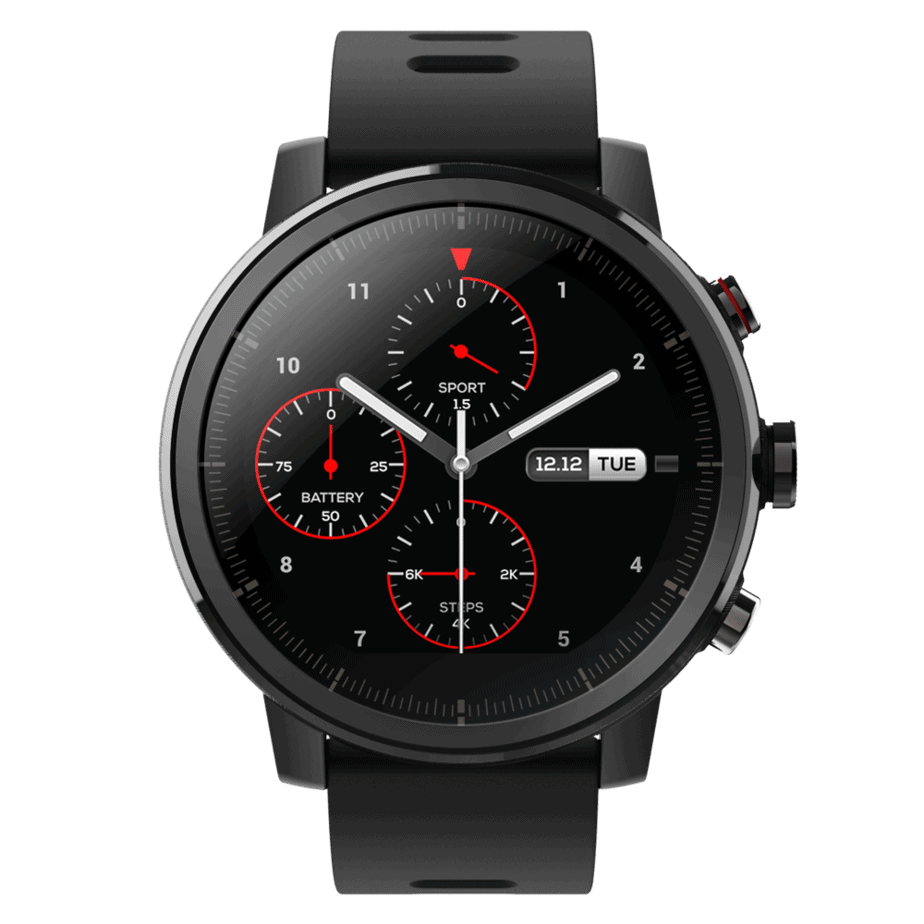 The Amazfit Stratos is an elegant, good-looking watch but a bit chunky. The carbon fiber case, along with the polished ceramic bezel, usually found in premium smartwatches, stands out. The big display size of 1,34'' is protected by the 2.5D Corning Gorilla glass.
It has an always-on LCD color touchscreen display 320 x 300 pixels, a 1.2GHz processor, and 4 gigs of storage.
The 1.34″ display is transflective. This is great in sunny conditions. At night or when it gets dark, a backlight function automatically turns on when you flip your wrist around.
You can adjust the brightness level of the display. Dimming the display extends the battery life significantly.
The Amazfit Stratos has a high resolution of 320×300 pixels, resulting in crisp, easy-to-read text.
There are three stainless steel physical buttons on the right side of the watch for navigating through the User Interface. The watch comes with a universal 22mm silicone rubber strap easily replaced by using quick release pins.
Despite its size, Stratos weighs only 60 grams.
The Stratos is water-resistant to 50 meters and can track both pool and open water swimming.
The heart rate monitor is centered on the back with four connection pins in a row for the charger above the heart rate sensor. To charge, the clock snaps to the dock charger that is powered via USB-A.
User Interface
The Amazfit Stratos is a feature-rich smartwatch with a rich user interface. In terms of usage, it combines touch-screen functionality with physical buttons.
The buttons can be either long or short pressed to do different things. In case of an activity, the screen can be locked to prevent accidental gestures.
The watch connects to a mobile phone via the Amazfit Watch app. You can use the app to change or customize the Watch Face or directly within the watch itself. 14 built-in watch faces are really useful and stylish. However, you can download thousands from Amazfit's site https://amazfitwatchfaces.com/pace/top.
Swiping left or right, you shift between the different widgets of the main menu of the device. These include:
Step Count and Activity
Past Activity Summary
Heart Rate
Music
Alarm
Weather
Compass
Training
The menu is very responsive, and the watch is reactive to gestures.

Fitness metrics
The watch offers a plethora of sports activities and comes with built-in GPS and GLONASS support.
It is worth mentioning that Amazfit has teamed up with FirstBeat, which performs Garmin's advanced metrics. This brings VO2 Max to the watch, along with Training Load and recommended recovery time.
These are significant fitness metrics, providing a more comprehensive and well-documented analysis of your daily progress. Such metrics are features usually found in high-end sports watches.
GPS Navigation – Accuracy
The GPS tracking sensor is very responsive and precise. It appears to be quite accurate even in heavily wooded trail conditions.
The Amazfit Stratos, in several test runs, matched the distance recorded by Garmin Fenix 5 Plus. The Elevation recorded was also exact, coming very closely with the Garmin device.
It seems that Stratos does a great job in tracking running activity.
In addition, Stratos records the GPS track and allows navigation along a pre-recorded route. If you exit the pre-defined route, vibration alerts will inform you accordingly.
Optical Heart Rate Accuracy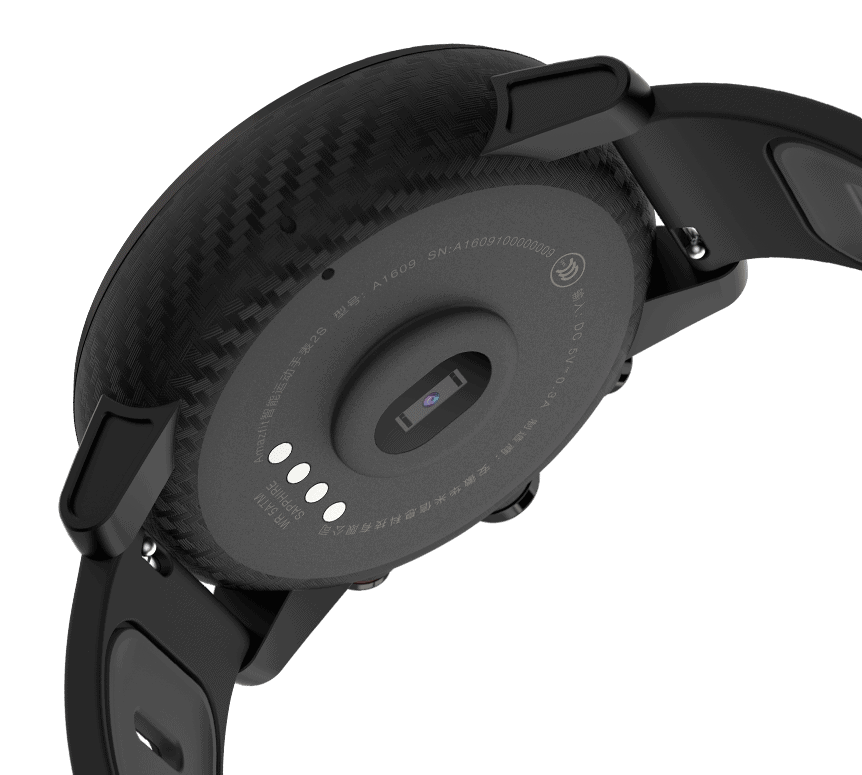 The optical heart rate data performs quite well when comparing it to Fenix 5 Plus. In the case of a moderate run, heart rate is generally reliable. However, when it comes to higher intensity training, the measurements are not that trustworthy. The optical sensor does not perform accurately in high-intensity training.
In short, if you are serious about getting accurate heart rate monitoring, I would suggest using a separate chest strap monitor that could pair with the watch.
Battery life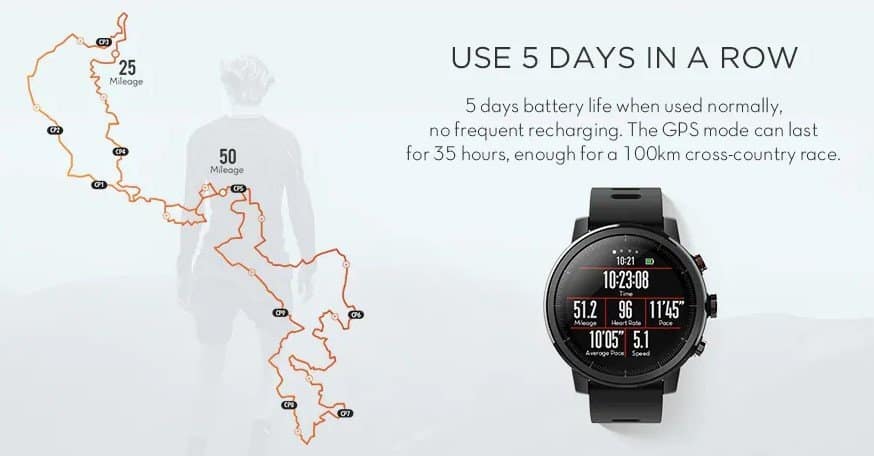 Amazfit has put a 280 mAh Li-Po battery into the watch. It advertises that the battery will get you around 35 hours in GPS mode, 5 days in regular mode, and up to 11 days in basic mode.
Of course, it depends a lot on how you're using the watch. For example, if you turn on a continuous heart rate monitor and streaming music via Bluetooth, you'll drain your battery quickly. On the other hand, if you use it as a watch, or even better if you set it to flight mode, you're looking at at least 10 days of battery life.
You can charge the Stratos via a charging dock that plugs into a wall socket via USB. You need around 1.5 hours to fully charge it while a glass being filled up is animated on display.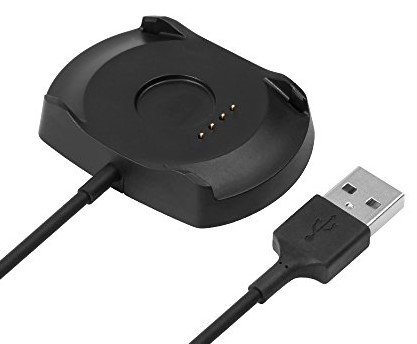 Customized training programming
It is good to know that this function is only available for running! The Stratos offers training programs for beginners and advanced runners. One can program a training to run a 5 km, a 10 km, a half-marathon, or a marathon. For example, the watch will offer an 8-week program including interval training, recovery sessions, etc. It can even offer sessions based on previous ones. For example, propose a recovery session after 3 active sessions performed the previous days.
Audio coaching (usable with Bluetooth headsets) guides the sportsman in the race (pace to adapt to remain in the fixed objectives)
It is also possible to set objectives to reach (duration, distance to arrival, calories to burn, Training Effect, for example) or even program alerts based on the pulse value, pace, etc. For example, the watch vibrates when working outside the set objectives.
The watch allows you to schedule interval training sessions. However, the programmable time is in minutes, which makes it difficult to schedule short interval sessions.
On-board Music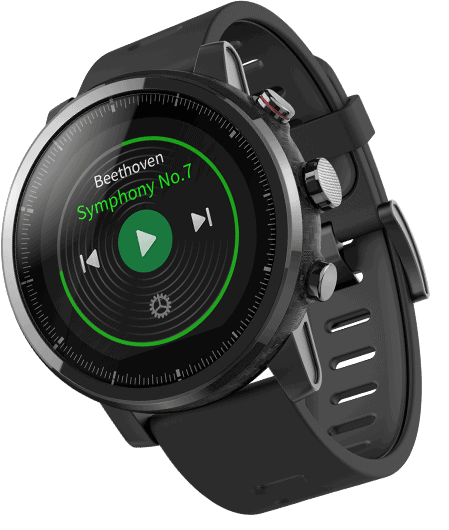 The Amazfit Stratos features 4 GB of onboard storage. Of these, 2 GB can be dedicated to music. Approximately 250 songs. The supported music file formats are MP3 and M4A. You can easily add music via USB cable or upload it from the Amazfit Watch app from your mobile.
You can store the music on the device as a simple MP3 player. The device does not support streaming services. Bluetooth headphones are paired easily and effortlessly.
Physiological measurements
The watch's sensors calculate a set of physiological measurements offered by some of the top range of sports watches. The drawback is that the data calculated are based on the heart rate measured by the optical frequency sensor, which is not very reliable. Therefore, a chest belt is suggested if you want reliable data.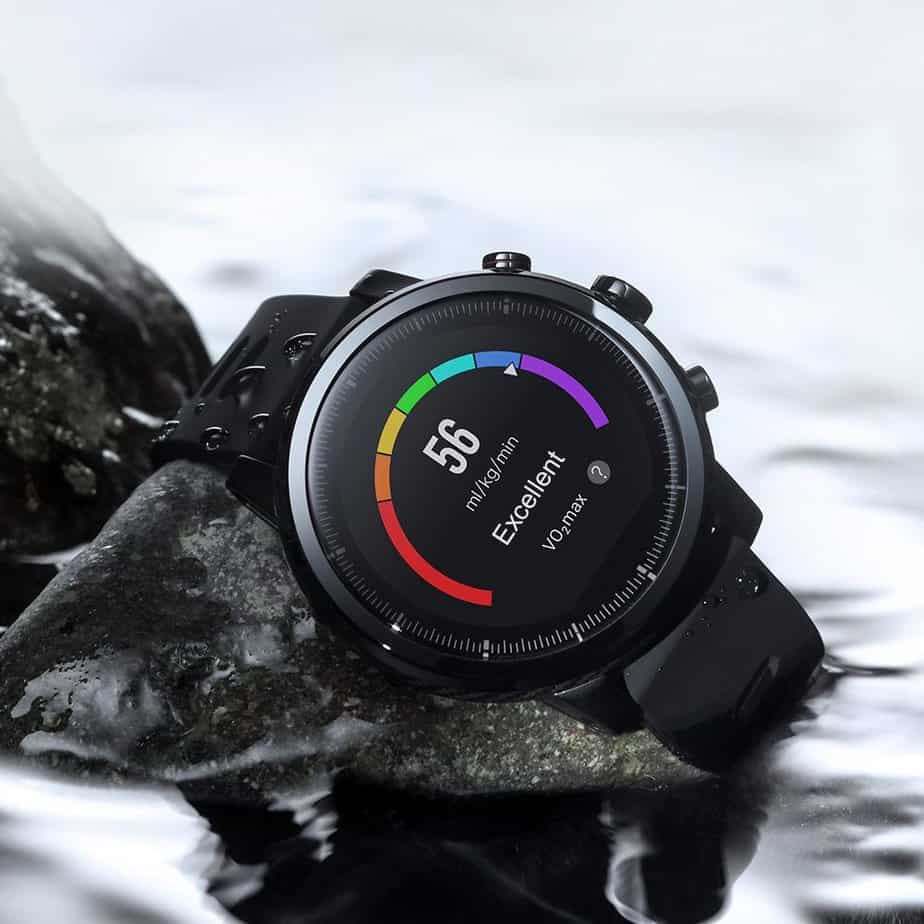 The Amazfit Stratos measures: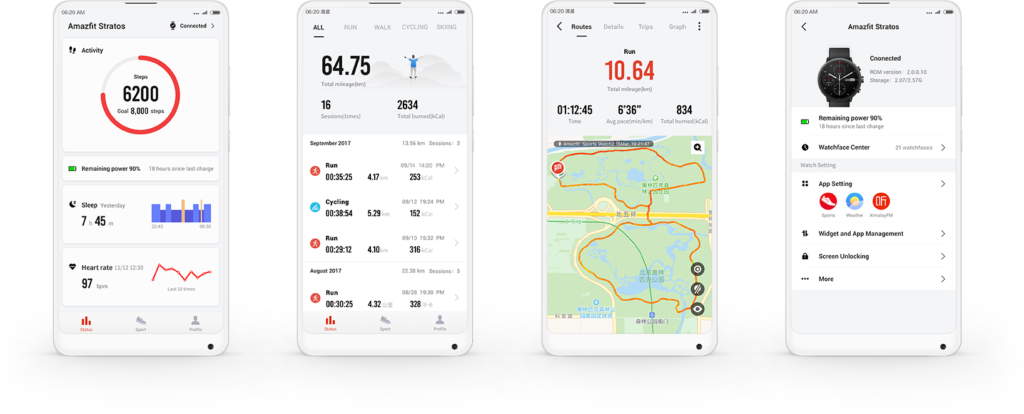 Alex is a passionate fitness enthusiast dedicated to helping people lead healthier, more active lifestyles. He encourages small – sustainable changes over drastic transformations and works with people to create customized wellness plans. His mission is to help others benefit from the most effective methods available, sharing tips, strategies, and health & fitness tools on Gearuptofit.com to inspire people to live their best lives.