Discover the thrill of trail running! Unleash your adventurous spirit, conquer nature's challenges, and boost your fitness. #RunWild 🏃🌲🏞️
Trail running: the perfect escape for those longing to ditch the concrete jungle and embrace their wild side. In this adrenaline-pumping adventure, you'll discover how trail running can transform your fitness while reconnecting you with nature.
With the help of humorous anecdotes and expert tips, we'll be your trusty guide on this exhilarating journey. But wait, there's more! Stick around to uncover the secrets of trail running that'll make you an unstoppable force on any path. So, lace up your shoes and get ready to explore the great outdoors like never before!
The Benefits of Trail Running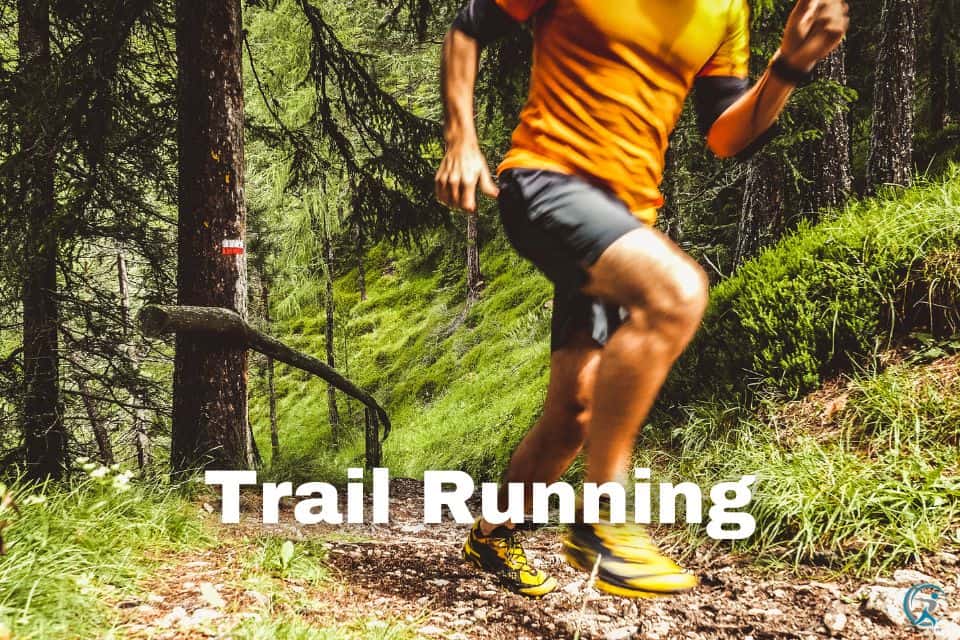 As a trail runner, I've personally experienced the many benefits of hitting the trails rather than pounding the pavement. Here are just a few reasons why you should consider trying trail running:
Improved physical fitness: Trail running is a fantastic way to build strength and endurance, thanks to the varied terrain and elevation changes. Running on uneven terrain works your core muscles, improves your balance, and challenges your body in ways that road running simply can't. Plus, the soft surface can be easier on your joints.
Mental health benefits: Being out in nature has been shown to affect mental health, reducing stress and anxiety levels positively. Plus, the feeling of accomplishment after tackling a tough trail can boost your mood and confidence.
A break from technology: Running on trails allows you to unplug and enjoy the natural world's sights, sounds, and smells. Leave your phone behind and enjoy some fresh air and solitude.
When it comes to trail running, choosing the right footwear is key. Trail running shoes are designed to provide traction and stability on uneven terrain, and many models have reinforced uppers to protect your feet from rocks and other obstacles.
If you're in the market for a new pair of trail running shoes, check out our selection of the best trail running shoes for men. We offer free shipping on all orders, so you can try out multiple pairs and find the perfect fit.
When selecting a pair of shoes, consider the type of terrain you'll be running on. Lightweight shoes with minimal cushioning are great for technical terrain, while shoes with more cushioning might be better for long-distance runs on rugged or rocky trails. Additionally, look for shoes with durable outsoles and breathable uppers.
No matter what kind of surface or elevation you'll encounter on your trail run, carrying water with you is essential. Many trail runners prefer to use hydration packs or belts to carry water hands-free. This can make a big difference when covering long distances or running in hot weather.
If you're new to trail running, start out with shorter distances on relatively flat terrain. As you build up your endurance and strength, you can tackle more challenging trails with steeper elevation changes and technical terrain. Just be sure to listen to your body and take it slow – trail running takes more effort than road running, but the rewards are well worth it.
Check Out: How Should Trail Running Shoes Fit? Get The Perfect Fit For Your Trail Run
Essential Trail Running Tips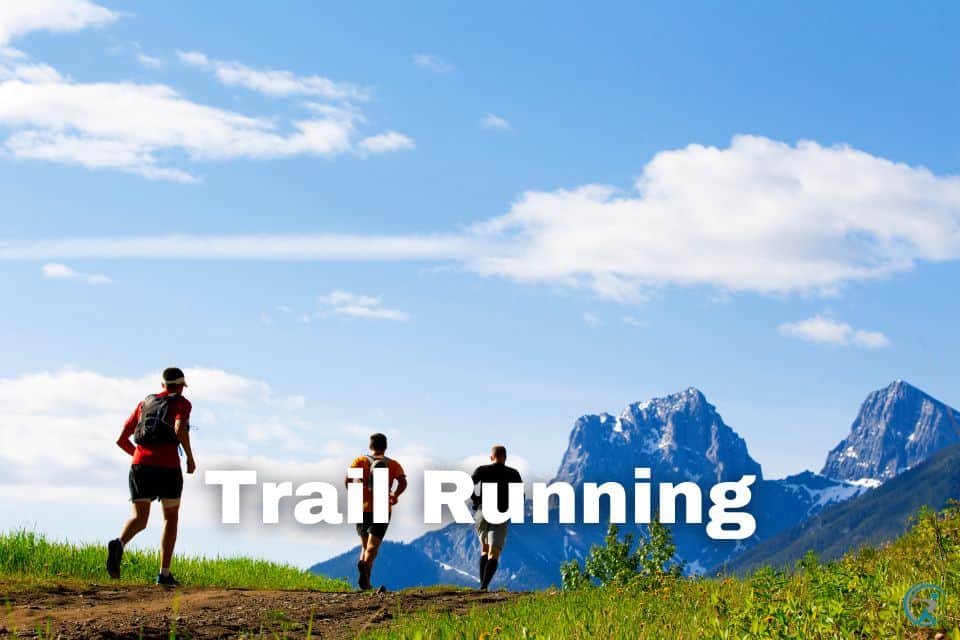 As a trail runner, I know that having the right gear and the right approach can make all the difference in keeping your run enjoyable and injury-free. Here are my essential tips for a successful and safe trail run.
1. Choose the Right Shoes
Investing in a good pair of trail running shoes is essential to ensure stability and safety while tackling rugged and rocky terrain. Men's trail running shoes combine durability, cushion, and traction, providing the feet with the protection they need. If you're unsure of which shoe is best for you, many trail running shoe brands offer free shipping and return policies for trial runs.
2. Stay Hydrated
Trail running takes a greater toll on the body than road running due to the variable terrain, elevation changes, and unpredictable obstacles. Carrying water is essential, especially when running trails over 100 miles. Moreover, planning your route and pack accordingly is important, so you're well-equipped for your trail run.
3. Dress Appropriately
Just like a mountain runner, you need to wear appropriate apparel for the terrain and weather conditions. Technical terrain and uneven terrain require non-restrictive clothing that won't affect your mobility. Breathable apparel will keep you cool and dry, especially during cold weather or a rugged trail race.
4. Prepare for the Unexpected
Trail running can be unpredictable, and while planning your route is essential, you must also be prepared to overcome any obstacles that come your way while running. When running trails, you'll want to have a lightweight pack that you can stash your essentials in like food, water, and extra clothing.
5. Focus on Technique
Running trails is all about technique, especially in rugged and mountainous regions. You'll need shoes that offer stability and traction and effortlessly get you through steep and uneven terrain. Focusing on your footwork and body position will prevent falls and injury while improving your overall efficiency.
In conclusion, whether you're a serious trail runner or love to hike or run outdoors, you'll need to invest in a quality pair of trail running shoes and technical apparel, stay hydrated, carry water, and be ready for any challenge arises. Trail running is a tough athletic sport that can take you to breathtaking locations, providing fresh air and an adrenaline rush.
Check Out: A Trail Runner's Mindset
The Best Gear for Trail Running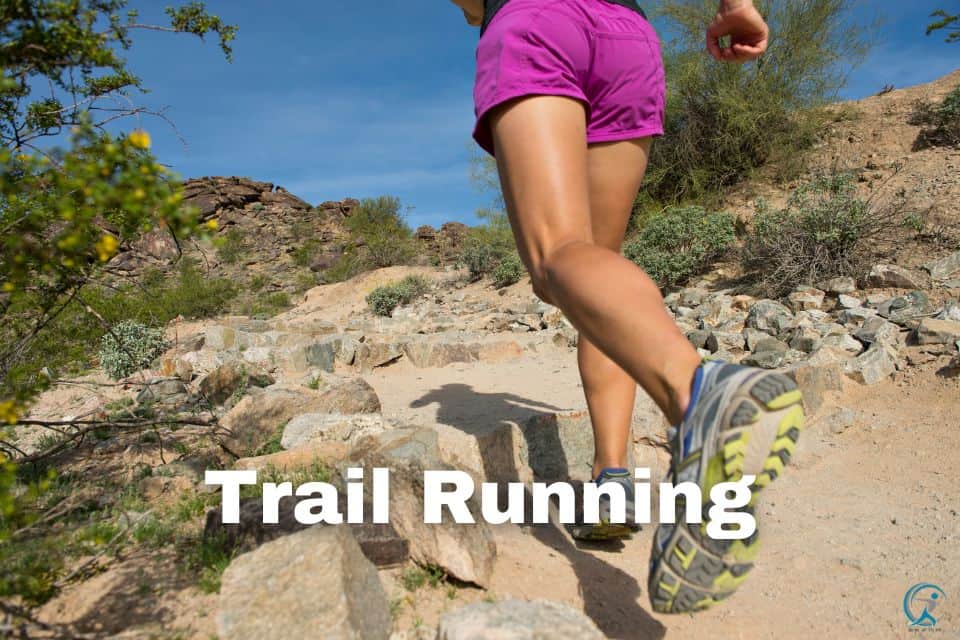 As a trail runner, I understand the importance of having the right gear for the terrain I tackle. Especially when trail running involves technical terrain, uneven and rugged paths, and steep elevations, in this section, I'll share the essential gear for every trail runner, from shoes to hydration packs.
The Shoes – Men's Trail Running Shoes for Rugged Terrain
Trail running shoes are fundamental for every trail runner and should be different from road running shoes. Trail running shoes have superior traction and durability and provide stability on rough and uneven terrain. There are many trail running shoes for men on the market, but the best ones are lightweight, breathable, and provide excellent traction. The men's trail running shoes for rugged terrain should have a lot of cushion and support for the athlete's feet.
Whether running a 5K trail race or an ultra marathon for 100 miles, you'll need a good trail running shoe. Some excellent options for men's trail running shoes for rugged terrain are the Salomon Speedcross 5, Brooks Cascadia 15, and Hoka One One Evo Mafate.
It's important to note that lightweight footwear allowing ample airflow will help reduce sweating, while reliable stability will provide ample support on challenging terrain.
The Apparel – Stay Comfortable on the Trail
Running takes place outdoors and every weather condition. So, the right trail running apparel is essential for staying comfortable. A breathable shirt and shorts with a lightweight and technical design are fundamental to keep you cool and dry in hot weather. In contrast, you'll need warmer and long-sleeved gear for cold weather.
Also, trail running apparel should protect you from uneven terrain and any obstacles you may encounter. It's easy to get scratched by running through mountain trails. Therefore, wearing proper running clothes with long sleeves, gloves, and even gaiters can help keep you safe and comfortable.
Hydration – Carry Water with You
Hydration is crucial when trail running to ensure you have enough stamina to withstand the distance. With rugged terrain, you will need more water to keep you hydrated. A trail running hydration pack is perfect for carrying water with you during long-distance runs. You'll want a hydration pack that is lightweight, comfortable, and can accommodate enough water to sustain you throughout your run.
Some great packs include the Osprey Dyna 6, Salomon Adv Skin 8, Ultraspire Lumen 600 Hydration Vest, and Nathan VaporAir 2.0.
Best Gear for Trail Running – Table
Here is a table that shows some of the best men's trail running shoes for rugged terrain. All of them have free shipping available on Amazon.
| Brand and Model | Traction | Cushion | Stability | Durability |
| --- | --- | --- | --- | --- |
| Salomon Speedcross 5 | High | Moderate | High | High |
| Brooks Cascadia 15 | High | High | High | High |
| Hoka One One Evo Mafate | High | High | High | High |
Conclusion
Trail running is an excellent sport to enjoy the great outdoors. Having the right gear is crucial to doing it safely and comfortably. When looking for trail running shoes for men, it's essential to consider the terrain, traction, cushion, and stability. Furthermore, apparel should have the ability to reduce sweating and provide the necessary protection. A hydration pack ensures that you stay sufficiently hydrated. Happy trail running!
Check Out: Nike Trail Running Shoes
Choosing the Perfect Trail for Your Trail Run
Choosing the perfect trail can make or break your experience when it comes to trail running. Here are some things to consider before hitting the trails:
Terrain and Surface
Trail running shoes have different features that can improve comfort and traction when running on varied terrain. Some terrain features to consider include:
Uneven terrain: rocky, steep, obstacle-filled, rugged, and other types of terrain will require sturdier and more supportive shoe options
Soft and smooth: if you're running on soft, level ground, you may want a more flexible, lightweight shoe option.
Distance and Elevation
When choosing a trail to run, distance and elevation play a massive role in determining the type of experience you'll have. Different shoes have various levels of cushioning and support to help you tackle long distances and steep hills.
Hydration and Gear
Unlike road running, trail running may require you to carry water and some extra gear due to the rugged terrain and the potential lack of water sources on the trail. When choosing a trail to run, consider whether you must carry any hydration or gear.
Trail Running Shoes
Choosing the right trail running shoes is key to enjoying the trail run without being distracted by foot-related discomfort. Here are some things to consider when shopping for trail running shoes:
Durability: many trail runners have numerous features to improve their durabilities, such as reinforced toe caps, thicker fabric, and additional padding in high-wear areas
Traction: look for shoes with multidirectional lugs or sticky rubber to get better traction and avoid slipping on more technical terrain
Weight: some trail runners are noticeably heavier than road running shoes due to their additional features, such as rugged outsoles and extra cushioning.
It's important to note that no single trail running shoe is perfect for every runner and every trail. Whether looking for men's trail running shoes or simply the best trail running shoe, you'll want to pay attention to the essential features for your specific needs. Don't hesitate to try different shoes and experiment with various trails to see what works best.
At [company name], we offer the best trail running shoes for men, with free shipping available. Our men's trail shoe selection includes several popular trails running shoe brands and models that offer the necessary cushioning, stability, and support for a comfortable and safe trail run. Don't let uneven terrain, rugged terrain, or a change in weather prevent you from experiencing fresh air and challenging runs. Shop with us today for the best men's trail running shoes for your next outdoor adventure!
Check Out: New Balance Trail Running Shoes
Conquer the Trails: Unveiling the Secrets of Trail Running Mastery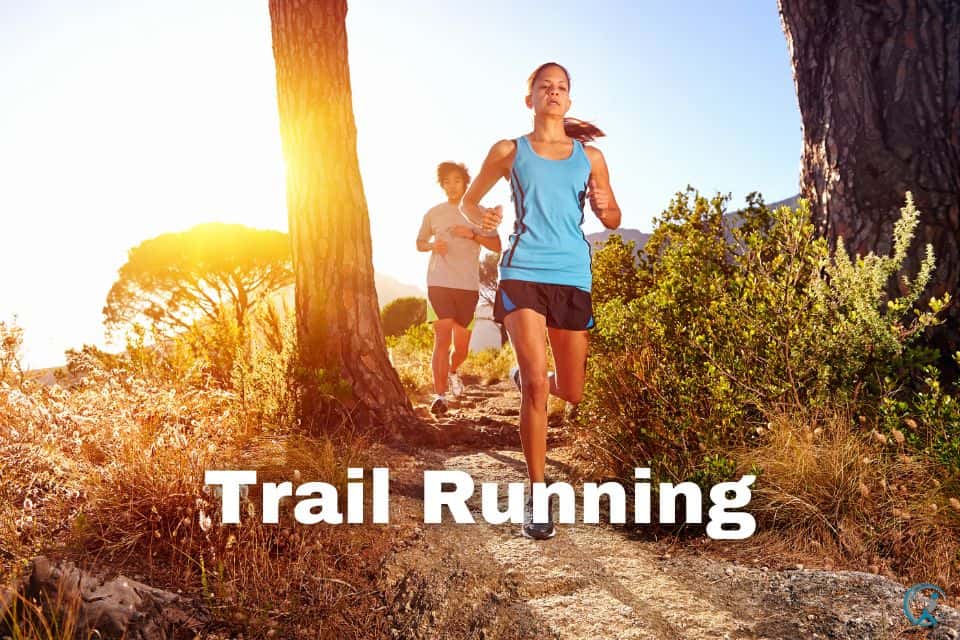 Elevate your trail running experience with our insightful table, brimming with invaluable tips and strategies for conquering the great outdoors!
| Tip Number | Category | Trail Running Mastery Tips |
| --- | --- | --- |
| 1 | Terrain Familiarity | Study your route and adapt to different trail surfaces |
| 2 | Training | Balance endurance, strength, and agility workouts |
| 3 | Pacing | Learn to manage your pace based on trail elevation and difficulty |
| 4 | Nutrition | Fuel your body with proper trail running nutrition |
| 5 | Hydration | Prioritize hydration and carry enough water on long runs |
| 6 | Gear | Invest in trail-specific shoes and apparel for comfort and safety |
| 7 | Technique | Master uphill and downhill running techniques for efficiency |
| 8 | Safety | Carry essential safety gear and be aware of your surroundings |
| 9 | Trail Etiquette | Respect other trail users and practice Leave No Trace principles |
| 10 | Recovery | Incorporate rest days and cross-training for optimal performance |
Best Trail Running Shoes: The Ultimate Guide
As a trail runner, the right shoe can make or break your entire experience. Finding the best trail running shoes is crucial for any trail runner. Whether you're running mountain trails or hitting rugged terrain, you want shoes that will provide you with the stability, cushioning, and traction you need to tackle any obstacle that comes your way.
If you're into trail running, you know the importance of having the right gear. And regarding gear, nothing is more important than your shoes. As a trail runner, you need tough, durable, comfortable shoes that can handle the toughest terrain. In this guide, I'll share everything you need to know to find the best trail running shoes for men, including:
What to Look for in a Trail Running Shoe
The Best Trail Running Shoes for Men
Trail Running Apparel and Hydration
Trail Running Races and Events
Conclusion
What to Look for in a Trail Running Shoe
Trail running shoes are designed for rugged terrain, steep inclines, rocky paths, and other obstacles common in the sport. When shopping for trail running shoes, you should keep the following factors in mind:
Traction: Look for shoes with aggressive rubber outsoles that provide excellent traction on the most uneven and technical terrain.
Durability: Trail running shoes are built to last. They should be made from high-quality materials that can withstand the rigors of the trail.
Stability: As a trail runner, you need a shoe that provides excellent support and stability on steep, rocky, and uneven terrain.
Cushioning: The best trail running shoes offer a good balance between cushioning and support. You don't want a shoe that's too soft or too rigid.
Breathability: When you're running, your feet can get sweaty. That's why it's important to have breathable shoes that help keep your feet dry and comfortable.
Check Out: Best Running Shoes for Women in 2023: Upgrade Your Run
The Best Trail Running Shoes for Men
There are many options when it comes to finding the best trail running shoes for men. Here are some of our top picks:
| Brand | Shoe | Best For | Price |
| --- | --- | --- | --- |
| Salomon | Speedcross 5 | Rugged terrain | $130 |
| Hoka One One | Speedgoat 4 | Technical terrain | $145 |
| Brooks | Cascadia 14 | All-around | $130 |
| Altra | Lone Peak 4.5 | Wide feet | $120 |
| Nike | Terra Kiger 6 | Lightweight | $130 |
Whether you're a pro trail runner or just getting started, these shoes provide excellent traction, stability, and support on the toughest terrain.
Trail Running Apparel and Hydration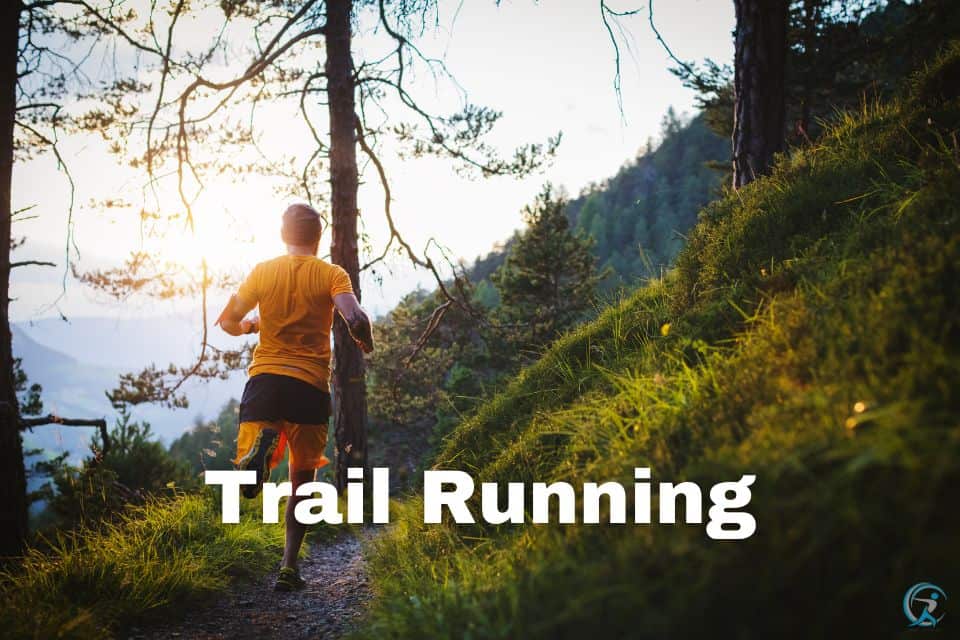 In addition to your shoes, you'll also need the right apparel and hydration when hitting the trails. Here are some tips to keep in mind:
Apparel: Dressing appropriately for the weather and trail conditions is essential. Look for moisture-wicking clothing that will help keep you dry and comfortable. Layers are also important for colder weather or temperature changes.
Hydration: When you're running, it's essential to stay hydrated. Many trail running shoes have space to carry water. You may also want to consider a hydration pack or vest.
Trail Running Races and Events
Trail running is a great way to enjoy the outdoors, challenge yourself, and meet other like-minded individuals. Many races and events are held throughout the year, from 5Ks to 100-mile ultra marathons. Some popular trail running events include:
Western States Endurance Run
Hardrock Hundred
UTMB Mont-Blanc
The Rut
Mount Marathon Race
FAQs
Trail Running FAQs
What is trail running?
Trail running is a type of running that takes place on off-road trails, such as mountains, forests, or even deserts.
What equipment do I need for trail running?
Good trail running shoes with a solid grip, comfortable running clothes, a hydration system, and a small pack with essentials like snacks, a map, and a first-aid kit.
Is trail running dangerous?
Trail running can be dangerous if you don't take proper precautions. Always carry a map, tell someone your route, be aware of your surroundings, and wear appropriate gear.
How do I train for trail running?
Start with shorter distances and gradually increase your mileage. Incorporate hill training and strength exercises. Trail running requires good balance, agility, and endurance.
Where can I find trail running routes?
Local running clubs, online forums, and apps like AllTrails can help you find popular trail running routes in your area.
Conclusion
Finding the right shoes is crucial whether you're an experienced trail runner or just starting. You want shoes that provide excellent traction, stability, and durability while being comfortable and breathable. It's easy to find the best trail running shoes for men with free shipping, with many online options. Whether running a 5K or a 100-mile ultra, having the right gear can make all the difference. So take the time to find the shoes and gear that work best for you, and hit the trail confidently.
References
The Ultimate Trail Running Guide For Beginners | Polar Journal
Take your time and enjoy the activity instead of focusing on your speed. 5. Check the weather. Trail running is a fantastic summer activity, but be mindful that heat and …
10 Tips For Trail Running Beginners – Trail Runner Magazine
Trail running is a well-rounded exercise, building aerobic fitness, muscle strength, and endurance. When we trail run, we often find ourselves stepping out of our comfort zone, whether …
Trail Running for Beginners: How To Start Trail Running – Trail & Kale
Some helpful tips to reduce your chances of tripping and falling over when running trails are: SLOW DOWN – don't worry or even think about your pace when on more …
The Science And Theory About Training For Steep Trails
This article is free. Sign up with a Trail Runner Membership and you get unlimited access to thousands of stories and articles by world-class authors online, plus a print subscription …
Trail Running for Beginners | REI Co-op
Keep your feet underneath you to maintain your balance on variable terrain. Don't overstride. Keep your eyes down and scan the trail 10 to 15 feet in …
Alex is a passionate fitness enthusiast dedicated to helping people lead healthier, more active lifestyles. He encourages small – sustainable changes over drastic transformations and works with people to create customized wellness plans. His mission is to help others benefit from the most effective methods available, sharing tips, strategies, and health & fitness tools on Gearuptofit.com to inspire people to live their best lives.